Local Card Shop of the Week: Mike's Stadium Sportscards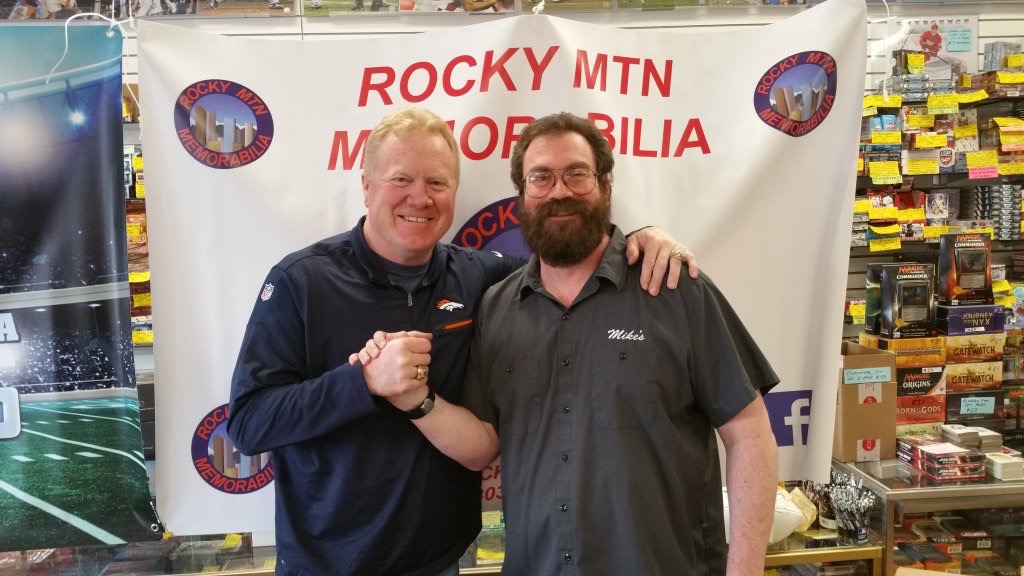 In 1978, Mike Fruitman was living in Miami and attended a morning kids show called, "The Skipper Chuck Show." During the show, he received a goodie bag, which held a pack of Topps Baseball Cards. The Pete Rose and stick of gum he found in that pack set off the sports card butterfly effect on his life. After spending his youth scouring every store in his area for football cards, he is now someone that collectors go to when they need to get their card fix. Mike's Stadium Sportscards is a 2,400 square foot daily cardboard party in Aurora, CO that hosts trade nights, live breaks, in-store autograph signings and occasional personal stories of encounters with Bruce Springsteen. I recently caught up with Mike to talk about the hobby in Colorado and what is behind the success of his shop.
JS: Can you give us some history on your store? When did you open the store and what made you want to jump into the hobby as an owner? 
MF: I found a sports card store in Boulder while attending the University of Colorado and I got back into cards after taking my high school years off from collecting. When I graduated, I found a local card store up the street from where my parents lived. After playing the role of Norm from "Cheers" there for a few months, I started taking small shifts…which turned into weekend shifts…which turned into full time. The shop was doing well, but one day the owner told me to stop buying cards completely. I'm not a great listener and I bought a 1989 Upper Deck Griffey rookie and doubled the shop's investment. I told the owner about our successful move and he was surprisingly upset. I realized the handwriting on the wall and a week later, he approached me about buying the shop. I took whatever he owed me and bought the lease and fixtures and he kept the singles. Two days later, December 11, 1992, Stadium Sportscards became Mike's Stadium Sportscards.
JS: Colorado sports teams have a fair amount of mainstream popularity across the country, none more so than the Broncos. How would you rank the local sports teams and players as it relates to popularity in your store? 
MF: Owning a shop in Colorado has been an incredibly lucky move for me. I remember growing up in Miami and waiting until Thursday afternoon to see if a car dealership would buy enough tickets for the Dolphins game to be on TV. Clearly, that's not the case in the Mile High City. There's no more visible job in the state than QB of the Broncos and I'm sure even the Governor would agree. After that, this year at least, comes the Rockies and the Nuggets. Sadly, the Avalanche haven't really been relevant since the days of Sakic, Forsberg and Roy. Lately, the best selling single players are Nolan Arenado, Charlie Blackmon, Trevor Siemian, Von Miller, Demaryius Thomas, Nikola Jokic, Jamal Murray and, since I should probably choose someone from the Avs, Nathan MacKinnon. Feel free to PLEASE approach me about regional trading involving any of those players as well as any other popular current or former Colorado players.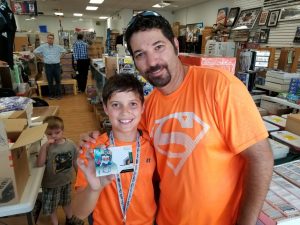 JS: When it comes to those local teams, I have noticed that you have a lot of in-store signing events. Can you tell us about a couple of your favorite signers that have come to the store? 
MF: I have been lucky enough to host a number of signers over the years. My first autograph session was brought to me by Fleer in 1997. Back then, the Panthers had just drafted a WR from CU and they brought him to my store for an hour. In case you haven't figured it out yet…my first autograph session was Rae Carruth. Feel free to Google him. After that, Upper Deck brought Cam Neely over as part of our winning a Hobby 2000 contest. My son jokes that I watch the 3rd round and after of the NFL draft since those are the players I'm likely to host. My favorite players to host are from the Denver Nuggets since I get to work their games and getting to host them allows me to know them on a different level than just working at the arena. Kenneth Faried, Chris Andersen and Malik Beasley stand out. There was an interesting moment last season when a Broncos fan showed up with the Thursday night color variation jersey top and bottoms for Kapri Bibbs. He bought two autograph tickets and when he showed Kapri his uniform, his jaw dropped. Apparently Kapri expected his jerseys to be waiting for him when the season ended and not on sale on the Panini website.  While he signed the jersey top and bottoms, I can't say that he was really excited to do so.
JS: Other than signings, I see where you have several other events on your calendar, which is conveniently found on your FB page every month. Can you tell me about the Red and Blue Ticket Drawings you have? 
MF: I have been doing drawings for so long the guys at Office Depot know me as the "Admit One" guy.  As for those tickets, you get one red ticket for each purchase, another for each box you buy. Each Friday, we do double ticket day in advance of our Saturday drawings. I start the pot at $25 and each week it is not won, I add $25. This week is up to $175 and I don't think for a second that my collectors don't know that. As for the blue ones, it's 1/box, 1/relic, 2/auto, 5/redemption and 10 for an auto relic. Each of those tickets gets you a shot to win 1 pack of each product that hits during that month. Should nobody be present at the drawing time with the right ticket, all the packs roll over to the next month. I'm glad to share these ideas with any shop owner so they can offer the same promotion. While to a large extent, giving out the tickets is about winning prizes, for my shop it is about justifying a sometimes expensive trip to the LCS. Fortunately it's been a long time since recession talk, but shops need to appreciate that taking their collectors (and it is collectors; not customers) for granted is the most dangerous thing they can do. Whether it's trade nights, drawings, having buckets of pretzels or candy at the ready or something as simple as knowing the names of your collecting base, I feel like a professional team owner. Collectors might not hit a home run with each and every box, but providing a fun environment can make up for not pulling a Jordan autograph. Remember when that used to be possible in boxes of NBA cards? Oh those were the days…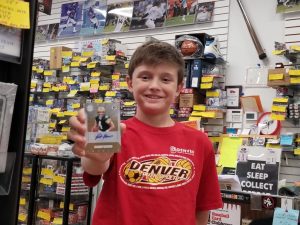 JS: As it relates to your FB page, I found your store on social media in 2015 and have followed your events since then. You are on Facebook, Twitter and Instagram. You have found a way to make "Mike's Stadium Sportscards" a nationally recognized name. How important has social media been to the sustained growth and popularity of your store?
MF: Social media might be the most underused facet in the industry. I embraced it relatively early, but am still expanding how I use it. It is easy (and successful) to take pictures of new collections and sell singles by putting them out for all to see. We also post our weekly emails and new product arrival information on social media as well. My favorite aspect of social media is Facebook Live. My shop is lucky enough to have close to 2400 friends on Facebook and I make a point of posting my case breaks on Facebook Live. It is something that allows me to show that I am not cheating collectors and I am able to showcase new releases on breaks, which has bolstered my box sales as collectors are introduced to different releases. I have been able to introduce myself to collectors all over the U.S. and a good percentage of my breakers are from outside Colorado.
JS: Let's talk about products. What products have been the hottest in store this year? I know football is just getting kicked off but what has been the most popular with the customers and why?
MF: This year has been all about the long ball. Well, more like baseball, with some of the most popular teams having rookies that are tearing the cover off the ball. Actually, MLB has been on a run that goes back to 2011 (Sorry Strasburg, you cost me too much in 2010 to make the list) with monster rookies each year thanks to the cutoff of inclusion and the focus on Bowman releases. I can't say for sure yet, but I would not be surprised if I go through more boxes of 2017 Topps Chrome than any other release. It was a monster when it hit in the midst of baseball insanity and before Bowman Chrome, Triple Threads and other annual offerings had released. Once football starts, it digs into the sales of every other sport.
JS: Clearly, successful card shop owners have had to be innovative over the years to remain successful. In the early 90's, the card industry was on fire but there have been some ups and downs since then. What are some of the things you have done over the years to keep changing with the hobby?
MF: I'm not sure I am changing with the hobby, but I am beyond lucky that I have collectors who have either embraced, or are willing to turn a blind eye to, my quirky sense of humor. I'm pretty much the most immature 48 year-old on the planet and I don't plan on changing that anytime soon. I have made some changes such as moving into a larger location about a year and a half ago. Since then, our trade nights and autograph sessions have both grown in popularity. Perhaps the biggest move I made was hosting card shows in my location. Yes, I invite other dealers into my shop to sell their cards. What it has allowed me to do is to introduce my brand to collectors who found out about me through the dealers who brought them into my shop. I get a free listing with Beckett, which is like a free ad for my store. Through friendships I have made at the Industry Summit and through social media, I have hosted Reed from the Baseball Card Exchange as part of his buying trips, Anthony Devine from IL will be making his third buying trip to my shop this weekend, COMC set up once as a drop off location and is interested in another visit and I am working with some other large singles buyers to stop in as well. While you might be surprised to learn that a shop like mine might welcome those other buyers, they have justified trips to my store by introducing numerous collectors while at the same time infusing the Denver collecting scene with a fair bit of coin, some of which was spent at my location.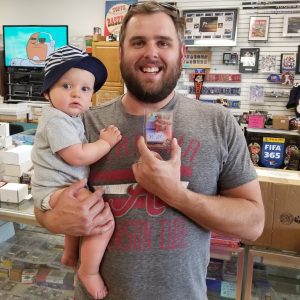 JS: 2016 and 2017 have been very popular years for collecting. The hobby picked up steam in 2016 with Dak and Zeke and the rise of the baseball rookies in 2017 has kept the train rolling. What do you think the next year holds for the hobby?
MF: Looking ahead, I am mostly positive. The MLB rookies that will be included in 2018 releases already have significant interest and that was before the announcement of the expected invasion of 102 MPH throwing and HR hitting Japanese pitcher, Shohei Otani. If he lives up to advance billing, he might make us forget the insanity created by Ichiro arriving in 2001. While we could use some more QB standouts in football, I have seen enough from the other key position players to feel confident about 2017 NFL products. I actually did a 2017 Absolute case break tonight and for the first time since early in 2014 collecting, it was cool to own the Browns in a break.
JS: With the current popularity of the hobby, what advice would you give to new (or returning) collectors to get the most out of hobby?
MF: My advice to all new or returning collectors is to ask questions. I subscribe to "the only dumb question is the one you don't ask" theory. I actually suggest that newbies drop into other stores or check out the shows in the area to see how other people go about collecting. I can't say that I have lost anyone over that suggestion and many people have thanked me for being so honest. Beyond that, I don't mind turning them onto COMC as a means to move some of their singles I cannot use. I do not look at it as losing out on a buying opportunity, but more as establishing myself as someone who is more interested in their enjoying the hobby than my having to extract every dollar from them. Remember, I never call my collectors customers. The idea of them feeling like I look at them as a $50 visit or a 3 box buyer instead of people who I have earned the trust of, means so much more.
JS: I wouldn't be doing my job if I didn't ask about your awesome side gig with the NBA? What does that entail and do you still have that gig?
MF: I have always been a concert addict. I went to see Bruce Springsteen at McNichols in 1988 and in addition to being Born To Run, I was watching one usher be-bop up and down the aisle. He was getting paid to be there, was closer to the stage than I was and looked like he was having a better time. So, I hit him up for the company phone number and got hired. Since then, I've probably thrown out a few thousand people who didn't belong, taken in a similar amount of concerts/sporting events; been part of World Youth Day and Presidential visits; helped open Pepsi Center, Fiddler's Green and so many other venues on top of being close to double digit visits from The Boss in that time. I still have the same passion for making a show go off without incident while learning that security guards are like offensive linemen; you only hear our names when we mess up. So if you ever watch a Nuggets game, you might find me standing in my eunuch pose during timeouts on the court when there is replay. It is always fun standing there as my phone goes off from friends who see me during the game. I would think after all these years they would know I'm not exactly able to answer the phone while the refs are standing behind me trying to see if it is a Flagrant 1 or a Flagrant 2. I spend most of my Nuggets evenings in the corner where the team comes on and off the court and have the privilege of being with the team before they hit the floor. One of my favorite nightly routines is to palm a basketball while one of the guards tries to palm it away from me. Let's just say I hope Emmanuel Mudiay is the first one out each night, since his hands aren't quite as big as those of Jamal Murray.
JS: Lastly, what in-store events do you have on the horizon that you would like to share?
MF: Looking ahead, I am in talks with one of the original Rockies players to drop in as well as some Broncos players that I have wanted to host for quite some time. Also looming is Panini Black Friday which is the best non-single day promotion in the hobby. What I am really looking forward to is 12/11/2017 which will represent my shop's 25th birthday. I had no idea if I was going to remain successful enough when I started to live up to the lease I assumed. Since then I have moved locations 4 times and have hopefully landed for the last time. Sure, there are things I might have done differently and of course it would be nice to have a "standard job" from time to time, but that's not my style. I hate the mundane and truly love what I have been able to create. I get to do what I do. I get to own a sports card store that people spend all week looking forward to visiting. I get to host athletes from time to time and offer my collectors the chance to meet people they have admired. I get to be the ringmaster at my trade nights, case breaks and card shows. I never walk up to my front door with my key in hand regretting the life I have chosen like the guy in the Dunkin Donuts commercial who "has to make the donuts." I feel for people like that who have to go to work each day. While I might want to trade paychecks with a few of them, I would never want to change lives with them. With the way that things have been going lately, I might just get my wish.
Mike's Stadium Sportscards
Mike Fruitman
4032 S Parker Rd
Aurora CO, 80014
(303)699-9808
Hours of Operation
Sunday: 12pm-5pm
Monday-Saturday: 10am-8pm
FaceBook – Mike's Stadium Sportscards
Twitter – @mikesstadiumsc
Instagram – mikesstadiumsc
Email – cardmn5150@aol.com