Local Card Shop of the Week: Card Traders of Austin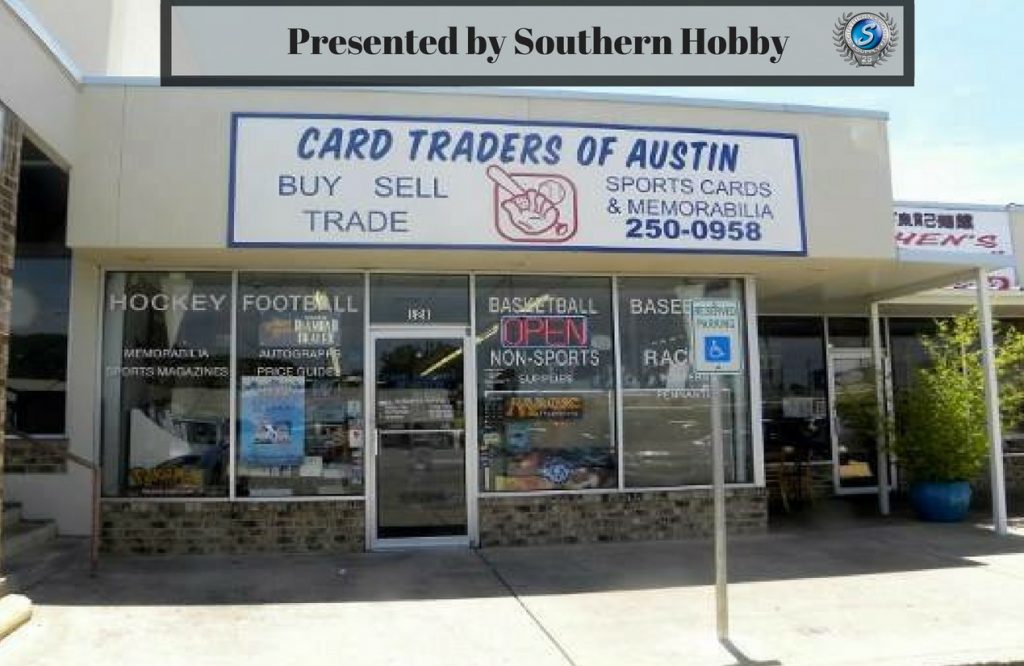 Walt Case originally began collecting baseball cards in 1952. He would go on to collect until 1958 and then he stepped away from the Hobby until the late 80's. He returned to sell and trade in the vintage market from his original collection. After retiring from his career in 1995, he ventured into the Local Card Shop arena and "Card Traders of Austin" has been a destination for collectors since. I recently caught up with Walt to discuss the store in Austin and get his thoughts on the current state of the Hobby.
JS – Thanks for taking the time to speak with me Walt. How did you get your start in the sports card shop business?
WC – When I retired from IBM, the kid who owned the shop was the son of a former co-worker. He called me one day and asked if I would be interested in helping out at the shop as he was working 7 days a week by himself. I told him that I would be glad to help because I hadn't really latched on to anything yet after retirement so I came out and started working 2-3 days a week. After he got engaged, he decided that he was going to change careers and he decided to sell me the store. So I bought it and I'm still here at the shop. I do have a business partner now, Craig Vernier.
JS – I read through some of the reviews on your store and one collector called your store "The Cheers of NW Austin". I also saw "Coolest Place in the World" and "Awesome Place". I also noticed a concerted emphasis on customer service in your news feed. Can you tell us a little about your focus on customer service and making your shop the destination of choice for collectors?
WC – Our main focus is customer service. We never want a customer leaving unsatisfied. If we find out someone is unhappy, the first thing I do is reach out and find out what they are unhappy about and what we can do to fix it. We respond to positive and negative feedback and we hope to see everyone again, and we usually do.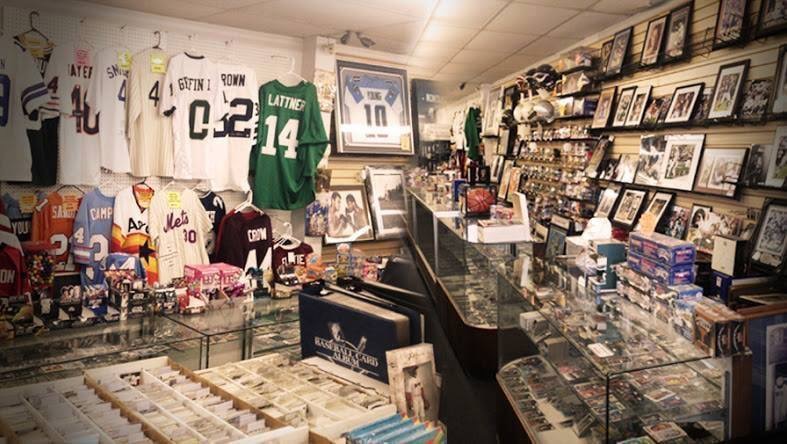 JS – One of the local perks I have heard about with your shop is that there are rewards for kids who perform well in school. Can you tell us about that?
WC – Sure, anytime a kid gets a report card, they can bring it in. For every "A" they get in an academic course, they get $2 in store credit. We have a lot of kids who participate in this.
JS – What other in store events or promotions do you have?
WC – We are looking into possibly doing breaks because we have customers who are very interested in that. We are trying to put together a little bit of a plan for that. We have also been established with "Wizards of the Coast" in the past and have done Magic Draft Nights and Magic Pre-Releases. We are in the process of getting signed back up to do that again. We also have two events a year called "Midnight Madness." We have one in the spring and one in the fall. During Midnight Madness, we close at 4:30 pm on a Saturday and then reopen at 5:00 pm and stay open until Midnight. Everything in the store is on sale during this event. Singles are 50% off, packs and boxes are 15% off, Supplies are discounted 25% and Autograph/Memorabilia is 10% off. Everything is on sale! These are very well attended events.
JS – Your Facebook page advertises a wide array of products from Sports Cards, Autographs, Jersey's, Magic, and more. What can you tell us about your inventory in store?
WC – We carry Yu-Gi-Oh, Pokemon, and Magic: The Gathering singles, decks and packs. In sports, we also carry unopened wax, singles, vintage and signed memorabilia (footballs, baseballs, jerseys, photos).
JS – What products are performing the best for you right now? Why do you think customers have been drawn to these products?
WC – This year's baseball products have gone crazy because of Ohtani. It has driven prices through the roof and Topps has limited production so supply has been more difficult to get. When Bowman released, it was absurdly expensive right off the bat. When we ran out of our initial factory supply, we were forced to pay double, sometimes triple, to reorder…and that is wholesale cost.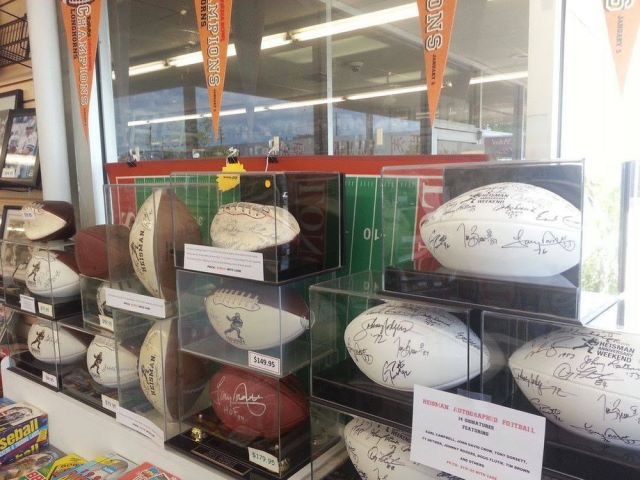 JS – How important have you found Facebook, social media or an online presence in general to be for your success? Even when you own a brick and mortar store, most owners have found a way to expand their presence in some way to their benefit. What has been your experience?
WC – We do sell some stuff on eBay so we have a presence there. We predominantly use Facebook to respond to questions from customers. We haven't really expanded into Twitter as much. One of the negatives of social media is that people have the ability to say things and not be held accountable for them so we haven't done much of that. We announce new products, special events, special sales, etc. through Facebook and we also have a text message service that our customers can sign up for.
JS – You are geographically located closest to San Antonio, but there is also Houston and Dallas, who all have professional sports teams. I can imagine that a huge part of your collector base focuses on The University of Texas. Can you tell us a little about that but also, what mix of professional fans do you have?
WC – The University of Texas is big here. Although it is not as popular from a sales standpoint as it was when Vince Young, Colt McCoy and Jordan Shipley teams were on the field. We are typically a Cowboys town over the Oilers, now Texans. Football and Baseball are our best sports with Basketball being a poor third for us, in terms of popularity. What we do have in basketball interest is mainly for the Spurs, from a team perspective. Mostly, our basketball collectors are looking for specific players like Curry or Durant.
JS – Looking at athletes specifically and choosing only one, who would you guess is the most popular athlete in collections in your area? Who do customers ask about more than anyone else?
WC – I really haven't noticed a single player that is highly coveted over another. Earl Campbell is fairly popular locally but I haven't notice an overwhelming draw to a particular player. A lot of collectors ask for Michael Jordan so we have a lot of cards and signed memorabilia for him.
JS – What are a couple of the coolest pieces you have in your store either for sale or personal?
WC – We have a 16×20 Michael Jordan of the famous dunk from the free throw line in the dunk contest, where people decided that he really could fly. We also have a framed piece with the #23 jersey number signed by Jordan. I have a David Ortiz final season retirement piece with a signed photo and smaller photos around it with 3 coins from the Highland Mint, that is a pretty nice piece and really not that expensive. From a jersey standpoint, we have Craig Biggio, Nolan Ryan, Frank Thomas, Joe Montana, Jerry Rice, Barry Sanders and Emmitt Smith. We also have some vintage guys like Willie Mays, Ernie Banks and Duke Snider. Finally, I have a litho signed by Derek Jeter, numbered to 25.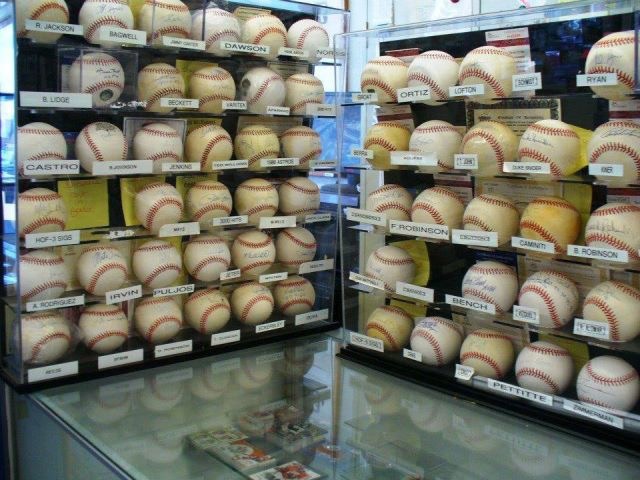 JS – What have been some of the biggest changes you've seen from a product perspective over the last several years? What are some things you have seen over time that you never thought we would have in the hobby?
WC – Obviously, the autograph inserts, short print rookies, serial numbered cards and the shift from single cards to packs and boxes are the biggest changes. If you ran a shop today solely based on sales of singles, you wouldn't stay in business. The product today is too difficult to set build with because of short prints, so you wind up spending too much money on boxes and packs to build a set based on what the set is worth. I would rather see the companies make the short prints a subset like they did in the early 90's to encourage set builders. The only product that still does that to some degree today is Topps Heritage and it is still not easy because of the number of short prints. I'm not sure how long Heritage will continue as we get out of the 60's and into the 70's. From a design standpoint, you are going to see more cards that look common place. When they first started with '52, that was a big deal, and all of that sold real well. Current Heritage still does, but I think that is more because of the players in it rather than the design.
JS – That discussion really leads to my last question. What do you think about the state of the Hobby at this time? What are companies really doing well and what are some things that could be improved upon?
WC – I know that both Panini and Topps have gone to short-printing some products. I guess the rationale is to limit quantities unlike the 80's and 90's when there was enough product out there to take down the Titanic without the help of the iceberg. I think that is a positive. The internet changed the hobby significantly, and some people would even say it ruined the hobby because it hurt with pricing. I think if we are really honest with ourselves, it probably made the pricing more realistic because you had a demand for product and a perceived supply. That supply wasn't actually real because a lot of collectors had the stuff, but there was no real way to market it. Now you can sit home in your pajamas and buy and sell anything you want. Where a Nolan Ryan RC was $1,200 some 15 years ago, it is $600 today because the supply has exceeded demand. It's Economics 101.
Card Traders of Austin
Walt Case
(512)250-0958
8650 Spicewood Springs Rd
Suite 128
Austin Texas
Hours of Operation
Sunday – 12pm:5pm
Monday – Friday – 11am:7pm
Saturday – 10am:6pm
Facebook – @cardtradersofaustin
Twitter – @CardTraders_ATX
Instagram – @cardtradersofaustin