In Case You Were Wondering Where the Topps Redemptions Site Went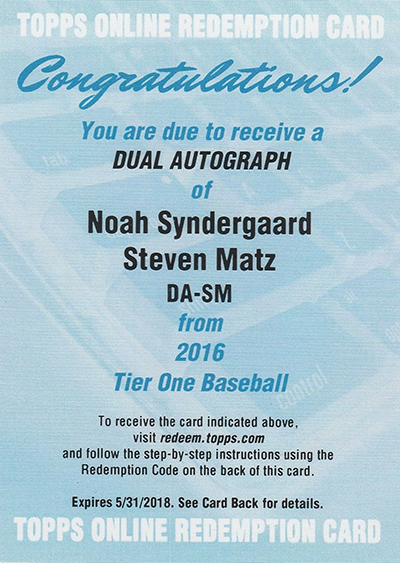 By Ryan Cracknell | Hobby Editor
If you went online to enter a Topps redemption recently, you might be wondering where the redemptions went. Going to redeem.topps.com, the address on the front of their redemption cards, redirects you to the company's home page.
Sorry, it's not a sign that redemptions are a thing of the past.
Rather, Topps has merged their old redemption system into their main site. That means new places to go, a new way of doing things and new places to enter and track outstanding cards. In case you're wondering where to start, here's a step-by-step walkthrough on exactly what to do.
How to Access and Enter Topps Redemption Codes
1. Make Sure You Have a Topps Account
First off, don't worry, your old redemptions aren't gone. Nor are the records as to what you're owed. They're simply hiding in a slightly different part of cyberspace.
In order to access them now, though, you need an account on the general Topps site. This is the account you would use if you were buying anything off of their site or logging in for any other reason. Once you're up and running, this means one less password to remember of site to keep track of.
Go to Topps.com. At the top of every page there's a login link. Click it.

If you already have a Topps account, log in and skip ahead to the step about merging your old redemptions into the new system. If you don't have an account, you need to register for one. Make sure you have all the fields filled in so your redemptions can, eventually, make their way to your mailbox. That said, you can probably ignore the FAX field.
2. Checking the Dashboard
Once you've logged in or created your account, you'll be brought to your Topps account dashboard. This gives you an overview to the various options on your main account. You can get here anytime you're on the Topps site by clicking on your name at the top where the log in option was.
The dashboard is also the gateway to your redemptions.
Get to those by clicking on the redemptions link on the side menu.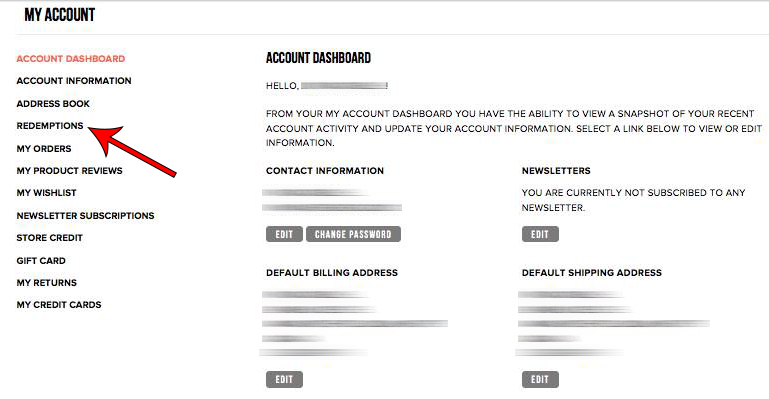 3. Linking Your Old Redemption Account
Going forward, this is where you enter all new redemption codes. To that extent, not much has changed. You log in, enter the code and it's connected to your account.
But what about those outstanding redemptions you have? Under the Settings tab, you simply enter the email and password you used for your old Topps redemptions. Enter those correctly and all should be good. If you had more than one account, you can link them all to your main Topps account.
The problem I ran into was I didn't remember my old password right away. And with access to the old system not available, recovering that password can be tough. Luckily, I had it noted somewhere and was able to make it work. If anything is going to give you a headache about the new process, this is probably it.
4. Other Features in the New Topps Redemption System
Redemptions shouldn't be complicated. There's really not a lot of bells and whistles to the new system. You can see what's pending, what's shipping and, when applicable, what the tracking number is.
Tired of waiting months or even years? You can now start the replacement process in the new system with a couple of clicks. By clicking on the "My Open Redemptions" tab, you'll see a button that lets you request a replacement. When you do, you get the following message:
You have requested to substitute your pending redemption. When you substitute your redemption, you will receive a substitute card or product of equal or greater CURRENT market value. Current market value is based on various factors, including eBay and Beckett pricing. Substitutes are selected randomly by Topps based on value and available inventory for the same sport or property. Substitute choices made by Topps are final. By clicking "Submit", you agree to have your pending redemption substituted based on the above terms.
In a perfect world, you might be given some options as to what you'd like to have it replaced with (actually, the perfect world would be no redemptions in the first place). So it is a little risky. If you are fed up, it still might be best to call Topps Customer Service and speak with someone. It can be a pain, but the best results often come from speaking with a person rather than relying on email.
Comments? Questions? Contact Ryan Cracknell on Twitter @tradercracks.