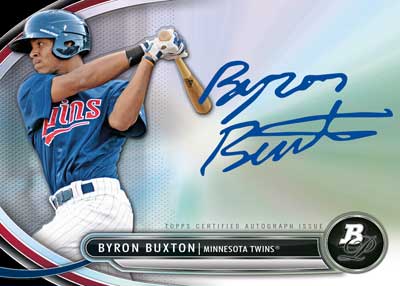 By Chris Olds | Beckett Baseball Editor
Bowman Platinum is back — and Topps is promising that it's "going platinum crazy" with this year's release.
Set to arrive on July 31 packing two autographed prospect Refractors and one autographed Refractor Relic in each 20-pack hobby box, the prospect line will include new features arising from deals with Baseball America and the Arizona Fall League.
The base set will consist of 100 MLB veterans and rookies, while the prospect set will include 100 potential stars. The base set will include Gold, Blue Sapphire and Ruby parallels with Rubies falling one per box, Blues two per box and Golds four per.
Meanwhile, the prospects will get a Chrome treatment.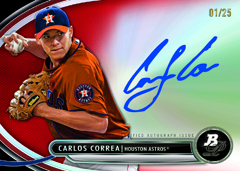 There will be standard Refractors along with Green (/399), Blue (/199), Gold (/50), Red (/25), Atomic (/5) and 1/1 Superfractors to be found. The two rarest types will only be found in hobby packs.
The autographed Prospect cards will all be signed on-card this year, much like in 2012, with Green, Blue, Gold, Red, Atomic, SuperFractor and 1/1 printing plate versions to be found. The serial-numbering will match the parallels of the basic cards. Found only in hobby packs will be Purely Platinum autos, which will be printed on "simulated metal" and be 1/1s.
Autographed Relics will showcase players from the AFL Rising Stars Game as well as other prospects and current big-leaguers. There will be Blue, Gold, Red, Atomic, Supers and printing plates of each and all but the Blues will include patch pieces. There also will  be jumbo Relics to be found with the same volume of numbering as well as the same shades.
For those wanting ink but not memorabilia, there will be four autographed insert sets to chase with dual autos showcasing a pair of prospects (each limited to 25), triple autos showcasing prospects, vets and rookies (limited to 10), Hexagraph booklets (limited to five) and a selection of 25 more Bowman Black autos. That will not be the only continuity set in this one as another selection of Blue Sapphire Refractors — and signed versions — will be found in this along with every other Bowman brand this year. The autos will be limited to just five copies.
New this year will be Baseball America Diamonds in the Rough cards that will be the publication's top picks for prospects with promise. There will be Diamond Cut cards limited to just 25 along with autographed versions of the cards limited to just five copies. Those won't be the only diecut cards as there will be Cutting Edge Stars with Relic versions limited to 50 and autos limited to 25.
For the memorabilia collectors, there will be three options this time around, two of which will be hobby-only inclusions.
First up are jumbo patch cards limited to just five copies. Then there will be 1/1 Prospect Bat Plate cards with the nameplate from game-used bats showing on the cards. Then there are Rising Stars Game redemptions good for complete game-used items from the event that include signed balls, game-used caps, bases and more.
The AFL also will have promo cards inside the packs good for chances to attend the 2013 Rising Stars Game.
Chris Olds is the editor of Beckett Baseball magazine. Have a comment, question or idea? Send an email to him at colds@beckett.com. Follow him on Twitter by clicking here.
A preliminary checklist from Topps will appear here when it is made available.