Hobby's evolution isn't only seen in memorabilia
When you click on links to various merchants on this site, like eBay, and make a purchase, this can result in this site earning a commission.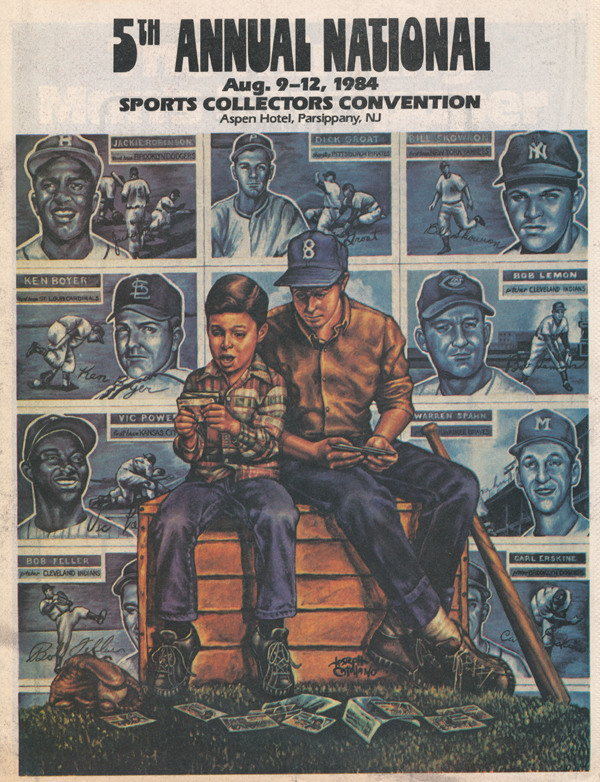 By Chris Olds | Beckett Baseball Editor | Commentary
Things change.
That's the easiest way to sum up the hobby as it stands today vs. the past — whether that past is a decade ago or decades ago.
As our latest issue of Beckett Sports Card Monthly is at the printer with the latest and greatest about this year's National Sports Collectors Convention set for Aug. 1-5 in Baltimore, I couldn't help but notice the countless differences between today and past conventions when I happened upon a few past programs from the NSCC recently in our archives.
Just like the cards and memorabilia we collect, it's also readily apparent that the hobby has changed mightily just by flipping through a show program that's not even 30 years old.
This, of course, is not a revelation to anyone who has collected for some time — and it shouldn't be any type of message that today's hobby is doomed. Far from it. In fact, one should rightfully argue that the innovations and the creations of cardboard today — ones that many a cardboard critic might sometimes bemoan as boring — are among the greatest creations in cardboard history compared to yesteryear. Today's hobby, while perhaps not as widely accessible as it once was when "baseball cards" were a household phrase and a generation's 401K and business plan, is perhaps better off than the past — as long as it can successfully capture the interest of a generation once again and combat the economic realities of ever-rising costs to produce licensed memorabilia and obtain autographs of today's promising prospects and stars.
And that's all just a basic thought prompted by the nearly 30-year-old pages of a show program.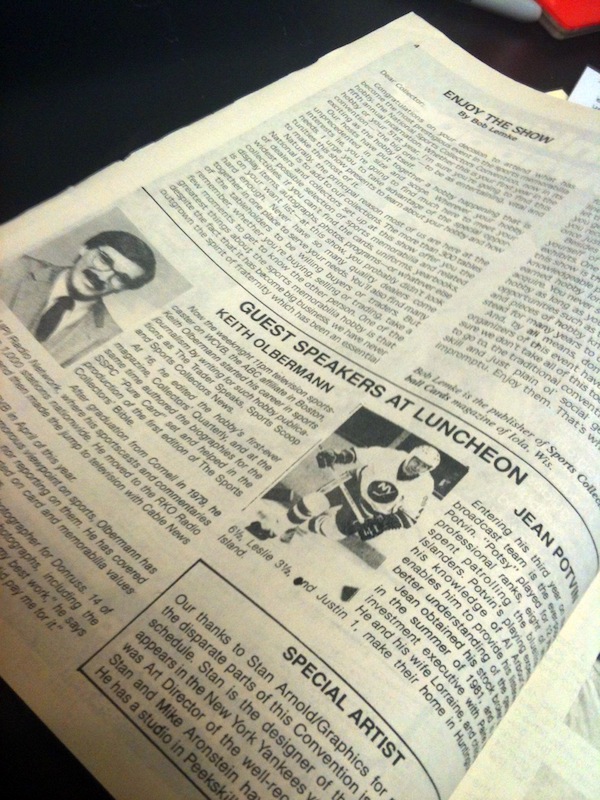 In the past, the NSCC had guest speakers — not the case today. In 1984, a guy that many in the country had never heard of (unless they were collectors), Keith Olbermann, spoke at the event. Today? Many, many more people know his name. Could the National draw more people in to the event — and the hobby — by trying something as simple as this once again? It's a thought.
—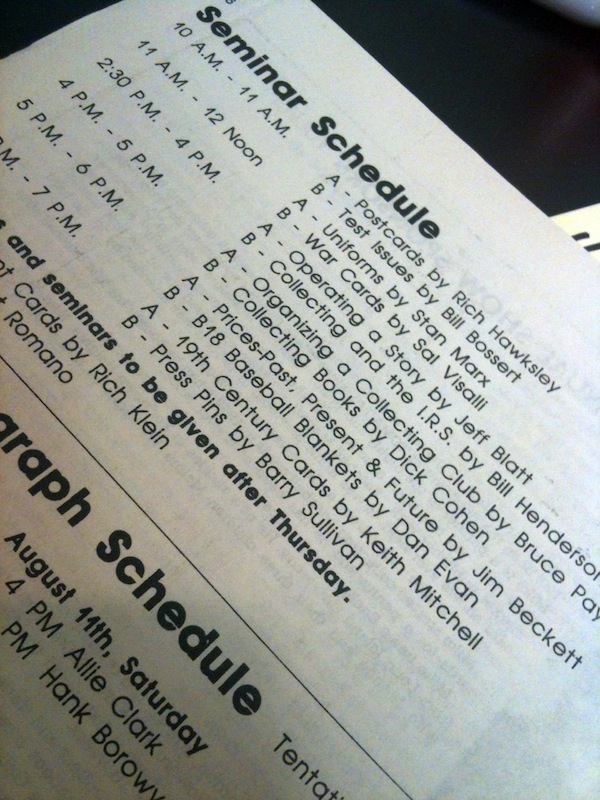 While selected events in the industry have had card companies present info to selected groups of dealers, those aren't the buying masses — those aren't the people walking into card shops to buy their products. While the idea of seminars at the NSCC back then may seem odd now (especially when you look at the topics), informational sessions just might go a lot further today as collecting is inherently more complicated than it has ever been. Some products need spreadsheets to digest — and that's not helped retain some collectors. Today, an event such as the NSCC is largely a buying-focused experience for most people — but it doesn't have to be.  Could it be educational, too? Could it be useful in helping more hobbyists? Could it help create better dealers? Could it draw in more potential fans?
—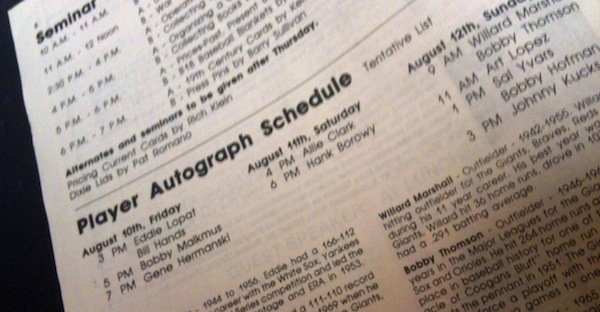 The demand for autographs — the boom in interest and an industry of its own — isn't really reflected in the 1984 program. Those years were yet to come. How many names do you recognize on this list as must-have sigs of today? While it's easy for us to bemoan some of the pricey autograph fees of today's show environment, there is, without question, demand for those signatures — and the lineup certainly looks stronger now than nearly 30 years ago.
—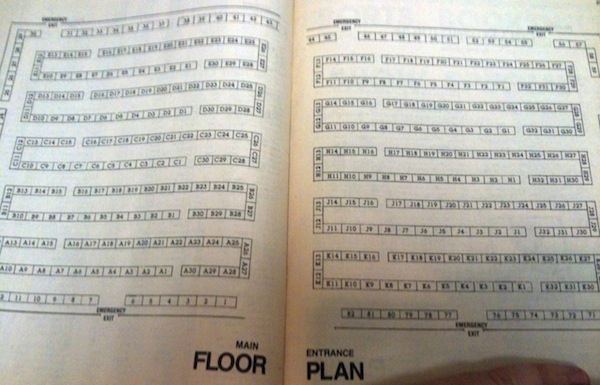 Here's the 1984 show floor. Now, a show's a show — but this year's NSCC will have much more to offer at the Baltimore Convention Center vs. a hotel in Parsippany, N.J., with many more dealers. Also interesting? There weren't many card manufacturers at this one — just Pacific and TCMA. This year, all of the major players will be in attendance.That's a fascinating change if you ask me — and it's the right direction.  In fact, the only card-maker advertising in the 1984 program was TCMA, which billed itself as "America's Innovative Card Company" — but was gone less than five years later.
—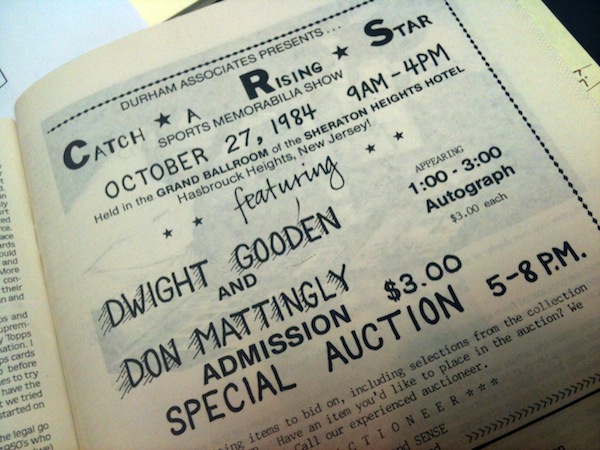 Ultimately, the biggest change affecting everything in the hobby is money. Once leagues realized the power of licenses, more companies became involved and licensing fees rose. Once demand for autographs exploded, prices rose, too. But back in 1984, we were apparently not quite there yet as this ad for a show later in the year shows two top young stars of 1984 — Don Mattingly and Dwight Gooden — signing autographs at a show for just $3 apiece. How many would you take? What might that $3 get you now? It's a scary comparison.
Chris Olds is the editor of Beckett Basketball magazine. Have a comment, question or idea? Send an email to him at colds@beckett.com. Follow him on Twitter by clicking here.