Here's the Exclusive 2016 National Sports Collectors Convention VIP Set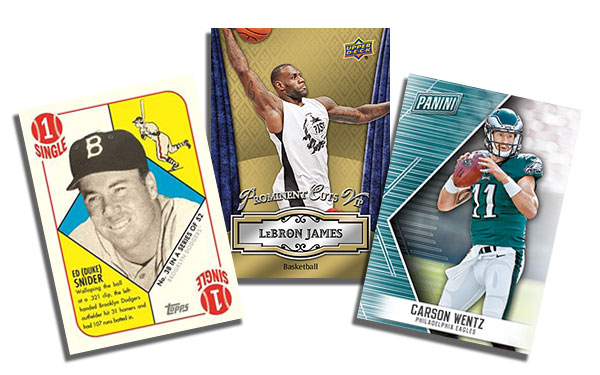 By Ryan Cracknell | Hobby Editor
Getting a VIP ticket to the National comes with several perks including early entry and the opportunity to snag some autographs. It also means cards. Sticking with tradition, the 2016 National Sports Collectors Convention VIP set includes cards from several manufacturers.
The cards (or a voucher to get the cards at the manufacturer's booth) come in the gift bag given to VIP attendees. Each manufacturer does their cards differently, both in the sports they represent and the designs.
Here's a look at what each manufacturer is doing for the 2016 National Sports Collectors Convention VIP set.
Leaf
Leaf has four cards for VIPs. The first is a tribute card to Mike Berkus, the late founder of the NSCC. The other three cards have a "Welcome to Atlantic City" theme and focus on popular athletes from Leaf products including company autograph exclusive, Jack Eichel.
Checklist
Mike Berkus
Tom Brady
Jack Eichel
Mariano Rivera
Panini
The Panini portion of the 2016 National Sports Collectors Convention VIP set features six cards. All are rookies — two each from football, basketball and baseball. Rather than putting the cards themselves in the gift bag, attendees will find a voucher. This voucher must be brought to the Panini booth to get all six cards.
Checklist
Brandon Ingram, Duke Blue Devils
Buddy Hield, Oklahoma Sooners
Carson Wentz, Philadelphia Eagles
Jared Goff, Los Angeles Rams
Kenta Maeda, Los Angeles Dodgers
Trevor Story, Colorado Rockies
Topps
The Topps VIP cards are throwbacks to 1951 Topps Baseball. The players in the set were all stars more than six decades ago as well. With five cards in the set and only four in each gift bag, collectors might have to do a little hunting at the show to finish it off.
Checklist
Bobby Doerr, Boston Red Sox
Bob Feller, Cleveland Indians
Phil Rizzuto, New York Yankees
Duke Snider, Brooklyn Dodgers
Warren Spahn, Boston Braves
Upper Deck
Upper Deck's five VIP cards fall under the Prominent Cuts theme. Four of the cards feature Upper Deck spokesmen: Michael Jordan, Wayne Gretzky, Tiger Woods and LeBron James. The final card features the New Jersey Devils' legendary goalie, Martin Brodeur.
Checklist
VIP-1 Wayne Gretzky, Edmonton Oilers
VIP-2 Tiger Woods
VIP-3 Martin Brodeur, New Jersey Devils
VIP-4 LeBron James
VIP-5 Michael Jordan
If additional cards are added to the 2016 National Sports Collectors Convention set, we'll note them once announced.
Comments? Questions? Contact Ryan Cracknell on Twitter @tradercracks.