How much for a 2012 Topps Rally Squirrel card? Have we gone nuts?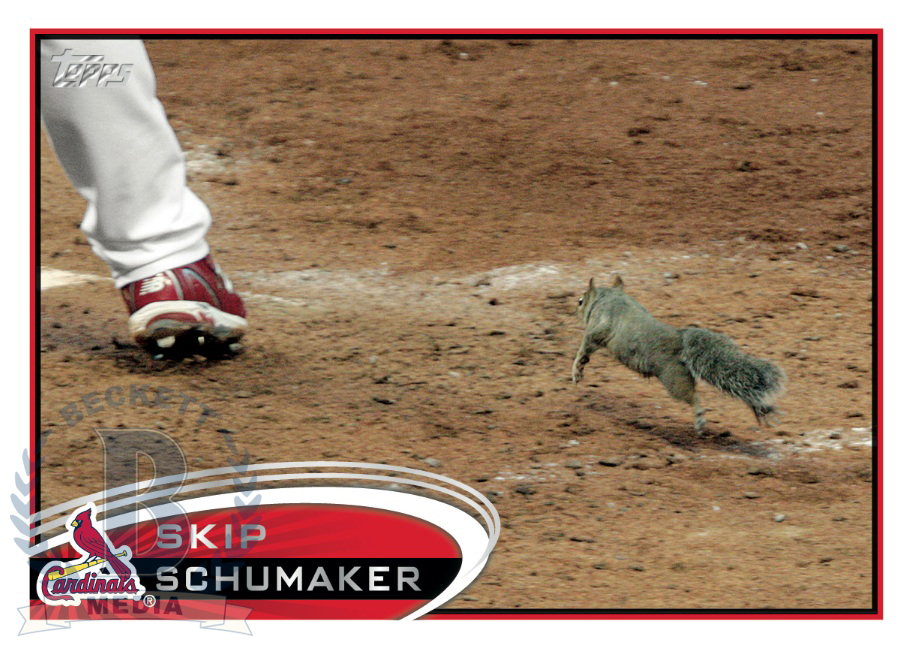 By Chris Olds | Beckett Baseball Editor | Commentary
Even the day before 2012 Topps' official arrival, there is at least one card making national headlines.
It's the Rally Squirrel's "rookie card."
As previously reported here on Friday, the Rally Squirrel release is a rarer version of Skip Schumaker's card – the rabble-rousing rodent made his run into immortality on the Busch Stadium infield as he was awaiting a pitch – so all you see on it is the infielder's heel in a photo taken by Tom Gannam of The Associated Press. (The regular version of card No. 93 shows Schumaker sliding into home plate.)
But that's not what's nutty.
The first copy of the short-printed variation (not an official RC) to sell on eBay went for $319.95 via a Buy It Now and a second sold on Tuesday went for $299. The first auction that was completed ended at $611.99 after 26 bids on Tuesday.
Now that's nutty.
Now, common sense dictates that as more and more of the cards are found that the sales for the cards are likely to plummet. We get that.
However, if non-collectors are scooping up these cards and stashing them away for the summer? Well, these rarities might be even rarer than you think and the prices might not falter.
What a nutty concept.
So, what did Schumaker think of the card?
"It's pretty ridiculous," he told FOXSportsMidwest.com. "I have a shoe on my baseball card. And a squirrel. It's pretty ridiculous."
To this collector, it sounds like he didn't know that there were two versions of his card made. But Schumaker wasn't done there.
"It's not disappointing, it's just ridiculous," said Schumaker, who has hit .290 over seven seasons. "I don't know how else to explain it other than that. You expect to have some sort of action shot or something but it's like a mascot card to me."
Maybe Schumaker knows more about 2012 Topps than he's letting on … there are a few mascot variation cards being found, too.
Heck, he even played product development for Topps during his Fox interview.
"The Rally Squirrel was fun during the series and it worked, so people had fun with it," he said. "I had fun with it and everybody thought it was a good thing for the fans. Torty was funny, but is Allen Craig going to have a tortoise on his card? I just think it's pretty ridiculous."
We can only hope that Topps is considering that for Series 2 – ok maybe just some of us … you know, the nutty ones.
Chris Olds is the editor of Beckett Baseball magazine. Have a comment, question or idea? Send an email to him at colds@beckett.com. Follow him on Twitter by clicking here.