First look: 2011 Topps Chrome baseball cards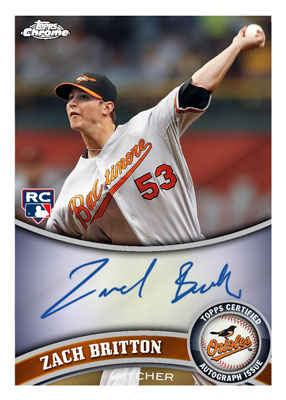 By Chris Olds | Baseball Editor
What will be perhaps one of Topps' most-scrutinized releases of the year, 2011 Topps Chrome baseball, was unveiled Thursday in advance of its late-August arrival.
Each 24-pack hobby box will include two autographed Rookie Cards — both with on-card signatures — and there will be 12 boxes per case. How collectors will react to Chrome a year after it was plagued by printing problems and severe stock warping issues remains to be seen.
The base set will consist of 220 cards — 170 veterans and 50 rookies — and every autograph card in the product will be signed on-card. New this year will be 1/1 Canary Diamond Parallels while other inclusions will be Sepia parallels, USA Baseball autograph redemptions and 60th anniversary autographs along with a "Vintage Chrome" insert set modeled after the 1996 Topps Chrome design.
There will be 20 rookie autograph variation cards in the set, each with printing plates, SuperFractors, Red Refractors (/25), Golds (/50), the aforementioned Sepia (/99), Blue (/199) and standard Refractors, which will be limited to just 499 copies.
The base cards' parallels will include the Canary Diamonds, SuperFractors, plates, Reds, Golds, Sepia and Blues with the same press runs. Standard Refractors will not be numbered and will be found in every third pack.
Among the insert sets to be found are 2011 Heritage Chrome cards, Black-bordered Refractors and the Vintage Chromes. The Heritage Chromes will pick up where the inserts in this year's Heritage set left off, each numbered to 1,962 copies. The Black-bordered cards will include just 110 players and will be limited to 100 copies apiece, while autographed versions of the cards will be limited to 100 as well.
See images from the set and read more after the jump.
The USA Baseball presence in 2011 Chrome also is improved. This year's autograph redemptions will feature the 2011 Collegiate National Team — each card having SuperFractors, plates, Red Refractors (/5), Diamond Die-cut Atomic Refractors (/10), Golds (/50), Blues (/99) and standard Refractor (/199) versions.
However, there also will be redemption cards good for an entire National Team set inserted into packs, including a printing plate sets, SuperFractor sets, Red, Gold, Blue, standard Refractor and the Diamond die-cut. Some amounts on those are still TBD, but the Golds will be limited to only 50 and Reds will be limited to just five.
The rookie autograph lineup includes Tsuyoshi Nishioka, Brandon Belt, Freddie Freeman, Michael Pineda, Chris Sale, Kyle Drabek and Mike Minor to name a few, while the 60th Anniversary signers are still TBD.
Other rookies on the preliminary checklist include Domonic Brown, Aroldis Chapman and Jeremy Hellickson, while some of the players slated to appear on Heritage Chrome cards include Derek Jeter, Albert Pujols, Alex Rodriguez, Ichiro Suzuki, Tim Lincecum, Stephen Strasburg and Jason Heyward. Some of the Chromes will be combos cards such as "Manager's Dream" or "Hot Corner Guardians" as was common with past sets — but not in the Chromed versions of Heritage in recent years.
(Click on the images for a closer look.)
Chris Olds is the editor of Beckett Baseball. Have a comment, question or idea? Send an e-mail to him at colds@beckett.com. Follow him on Twitter by clicking here.