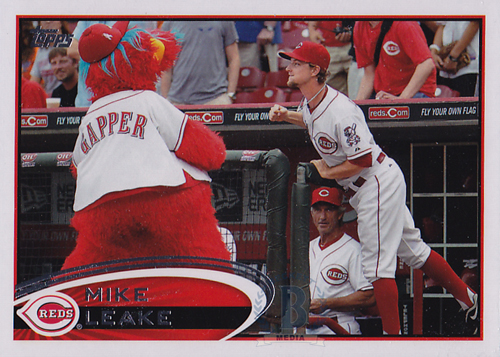 By Chris Olds | Beckett Baseball Editor
More than 20 short-printed variation cards in 2012 Topps  have been confirmed by a group of case-breakers around the country — the day before the product's arrival.
Falling at an average of two per case, the 20 short-printed cards typically showcase players celebrating with their teammates or on the receiving end of a Gatorade bath or other celebration ritual. However, two other variations, the previously announced Albert Pujols and Jose Reyes short-prints, are substantially tougher pulls than the celebration cards, according to Brent Williams, an Arkansas-based dealer.
See the full list — and all the cards — after the jump.
1 — Ryan Braun
35 — Eric Hosmer (dugout)
35 — Eric Hosmer (Gatorade)
76 — Ian Kennedy
93 — Skip Schumaker (Rally Squirrel version)
145 — Billy Butler
165 — Michael Morse
173 — Ryan Roberts
185 — Pablo Sandoval (vs. Pirates mascot)
185 — Pablo Sandoval (vs. Padres mascot)
188 — Bobby Abreu
215 — Freddie Freeman
256 — Mat Latos
270 — Starlin Castro
308 — Mike Leake
331 — Albert Pujols (Angels)
332 — Jose Reyes (Marlins)
400 — Robinson Cano
411 — Tsuyoshi Nishioka
421 — Heath Bell
450 — Justin Upton
470 — Howie Kendrick
(Click on the images — twice — for a closer and unobstructed look.)