First Look: 2012 Topps Update baseball cards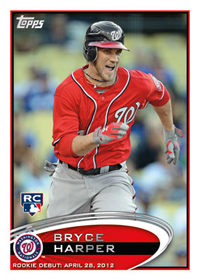 By Chris Olds | Beckett Baseball Editor
Topps released the basic product information and preview images Friday for its final chapter of the flagship brand this year, 2012 Topps Update.
The 330-card base set will include most traded veterans, every member of this year's All-Star and Home Run Derby rosters, the latest rookies as well as a subset of Record Breakers and Rookie Debuts when it arrives on Oct. 3.
Update will include one autograph or Relic in every 36-pack box, while there will be one autograph and two Relics found in every 10-pack HTA Jumbo box. As with the previous series this year, the golden theme continues with every Jumbo box containing at least one Golden Relic, while those will only be found one per case in standard hobby boxes.
—
Loading ...
—
Parallel cards
The Gold parallel set that went missing in the first two series this year will be included here in its entirety — all 990 cards with serial-numbering to 2,012. The Black (/61), Platinum (1/1), Wood (1/1), Printing Plates and Golden Moments are back as well. The Gold Silk partial parallel set will showcase 100 cards from the set and will be limited to 50.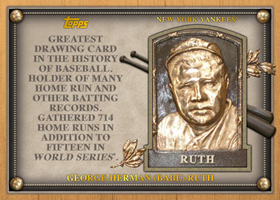 Golden Relics
The lineup for this group will include five Gold Futures coin cards — including Yu Darvish and Bryce Harper — with each limited to the player's uniform number. There also will be Award Winners Gold Rings for 15 players, Hall of Fame Gold Plaques for 15 legends, Solid Gold Futures (1/1 solid gold cards, including Harper and Darvish, Yoenis Cespedes and Brett Lawrie) and Gold Engraving Reprints of vintage Topps cards for Brooks Robinson, Duke Snider and Hank Aaron.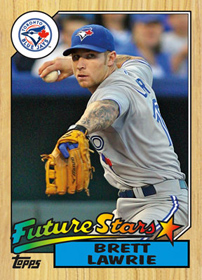 Insert cards
The final installment of 1987 Topps minis will be found here — with Future Stars in tow — as well as the previously seen Golden Greats (25 cards) and Golden Moments (50 cards). A new inclusion for this series will be 30 Blockbusters — cards showcasing big signings and notable trades in MLB history.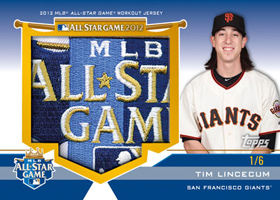 All-Star Game Relics
As with past Topps Update releases, The Midsummer Classic will get its due here. There will be All-Star Stitches cards — each with Gold (/50) and Platinum (1/1) parallels — and autographed Relic versions as well for 15 of the players. All-Star Jumbo Patches (45 players) will be found in hobby and HTA packs only and will showcase massive pieces from jerseys with each card limited to six copies. There also will be jumbo patch autos, All-Star Stitches Duals and Triples to find.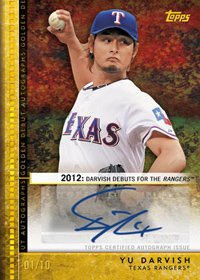 Autographs
As with the past two series, the autographs will parallel other inserts found in the product. There will be Golden Moments autographs — as well as Golden Moments autos with Gold parallels limited to 10 copies — Golden Debuts (showcasing rookies), Blockbusters and Golden Greats. All but the Golden Moments and Golden Debuts autos will be limited to 25 or fewer copies. Some of the players on the preliminary checklist for autographs include Albert Pujols, Bob Gibson, Don Mattingly, Gary Carter, Jay Buhner, Justin Verlander, Ken Griffey Jr., Manny Ramirez, Nolan Ryan, Paul Goldschmidt, Prince Fielder and many others.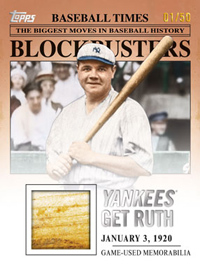 Standard and autographed Relics
The Golden Greats Relics return here — all limited to 10 — while the Blockbusters Relics will be capped at 50 copies apiece. There will be a 1969 Topps Mickey Mantle Relic continuing with the past Mick inclusions as well. There also will be signed Relics for the Blockbusters and Golden Greats set with each limited to just five copies. Some of the notable names slated to have Relics include Babe Ruth, Ernie Banks, Harmon Killebrew, Jose Bautista, Griffey, Mattingly, Carter, Johnny Bench, Mantle, Lou Brock, Mike Schmidt, Reggie Jackson, Rickey Henderson, Stan Musial, Roy Halladay, Darvish and more.
As with the past series, the Golden Giveaway codes are back — nothing new there — but with the upcoming presidential election there will be a political program in the product, too. Presidential Predictor cards will have a code on the back that can be entered online. Once the election is over, there will be a prize awarded to one winner for each state — a total of 50 prizes, a patch card of the next president, will be awarded.
Chris Olds is the editor of Beckett Baseball magazine. Have a comment, question or idea? Send an email to him at colds@beckett.com. Follow him on Twitter by clicking here.