How 2021 Bowman's Best Baseball Has Changed Rookie Cards for the Next Several Years
Like that, 2021 Bowman's Best Baseball just got a lot more interesting. A simple numbering shift in the base set is poised to cause some major ramification for years to come. It's also likely to reignite the debate over what constitutes a Rookie Card.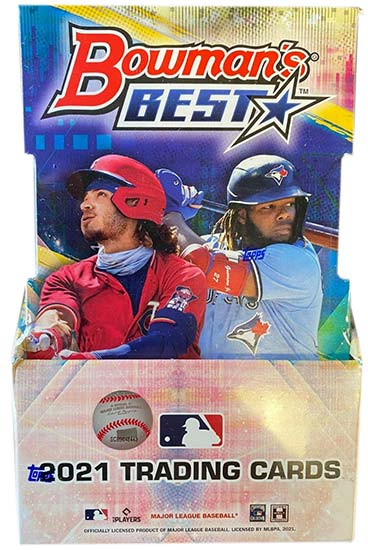 The situation is this: the 2021 Bowman's Best Baseball base set has its usual mix of veterans and rookies. They have some company, though, in the form of several "prospects" like Wander Franco, Jasson Dominguez, Austin Martin, Spencer Torkelson and Julio Rodriguez. Five of the top six picks in the 2021 draft are also in the base set: Henry Davis, Jackson Jobe, Marcelo Mayer, Colton Cowser, and Jordan Lawlar.
Here's an excerpt from the 2021 Bowman's Best base set checklist showing veterans, rookies and prospects all together (players in red highlight prospects):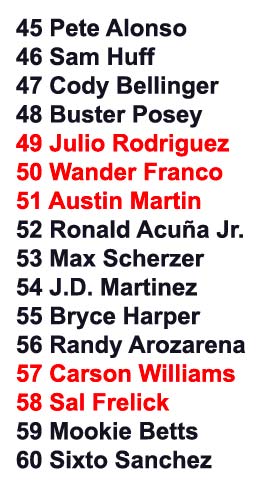 All of the prospects are Rookie Cards — at least Beckett will be recognizing them as such with the RC tag. Any base cards for these players in 2022 any beyond will not.
It falls in line with criteria established decades ago.
We understand the ramifications this has, not just for 2021 Bowman's Best Baseball but in the years ahead as it goes against what has been done with baseball cards for years when the MLBPA and MLB changed who could appear in a base set and who couldn't. This changed how sets were built and numbered, but not what Beckett and many collectors recognized as an RC.
Why 2021 Bowman's Best "Prospects" are Rookie Cards
At Beckett, there is longstanding criteria on what constitutes a Rookie Card or RC. In a nutshell:
It's a base card. The base set is the core of any release. Inserts and parallels are something separate and have never been considered RCs in the Beckett database.
The set includes veterans. If a set is only prospects and rookies, it's considered a prospect or minor league set. That's why recent Bowman Draft Baseball sets don't have RCs. For several years the base set has been exclusively draft picks and prospects.
The set has wide distribution. If there's any area that has become grey over the years, this might be it. Online-exclusives have changed how some products are made and what's considered mainstream. But the principle still applies. This distribution also means cards come as some sort of package. Therefore, print-on-demand sets like Topps Now and Panini Instant haven't been recognized with the RC tag from Beckett.
The prospects in 2021 Bowman's Best Baseball all meet this criteria. Jasson Dominguez and Spencer Torkelson are alongside Mike Trout and Fernando Tatis with the same continuous card numbering. This is a product that's available everywhere. It's a mainstream set so there are no questions about distribution.
The only difference between these players and other "rookies" in the set like Jonathan India and Jarred Kelenic is a small RC logo.
The Introduction of the RC Logo
Until 2005, in baseball you would often find prospects and draft picks in base sets. Starting in 2006, the MLBPA and MLB said that players could only appear in a base set after they'd made their big league team. Draft picks and prospects could still have baseball cards in MLB and MLBPA products, but they were numbered separately.
This became clear in Bowman products. Beginning in 2006, veterans and rookies were numbered one way and prospects another, essentially making them inserts. That's the way is has been for 15 years. One can look as recently as 2021 Bowman Chrome Baseball to see the base/prospect numbering distinction.
As a part of this change, Topps and Upper Deck, both of whom had the baseball license at the time, started using a special rookie logo to signify a first-year player's cards. It's sort of a handy shorthand to quickly recognize rookies from veterans.
But just because a card has a rookie logo doesn't change Beckett's criteria for an RC.
Today collectors will find the logo on both base cards and inserts. For a lot of players, that means thousands of cards with the icon.
One way to look at cards with the RC logo is to see them as rookie-year cards, which can be different from a Rookie Card.
A rookie-year card is all-encompassing, taking in everything from a player's first year of cards. A traditional Rookie Card is more defined as the player's first year of base cards.
Beckett has never used the logo as a way of tagging Rookie Cards. Inserts have never been RCs. Neither have parallels and lots of other cards that have the icon. Both have the logo across all sports. It all goes back to the criteria.
When RC Logos Become Confusing
Then there's the grey areas like Topps Now. A lot of players in the print-on-demand set have the RC logo. But there's an arbitrary date where that changes to "Call-Up." The numbering never changes but in the 2021 set, how are Jarred Kelenic and Wander Franco really that much different. Kelenic made his MLB debut on May 13 and his cards have the RC logo on them.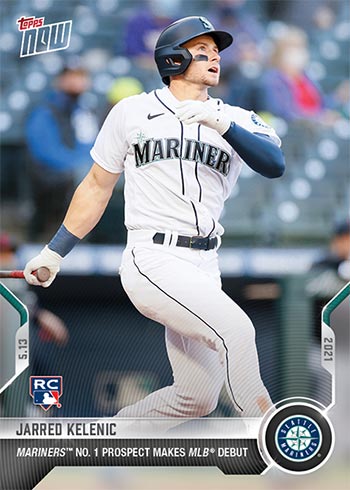 Franco's first game for the Rays was on June 22. His Topps Now cards don't have the RC logo. Instead, they say "Call-Up."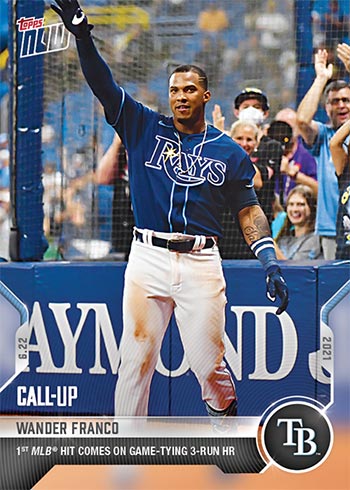 Same set, continuous numbering, different ways in how the logo is applied. It's not a knock on the logo or how it's used but from a collecting standpoint there are times where it's confusing and feels arbitrary.
Not All Rookie Cards Have an RC Logo
In the big picture of collecting, the standardized RC logo on sports cards is a new thing. People have been collecting cards since the 1800s. More than a century passed before the logo was introduced.
Currently, not one member of the Baseball Hall of Fame has the rookie logo on their Rookie Cards.
Even today, you can find exceptions in baseball where players' Rookie Cards don't have the logo. Daniel Murphy's 2009 cards do not. Neither does the 2015 Topps Update Enrique Hernandez. That doesn't mean they're not RCs. These sorts of examples are definitely the exception but it illustrates that such instances do exist.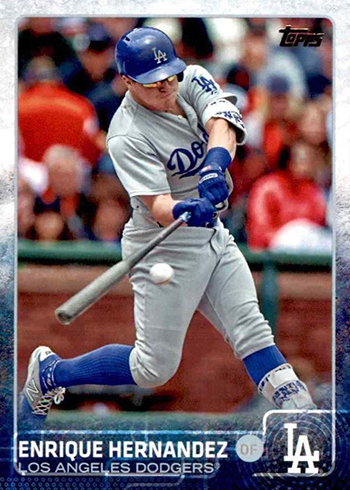 How Important Are Rookie Cards Today?
Are Rookie Cards a driving force in the hobby? Yes. Can they make or break a product's lasting popularity? Absolutely.
But in today's products, there are multiple levels of access points for young stars, particularly in baseball.
Since 2006, a player's first Bowman card, typically their first in a MLB uniform, carries tremendous weight. Arguably, they're just as important as a player's eventual Rookie Card. To some, they treat them like a Rookie Card.
That's perfectly fine.
Beckett's criteria has been consistent over the decades. The 2019 Bowman Chrome Wander Franco autograph is a very important card. But it's not his Rookie Card.
You can go back to Topps' earliest days in baseball to find another prominent card that isn't an RC but is easily their most important — the 1952 Topps Mickey Mantle.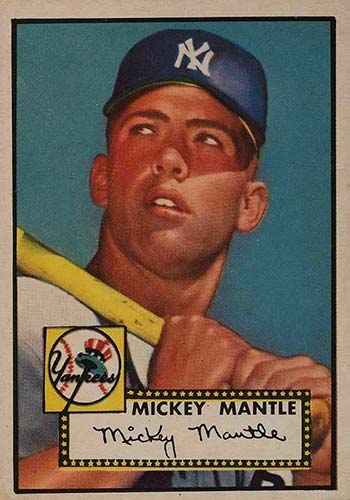 His actual RC came a year earlier in 1951 Bowman. The 1952 Topps card is, by definition, a second-year card. That doesn't doesn't take away any of its status or legend. It just simply means that it doesn't have a label.
Rookie Cards are key. But they're not the only thing. Today's hobby reflects that. Prospect cards and RCs can both exist.
Eternal Confusion
Rookie Cards have always been confusing. They probably always will. That's because different collectors see things in different ways. It's also a product of marketing as card makers look for ways to appeal to various collecting bases.
Let's take Derek Jeter as an example. His Rookie Cards are in 1993 products. He didn't debut until 1995 and was the American League Rookie of the Year in 1996.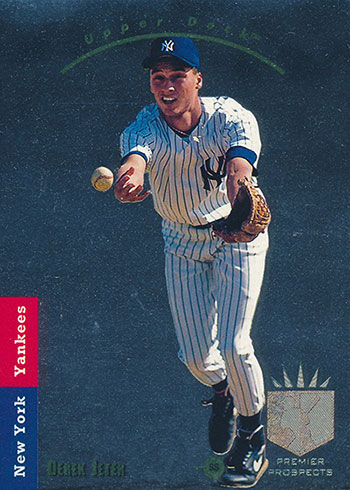 Several of his 1996 base cards say "Rookie" on the front including Score, Fleer Ultra and Select. You might see some eBay listings noting them as RCs, but the hobby consensus goes back to 1993 with SP, Topps, Upper Deck and others.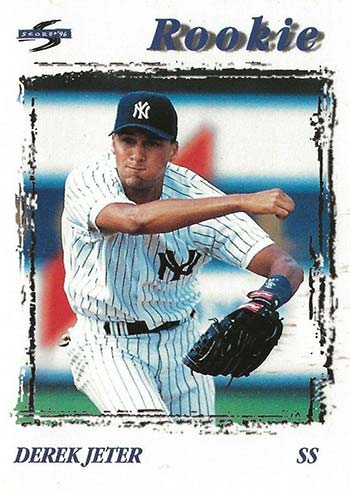 Prospect cards have further muddied things. In Bowman products, they look just like base cards when it comes to layout. The only difference is a small number on the back.
At Beckett, there is that longstanding criteria that acts as a foundation. As different things pop up, it always goes back to what was set forth decades ago. By having a definition, things get easier.
But we acknowledge that not everyone goes by the same definitions. That's perfectly fine. For us, the RC tag is important in categorizing cards. It's not intended to say one card is more important, coveted or valuable than another. That's up to collectors to decide.
What Do the 2021 Bowman's Best RCs Mean for the Future?
Because they meet our longstanding criteria, the prospects in the 2021 Bowman's Best will get the RC tag and we will be referring to them as Rookie Cards.
Any base cards for these players in 2022 and beyond will not. Instead, their rookie-year cards with the RC logo will likely be cataloged with the (RC) tag. This was introduced for players who debuted in 2006 or later but already had Rookie Cards. Upon their debut, Topps and Upper Deck used their RC logos for their rookie year cards.
An example would be Justin Verlander. His RCs are a part 2005 base sets. His (RC) cards in the Beckett database are his 2006 cards that have the card makers' logos.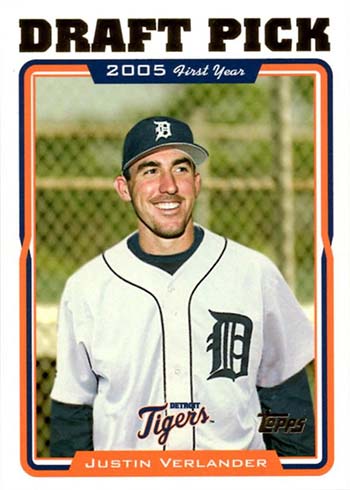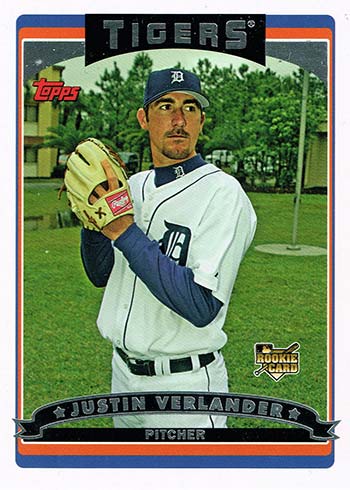 The (RC) designation is a way of signaling to collectors that there are earlier base cards that meet traditional RC criteria.
We understand what this means. A lot of major prospects over the next several years are likely to have their only RC cards in 2021 Bowman's Best. The anticipated deluge of Wander Franco Rookie Cards in 2022 products will no longer be there, at least according to how we define them. It's the same with all of the other impacted players.
Collect What Makes YOU Happy
Franco's 2022 cards won't have the RC tag in the Beckett database but it's likely that his cards will have Topps' and Panini's RC logos. A lot of collectors are going to look at 2021 Bowman's Best as an anomaly and treat his cards as Rookie Cards. Others today swear by the modern RC logo on the card itself.
All of those things are good. The Beckett staff believe strongly in the idea that people should be collecting what brings them joy and excitement. For some, that's first Bowman Chrome Autographs. For others, it's cards from a player's first season that have the RC logo. There are others who don't pay attention to rookies and chase autographs, memorabilia cards, mascots, promo cards, cool inserts or anything from their favorite teams. Set building is still a thing, too.
A collection should be defined by the collector, not a tag or logo.
At the same time, we felt it important to explain where we are coming from. It's clear that the way 2021 Bowman's Best is laid out, the prospects in the base set meet the criteria of what has been in place for decades to qualify as an RC in the Beckett database. To ignore this would undermine the entire purpose of the tag in the first place and its history.
Whether it was intentional or a mistake really doesn't matter. The product is out and it is built and numbered the way it is.
The Rookie Card Conversation Is a Good Conversation
We understand some collectors are going to see this situation differently just as every conversation about what is and isn't a Rookie Card has been in the past. The debate isn't new and it's not likely to end. Collecting is personal and that's what makes the hobby great.
If the market decides that 2022 Wander Francos are more valuable and coveted than his 2021 Bowman's Best card, there is nothing wrong with that. That's the market speaking. That doesn't change Beckett's criteria, though. Otherwise, the 1952 Topps Mickey Mantle would have been made an RC in the database decades ago.
The Rookie Card debate a good conversation to have as it helps collectors define what's important to them and helps shape their collections.
(Please note that because of the holidays, it may take a few days for the Beckett database to be updated for 2021 Bowman's Best.)