The Brees Knees: Does Drew need another ring?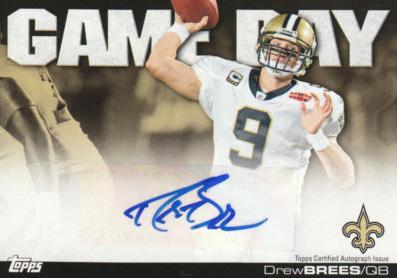 By Andrew Tolentino | Football Editor
To use a more-recently retired phrase, Drew Brees is the bomb dot com.
For some, he might not be as appealing as touted Tim Tebow or young Cam Newton (who,  by  nature of Carolina's mascot, is the cat's meow). But let's be honest.  Neither of the new(ish) sensations can hold a candle to Saint Drew's career, or more specifically, what he's done this season.
Since Dec. 26 — the night he broke Dan Marino's single-season passing record — Brees has been hammering home his case for football immortality. And (sorry, Niners fans) there's a pretty good chance that his legend will continue to grow after this weekend.

Even if Brees and his Saints happen to lose, even if it's a blowout on Saturday, in the NFC Championship Game or in the Super Bowl, he will still have achieved legendary status. He's Marino with a Super Bowl ring.
Poor Dan. First, a championship in 2010, the passing record in 2011, and now maybe another title in 2012? What else does this guy want to flaunt that Marino doesn't have or doesn't have anymore?!
If there's one other thing that Brees  is gunning for (and he probably isn't, intentionally, at least), it's those Marino-esque hobby numbers. For an active player, Brees' $82,000-plus total card value is far from shabby, but he has a ways to go before he hits the $240,000 mark. This being said, we're dealing with a player who just officially earned elite status with a few more years left in his career.
Poor Dan.
In reality though, and as confirmed by Marino's congratulatory tweet to Brees, the legendary Dolphin is happy to welcome the new immortal to the club.  Both athletes belong to an elite group of quarterbacks destined to be talked about and collected for years to come. Those who belong to this rare breed are typically destined to long, if not permanent, hobby success.
The fact that Marino never won the big one hasn't stopped collectors from going bonkers when they find his autographs. And the same goes for Brees. A Super Bowl XLVI victory would certainly be a nice way to end his epic (like, 'Lawrence of Arabia' epic) year. And collectors should expect an equally epic uptick in value if this is the case — but he doesn't necessarily need the extra cherry on top to secure his fate as a football card god.
With or without a ring this year, Brees has proven to be the unreal, real deal. Below are a few key cards that are bound to be picked up and passed along as his legend continues to grow.
High-Roller Rookie Cards

2001 Playoff Contenders #124 AU/500 ($750)
2001 SPx  #101G JSY AU/250 ($350)
2001 SPx #101B JSYAU/250 ($350)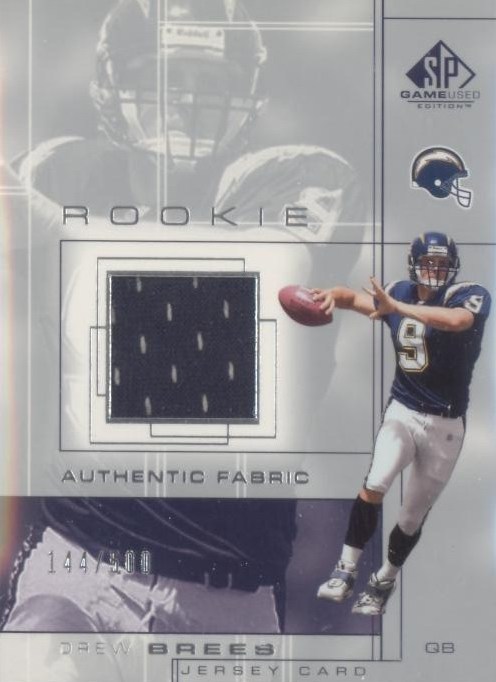 Brees at a Bargain

2001 SP Game Used Edition #93 JSY/500 ($60)
2001 Playoff Honors #203 JSY/725  ($50)
2001 Select #272 ($30)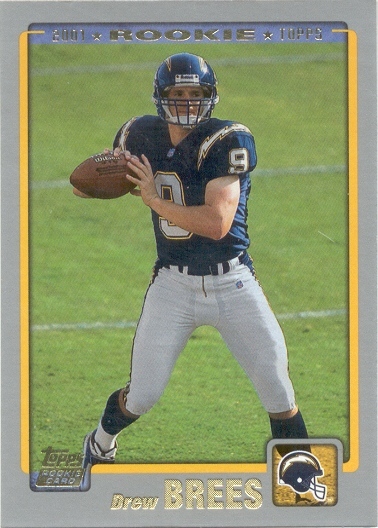 10 Under $20
2001 Bowman #164 ($15)
2001 Fleer Tradition #402 ($12)
2001 Hot Prospects #120 ($15)
2001 Pacific Impressions Retail  #202 ($12)
2001 Quantum Leaf #202 ($12)
2001 Stadium  Club #159 ($12)
2001 Topps #328 ($15)
2001Topps Gallery #115 ($10)
2001 Upper Deck MVP #287 ($8)
2001 Upper Deck Vintage  #251 ($12)