If you're looking for a Justin Verlander Rookie Card, you've got lots to choose from — like more than 40 of them. He made his hobby debut at a time when four companies had MLB licenses — Topps, Upper Deck, Donruss/Playoff and Fleer. So not only does that mean a lot of choices, but each company has their own sort of niche.
Despite a Hall of Fame résumé that's bringing with it some major career milestones of late, you don't have to spend a lot to get most of Verlander's Rookie Cards. The majority are regular cards and not autographs or numbered short prints. Those exist, but you can put together an extensive collection and still avoid them.
The autograph Justin Verlander Rookie Card lineup consists of 15 cards and are spread across all four companies.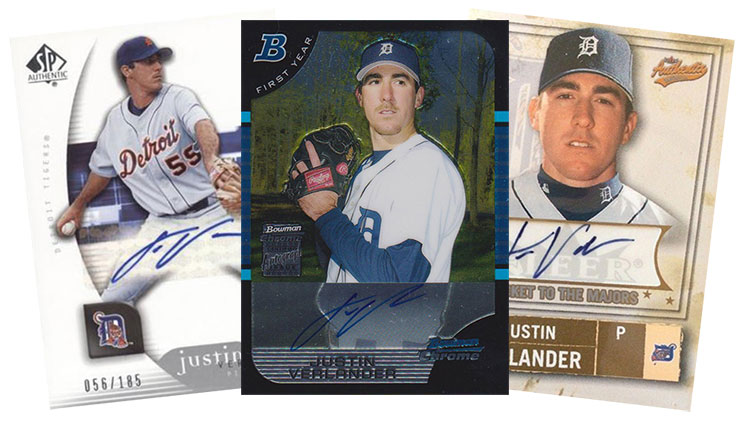 In most instances, it takes a lot for a pitcher to pop in the hobby. Most play just once or twice a week. Many get injured. And even for those who stay healthy, there's usually a small window of dominance. While Verlander has had his ups and downs, he is easily one of the best of his generation. Not only did he win the 2011 American League Cy Young Award, he took home the MVP Award as well, something pitchers rarely do.
The 2017 World Series Champion is on the backend of his career. Still, he remains among the best starters in baseball. What you're likely to start hearing more of as things wind down are his career numbers and debates about where he stands among the greats. With that in mind, he's no longer a "risk" when it comes to baseball cards. His place in history is set.
New Rules, Not New Rookie Cards
As if 45 RCs wasn't enough to digest, there's another layer to consider with Justin Verlander Rookie Cards. Starting in 2006, the MLBPA and MLB went to a more strict definition for what they considered to be a Rookie Card. Specifically it went by debut. In the process, it introduced when they see as their current standard, complete with Rookie Card badges.
By making his debut in July, 2005, that made Verlander "eligible" for the new MLBPA rookie rules. So, many of his 2006 cards have that new designation logo. But these aren't considered RCs in the traditional sense. Verlander has plenty of 2005 base cards that are considered his Rookies.
Verlander isn't alone with this logo crossover confusion. The first few years of these new rules meant a lot of transition. Before these rules were put into place, draft picks and prospects could make their way into base sets and be RCs. So those that did prior to the change often have a year where their actual RCs and the logo don't match up.
In short, Justin Verlander Rookie Cards are all 2005 cards, not 2006.
Justin Verlander Rookie Card Countdown
---
---
---
---
---
---
---
---
---
---
---
---
---
---
---
---
---
---
---
---
---
---
---
---
---
---
---
---
---
---
---
---
---
---
---
---
---
---
---
---
---
---
---
---