Element alert: 2011 Topps Platinum Football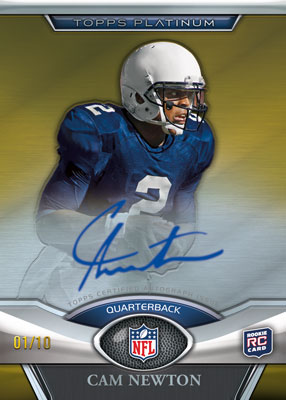 By Andrew Tolentino | Football Editor
On the cusp of last night's draft drama, Topps unveiled its elemental-appreciation product — 2011 Topps Football — to the collecting world.
Following the company's summer ramp-up, Platinum will hit shelves in early September with newfound rookie clout and fresh product features. Brand-spankin'-new brand components include: on-card rookie autograph cards, rookie   Supreme-Sized patch cards, rookie autograph jumbo patch Refractor cards and Platinum die-cut cards.
Vexing Hexagraph autograph Rookie Cards — limited to 10,  showcasing six newcomer signatures — are sure to add some double-sided allure to this year's release.
Each box of 2011 Platinum promises three hits and a per-pack perk: two on-card rookie Refractor autographs, one Refractor patch autograph and one Refractor Rookie Card in each pack.
The box, by the numbers
20 packs per box
Five cards per pack (four veteran base cards, plus one Chrome Rookie Card)
Go beyond the break for more details and visual stimulation.
Platinum die-cut cards

15 NFL rookies and 10 veterans as depicted on cardboard silhouettes
On-card autograph Rookie Cards

Desirable doppelgangers of the 50 base Rookie Cards, also available in new parallel versions such as:

Gold Refractors (numbered to 10)
White Refractors (numbered to 50)
Green Refractors (numbered to 399)
Multi-autograph Refractor Rookie Cards

Group-'graphed grabs — replacing hard-signed autograph hits — numbered as follows:

Dual (numbered to 25)
Triple (numbered to 10)
Hexagraph (double-sided, numbered to 10)
Rookie autograph jumbo patch cards

Limited, signed, super-sized, rookie-worn patches — also appearing in parallels

Red Refractor NFL Shield (new, 1/1)
Superfractor (1/1)
Gold Refractor (numbered to 10)
White Refractor (new, numbered to 25)
Blue Refractor (numbered to 99)
Green Refractor (new, numbered to 199)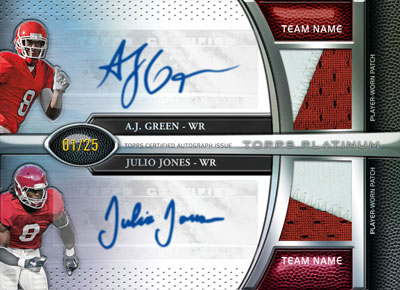 Rookie dual autograph dual patch cards

Rookie hits, paired and numbered to 25 on refractive cardboard
Autograph Platinum Patch cards
25 rookies and five veterans featured alongside respective Supreme-sized player/game-worn jersey pieces (numbered to five)
Autograph veteran patch cards
15 proven players showcased with signatures and game-used swatches on numbered and paralleled pulls:

Superfractor (1/1)
Gold Refractor (numbered to 10)
White Refractor (numbered to 25)
Stay tuned to Beckett.com for more information and preview images for this forthcoming Topps product.