Commentary: Maybe it's just me, but … weird cards, rare vintage, tough ink & a Tom Yawkey gamer?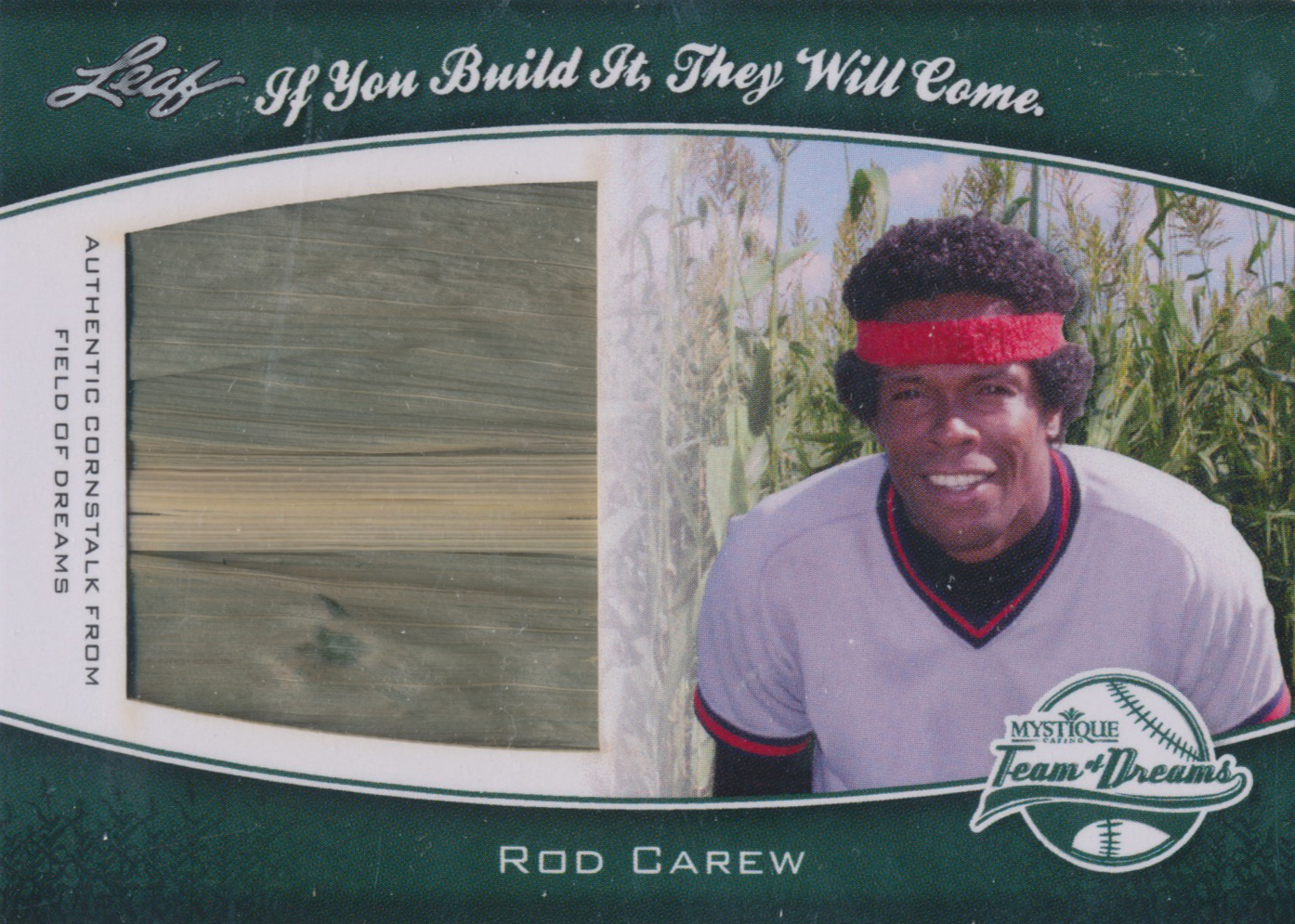 By Chris Olds | Beckett Sports Card Monthly Editor | Commentary
Maybe it's just me, but …
— Unusual memorabilia cards keep capturing my attention. In recent months, I've not gone mad with the new editions of the typical collecting standbys in wax box form. Instead, I've been picking up unusual cards that just aren't easy to find and don't break the bank. They're the kinds of cards you can't just walk into a Walmart or a card shop and find — and they can cost a lot less than you might think. The Rod Carew Leaf card above has a piece of cornstalk from the Field of Dreams in Iowa. It's easily one of the weirdest cards in my collection — and it cost about the price of two low-end wax packs. (Actually, it was less once you add in sales tax.)
—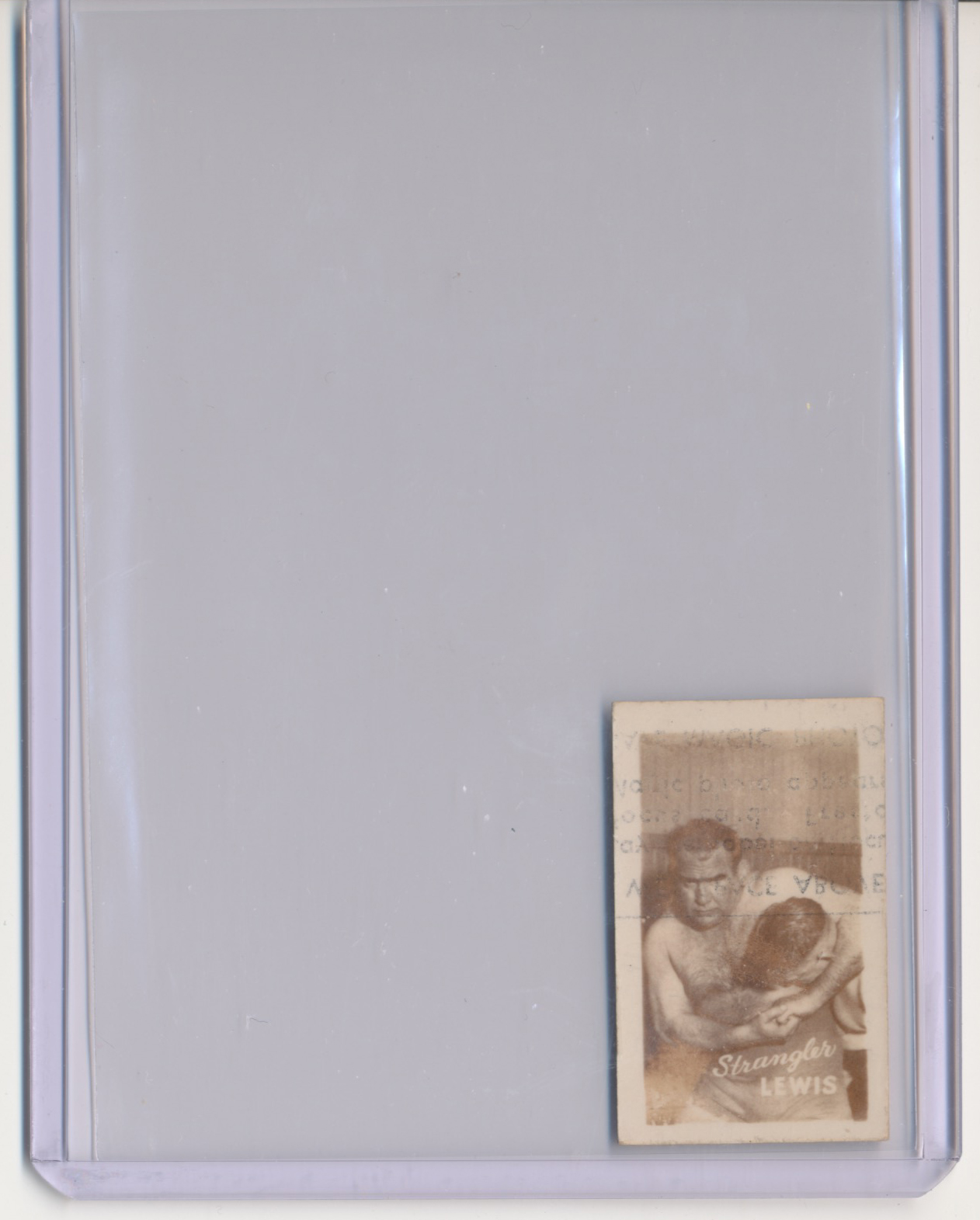 — Vintage cards aren't as easy to find as you might think … at least not in baseball. Walk into a typical card shop these days and you might not find much vintage cardboard at all. After all, it's often new wax that helps pay the rent — or the good old stuff that could has already come and gone. Find a good shop, and you'll probably find a pretty good amount of vintage for baseball. The other sports? That's just not as easy. The card you see above — and that's scanned in a standard top-loader so you can see how small it is — is one you might not have seen before. (Heck, I'll admit I haven't seen any of the cards in that set before in-person in a few decades of collecting.) It's from the 1948 Topps Magic Photos set and it's of Ed "The Strangler" Lewis, a six-time world champion in pro wrestling in the 1920s and 1930s. There are more than 250 cards in that multi-sport and non-sport release and it's one that includes Topps' first baseball cards. This one cost me a whopping $4.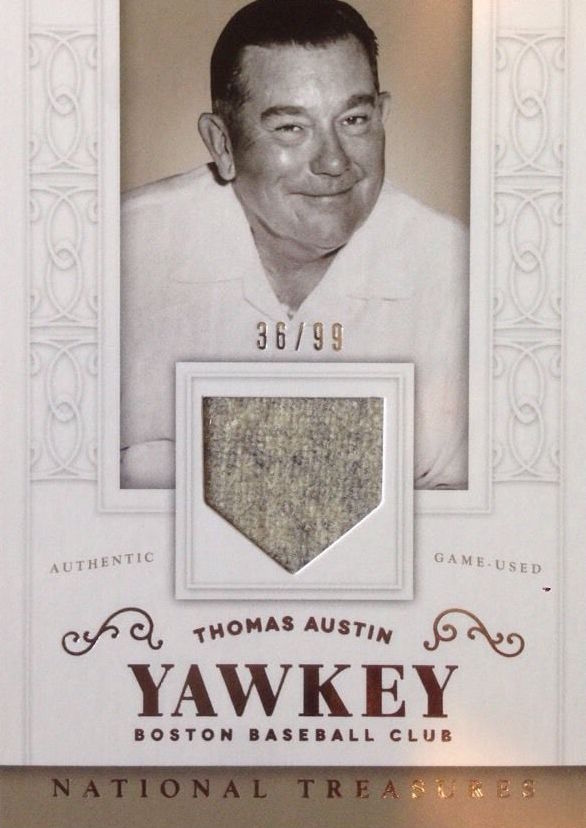 — Cards with a little mystery don't worry me … they intrigue me. This Tom Yawkey card from 2014 Panini National Treasures seems like a definite anomaly. It's a game-used card of the former Boston Red Sox owner and that appears to be a piece of a flannel jersey from back in the day. Is it a jersey he wore or owned that was used in a game by one of his past stars? I have no idea. Could it be an error? Maybe. Either way, this enigma joined my collection for less than $10. Why? It's just interesting to me. The mystery alone is worth it.
—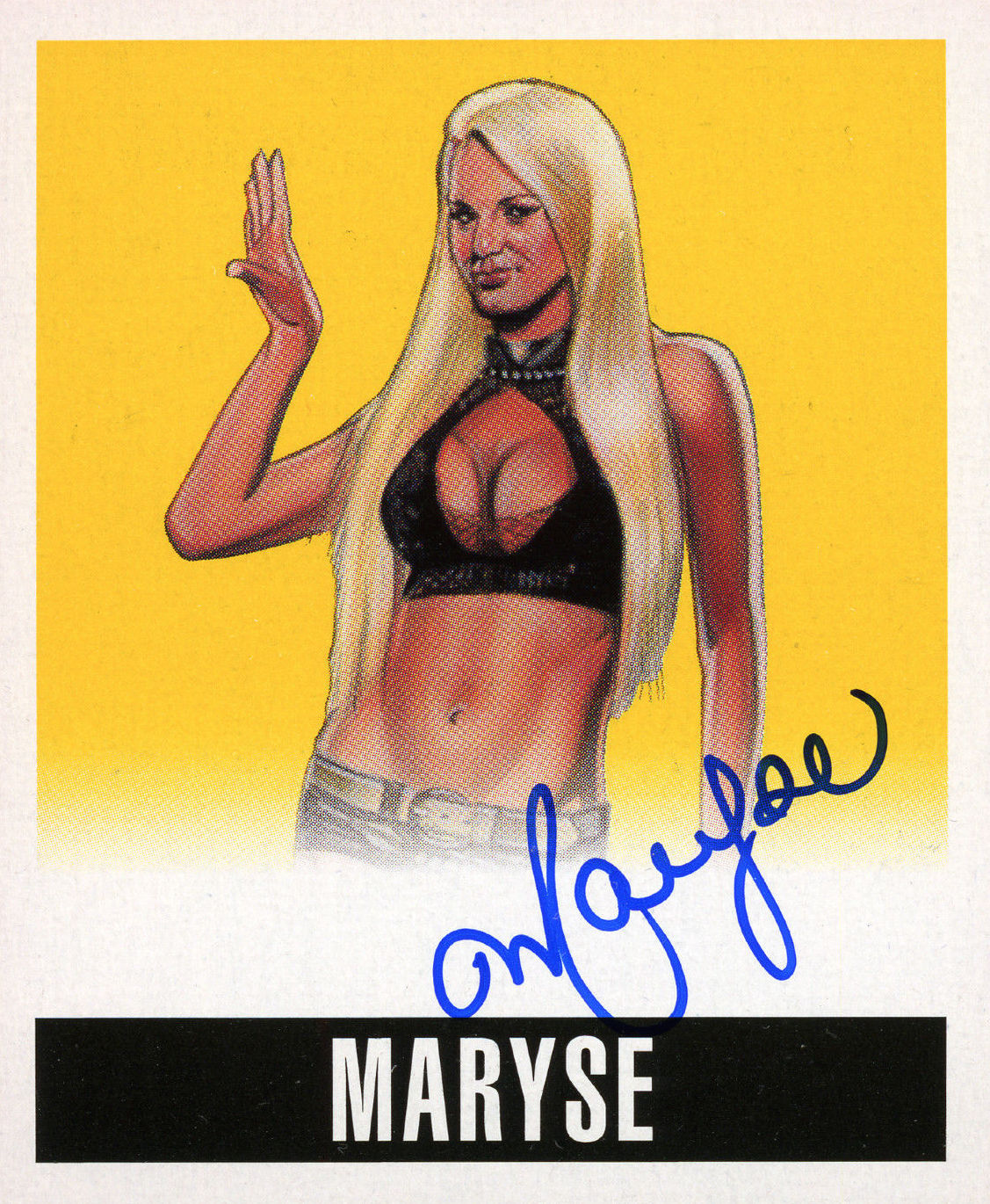 — Some sports are not overproduced — and they should be looked at closely. Sure, some of you will immediately scoff that that statement being paired with a pro wrestling card but the point is much like my vintage one. If you want an autograph of Modern Player X in baseball, odds are you can find one because there are more than a few sets with more than a few options made for a few years available. Other sports and non-sports entities don't really have that situation. Sure, they may not have as much widespread interest as baseball or football does, but fewer cards can mean stronger values because potential buyers have fewer cards to compete for. While some baseball prospect brands are $75 or more a box and yield a lot of cheap autographs, other sports can yield more for around the same money and include potential bargains. And when a person has five total autographs for a career vs. five autographs per product for their career, well, you can figure out the difference. This card is one of only 13 non-1/1 autograph cards for Maryse in her WWE career — and they are found in only three products. Some of that wax isn't easy to find — not as easy as the typical baseball brands.
—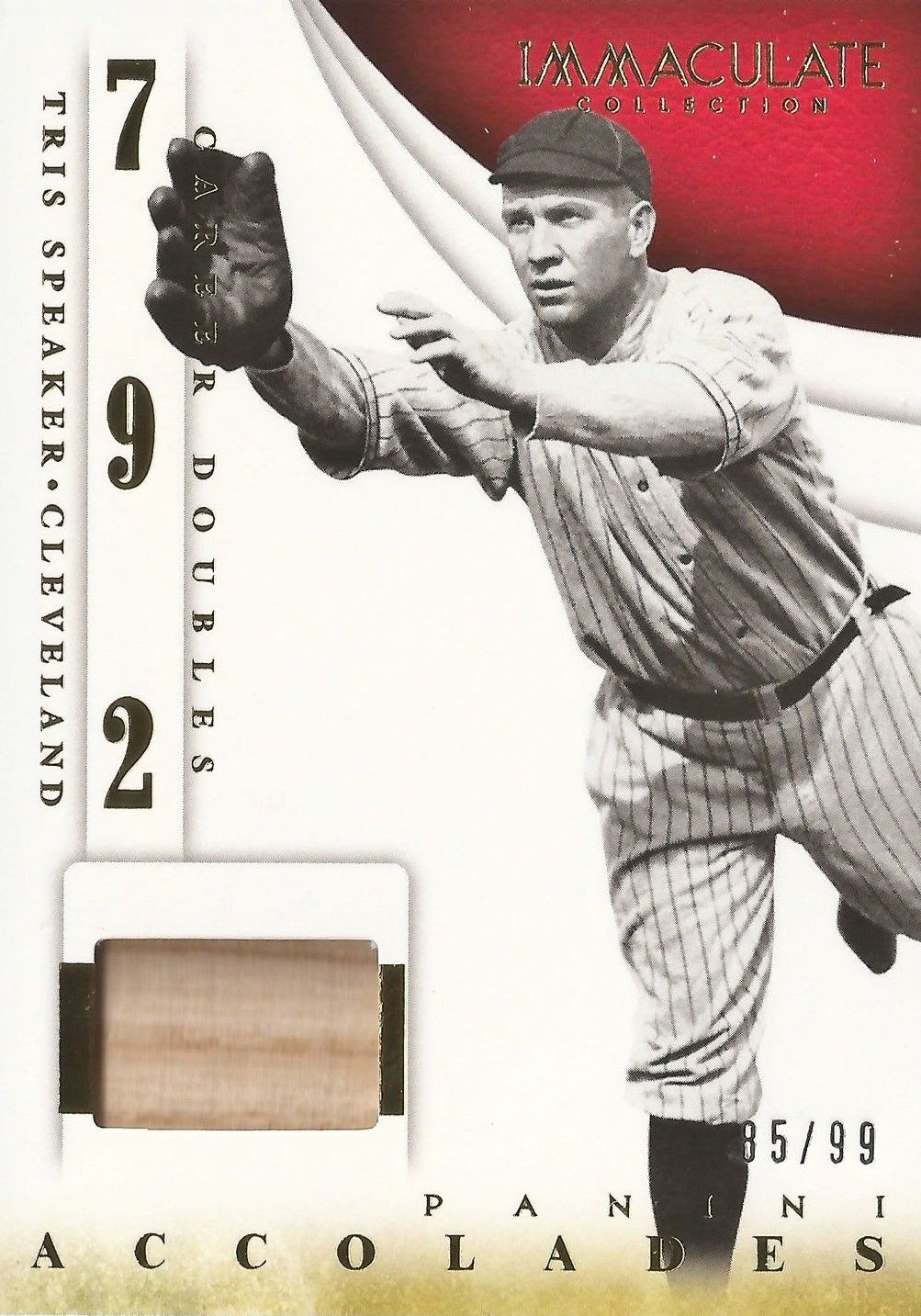 — Legendary memorabilia cards can be some legendary bargains. A recent kick of mine has been picking off game-used cards of pre-1950s Hall of Famers in baseball. Why? Because some of them are ridiculously cheap and can't be that plentiful in the future. Why? Their game-used memorabilia is simply not going to be found at auction easily a second time once an item is gone.  Tris Speaker is one of the game's legendary hitters and his final game was in 1928. He hit .345 with 436 stolen bases and an all-time record of 792 doubles in 22 seasons before Cooperstown called in 1937. The others in that second Hall of Fame class? Nap Lajoie and Cy Young. His bats can't be plentiful — or cheap. Meanwhile, I got this card for $13.
—

— Cool cards trump my collecting focus. I don't collect hockey, I can't pronounce the names of 97.2 percent of the league's players and I have no business being around any type of skates after a traumatic roller-skating experiment at a birthday party as a kid. (Broken coccyx … I swear.) But when I saw one of these National Treasures Treasure Chest cards available at a cheap price I had to have it.  My card has a plain white swatch for 17 of the 24 young stars pictured on it, but that didn't matter, either. Cool cards draw me in. Sure, this is costly to make and there's definitely some labor involved to make them — but other sports need cards just like these.
—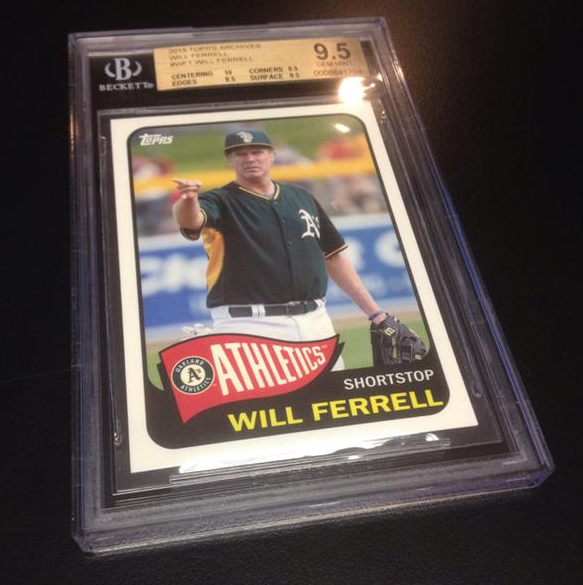 — Making the grade isn't as important as timing. This Will Ferrell 2015 Topps Archives card is one that I bought raw — and it took far too long for me to land it. However, it didn't take long at all for me to submit it to Beckett Grading Services. Why? It looked good in terms of BGS 10 potential, and it's a fun and key card for my A's collection — no matter what the grade. This one won't be hitting eBay any time soon, but if it did the time would be now. Why? The Ferrell Takes the Field show documenting his MLB "career" airs for the first time tomorrow night on HBO. Timing always comes into play for those who flip cards — but I'd almost think that it can be more important if a card isn't a 9.5 or 10. In this case it might be the last chance for a spike in interest for the cards.
Chris Olds is the editor of Beckett Baseball and Beckett Sports Card Monthly magazines. Have a comment, question or idea? Send an email to him at colds@beckett.com. Follow him on Twitter by clicking here.