George W. Bush becomes first President to sign for Topps; Yankees fan to get his own card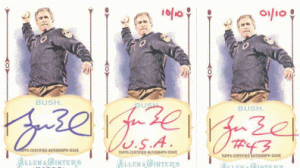 By Susan Lulgjuraj | Contributing Editor
Former President George W. Bush has done something no other president has done before.
Bush became the first living president to sign for Topps when 200 autographs were included in 2011 Allen & Ginter, released this week.
Presidents' autographs have been in baseball cards as cut autographs, but this is the first time a former president has actually signed a card for the company, according to Topps.
Ten short-print red autograph versions are also available, some even have an inscription of "#43" or "USA."
"Our 2011 Allen & Ginter product will continue Topps' historic tradition of chronicling heroes both on and off the playing field," Topps vice president Mark Sapir said in a release. "We're thrilled to announce that this year's set will include limited edition autographs of our country's 43rd President, George W. Bush – marking the first time ever that a living President has made their autographs available in a trading card product."
Bush is a huge baseball fan and even owned the Texas Rangers at one point.
His Allen & Ginter card portrays him throwing out the first pitch before Game 3 of the 2001 World Series, weeks after 9/11.
One of the red autographs has already been pulled by a collector on Twitter, who posted the card Wednesday night in his feed.
In other baseball news, the man who caught Derek Jeter's 3,000th hit is apparently getting his own baseball card. Christian Lopez gave the ball back for Jeter while not asking for much in return. But that didn't stop others from giving to the 23-year-old.
Miller Brewing Co., and Modell's Sporting Goods have both pledged to give Lopez money to cover taxes and his student loans.
And now Topps told him he is getting his own baseball card in an upcoming product and will be a Topps employee for the day. He'll get to pick the image for Jeter's 2012 card as well.
"Christian Lopez is the perfect role model and embodies everything that is right in baseball," said Mark Sapir, Topps VP.  "Topps is proud to be able to help support this young man and place his rookie card right next to all of today's legends."
Susan Lulgjuraj is a contributing editor for Beckett Media. You can email Susan here. Follow her on Twitter here.