Hits & Misses: Remembering the original Upper Deck Young Guns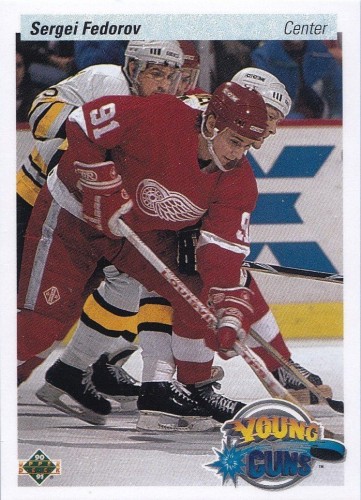 By Stephen Laroche | Beckett Hockey Editor
With the release of 2015-16 Upper Deck Series One a little over a month away, the hype for today's hottest young talents like Connor McDavid and Jack Eichel is about to hit amazing heights. The excitement for the new class of Young Guns cards has been an annual tradition for many years, but how did the original class fare?
The Young Guns concept was added to the high number series of 1990-91 Upper Deck and that update set created a huge splash when it was released toward the end of that season. It included many of the game's top rookies at the the time and featured members of Team Canada that were fresh off a gold medal victory, but a select few were placed in a new subset which became an annual trading as time went on.
The hottest member on the Young Guns checklist at the time was Sergei Fedorov of the Detroit Red Wings and he was a serious contender for the Calder Trophy after arriving from the Soviet Union. Coming in at a close second, though, was Pavel Bure, whose arrival was nervously anticipated by fans of the Vancouver Canucks. The other 13 players in this new subset all had their respective merits at the time and we can reflect on what they accomplished nearly 25 years later.
Was every selection a hit? No, but there were plenty of solid NHL talents among that original cast of Young Guns. Today, these cards are much more affordable than they were, but that does not diminish their importance to the hobby.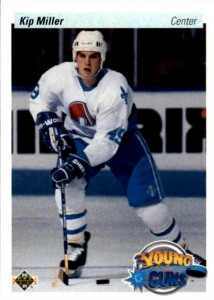 522    Kip Miller, Quebec Nordiques
Coming off a Hobey Baker Award win, there was some buzz about the second member of the Miller family coming into the NHL. After starting the year with the AHL's Halifax Citadels, he debuted with the Nordiques when they played the Montreal Canadiens on February 7, 1991 and he had his first goal and assist three days later against the Boston Bruins.
Ultimately, it took Miller several years to play even close to a full NHL season as he travelled from team to team throughout the 1990s and beyond with stints as a member of the North Stars, Sharks, Islanders, Blackhawks, Penguins, Ducks, and Capitals. His best effort came with Washington in 2002-03 with 50 points and he played one more year before shuffling down to the minors.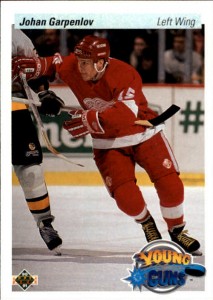 523    Johan Garpenlov, Detroit Red Wings
A promising start with the Red Wings ensured that all card companies included Garpenlov in their later 1990-91 releases and he got the well-deserved Young Guns treatment since he was in the midst of a 40-point debut. He got a lot of attention for his 19.8 shooting percentage as well and shared the Young Guns checklist card with teammate Sergei Fedorov.
By 1991-92, however, he had proven to be a victim of the sophomore jinx and was traded to the expansion San Jose Sharks. He proved to be a good fit with them and remained there until part-way through the 1994-95 campaign. He went to the Stanley Cup Final with Florida in 1995-96 and was eighth in the league with seven game-winning goals. His last NHL duty came as a member of the first-year Atlanta Thrashers in 1999-00 before heading back to Sweden.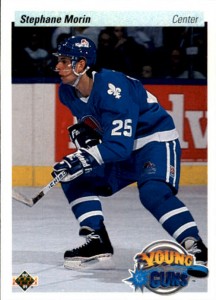 524    Stephane Morin, Quebec Nordiques
Morin was a monster at the junior level as he put up 186 points with Chicoutimi in 1988-89, but the adjustment to the pro ranks proved to be a bit of a challenge for him. He got a shot at some regular action with the Nordiques and put up 40 points over 48 games with a last-pace club, but that momentum could not carry over to the next year as his production dipped dramatically and he spent more time in the minors.
Eventually dispatched to Vancouver, he only got into a handful of games there before becoming a serious scoring threat in the AHL and IHL. In 1998-99, he moved on to play in Germany for the Berlin Capitals and during a game on October 6, 1998, he died due to heart failure and left behind a wife and young son.
525    Sergei Fedorov, Detroit Red Wings
Elected to the Hockey Hall of Fame in 2015, Fedorov was arguably the most popular NHL rookie in 1990-91 as he had come over from the Soviet Union to play for the Detroit Red Wings. He led all freshman players with 79 points and finished second in voting for the Calder Trophy.
While his Young Guns card was not the first to hit the market that season, it was certainly the hottest – especially the French variation which was perceived as being quite limited. In time, it was proven that it was not a rare a commodity due to a second and larger print run of high number cases being released and it only has a small premium over its counterpart today.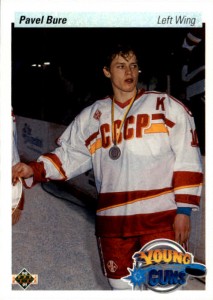 526    Pavel Bure, Vancouver Canucks
Even before he made his NHL debut, Bure was regarded by many as being the most exciting junior player in the world. Due to the ambiguous nature of licensing for trading cards at the time, Upper Deck decided to jump the gun and was the first card company to feature the Russian Rocket before he came over to play for the Vancouver Canucks.
Fans and collectors would not have to wait long for Bure's arrival in North America and he was an instant sensation in 1991-92 as he walked away with the Calder Trophy. A human highlight reel, he enjoyed tremendous success with the Canucks, but injuries became a problem later in his career and his last pro action came in 2002-03. He was enshrined in the Hockey Hall of Fame as part of its class of 2012.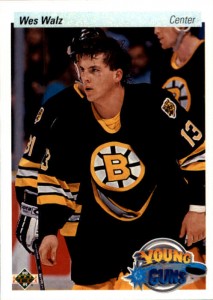 527    Wes Walz, Boston Bruins
A virtually unstoppable scoring force in the WHL, Walz enjoyed a quick two-game examination from the Bruins in 1989-90 and split the following year between Boston and its AHL farm club in Maine. His Young Guns card shows him heading off the ice following a fight which either came against New Jersey's Jon Morris or Rob Zettler of the Minnesota North Stars in December, 1990. The early part of his career was rather perplexing to some as he did not deliver much on the offensive potential he demonstrated and often shuttled between the minors and his NHL clubs before going off to Europe in 1996.
While playing for EV Zug in Switzerland, he came into his own as a player and was ready to return for a second shot at NHL glory with the expansion Minnesota Wild in 2000-01. A popular player throughout the team's first few seasons, he finished third in voting for the Selke Trophy in 2002-03 and retired early in 2007-08 before moving on to coaching and broadcasting.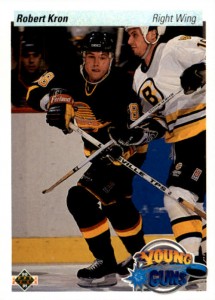 528    Robert Kron, Vancouver Canucks
Drafted by the Canucks in 1985, it took five years for Kron to finally arrive in the NHL and he enjoyed a respectable 32-point debut season with Vancouver that included three shorthanded tallies. Hampered by injuries over the next two seasons, he was eventually traded to Hartford and enjoyed a pair of 50-point campaigns before they moved to Carolina.
As his NHL days began to wind down, he had a regular spot with the Columbus Blue Jackets after they claimed him in the 2000 NHL Expansion Draft and went to Finland for a final pro season before retiring.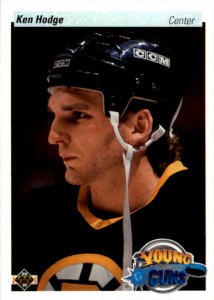 529    Ken Hodge, Jr., Boston Bruins
Drafted by the Minnesota North Stars back in 1984, the second-generation Hodge only played five games there before ending up with his father's old club in Boston. He was the talk of the town for a short period with a pair of hat tricks and converting on 21.9% of his shots. As a result of a 30 goal, 59-point debut season, the 24-year-old finished third in Calder Trophy voting and was named to the NHL's All-Rookie Team. His Young Guns card was a strong performer at the time as well.
Hopes were high moving forward, but a sub-par sophomore season that included a demotion to Maine had him on the fringes of the organization just as quickly as he had risen within it. He tried to stick with the new Tampa Bay Lightning in 1992-93, but he was off to continue his minor league odyssey soon after and wrapped up his career in Great Britain with the Cardiff Devils in 1997-98.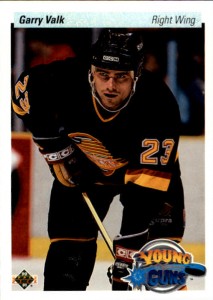 530    Garry Valk, Vancouver Canucks
Steady, but not spectacular, Valk enjoyed a decent NHL career and it all began with the Canucks in 1990-91. Fresh out of the University of North Dakota, he debuted about a month into the season and his first goal came against Toronto on November 8, 1990. Finishing the year with 21 points over 59 outings, he remained with Vancouver until the end of the 1992-93 season.
In 1993-94, he enjoyed his best offensive campaign with the new Mighty Ducks of Anaheim and ended up in Pittsburgh for a brief period before landing with the rebuilding Maple Leafs in 1998-99. Over four seasons, he proved to be a dependable talent and went to the Eastern Conference Final on two occasions before wrapping up his career with Chicago in 2002-03.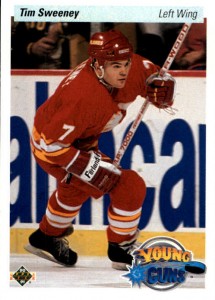 531    Tim Sweeney, Calgary Flames
A former Hockey East scoring champion and IHL Rookie of the Year, Sweeney was a highly-regarded prospect in the Calgary organization in the early 1990s and had a respectable run with the team in 1990-91. The Boston native chipped in 16 points, but four of them were key game-winning goals. Despite this promise, he faltered the next year and was cast off to free agency in 1992.
Sensing a potential opportunity, the Bruins signed the hometown talent, but he was unable to get a permanent roster spot. Anaheim grabbed him in the expansion draft soon after and he delivered a career-best 29 points in 1993-94. Boston signed him again in the summer of 1995 and he bounced between the NHL and AHL for two years before moving on to a final big league season with the New York Rangers in 1997-98.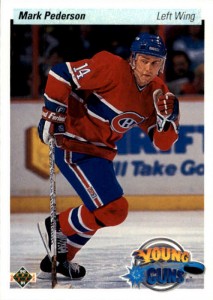 532    Mark Pederson, Montreal Canadiens
Like many of their prospects in the late 1980s, Montreal allowed Pederson plenty of time to develop and he made his NHL debut in 1989-90. The former first round pick got into plenty of games with the Canadiens in the next year and contributed 23 points over 47 games. Not long after this card was released, he was traded away to the Philadelphia Flyers for a second round draft pick.
In 1991-92, he demonstrated some promise for his play at both end of the ice and recorded a career-high 15 goals and 40 points. The next year, he was traded to a brutal San Jose Sharks club and was allowed to leave as a free agent. His last NHL action consisted of a pair of games with Detroit in 1993-94 and he remained in the minors until he retired at the end of the 2004-05 season.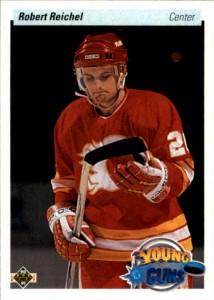 533    Robert Reichel, Calgary Flames
In the late 1980s, only a few NHL teams were seriously scouting in Europe and as a result, many strong talents were selected in later rounds of the draft. One of those surprising players was Reichel, who was selected during the fourth round in 1989 and not expected to arrive in Calgary so quickly due to being from Czechoslovakia. With the political climate changing so rapidly, though, he arrived in time for the 1990-91 campaign and showed that he was worth the wait with a 41-point effort.
As he gained more experience, Reichel became one of Calgary's top offensive weapons and recorded a pair of 40-goal seasons before a contract dispute saw him play in Germany following the lockout in 1994-95. He eventually returned and spent some time with the Islanders and Coyotes before once again going off to Europe. The Toronto Maple Leafs lured him back for three seasons and he played his last NHL game with them in 2003-04 prior to returning to the Czech Republic for six years leading up to his retirement.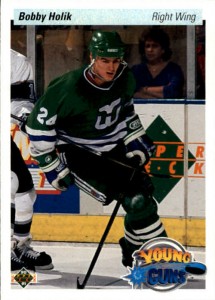 534    Bobby Holik, Hartford Whalers
Holik is regarded as a polarizing figure in the game as he was the typical player you hated to play against but loved to have on your team. The 10th pick in the 1989 NHL Entry Draft, he had a respectable start to his career with the Whalers and scored 21 goals as a rookie in 1990-91. After one more season in Hartford, he was shipped off to New Jersey as part of a deal for Sean Burke and developed into a fine defensive forward that received Selke Trophy votes from 1996-97 to 2001-02.
Along the way, he played a key role in a pair of Stanley Cup championships and missed out on a third when he chose to sign a lucrative deal with the New York Rangers. Following the lockout, he was a strong veteran presence in Atlanta before spending one last year with the Devils in 2008-09.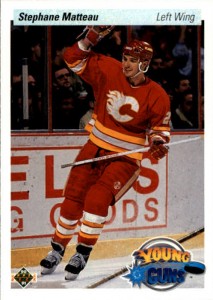 535    Stephane Matteau, Calgary Flames
While New York Rangers still scream his name due to his memorable overtime goal that sent the team to the Stanley Cup Final back in 1993-94, Matteau began his NHL career in a Flames uniform and scored 15 times during his rookie campaign. Sent to Chicago as a sophomore, he thrived as a role player and looked good in their run to the Stanley Cup Final in 1991-92.
Less than two years later, he came to the Big Apple as part of a blockbuster deal and scored a pair of game-winners in the Eastern Conference Final against New Jersey. As an interesting twist, his son, Stefan, was drafted by the Devils but has had some difficulty in becoming an NHL regular. Matteau went on to spend time with St. Louis, San Jose, and Florida before retiring in 2003.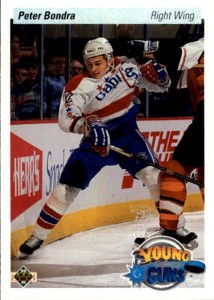 536    Peter Bondra, Washington Capitals
Regarded as one of the greatest late-round steals of all-time, Bondra quietly arrived with the Capitals in 1990-91 and demonstrated some offensive potential with 12 goals in his first 54 games. At the time, few fans could have predicted that he would become one of the decade's biggest goal scorers and his totals grew as he gained more experience.
In 1994-95, he broke out by leading the NHL with 34 tallies and he cracked the 50-goal mark for the first time the following year. Another goal-scoring crown came in 1997-98 and he helped the Capitals reach the Stanley Cup Final for the only time in franchise history to date. He remained in Washington until later in the 2003-04 season and left as their all-time scoring leader. As a member of the Chicago Blackhawks in 2006-07, he became a member of hockey's 500 Goal Club.
Stephen Laroche is the editor of Beckett Hockey, Beckett Basketball, and Beckett Sports Card Monthly magazines. Have a comment, question or idea? Send an e-mail to him at slaroche@beckett.com or follow him on Twitter @Stephen_Laroche.