Upper Deck Euroleague Analysis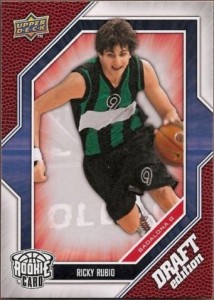 By Derek Ficken | Basketball Price Guide Analyst
With the recent news of Upper Deck's exclusive deal with Euroleague Basketball, many are wondering how this may affect the basketball card market.
There are presently a number of young, international players like Ricky Rubio, Giannis Antetokounmpo, and Dennis Schroeder garnering attention on the court and in the hobby, there is an increased interest in international basketball stars. Many collectors are looking for their earliest cards and currently, would most likely have to wait until after the NBA Draft (barring some special promotion or exclusive from Panini America) before adding these cards to their collection.
Potentially, with Upper Deck's exclusive deal, collectors will be able to purchase cards of international stars before their first official NBA-licensed cards are released. While they won't carry the Rookie Card designation in the Price Guide, they could prove to be highly collectible.
In 2009, Ricky Rubio was an 18-year-old budding sensation in the Euroleague, climbing the ranks of international stardom, and highly touted in the 2009 NBA Draft. His first cards in the Beckett Basketball database hail from 2009-10. Were this type of exclusive deal in place, collectors potentially could have collected a number of cards pre-dating his rookie year in the NBA. Potentially, this deal could lead to products similar to those prospect-heavy baseball products like Bowman Chrome and Panini Prizm Perennial Draft Picks. Collectors buying Upper Deck's Euroleague cards have the opportunity to open a pack with a future NBA superstar inside, possibly years before their first official NBA Rookie Card.
On the surface, this deal seems like a win for all types of collectors. The prospecting gambler may chase the next group of international stars and attempt to flip their cards for big money, while player and team collectors now have more cards to chase of their favorite players and teams.