GIMME FIVE: What five NBA cards would you want?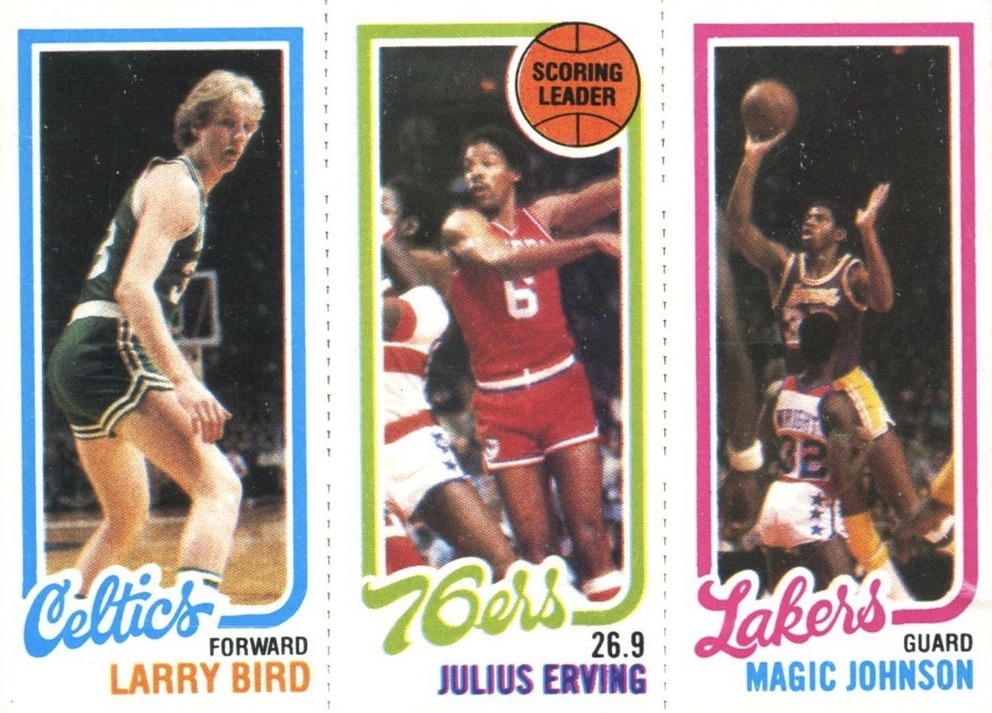 By Chris Olds | Beckett Basketball Editor | Commentary & Opinion
Every once in a while when searching the Beckett database prepping a magazine, I'll find some new surprise that leaps out at me from the listings despite my 25 years in the hobby as an active collector.
Other times, I'll just find myself poking around to check in on what something might be worth or cross-checking that with a pop report to see if any rarities have been captured high-grade style in a BGS slab.
And at other times, I can find myself asking a question. And this is one of those times and the magazine is Beckett Basketball — except I'm asking you, too.
If I (or you) could own five basketball cards of any era, any kind, any condition, any price … what would they be?
1. THE ICONIC ROOKIE CARD
1980-81 Topps #6 34 Larry Bird RC/174 Julius Erving TL/139 Magic Johnson RC, $225
While I once wore the ol' Air Jordans — white Air Jordan V's with the reflective silver tongues, for the record — I never got caught up in chasing Michael Jordan's cardboard. Never really aspired to own a 1986-87 Fleer RC, but one card I did think was classic back in the day was a two-player Rookie Card that featured two icons and the star of a generation before — this 1980-81 Topps Larry Bird, Magic Johnson and Julius Erving epic. To this day, I still don't own one — in any condition — though I should. I guess sometime years ago my want was quelled a bit when a pulled a Chrome Refractor reprint of this bad boy. Not perforated for tearing — but oh so shiny … and we all know Refractors draw plenty of attention. I still have that one somewhere. Heck, I'd even consider this trio if they were torn and in BGS slabs. (I actually kind of like that set based on a few cards I have picked up through the years.)
—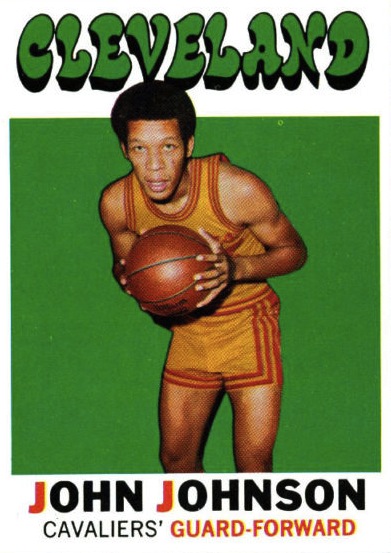 2. THE VINTAGE COMMON
1971-72 Topps #4 John Johnson RC, $2 — but I want it as a perfect BVG 10
I have several copies of this card haphazardly stashed away — when I see it, I buy it — but one thing I would want is a perfect copy of this card that probably has little meaning to many an NBA fan these days. It's a Rookie Card of the first draft pick in the history of the Cleveland Cavaliers, a player who was picked seventh-overall in the 1970 NBA Draft ahead of three Hall of Famers. Why this card? He spent a couple years playing small-time college basketball at a tiny Wyoming college back in the late-1960s, the school I attended, and led the team to unprecedented successes that had never been documented beyond their own times before I wrote a book about the basketball program. I've written about him before, but, needless to say, I have yet to see many BGS-graded copies of this one — let alone a perfect 10. (For the record, if you click on the link above you'll see the pop report … it's barren for this card with just a single graded copy out there … a BGS 6. Wow.)
—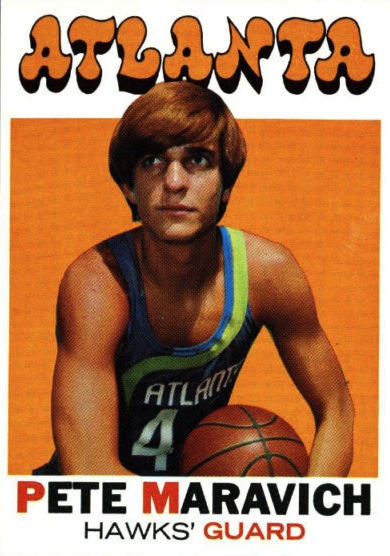 3. THE MYSTICAL DOUBLE-PRINTED HALL OF FAMER
1971-72 Topps #55 Pete Maravich, $25
I've used this image a few times when writing about vintage basketball cards. Why? Because it's still secretly (shamefully?) on my want list. Why? I'm too picky — and cheap. While I'm not wanting to find one that's anywhere near Pristine, I would like to land one that's clean and that's worthy of a slab later on. Why? So I can truly appreciate the eery stare of a Hall of Famer's ridiculously underpriced second-year card. His Rookie Card fetches as much as $300 raw, while this one typically goes for $25 or less un-slabbed. That's what double-printing does for you.
—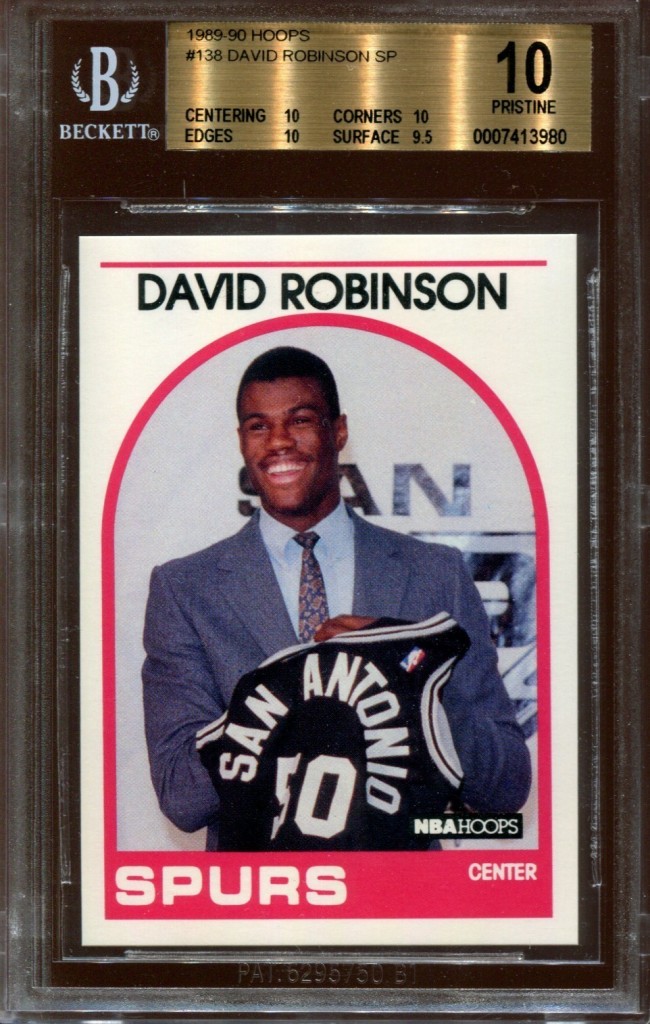 4. THE ADMIRAL IN PERFECT CONDITION
1989-90 Hoops #138 David Robinson SP RC — in a Pristine BGS 10
If you were around in the late 1980s, you know precisely how big this card once was — way bigger than its $12 ungraded price tag indicates these days. Found only in Series 1 packs, this card is technically a short-print as it was replaced with an in-action card in the second series, which included a mix of both series' cards but not this one. It's not particularly rare — but a perfect copy is an impressive one. Exactly 1,414 copies have been graded by BGS but only five have come back perfect. Five. What might a card like that fetch? Well, the current asking price can be found here. (Spoiler: It's way too steep for me. I'll aim for, I don't know, the rest of this list plus some?)
—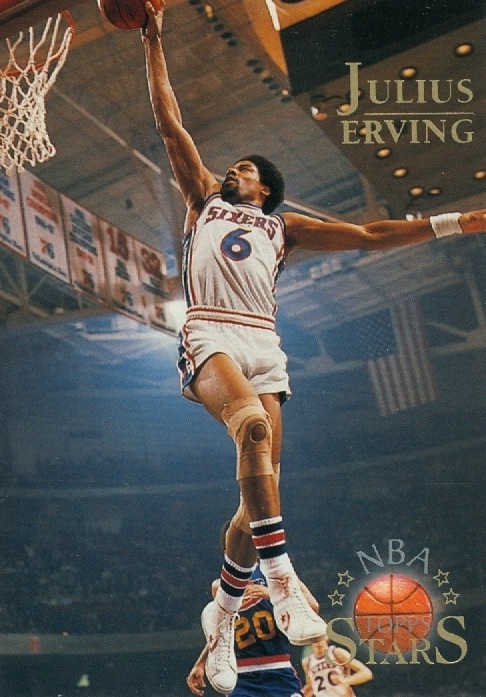 5. THE DOCTOR … WITH AN AUTOGRAPH
1996 Topps Stars #115 Julius Erving, 60 cents — added ink extra
In my (and everybody else's) collecting heyday where I could afford to dabble in a bit of everything one slightly pricier brand of cards grabbed my attention and grabbed it hard. The 1996 Topps Stars set was a showcase for the NBA at 50 players and it was a set that was jam-packed with epic photography as well as some of the biggest names in the history of the game. This card — which features a photo by the famed Neil Leifer, who has taken some of the most-memorable photos in sports history including the greatest ever — is absolutely perfect. (Four words: Look at the toe.) The only thing that could make it better than its priceless 60-cent self? Adding some autograph ink.
What's your top five? Tell me in the comments below and I might use some of your most-interesting picks in the next issue of Beckett Basketball.
Chris Olds is the editor of Beckett Basketball magazine. Have a comment, question or idea? Send an email to him at colds@beckett.com. Follow him on Twitter by clicking here.