Football Blue Wave Refractors start showing up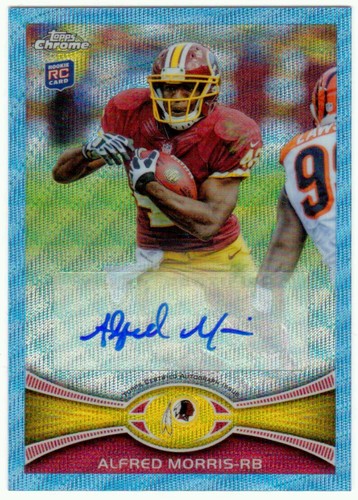 By Susan Lulgjuraj | Beckett Football Editor
Football collectors have been waiting on their Blue Wave Refractor packs for several months. The first batch of cards has finally shipped.
These packs were available to collectors who pulled autograph redemptions from 2012 Topps Chrome football. Not everyone has gotten their packs yet because Topps is sending them out with the redemptions that have been fulfilled so far such as some Russell Wilson and Dwayne Allen.
The first group of collectors getting the Blue Wave packs could likely benefit most on the secondary market. The first bunch of cards on eBay will mean those that one could spark a bidding war because of the limited quantities of the cards.
But these cards aren't going for outrageous prices unlike some of the baseball counterparts from 2012 Bowman Chrome, likely because of the lack of autographs on most of the cards.
So far, an Alfred Morris autograph sold for $200. Some non-autographed singles have sold for about $10-$20 with others selling for less.
But some of the bigger names such as Russell Wilson
, Ryan Tannehill
, Alfred Morris
, Doug Martin
and Josh Gordon
and running through auction right now and could command good prices.
The biggest names have yet to show up.
Susan Lulgjuraj is an editor of Beckett Football. You can email her here with questions, comments or ideas. Follow her on Twitter here. Follow Beckett Media on Facebook and Twitter.