Your guide to 42 & its collectibles + Poster contest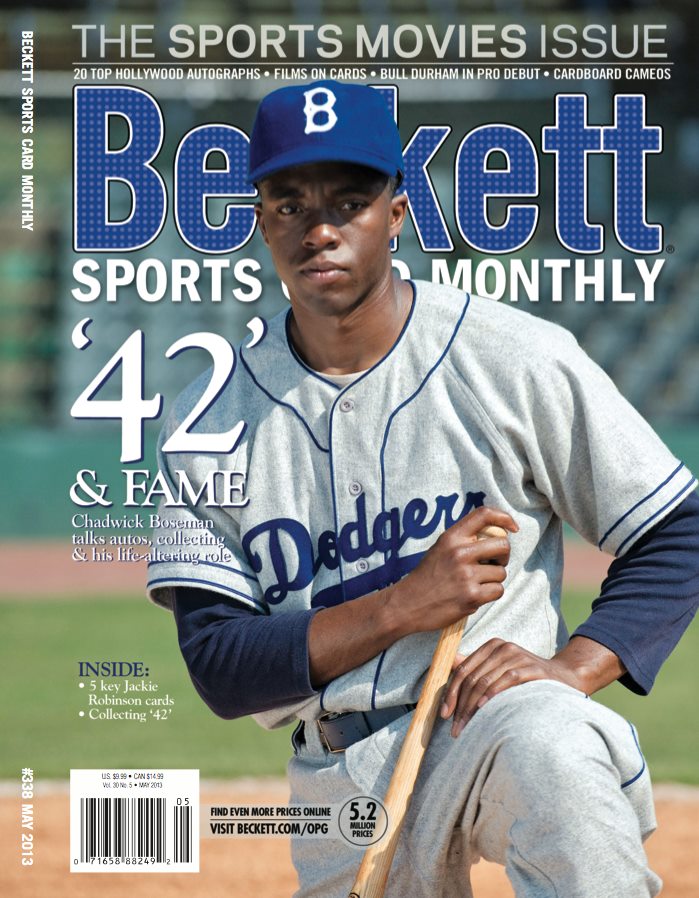 By Chris Olds | Beckett Baseball Editor
The Jackie Robinson movie, 42, arrives in theaters in two days and that means the world will finally get a chance to revisit the tale of one of Major League Baseball's bravest stars and discover one of Hollywood's newest talents in Chadwick Boseman.
If you're a reader of Beckett Sports Card Monthly, you can find him on the cover of the May issue, which arrived in hobby shops this week and should start appearing at other newsstand outlets soon. Inside, you'll find plenty from him — and even more about collecting as it relates to sports movies. (I've also got a heavy eBay bounty ready for the first JSA-authenticated copy out there signed by Boseman. — Editor)
As the marketing materials — i.e. SWAG for the film — continues to trickle out of Tinseltown with the latest being this quirky gem and a few other interesting novelties beyond some very in-demand posters, yet another impressive piece of potential memorabilia will present itself very soon at Dodger Stadium.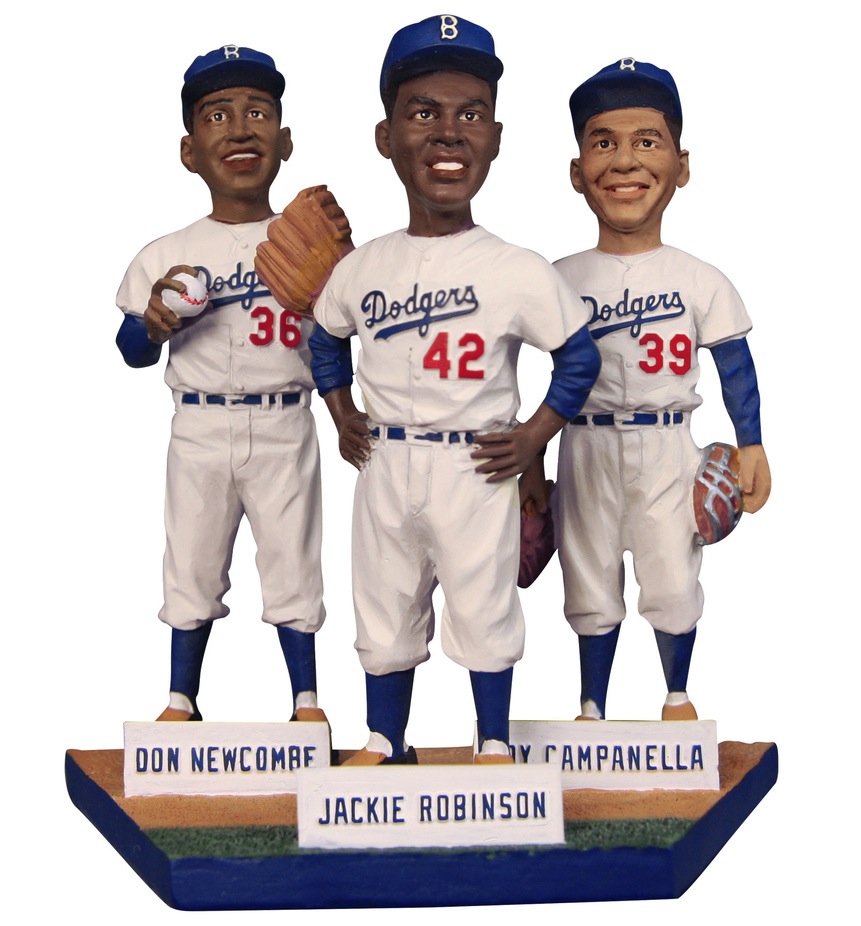 This statue showing three of the first four black players to make the MLB All-Star team — Jackie Robinson, Don Newcombe and Roy Campanella — will be given away to the first 40,000 fans in attendance on Monday at the ballpark to coincide with Jackie Robinson Day. Presented by Warner Bros. and 42, this piece should be in demand as every player in Major League Baseball dons Robinson's No. 42 as part of MLB's annual tradition.
The size of the statue was not announced, so estimating its value could be tricky, but expect it to be of interest in the wake of the film. After all, SGA or stadium giveaway items can often be quirky, cool and valuable. (Check out one recent example.)
Another possibility for fans of the film who want it all is a line of T-Shirts from Aeropostale, which show a scene from the film and use its name on a few others.
If you haven't been following our coverage leading up to the release of the film, here are some handy links to past stories and other Robinson necessities …
BECKETT.COM/NEWS COVERAGE OF 42
March 20: Chadwick Boseman talks about collecting, autographs and more
March 25: Collecting 42 via its baseball cards and its stars
March 9: "Moments" banners offer striking look at 42
Feb. 28: If you could ask Chadwick Boseman one question, what would it be?
Feb. 8: First one-sheet for 42 arrives
Sept. 21: Commentary: Modern-day rookies can't touch Robinson's influence (42 trailer arrives)
—
Jackie Robinson Beckett.com checklist and Online Price Guide
—
Chris Olds is the editor of Beckett Baseball magazine. Have a comment, question or idea? Send an email to him at colds@beckett.com. Follow him on Twitter by clicking here.
—
WIN A 42 PROMO POSTER!
Want to own an 11×17 promotional poster for the film? Check out some of our stories and leave a comment (include your email in the proper field) below. We'll pick a winner at random from all commenters received by next Wednesday.