Who'd you get? Panini America drafts its 2011-12 NBA rookie redemption class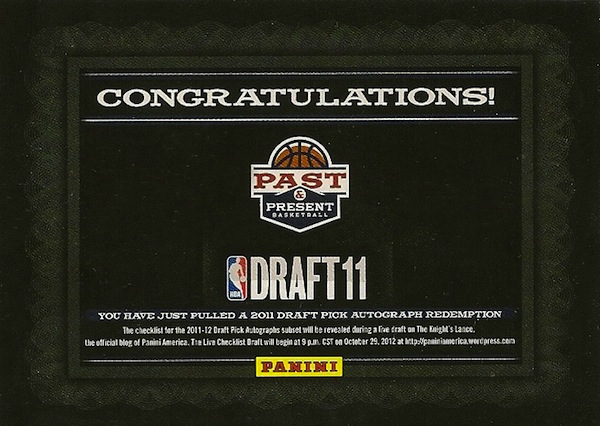 By Chris Olds | Beckett Basketball Editor
You might have pulled one of the cards, now you can know who they are.
Panini America drafted the checklist for its 2011-12 NBA Draft cards on Monday night … the redemptions found in packs of 2011-12 Past & Present, 2011-12 Limited and 2011-12 Gold Standard found in lieu of Rookie Cards this past season.
See the results of what's what … after the jump.
In reverse draft order (most recent pick first, first pick last) they are  …
(Click here to see how they are selling in online auctions.) 
Note: The card number assigned to the player applies across all three sets.
Kyrie Irving is Card #XRCO
Bismack Biyombo is Card #XRCBB
MarShon Brooks is Card #XRCE
Alex Burks is Card #XRCC
Jimmy Butler is Card #XRCY
Norris Cole is Card #XRCT
Kenneth Faried is Card #XRCS
Jimmer Fredette is Card #XRCHH
Jordan Hamilton is Card #XRCII
Tobias Harris is Card #XRCDD
Reggie Jackson is Card #XRCEE
Enes Canter is Card #XRCW
Brandon Knight is Card #XRCH
Kawhi Leonard is Card #XRCN
Marcus Morris is Card #XRCL
Markieff Morris is Card #XRCK
Chandler Parsons is Card #XRCZ
Iman Shumpert is Card #XRCFF
Chris Singleton is Card #XRCJ
Nolan Smith is Card #XRCX
Isiah Thomas is Card #XRCA
Klay Thompson is Card #XRCG
Tristan Thompson is Card #XRCCC
Jan Vesely is Card #XRCR
Kemba Walker is Card #XRCI
Derrick Williams is Card #XRCGG
Cory Joseph is Card #XRCAA
JaJuan Johnson is Card # XRCQ
Justin Harper is Card #XRCP
Shevlin Mack is Card #XRCB
Gustavo Ion is Card #XRCM
Charles Jenkins is Card #XRCV
Jeremy Tyler is Card #XRCU
Josh Harrelson is Card #XRCF
Lavoy Allen is Card #XRCD
Chris Olds is the editor of Beckett Basketball magazine. Have a comment, question or idea? Send an email to him at colds@beckett.com. Follow him on Twitter by clicking here.