First Pricing: 2014 Bowman Draft w/Chrome Baseball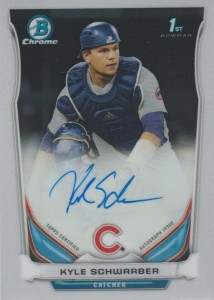 By Brian Fleischer | Senior Market Analyst
Beckett first pricing for 2014 Bowman Draft w/Chrome baseball is now live for all subscribers to the Beckett Online Price Guide.
Perennially, one of the hobby's most popular brands, this year's offering stays true to form, with over 20,000 secondary market sales gathered by the Beckett Baseball pricing team.
The Draft Pick Autographs have been some of the most coveted cards in the product, with Alex Jackson and Kyle Schwarber's cards both topping $100. If you're one of the many prospectors in the hobby, there are plenty of bargains to be had, with nearly 75 percent of the Autographs set priced at $15 or less.
Cleveland Browns quarterback Johnny Manziel is featured on two cards in the product – a Chrome Refractor and Chrome Autograph Refractor. Both have garnered a lot of attention from buyers on the secondary market, though sales have started to fall just a bit as the Browns season came to a close and more and more 2014 Bowman Chrome football product hits the secondary market.
For complete 2014 Bowman Draft w/Chrome baseball pricing, access your Beckett OPG account or sign-up here for a new subscription: