NFL Playoff Hobby Impact: AFC Teams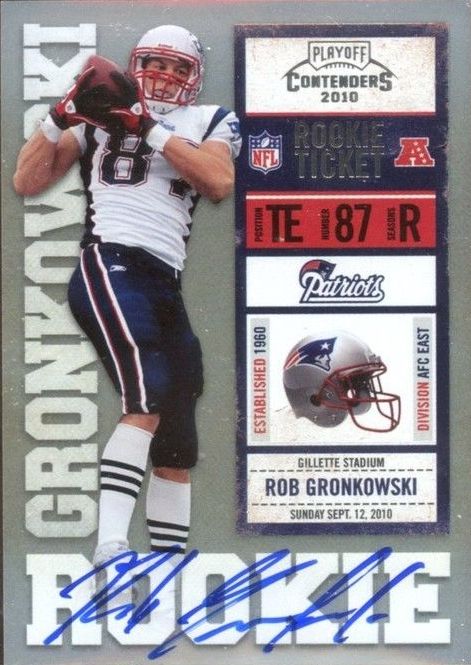 By David Lee | Beckett Football Editor
Every year the NFL playoffs provide a big boost in the hobby for the postseason's top performers. With every game on a national stage, collectors pay attention to teams and players they may have overlooked. We will look at all 12 playoff teams and see which players have already established themselves in the hobby and which have the biggest chance to benefit from a strong postseason run. Yesterday we looked at the six NFC teams and today we examine the AFC's best.
AFC
#1 Seed: New England Patriots
The Patriots have made the playoffs 12 times in the Tom Brady era. Although they have been to five Super Bowls during that time, they haven't won a championship in 10 years. Brady continues to be the heart of the team, and of he can win his fourth Super Bowl, he will join Terry Bradshaw and Joe Montana as the only other quarterbacks to do so. Running back was by committee, as usual, with Jonas Gray, Shane Vereen and Stevan Ridley splitting time. Gray was the most effective with 4.6 yards per carry. He could be the breakout star for the Patriots in the postseason, but as of late-December, the undrafted rookie and former practice squad player did not have any cards. Rob Gronkowski continues to be the most dangerous tight end in the NFL and Brady's favorite target. A Super Bowl victory could vault him into elite hobby status. Currently his top 2010 Rookie Cards are valued at about $60-$200. Other top receivers, Julian Edelman and Brandon LaFell, were effective with more than 100 catches and 900 yards each. New England has had other similar receivers get hot in the playoffs.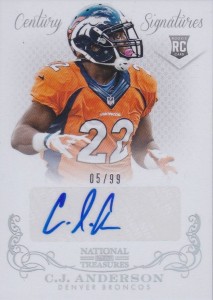 #2 Seed: Denver Broncos
Although Denver didn't have a record-setting season like they did in 2013, they still finished with an impressive 12-4 record. They lost three games to playoff teams, including No. 1 seeds Seattle and New England. Peyton Manning, in his 16th season, passed for 4,727 yards (the second-most in his career) and 39 touchdowns (third-most in his career). There isn't much more room for his card values to grow, but a second Super Bowl victory should would bring back a lot of interest in his 1998 Rookie Cards. Running back has been an interesting position for Denver, with Monte Ball injured. Ronnie Hillman and C.J. Anderson stepped up and had impressive games. Anderson, a second-year player, totaled more than 1,100 yards and 10 touchdowns rushing and receiving. He is the top Bronco who stands to benefit the most when it comes to the hobby. He has a handful of Rookie Cards, the best being a 2013 National Treasures autographed patch card at about $30. Receivers Demaryius Thomas and Emmanuel Sanders had career-best stats and could also benefit greatly from a long postseason run. Tight end Julius Thomas led the team in touchdowns but his production slowed in December.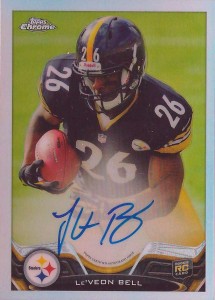 #3 Seed: Pittsburgh Steelers
The Steelers had a surprisingly strong offense this season, ranking second in passing. Ben Roethlisberger, who already has two Super Bowl rings, had the best season of his career with just less than 5,000 yards passing and 32 touchdowns. Breakout running back Le'Veon Bell had a phenomenal second season with more than 2,200 yards rushing and receiving. His Rookie Cards still have plenty of room to grow in value, so keep a close eye on his playoff performances. Receiver Antonio Brown also could make a big hobby impact. He led the NFL in receiving yards and has plenty of good Rookie Cards, including a few autographs. On defense, linebacker Lawrence Timmons could get some hobby love.
#4 Seed: Indianapolis Colts
The AFC South champs were the worst team in the NFL just a few years ago. Andrew Luck continues to get better and led the NFL in passing for most of the season. A Super Bowl win would increase interest in his cards, which is already solid. His top receiver, T.Y. Hilton, had career highs with 1.345 yards and seven touchdowns. Three solid seasons could provide the foundation for his cards to get hot this month. Running back Trent Richardson is still struggling to have a breakout season. He averaged just 3.3 yards per carry and scored three touchdowns. Coby Fleener could be a sleeper to get hot in January.
#5 Seed: Cincinnati Bengals
The Bengals are back in the playoffs for the third-straight season. Four of their five losses this year were to playoff teams. Quarterback Andy Dalton was up and down this season, throwing 19 touchdowns to 17 picks. Hobby interest in him has decreased, but winning could change that. They will have a tough matchup against the Colts. Rookie running back Jeremey Hill has the best chance to make the biggest hobby impact in the postseason. Collectors have already started to give him more attention since he has taken over the starting job from Giovani Bernard. Hill finished 2014 with 1,124 yards and nine touchdowns. Hill currently has 26 Rookie Cards with the recently released 2014 Panini Contenders #232A being the hottest. A.J. Green was hurt some this season but still finished strong with more than 1,000 yards. He's another receiver who has flirted with elite hobby status.
#6 Seed: Baltimore Ravens
The Ravens snuck into the playoffs as the third team in the strong AFC North. Losing Ray Rice wasn't an issue with the emergence of Justin Forsett, who totaled 1,266 yards and eight touchdowns. He has several autographed Rookie Cards from 2008 that can be found right now for less than $30. Collectors are just starting to pay attention to him, but postseason success on a national stage could greatly increase his hobby standing. The Ravens face the Steelers this weekend. They were 1-1 against them this season. Quarterback Joe Flacco, who already has a Super Bowl ring, is a solid player but may never be a hobby star. The ageless Steve Smith led the team in receiving yards. He's been hot before but it's hard to see collectors getting excited enough for him to make a significant hobby impact.
David Lee is the editor of Beckett Football. He can be reached at footballeditor@beckett.com or on Twitter @FreeEnergyDude.