First look: Garbage Pail Kids Brand New Series 3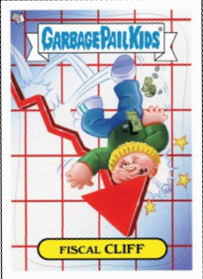 By Susan Lulgjuraj | Beckett Sports Card Monthly Editor
Topps is keeping up with the Garbage Pail Kids releasing Brand New Series 3 in October.
The newest GPK set will feature 170 cards in the with 132 base (66 A and B versions), three inserts sets and eight hobby-only bonus cards. Each hobby box will contain 24 packs with 10 cards in each pack.
Topps will bring more parallels to the mix Black (One in every two pack), hobby-only Silver (1:24) and Gold (numbered to 85 cards each). One of the new inserts this year includes Adam Bombing, a take on the iconic card through history. These cards will also have rare parallels: Black (1:24), Silver (1:100) and Gold (#'d to 85).
Collectors can expect to find a number of hits in GPK including Sketch Cards, Artist Autographs, Printing Plates and Be a GPK Code Cards.
The Adam Bombing (1:4) insert will show 10 historical figures going atomic just as Adam Bomb did in the original Garbage Pail Kids.
Sticker Scenes (1:6) will show 10 scenes of Garbage Pail Kids interacting with each other and Motion Cards (1:12) will feature GPK on lenticular cards.
Collectors will get a chance to become a Garbage Pail Kid. Topps will insert 50 GPK Sweepstakes code cards into packs and five fans will get picked. The promotion runs from October 2013 to January 2014. The winner will be announced in the spring 2014 release.
Pick up a copy of the latest Beckett Sports Card Monthly to read more on the Garbage Pail Kids in the Art Issue.
Susan Lulgjuraj is an editor of Beckett Sports Card Monthly. You can email her here with questions, comments or ideas. Follow her on Twitter here. Follow Beckett Media on Facebook and Twitter.