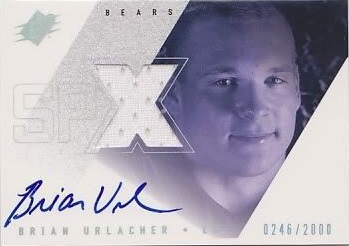 By Dan Good | Contributing Editor
Brian Urlacher is calling it a career.
The longtime Bears linebacker announced his retirement from the NFL Wednesday in a statement posted on Twitter.
"After spending a lot of time this spring thinking about my NFL future, I have made a decision to retire," Urlacher wrote. "Although I could continue playing, I'm not sure I would bring a level of performance or passion that's up to my standards. When considering this, along with the fact that I could retire after a 13-year-career wearing only one jersey for such a storied franchise, my decision became pretty clear."
The Paso, Wa. native joined the Bears in 2000, earning eight Pro Bowl selections and the NFL's AP Defensive Player of the Year Award in 2005. He's among the greatest linebackers in Bears' history, along with Dick Butkus and Mike Singletary.
Urlacher remains the second-most-accomplished player from the 2000 rookie class, following Patriots QB Tom Brady. He's been featured on more than 3,600 cards, with 51 Rookie Cards and 170 autograph issues.
One of his most sought-after Rookie Cards is his SPx jersey autograph card
, which carries a high book raw value of $100. His Playoff Contenders rookie – which features an autograph – is also popular.
Following Wednesday's announcement, fans have been scooping up Urlacher's autographed jerseys and helmets online, celebrating a Hall of Fame-caliber career.
To view of full checklist of Urlacher's cards, click here.