First look: 2015 Topps Series 2 baseball cards
–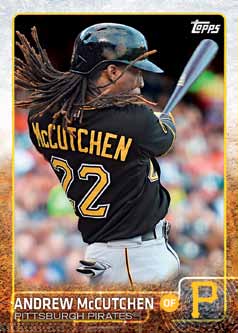 –
By Chris Olds | Beckett Baseball Editor
Topps' second series of its 2015 flagship set is already in production.
The longest-running manufacturer of MLB-approved cardboard offered the first looks and basic details of 2015 Topps Series 2 on Tuesday, which will arrive on June 17 packing one autograph or Relic in every 36-pack box. HTA Jumbo boxes will pack one autograph and two Relics per box.
Like its Series 1 predecessor slated to arrive soon, it will be a larger set than in recent years with 350 cards in the series.
–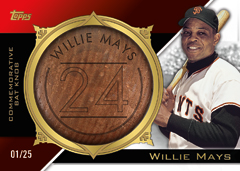 –
The basic cards will have eight parallels plus a set of 1/1 printing plates. Back will be Gold (/2,015), Snow Camo (/99), Black (/64), Pink (/50), Platinum (1/1), Rainbow Foil (one in every 10 packs), Clear (/10, Hobby-only) and one-per-case Framed cards.
For insert cards, there will be Stepping Up (six per box), Highlight of the Year (nine per), Eclipsing History (three per), Baseball Royalty (two per), Heart of the Order (six per) and 'Til it's Over (four per). The Baseball Royalty set also will have a Gold parallel limited to only 99 copies per card. Also to be found are Stamped buybacks, which Topps has done this past year, two per hobby box.
New this time around on the Manufactured Relic front are Commemorative Bat Knobs for 25 top stars. There will be Black (/99) and Pink (/25) parallels to chase. Also to be found are Commemorative Patch Pins — metal versions of memorable patches — limited to 199 copies. Also to be found are Birth Year Coin and Stamp cards with both pieces noting the player's year of birth. Quarter-stamp cards will be numbered with the volume not yet announced, while an autographed version will be limited to only 10. Also to be found will be dime-, nickel- and penny-stamp cards.
On the Autographed Relic front, Topps Series 2 will include signed memorabilia cards of the standard inserts. Among them are Stepping Up, Highlight of the Year, Eclipsing History (a dual-player card), Baseball Royalty, Heart of the Order and 'Til it's Over. Each of these will be limited to only 10 copies per card except for the Royalty, which will be limited to five. Also back are Strata Signatures that will be limited to 25.
For standard autos, there are eight options for collectors from the same insert sets. All will be limited to 25 or fewer copies except for Career High cards, which are not numbered. Strata cut autos will be 1/1 creations. The Baseball Royalty autos will be signed on-card for this release and be limited to 10 per player.
For game-used fans, all eight insert sets will also be found as Relics limited to no more than 99 copies per card — again except for the Career High cards, which are un-numbered. The rarest of the lineup will be Own the Name Relics that are complete letters from game-worn jersey nameplates and are 1/1s.
A preliminary checklist was not released.
—
Loading ...
—
Chris Olds is the editor of Beckett Baseball and Beckett Sports Card Monthly magazines. Have a comment, question or idea? Send an email to him at colds@beckett.com. Follow him on Twitter by clicking here.