First Look: 2013 Topps Triple Threads baseball cards (with preliminary checklist)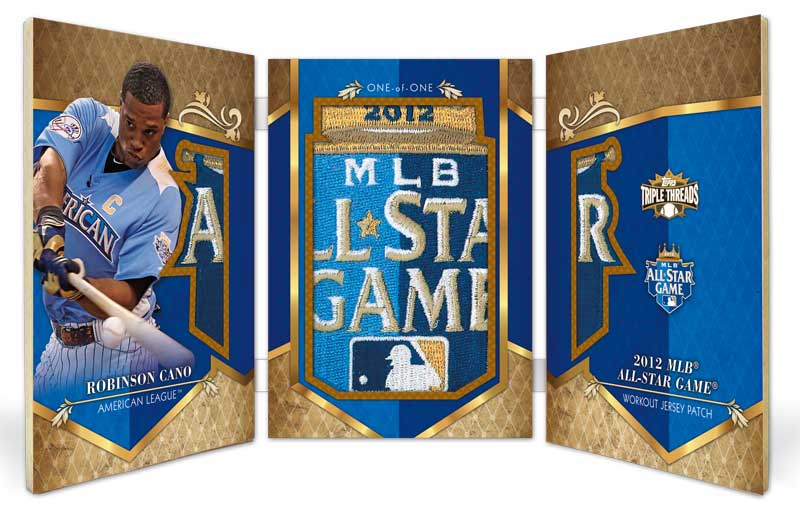 By Chris Olds | Beckett Baseball Editor
Triple Threads is back and it's going against the grain — as in its got a whole new look.
Topps unveiled the first images and basic product information for the eighth edition of the popular high-end brand on Friday and it will return on Sept. 11 packing the same pack configuration as last season.
As in one pack per box contains three base cards, two parallel, one Triple Relic and one Unity Single Auto Jumbo Relic, while the second pack contains three base cards two parallels, a Autographed Triple Relic card and a Unity Single Jumbo Relic.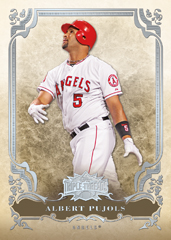 The base set will consist of 100 cards, each with 11 parallels. Amethyst will be the most-plentiful, while Emeralds will be limited to 250 with Amber (/125), Gold (/99), Onyx (/50), Sapphire (/25) and Ruby 1/1s can be found. Each card also will have four 1/1 printing plates.
Each case of 18 boxes will include a 1/1 autographed Relic as well as a an autographed triple Relic limited to 36 or fewer copies.  The autographs and Relics will be limited to no more than 99 copies.
Autographed Triple Relics will showcase more than 50 young stars as Rookies and Future Phenoms with each signed on-card and limited to 99. Each will have 10 parallels — Sepias limited to 75 along with Emerald (/50), Black with silver ink (/25) and Black with gold ink (/10) with 1/1 Ruby, Wood and printing plates also to be found. Among the notable younger players signing for this one will be Dylan Bundy, Yoenis Cespedes, Yu Darvish, Manny Machado, Wil Myers, Jurickson Profar and Mike Trout.
Autographed Triples also will showcase veterans and retired greats with more than 250 cards showcasing 75 players. There will be as many as five versions of Relic windows per player. These will be limited to 18, while Gold (/9), Sapphire (/3) and 1/1 Ruby Wood and printing plates will also exist. Among the players signing here are Hank Aaron, Johnny Bench, Darvish, Rickey Henderson, Sandy Koufax, Buster Posey and more.
Autographed Relic Combos will show three players and include three autos and mem pieces per card. These will be limited to 36 on the standard card with Sepias (/27), Emerald (/18), Gold (/9), Sapphire (/3) and 1/1 Ruby, Wood and printing plates. Relic Combo Doubles will be booklets with six players — these will be limited to three copies with only a Ruby 1/1 parallel.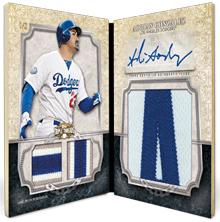 Jumbo Plus auto Relics will showcase three pieces — a jumbo, two smaller — and an autograph in a booklet. There will be 16 players on this one. Each will be limited to three copies with a Ruby 1/1 parallel. Letter Plus auto Relics will use a complete letter patch in place of a jumbo piece.
Cut Above Cut Signatures return with 10 players getting the 1/1 treatment this year — a cut autograph with a display of Relic pieces. Six book cards will pair two players.
For standard Relics, there will be more than 150 cards, each with three diecuts. They will be limited to 36 with Sepia (/27), Emerald (/18), Gold (/9), Sapphire (/3) and 1/1 Ruby versions. Relic Legends are back for 20 players with the same breakdown. Relic Combos showing three players will have the same breakdowns, while Double Combos will have six players on a booklet card. They will be limited to 18 with a Gold (/9), Saphhire (/3) and 1/1 Ruby version.
For deluxe hits, there are All-Star Patches — a lineup of more than 65 cards with each limited to nine. These will have a 1/1 Ruby version, too. There will be sleeve patch booklets with each being a 1/1 showing a patch from an All-Star jersey. Also to be found are team patch versions as well as MLB logo patches and laundry tag cards as well.
Also for the high-end hit-chasers and older guys are Bat Nameplates, which are 1/1 booklets for 15 players, while Jumbo Plus booklets also will be found here as will Letter Plus. Each has a 1/1 Ruby version.
Collectors also can look out for 10 1/1 bat knob cards, 10 Jumbo Patch Combos, Letter-Number-Logo booklets and Singular Swatches — all one-of-a-kind cards.
The Unity Relics will be limited to 36  with five parallels as previously mentioned, while Unity Jumbo Relics will be limited to 99 with an oversized swatch and five parallels as well.
Chris Olds is the editor of Beckett Baseball magazine. Have a comment, question or idea? Send an email to him at colds@beckett.com. Follow him on Twitter by clicking here.
PRELIMINARY CHECKLIST AS RELEASED BY TOPPS (SUBJECT TO CHANGE)
2013 Topps Triple Threads Checklist    
Base Cards    
Hank Aaron    Atlanta Braves™
Ernie Banks    Chicago Cubs®
Jose Bautista    Toronto Blue Jays®
Albert Belle    Cleveland Indians®
Johnny Bench    Cincinati Reds®
Yogi Berra    New York Yankees®
Wade Boggs    Chicago White Sox®
Ryan Braun    Milwaukee Brewers™
George Brett    Kansas City Royals®
Billy Butler    Kansas City Royals®
Miguel Cabrera    Detroit Tigers®
Matt Cain    San Francisco Giants®
Robinson Cano    New York Yankees®
Gary Carter    Montreal Expos™
Yoenis Cespedes    Oakland Athletics™
Roberto Clemente    Pittsburgh Pirates®
Ty Cobb    Detroit Tigers®
Yu Darvish    Texas Rangers®
R.A. Dickey    Toronto Blue Jays®
Bob Feller    Boston Red Sox®
Prince Fielder    Detroit Tigers®
Whitey Ford    New York Yankees®
Jimmie Foxx    Boston Red Sox®
David Freese    St. Louis Cardinals®
Lou Gehrig    New York Yankees®
Bob Gibson    St. Louis Cardinals®
Carlos Gonzalez    Colorado Rockies™
Adrian Gonzalez    Los Angeles Dodgers®
Gio Gonzalez    Washington Nationals®
Zack Greinke    Los Angeles Dodgers®
Tony Gwynn    San Diego Padres™
Roy Halladay    Philadelphia Phillies®
Cole Hamels    Philadelphia Phillies®
Josh Hamilton    Angels®
Bryce Harper    Washington Nationals®
Rickey Henderson    Oakland Athletics™
Felix Hernandez    Seattle Mariners™
Matt Holliday    St. Louis Cardinals®
Ryan Howard    Philadelphia Phillies®
Torii Hunter    Detroit Tigers®
Reggie Jackson    Oakland Athletics™
Derek Jeter    New York Yankees®
Josh Johnson    Toronto Blue Jays®
Al Kaline    Detroit Tigers®
Matt Kemp    Los Angeles Dodgers®
Clayton Kershaw    Los Angeles Dodgers®
Harmon Killebrew    Minnesota Twins®
Ian Kinsler    Texas Rangers®
Sandy Koufax    Los Angeles Dodgers®
Cliff Lee    Philadelphia Phillies®
Tim Lincecum    San Francisco Giants®
Evan Longoria    Tampa Bay Rays™
Don Mattingly    New York Yankees®
Joe Mauer    Minnesota Twins®
Willie Mays    San Francisco Giants®
Bill Mazeroski    Pittsburgh Pirates®
Andrew McCutchen    Pittsburgh Pirates®
Paul Molitor    Milwaukee Brewers™
Joe Morgan    Cincinnati Reds®
Justin Mourneau    Minnesota Twins®
David Ortiz    Boston Red Sox®
Dustin Pedroia    Boston Red Sox®
Buster Posey    San Francisco Giants®
David Price    Tampa Bay Rays™
Albert Pujols    Angels®
Jose Reyes    Toronto Blue Jays®
Cal Ripken Jr.    Baltimore Orioles®
Mariano Rivera    New York Yankees®
Anthony Rizzo    Chicago Cubs®
Brooks Robinson    Baltimore Orioles®
Jackie Robinson    Brooklyn Dodgers™
Babe Ruth    New York Yankees®
Nolan Ryan    Texas Rangers®
CC Sabathia    New York Yankees®
Chris Sale    Chicago White Sox®
Pablo Sandoval    San Francisco Giants®
Mike Schmidt    Philadelphia Phillies®
Tom Seaver    New York Mets®
James Shields    Kansas City Royals®
Ozzie Smith    St. Louis Cardinals®
John Smoltz    Atlanta Braves™
Duke Snider    Brooklyn Dodgers™
Warren Spahn    Atlanta Braves™
Giancarlo Stanton    Miami Marlins™
Willie Stargell    Pittsburgh Pirates®
Stephen Strasburg    Washington Nationals®
Frank Thomas    Chicago White Sox®
Mike Trout    Angels®
Troy Tulowitzki    Colorado Rockies™
Justin Upton    Atlanta Braves™
B.J. Upton    Atlanta Braves™
Justin Verlander    Detroit Tigers®
Joey Votto    Cincinnati Reds®
Jered Weaver    Angels®
Ted Williams    Boston Red Sox®
C.J. Wilson    Angels®
David Wright    New York Mets®
Robin Yount    Milwaukee Brewers™
Ryan Zimmerman    Washington Nationals®
Jordan Zimmermann    Washington Nationals®
Autograph Relics    
Rookie Stars & Future Phenoms    
At least 54 different cards including the following:
Trevor Bauer    Cleveland Indians®
Dylan Bundy    Baltimore Orioles®
Starlin Castro    Chicago Cubs®
Yoenis Cespedes    Oakland Athletics™
Alex Cobb    Tampa Bay Rays™
Yu Darvish    Texas Rangers®
Todd Frazier    Cincinnati Reds®
Freddie Freeman    Atlanta Braves™
Avisail Garcia    Detroit Tigers®
Paul Goldschmidt    Arizona Diamondbacks®
Anthony Gose    Toronto Blue Jays®
Yasmani Grandal    San Diego Padres™
Craig Kimbrel    Atlanta Braves™
Brett Lawrie    Toronto Blue Jays®
Manny Machado    Baltimore Orioles®
Starling Marte    Pittsburgh Pirates®
Devin Mesoraco    Cincinnati Reds®
Will Middlebrooks    Boston Red Sox®
Tommy Milone    Oakland Athletics™
Wil Myers    Tampa Bay Rays™
Mike Olt    Texas Rangers®
Jarrod Parker    Oakland Athletics™
Wily Peralta    Milwaukee Brewers™
Salvador Perez    Kansas City Royals®
Michael Pineda    New York Yankees®
Jurikson Profar    Texas Rangers®
Josh Reddick    Oakland Athletics™
Anthony Rizzo    Chicago Cubs®
Jean Segura    Milwaukee Brewers™
Tyler Skaggs    Arizona Diamondbacks®
Mike Trout    Angels®
Mark Trumbo    Angels®
Triple Threads Auto Relics    
At least 270 different cards including the following:    
Hank Aaron    Atlanta Braves™
Jose Bautista    Toronto Blue Jays®
Johnny Bench    Cincinnati Reds®
Ryan Braun    Milwaukee Brewers™
Dylan Bundy    Baltimore Orioles®
Miguel Cabrera    Detroit Tigers®
Matt Cain    San Francisco Giants®
Yu Darvish    Texas Rangers®
R.A. Dickey    Toronto Blue Jays®
Prince Fielder    Detroit Tigers®
Bob Gibson    St. Louis Cardinals®
Carlos Gonzalez    Colorado Rockies™
Gio Gonzalez    Washington Nationals®
Adrian Gonzalez    Los Angeles Dodgers®
Tony Gwynn    San Diego Padres™
Rickey Henderson    Oakland Athletics™
Matt Holliday    St. Louis Cardinals®
Craig Kimbrel    Atlanta Braves™
Sandy Koufax    Los Angeles Dodgers®
Evan Longoria    Tampa Bay Rays™
Don Mattingly    New York Yankees®
David Ortiz    Boston Red Sox®
Jarrod Parker    Oakland Athletics™
Dustin Pedroia    Boston Red Sox®
Salvador Perez    Kansas City Royals®
Michael Pineda    New York Yankees®
Johnny Podres    Brooklyn Dodgers™
Buster Posey    San Francisco Giants®
Jurikson Profar    Texas Rangers®
Anthony Rizzo    Chicago Cubs®
CC Sabathia    New York Yankees®
Chris Sale    Chicago White Sox®
Mike Schmidt    Philadelphia Phillies®
Gary Sheffield    Florida Marlins™
Tyler Skaggs    Arizona Diamondbacks®
John Smoltz    Atlanta Braves™
Duke Snider    Brooklyn Dodgers™
Dave Stewart    Oakland Athletics™
Justin Upton    Atlanta Braves™
BJ Upton    Atlanta Braves™
David Wright    New York Mets®
Will Include Relic Cards of Over 100 Active and Retired Stars Including the following:    
Adrian Beltre    Texas Rangers®
Adrian Gonzalez    Los Angeles Dodgers®
Andrew McCutchen    Pitsburgh Pirates®
Brooks Robinson    Baltimore Orioles®
Buster Posey    San Francisco Giants®
Cal Ripken Jr.    Baltimore Orioles®
Clayton Kershaw    Los Angeles Dodgers®
Cliff Lee    Philadelphia Phillies®
Cole Hamels    Philadelphia Phillies®
David Ortiz    Boston Red Sox®
David Price    Tampa Bay Rays™
Derek Jeter    New York Yankees®
Eddie Murray    Baltimore Orioles®
Evan Longoria    Boston Red Sox®
Felix Hernandez    Seattle Mariners™
George Brett    Kansas City Royals®
Hanley Ramirez    Los Angeles Dodgers®
Harmon Killebrew    Minnesota Twins®
Ian Kinsler    Texas Rangers®
Jackie Robinson    Brooklyn Dodgers™
Jason Heyward    Atlanta Braves™
Jim Rice    Boston Red Sox®
Jimmy Rollins    Philadelphia Phillies®
Joe Morgan    Cincinnati Reds®
Joey Votto    Cincinnati Reds®
Johnny Bench    Cincinnati Reds®
Josh Hamilton    Angels®
Lou Brock    St. Louis Cardinals®
Madison Bumgarner    San Francisco Giants®
Mariano  Rivera    New York Yankees®
Matt Kemp    Los Angeles Dodgers®
Miguel  Cabrera    Detroit Tigers®
Mike Schmidt    Philadelphia Phillies®
Mike Trout    Angels®
Ozzie  Smith    St. Louis Cardinals®
Ralph Kiner    Pittsburgh Pirates®
Rickey Henderson    Oakland Athletics™
Roberto Clemente    Pittsburgh Pirates®
Robin  Yount    Milwaukee Brewers™
Roy Halladay    Philadelphia Phillies®
Ryan Braun    Milwaukee Brewers™
Ryan Howard    Philadelphia Phillies®
Ryne Sandberg    Chicago Cubs®
Stan Musial    St. Louis Cardinals®
Starlin Castro    Chicago Cubs®
Stephen Strasburg    Washington Nationals®
Tim Lincecum    San Francisco Giants®
Tony Gwynn    San Diego Padres™
Troy Tulowitzki    Colorado Rockies™
Ty Cobb     Detroit Tigers®
Wade Boggs    Boston Red Sox®
Willie Mays    San Francisco Giants®
Willie McCovey    San Francisco Giants®
Yu Darvish    Texas Rangers®
Zack Greinke    Los Angeles Dodgers®
** Checklist Subject To Change