First look: 2012 Elite Football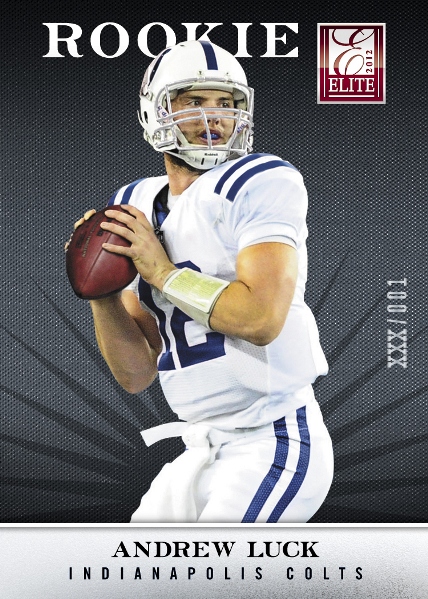 By Andrew Tolentino | Football Editor
Sleep tight, football collectors. Panini's 2012 Elite will be visiting you soon in a midsummer night's dream.
As the manufacturer revealed today (unfortunately, not in iambic pentameter), the beloved mid-level brand will land just after July 4 with time-tested product traditions and enough nuances to satisfy modern collector cravings.
Each 20-pack box consists of:
Two autographs
Two memorabilia cards
Four Rookie Cards
Six to Seven additional inserts or parallels
Panini also noted that this year's release will feature the top 2012 draft picks in their NFL uniforms — presumably from the company's presence at the upcoming 2012 Rookie Premiere.  As in years past, newcomers take center stage in Elite with base Rookie Cards numbered to 999 and autographed and die-cut parallels numbered to 699 or less. Rookie Inscriptions inserts should be particularly potent, as each card will feature an on-card autograph from one of the top 36 draftees.
As far as proven elites go, NFL veterans and retired greats should also shine in a number of insert sets.
Passing the Torch Autographs: Two autographs numbered to 25 or less featuring pairings like Dan Marino and Drew Brees, Cam Newton and Robert Griffin III, Emmitt Smith and DeMarco Murray and more
Back to the Future: Memorabilia hits numbered to 199 or less (99 or less in prime form) showcasing the likes of Dan Fouts, Bob Hayes, Doak Walker, and more
Throwback Threads: Memorabilia cards with player combos like Rocket Ismail and Jerry Rice, Jay Novacek and Jason Witten, and more (numbered to 199 or less, also in autograph form)
Hit List: Memorabilia cards numbered to 199 or less (49 or less in prime form) showcasing defensive stars like Clay Matthews, NaVorro Bowman, Aldon Smith, and more
Prime Numbers: Memorabilia inserts featuring top-producing players like Maurice Jones-Drew, Calvin Johnson Jr., Eli Manning, and more (numbered to 299 or less; 49 or less in prime form)
Stay tuned to Beckett.com for more information on 2012 Elite Football as it becomes available. In the meanwhile, use the Beckett OPG to check out the most up-to-date pricing from last year's set, 2011 Donruss Elite.