First Look: 2013 Finest baseball cards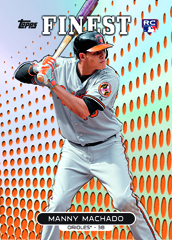 By Chris Olds | Beckett Baseball Editor
It's been 20 years.
Topps has an anniversary to celebrate this year and it's doing so in 2013 Finest, the 20th anniversary edition of the line that marked the birth of the Refractor.
Set to arrive on Aug. 14, Finest will include two six-pack mini boxes per box of this with one on-card autographed Rookie Card Refractor and one autographed Jumbo Relic found inside.
Also inside? Designs from 1993 and other memorable releases from Finest's past.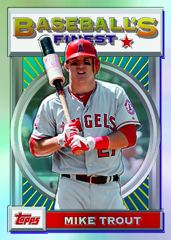 The base set will consist of 100 cards, each with 12 parallels — standard Refractor, Xfractor, Green (/199), Orange (/99), Gold (/50), Red (/25), Atomic (/5) and 1/1 Superfractor and printing plates. Topps did not release a preliminary checklist for this product.
Up first will be the 1993 Finest inserts which bring back the original design for one more run. The Refractor versions of this one will be limited to just 25 copies. Also to be found are All-Star Finest inserts with Refractors limited to 10 and autographed Refractors limited to just five copies.
Autographed Rookies will have standard versions along with 11 parallels — Xfractors (/149), Green (/125), Orange (/99), Gold (/50), Red (/25), Atomic (/5) and 1/1 SuperFractors and printing plates.
Autographed jumbo Relics will include an oversized swatch and also have 11 parallels — same shades and quantities. A list of signers was not released.
There also will be triple autos to be found, while diecut fans will get their fix with Finest Prodigies Refractors. They also will have a 1/1 Superfractor and autographed versions limited to 10 or fewer copies.
Another throwback will be Finest Matsers Refractors, which will be limited to just 50 copies. These also will have 1/1 Supers and autographed versions limited to 15 or fewer copies.
With the anniversary, there will be autographed buyback cards limited to just five copies along with jumbo box-toppers, too. Collectors should also be on the lookout for rookie redemptions for autos limited to just 100 copies as well as Hot Boxes that are loaded with Refractors in the 1993 Finest design.
Chris Olds is the editor of Beckett Baseball magazine. Have a comment, question or idea? Send an email to him at colds@beckett.com. Follow him on Twitter by clicking here.