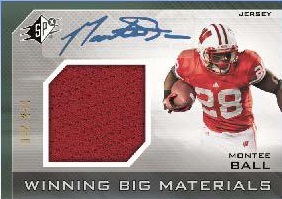 By Susan Lulgjuraj | Beckett Football Editor
SPx Football will have a new look for 2013. Upper Deck is changing the way collectors get their cards from the popular brand.
The re-configured 2013 SPx Football will have 10 packs per box with five cards in each pack. There will be four hits in every hobby box with at least three autographs. Collectors will also find six inserts in each box.
The base set consists of 50 regular cards in addition to SPx Rookie Auto Jerseys (numbered to 475 or less) and 60 SPx Rookie Signatures (numbered to 299).
The June product will also see the return of 1996 and 1997 SPx hologram card designs with gold parallels numbered to five. Other inserts include SPx Finite Rookies and SPx Finite Legends.
SPx Shadowbox cards are back again, a popular card among collectors. Upper Deck spices things up with two players on one shadowbox with rare autographed versions.
In addition, Upper Deck will include four UD Premier bonus packs in every case. Each pack will have a UD Premier Autograph Jersey or Patch card featuring 2013 rookies and football legends. All cards are numbered to 125 or less.
Susan Lulgjuraj is an editor of Beckett Football. You can email her here with questions, comments or ideas. Follow her on Twitter here. Follow Beckett Media on Facebook and Twitter.
---
SPx Football checklist
1 Steve Owens Oklahoma Sooners 2013 SPX Football
2 Anthony Carter Michigan Wolverines 2013 SPX Football
3 Bo Jackson Auburn Tigers 2013 SPX Football
4 Steve Young BYU Cougars 2013 SPX Football
5 Bruce Smith Virginia Tech Hokies 2013 SPX Football
6 Joe Washington Oklahoma Sooners 2013 SPX Football
7 Rodney Peete USC Trojans 2013 SPX Football
8 Gary Beban UCLA Bruins 2013 SPX Football
9 Andy Katzenmoyer Ohio State Buckeyes 2013 SPX Football
10 Ken MacAfee Notre Dame Fighting Irish 2013 SPX Football
11 Ty Detmer BYU Cougars 2013 SPX Football
12 Johnny Lattner Notre Dame Fighting Irish 2013 SPX Football
13 Dan Marino Panthers 2013 SPX Football
14 Archie Griffin Ohio State Buckeyes 2013 SPX Football
15 Tommie Frazier Nebraska Cornhuskers 2013 SPX Football
16 Barry Sanders Oklahoma State Cowboys 2013 SPX Football
17 Warren Sapp Miami Hurricanes 2013 SPX Football
18 Rocky Bleier Notre Dame Fighting Irish 2013 SPX Football
19 Jerry Rice Delta Devils 2013 SPX Football
20 Johnny Rodgers Nebraska Cornhuskers 2013 SPX Football
21 Alan Page Notre Dame Fighting Irish 2013 SPX Football
22 Tim Tebow Florida Gators 2013 SPX Football
23 Vinny Testaverde Miami Hurricanes 2013 SPX Football
24 Roman Gabriel North Carolina St. Wolfpack 2013 SPX Football
25 Roger Craig Nebraska Cornhuskers 2013 SPX Football
26 Andre Ware Houston Cougars 2013 SPX Football
27 Bart Starr Crimson Tide 2013 SPX Football
28 George Rogers Gamecocks 2013 SPX Football
29 Ronnie Lott USC Trojans 2013 SPX Football
30 Earl Campbell Texas Longhorns 2013 SPX Football
31 Charlie Ward Seminoles 2013 SPX Football
32 Jake Plummer Arizona State Sun Devils 2013 SPX Football
33 Jason White Oklahoma Sooners 2013 SPX Football
34 Robert Smith Ohio State Buckeyes 2013 SPX Football
35 Ken Stabler Crimson Tide 2013 SPX Football
36 Archie Manning Mississippi Rebels 2013 SPX Football
37 Daryle Lamonica Notre Dame Fighting Irish 2013 SPX Football
38 Aaron Rodgers California Golden Bears 2013 SPX Football
39 Billy Cannon LSU Tigers 2013 SPX Football
40 Tedy Bruschi Arizona Wildcats 2013 SPX Football
41 Joe Namath Crimson Tide 2013 SPX Football
42 John Elway Stanford Cardinal 2013 SPX Football
43 Paul Hornung Notre Dame Fighting Irish 2013 SPX Football
44 Doug Flutie Boston College Eagles 2013 SPX Football
45 Drew Bledsoe Washington State Cougars 2013 SPX Football
46 Eddie George Ohio State Buckeyes 2013 SPX Football
47 Jim Kelly Miami Hurricanes 2013 SPX Football
48 Jerome Bettis Notre Dame Fighting Irish 2013 SPX Football
49 John Hannah Crimson Tide 2013 SPX Football
50 Warren Moon Washington Huskies 2013 SPX Football
1996 SPX Base Cards
96-1 Aaron Rodgers California Golden Bears 1996 SPX Base Cards
96-2 Bart Starr Crimson Tide 1996 SPX Base Cards
96-3 Vinny Testaverde Miami Hurricanes 1996 SPX Base Cards
96-4 Archie Griffin Ohio State Buckeyes 1996 SPX Base Cards
96-5 Bo Jackson Auburn Tigers 1996 SPX Base Cards
96-6 Brian Bosworth Oklahoma Sooners 1996 SPX Base Cards
96-7 Jim Kelly Miami Hurricanes 1996 SPX Base Cards
96-8 Dan Fouts Oregon Ducks 1996 SPX Base Cards
96-9 Doug Flutie Boston College Eagles 1996 SPX Base Cards
96-10 Drew Bledsoe Washington State Cougars 1996 SPX Base Cards
96-11 Earl Campbell Texas Longhorns 1996 SPX Base Cards
96-12 Jake Plummer Arizona State Sun Devils 1996 SPX Base Cards
96-13 Jerry Rice Delta Devils 1996 SPX Base Cards
96-14 Joe Namath Crimson Tide 1996 SPX Base Cards
96-15 John Hannah Crimson Tide 1996 SPX Base Cards
96-16 Ken Stabler Crimson Tide 1996 SPX Base Cards
96-17 Lawrence Taylor North Carolina Tar Heels 1996 SPX Base Cards
96-18 John Elway Stanford Cardinal 1996 SPX Base Cards
96-19 Ricky Watters Notre Dame Fighting Irish 1996 SPX Base Cards
96-20 Rocky Bleier Notre Dame Fighting Irish 1996 SPX Base Cards
96-21 Roman Gabriel North Carolina St. Wolfpack 1996 SPX Base Cards
96-22 Steve Young BYU Cougars 1996 SPX Base Cards
96-23 Dan Marino Panthers 1996 SPX Base Cards
96-24 Ty Detmer BYU Cougars 1996 SPX Base Cards
96-25 Warren Moon Washington Huskies 1996 SPX Base Cards
96-26 Manti Te'o Notre Dame Fighting Irish 1996 SPX Base Cards
96-27 Geno Smith Mountaineers 1996 SPX Base Cards
96-28 Matt Barkley USC Trojans 1996 SPX Base Cards
96-29 Mike Glennon North Carolina St. Wolfpack 1996 SPX Base Cards
96-30 Tyler Wilson Arkansas Razorbacks 1996 SPX Base Cards
96-31 EJ Manuel Seminoles 1996 SPX Base Cards
96-32 Landry Jones Oklahoma Sooners 1996 SPX Base Cards
96-33 Cobi Hamilton Arkansas Razorbacks 1996 SPX Base Cards
96-34 Ryan Nassib Syracuse Orange 1996 SPX Base Cards
96-35 Collin Klein Kansas State Wildcats 1996 SPX Base Cards
96-36 Giovani Bernard North Carolina Tar Heels 1996 SPX Base Cards
96-37 Le'Veon Bell Spartans 1996 SPX Base Cards
96-38 Montee Ball Badgers 1996 SPX Base Cards
96-39 Andre Ellington Tigers 1996 SPX Base Cards
96-40 Eddie Lacy Crimson Tide 1996 SPX Base Cards
96-41 Dennis Johnson Arkansas Razorbacks 1996 SPX Base Cards
96-42 Joseph Randle Oklahoma State Cowboys 1996 SPX Base Cards
96-43 Knile Davis Arkansas Razorbacks 1996 SPX Base Cards
96-44 Justin Hunter Tennessee Volunteers 1996 SPX Base Cards
96-45 Keenan Allen California Golden Bears 1996 SPX Base Cards
96-46 Robert Woods USC Trojans 1996 SPX Base Cards
96-47 Tavon Austin Mountaineers 1996 SPX Base Cards
96-48 Terrance Williams Bears 1996 SPX Base Cards
96-49 Aaron Dobson Thundering Herd 1996 SPX Base Cards
96-50 Marquess Wilson Washington State Cougars 1996 SPX Base Cards
1997 SPX Base Cards
97-1 Joe Namath Crimson Tide 1997 SPX Base Cards
97-2 Steve Young BYU Cougars 1997 SPX Base Cards
97-3 Archie Griffin Ohio State Buckeyes 1997 SPX Base Cards
97-4 Archie Manning Mississippi Rebels 1997 SPX Base Cards
97-5 Dan Fouts Oregon Ducks 1997 SPX Base Cards
97-6 Bo Jackson Auburn Tigers 1997 SPX Base Cards
97-7 Bruce Smith Virginia Tech Hokies 1997 SPX Base Cards
97-8 Doug Flutie Boston College Eagles 1997 SPX Base Cards
97-9 Dan Marino Panthers 1997 SPX Base Cards
97-10 Don Maynard 1997 SPX Base Cards
97-11 Tim Brown Notre Dame Fighting Irish 1997 SPX Base Cards
97-12 Jerome Bettis Notre Dame Fighting Irish 1997 SPX Base Cards
97-13 Jim Kelly Miami Hurricanes 1997 SPX Base Cards
97-14 John Elway Stanford Cardinal 1997 SPX Base Cards
97-15 Ken MacAfee Notre Dame Fighting Irish 1997 SPX Base Cards
97-16 Nick Buoniconti Notre Dame Fighting Irish 1997 SPX Base Cards
97-17 Paul Hornung Notre Dame Fighting Irish 1997 SPX Base Cards
97-18 Ricky Watters Notre Dame Fighting Irish 1997 SPX Base Cards
97-19 Warren Moon Washington Huskies 1997 SPX Base Cards
97-20 Roger Craig Nebraska Cornhuskers 1997 SPX Base Cards
97-21 Ronnie Lott USC Trojans 1997 SPX Base Cards
97-22 Aaron Rodgers California Golden Bears 1997 SPX Base Cards
97-23 Tedy Bruschi Arizona Wildcats 1997 SPX Base Cards
97-24 Vinny Testaverde Miami Hurricanes 1997 SPX Base Cards
97-25 Warren Sapp Miami Hurricanes 1997 SPX Base Cards
97-26 Manti Te'o Notre Dame Fighting Irish 1997 SPX Base Cards
97-27 Geno Smith Mountaineers 1997 SPX Base Cards
97-28 Matt Barkley USC Trojans 1997 SPX Base Cards
97-29 Mike Glennon North Carolina St. Wolfpack 1997 SPX Base Cards
97-30 Tyler Wilson Arkansas Razorbacks 1997 SPX Base Cards
97-31 EJ Manuel Seminoles 1997 SPX Base Cards
97-32 Landry Jones Oklahoma Sooners 1997 SPX Base Cards
97-33 Cobi Hamilton Arkansas Razorbacks 1997 SPX Base Cards
97-34 Ryan Nassib Syracuse Orange 1997 SPX Base Cards
97-35 Collin Klein Kansas State Wildcats 1997 SPX Base Cards
97-36 Giovani Bernard North Carolina Tar Heels 1997 SPX Base Cards
97-37 Le'Veon Bell Spartans 1997 SPX Base Cards
97-38 Montee Ball Badgers 1997 SPX Base Cards
97-39 Andre Ellington Tigers 1997 SPX Base Cards
97-40 Eddie Lacy Crimson Tide 1997 SPX Base Cards
97-41 Dennis Johnson Arkansas Razorbacks 1997 SPX Base Cards
97-42 Joseph Randle Oklahoma State Cowboys 1997 SPX Base Cards
97-43 Knile Davis Arkansas Razorbacks 1997 SPX Base Cards
97-44 Justin Hunter Tennessee Volunteers 1997 SPX Base Cards
97-45 Keenan Allen California Golden Bears 1997 SPX Base Cards
97-46 Robert Woods USC Trojans 1997 SPX Base Cards
97-47 Tavon Austin Mountaineers 1997 SPX Base Cards
97-48 Terrance Williams Bears 1997 SPX Base Cards
97-49 Aaron Dobson Thundering Herd 1997 SPX Base Cards
97-50 Marquess Wilson Washington State Cougars 1997 SPX Base Cards