First look: 2013 Finest Football
When you click on links to various merchants on this site, like eBay, and make a purchase, this can result in this site earning a commission.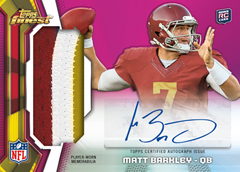 By Susan Lulgjuraj | Beckett Football Editor
Topps has given away uncut sheets as prizes to collectors through its various outlets such as Twitter and Facebook. Topps is giving a chance for all collectors to get in the mix with 2013 Finest Football.
Collectors can pull a redemption for an uncut sheet of cards including veteran and rookie base and Refractor and X-Fractor parallels.
Topps is also making a push for more on-card autographs this year and hopes to lessen the amount of sticker autographs collectors will get in Finest.
Every master box contains:
– One Rookie Autograph Patch
– One Autograph Jumbo Relic
– Two Die-Cut Finest Atomic Refractors Rookie Cards
– Two Finest Moment inserts
There are two mini boxes in each master box. Each mini box will come with six five-pack cards.
Autograph patches feature up to 40 rookies and will have eight levels of parallels: Blue (numbered to 99), Red (#'d to 75), Gold (#'d to 50), BCA or pink jumbo patch (#'d to 10), Military Jumbo Patch (#'d to 10), Black Refractor Pigskin NFL Shield from the NFLPA (1-of-1), Superfractor (1-of-1).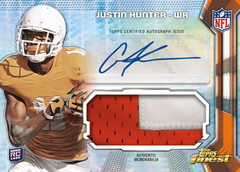 Autograph Jumbo Relic cards will highlight rookies and veterans. Blue, Red, Gold Refractors are included along with Prism Patch, X-Fractor Patch, Black Swoosh and Superfractor Patch variations.
The Autograph Jumbo Relics can come with one, two, three or four signatures.
Regular autographs are tough to pull in Finest. There is at least one autograph card in every case. These on-card autographs will feature Rookie Refractor Autograph Variations with Blue, Red, Prism and Superfractor parallels.
Topps will include up to 25 Finest Moments Autographs (veterans and rookies) on the checklist along with up to 35 rookies on Finest Atomic Refractor Rookie Autographs, which are die-cuts.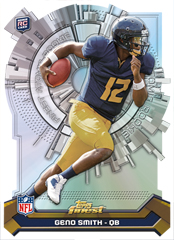 Inserts will fall at a rate of four per master box. Inserts include Finest Atomic Refractor Rookies and Finest Moments.
Topps is also adding a little mystery. There will be a rare Mystery Rookie Autograph Redemption. The player will be announced sometime during the 2013 season.
The base set contains 150 cards with 50 being rookies. Parallels include Refractor, X-Fractor, Blue, Gold, Red, Prism, Superfractor and Printing Plates.
Finest is due out in late August.
Veteran autographs in Finest include Aaron Hernandez, Andrew Luck, Arian Foster and Robert Griffin III. 
Collectors can expect to find rookie autographs of players such as Eddie Lacy, Marcus Lattimore, Matt Barkley, Mike Glennon, Monte Ball, Tyler Bray and Tyler Wilson.
As a reminder, these cards are just mockups. The players will featured in their NFL uniform at release.
Susan Lulgjuraj is an editor of Beckett Football. You can email her here with questions, comments or ideas. Follow her on Twitter here. Follow Beckett Media on Facebook and Twitter.
---
Base card checklist
1 Joe Flacco Baltimore Ravens    51 Eric Decker Denver Broncos
2 Jay Cutler Chicago Bears    52 Alfred Morris Washington Redskins
3 Matthew Stafford Detroit Lions    53 Mike Wallace Miami Dolphins
4 DeMarco Murray Dallas Cowboys    54 Patrick Willis San Francisco 49ers
5 Larry Fitzgerald Arizona Cardinals    55 Philip Rivers San Diego Chargers
6 Wes Welker Denver Broncos    56 Michael Crabtree San Francisco 49ers
7 David Wilson New York Giants    57 Chris Johnson Tennessee Titans
8 Stevan Ridley New England Patriots    58 BenJarvus Green-EllisCincinnati Bengals
9 Clay Matthews Green Bay Packers    59 Anquan Boldin San Francisco 49ers
10 Eli Manning New York Giants    60 Andrew Luck Indianapolis Colts
11 Matt Schaub Houston Texans    61 Antonio Gates San Diego Chargers
12 Brandon Weeden Cleveland Browns   62 Greg Olsen Carolina Panthers
13 Steve Johnson Buffalo Bills    63 Frank Gore San Francisco 49ers
14 Jake Locker Tennessee Titans    64 Julio Jones Atlanta Falcons
15 Christian Ponder Minnesota Vikings    65 Steven Jackson Atlanta Falcons
16 Earl Thomas Seattle Seahawks    66 Kyle Rudolph Minnesota Vikings
17 Reggie Wayne Indianapolis Colts    67 Jeremy Maclin Philadelphia Eagles
18 Percy Harvin Seattle Seahawks    68 Arian Foster Houston Texans
19 Roddy White Atlanta Falcons    69 Santonio Holmes New York Jets
20 Peyton Manning Denver Broncos    70 Drew Brees New Orleans Saints
21 Torrey Smith Baltimore Ravens    71 Jonathan Stewart Carolina Panthers
22 Matt Ryan Atlanta Falcons    72 Ben Roethlisberger Pittsburgh Steelers
23 Troy Polamalu Pittsburgh Steelers    73 Aaron Hernandez New England Patriots
24 Carson Palmer Oakland Raiders    74 Danny Amendola New England Patriots
25 Cam Newton Carolina Panthers   75 Russell Wilson Seattle Seahawks
26 Jason Witten Dallas Cowboys    76 Sam Bradford St. Louis Rams
27 J.J. Watt Houston Texans    77 Victor Cruz New York Giants
28 Jamaal Charles Kansas City Chiefs    78 Hakeem Nicks New York Giants
29 Ed Reed Houston Texans   79 Darren McFadden Oakland Raiders
30 Colin Kaepernick San Francisco 49ers    80 Calvin Johnson Jr. Detroit Lions
31 Dez Bryant Dallas Cowboys    81 JermichaelFinley Green Bay Packers
32 Marshawn Lynch Seattle Seahawks   82 JoshFreeman Tampa Bay Buccaneers
33 A.J. Green Cincinnati Bengals    83 DwayneBowe Kansas City Chiefs
34 Andre Johnson Houston Texans    84 VernonDavis San Francisco 49ers
35 Darren Sproles New Orleans Saints    85 KendallWright Tennessee Titans
36 Von Miller Denver Broncos    86 JasonPierre-Paul New York Giants
37 Heath Miller Pittsburgh Steelers    87 DougMartin Tampa Bay Buccaneers
38 Justin Blackmon Jacksonville Jaguars    88 WillisMcGahee Denver Broncos
39 Jared Allen Minnesota Vikings    89 MichaelVick Philadelphia Eagles
40 Tom Brady New England Patriots    90 RobertGriffin III Washington Redskins
41 Maurice Jones-Drew Jacksonville Jaguars    91 ReggieBush Detroit Lions
42 Ryan Tannehill Miami Dolphins    92 LeSeanMcCoy Philadelphia Eagles
43 Jimmy Graham New Orleans Saints    93 DemaryiusThomas Denver Broncos
44 Vincent Jackson Tampa Bay Buccaneers   94 C.J.Spiller Buffalo Bills
45 Marques Colston New Orleans Saints    95 RobGronkowski New England Patriots
46 James Jones Green Bay Packers    96 TonyRomo Dallas Cowboys
47 Matt Forté Chicago Bears    97 RandallCobb Green Bay Packers
48 Andy Dalton Cincinnati Bengals    98 TrentRichardson Cleveland Browns
49 Brandon Marshall Chicago Bears    99 RayRice Baltimore Ravens
50 Adrian Peterson Minnesota Vikings    100 AaronRodgers Green Bay Packers