First Look: 2011 Donruss Elite Football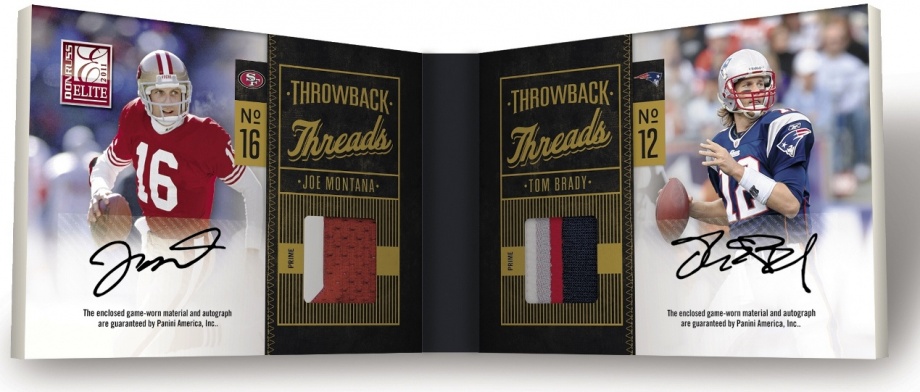 By Andrew Tolentino | Football Editor
Fresh off the plane from the 2011 Industry Summit in Las Vegas,  Panini America officials unveiled the first glance  at a newly-revamped Donruss Elite line.
Slated for a June release, 2011 Donruss Elite will land with a familiar innovation to the hobby, but a revolution for the card company. Multi-player autographed memorabilia booklets —much like the Joe Montana / Tom Brady combo seen below — will first fall on Panini's early-summer Throwback Threads insert set. Otto Graham, Sammy Baugh, Emmitt Smith and Dan Marino — among other greats — will also grace these surely-sensational hits.
"Of all the years I've been working on Donruss Elite, this is by far my favorite set yet…. [collectors are] going to be blown away," said Panini America NFL Brand Manager Carlos Torrez.
With a $6 price tag, five-card packs come 20 per box, which should deliver four autograph or memorabilia cards, four Rookie Cards (limited to 999), one Aspirations or Status parallel, and seven additional inserts or parallels. Dough-endowed case breakers will find either a booklet or a dual-signed Passing the Torch card and at least one autograph from a league luminary.
Founded on a 200-card base set, 2011 Donruss Elite features a hotbed of veterans and rookies — key components in a long list of other limited finds.
We'll have to wait for warmer weather to see these cards in person, but this six-card gallery should shed some light on the pending release.