Second Moneyball teaser poster arrives … this time with more Hollywood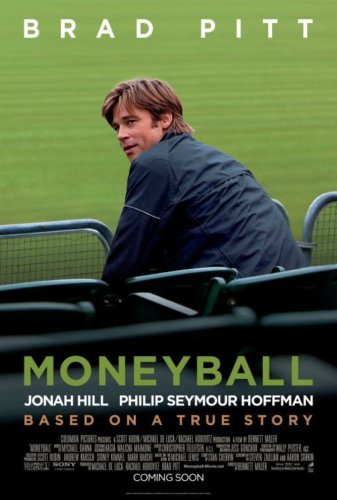 By Chris Olds | Beckett Baseball Editor | Commentary
As we ramp up our research for the sports movies issue of Beckett Sports Card Monthly arriving next month, I found it fitting there was a new discovery on the auction block this morning.
It's the second teaser one-sheet poster for Moneyball, the Brad Pitt movie based on the book of the same name that is set to arrive in theaters on Sept. 23 (not long after our issue hits newsstands).  While the first teaser poster set a serious tone (and already sits in the living room of this Oakland A's fan, which reminds me … I still need to find a frame), this one's a bit more Hollywood as it showcases the movie's leading man.
While it's not a final poster — note there's no release date noted — it's not uncommon for this to happen. However, multiple posters are often reserved for larger releases, according to Wayne Woodward of MovieGoods.com, a Morrisville, N.C.-based movie memorabilia megadealer.
"Generally speaking, we see posters start to become available anywhere from two to six months before a movie comes out," Woodward said. "Early 'teaser' posters are called advance posters and they're the first to arrive on the scene (advance posters usually don't have the credits information in smaller print at the poster bottom).
"The bigger a movie is, the more poster design variations are done and the earlier they come out," he said. "For example, Harry Potter films are big business so posters for each film start coming out months in advance and with many different designs. A smaller film such as Hall Pass for example will only have one or two poster styles produced."
We'll have more on Moneyball closer to its release — and more on plenty of sports movies — but for now we want to know what you have to say about sports movies and their memorabilia … see the questions below.
Chris Olds is the editor of Beckett Baseball magazine. Have a comment, question or idea? Send an email to him at colds@beckett.com. Follow him on Twitter by clicking here.
—

YOUR TAKE: WE WANT TO KNOW …
We'll be focusing an upcoming issue of Beckett Sports Card Monthly on sports movies and the various types of memorabilia found for some of them as well as the ways you can collect the reel-life stars that you see either in the theater or on DVD.
We want to know …
1. What are your favorite sports movies?
2. Do you have any favorite movie items made in the past?
3. What movie props would be dream items for you to own?
4. What might you want to read about for sports movies?
5. What movie tie-ins would you want trading card companies to try?
Leave us a comment or send me an email (address above) …the best responses and stories will be collected and published in the issue.