FREE STUFF FRIDAY IS BACK! Win a $250 Steiner Sports gift certificate ***CONTEST NOW CLOSED*** ***CONTEST NOW CLOSED***
Free Stuff Friday — our weekly ritual where we try and get some cool stuff into the hands of our readers just for answering some simple card-related trivia — is back after a bit of a break.
Thanks to Steiner Sports, we think this week's prize package is better than ever before in its return.
What's the prize? A Ray Rice autographed photo and a $250 gift certificate.
How can you win? Follow the directions below and answer the questions found after the jump in a comment right here …  it's that simple.
Tips: Don't try stuffing the comments box — it's one try per person per contest and we'll check IP addresses — and make sure to include your email address so you can be contacted if you are selected as the winner.
Find out more about this week's prize — and get the questions — after the jump …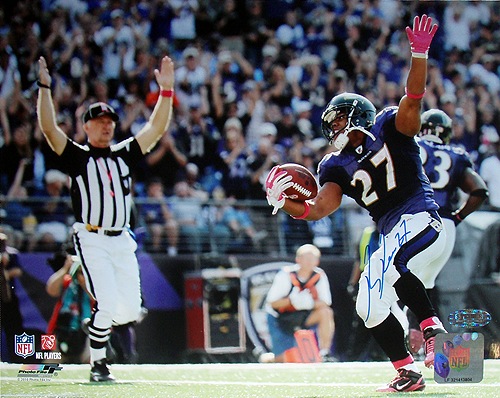 FREE STUFF FRIDAY (3-25) — Win a $250 Steiner Sports gift certificate *and* a Ray Rice autographed photo
1. According to his player page on Beckett.com, how many total cards does Ray Rice appear on? (Give us that number only.)
2. What is your name?
3. What is your favorite team (any sport)?
—
We'll randomly award the prize package to a person with the correct answer(s) out of all entries received by next Friday (April 1), at 10 a.m. Central time. Remember to include your name and email address with your entry… or you will be disqualified.
—
Notes: The winner of the contest will be notified via email. You will not see your entry after posting as all will be held for moderation and then unlocked before a winner is selected. Entries will not be accepted via email — only via commenting below.
—
Chris Olds is the editor of Beckett Baseball. Have a comment, question or idea? Send an e-mail to him at colds@beckett.com. Follow him on Twitter by clicking here.