Upper Deck's Evolution will be first video trading card … on the market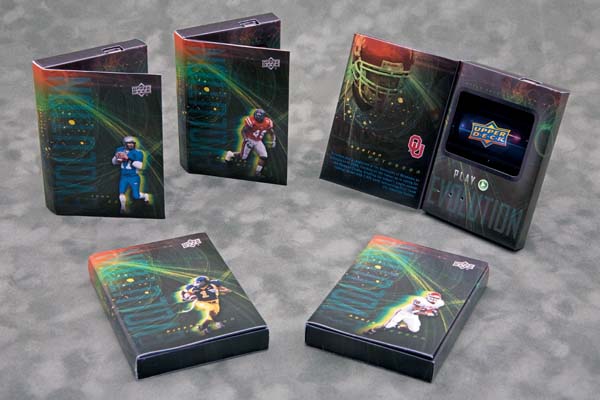 By Chris Olds | Editor
Two days after Panini America announced its plans for the hobby's first HD video trading card, Upper Deck has pulled back the curtain on its previously top-secret Evolution insert cards to be found in the upcoming 2011 Upper Deck football card set.
What is Evolution? A video trading card.
Evolution will be the first video card on the market beginning April 12 as Panini's cards, which will be autographed and limited in number, are merely slated for inclusion in NBA products later this year.
"I founded Upper Deck on innovation and even today we continue to reinvent the trading card," said Richard McWilliam, Upper Deck's owner and CEO. "I have always dreamed of bringing this type of technology to market and we are pleased to be the first to do so as the leader in the category. I believe Upper Deck's 'Evolution' trading cards will capture the imagination of sports fans around the world for what trading cards can be and how far they have come."
Upper Deck's planned Evolution checklist  will include cards of Adrian Peterson, DeSean Jackson, Tony Romo and Patrick Willis in standard-size format cards that are a half-an-inch thick because there is a video screen built into the card. The cards will include merely college football footage since Upper Deck has a Collegiate Licensing Company exclusive to use NCAA logos on its products.
"From the onset, it was important to us that this new insert was a trading card first, otherwise it would just be a video player," said Jason Masherah, Upper Deck's vice president of Marketing. "The cards are built like our premium booklet trading cards with a video monitor built into the card. The beauty behind these cards is that they are self-contained. You don't need any other gadgets or a computer to play them. You simply open the cover and press play. A video screen with 60 seconds' worth of highlight reel footage of the player immediately starts playing. The card also has a port so it can be recharged as well."