LeBron James' first football cards are here … sort of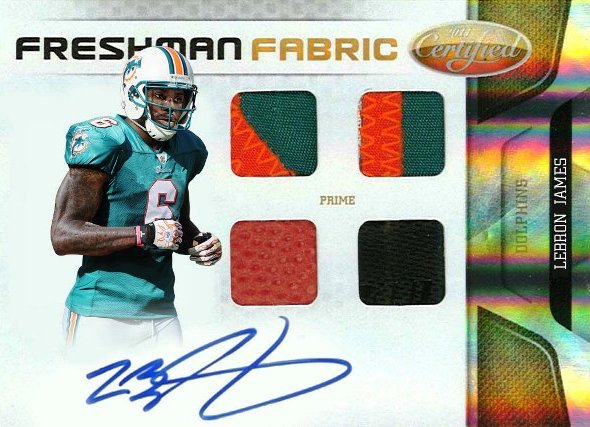 By Andrew Tolentino | Football Editor
"Former NBA star LeBron James leads a Miami Dolphins dream team to a stunning Super Bowl loss."
Wouldn't that sentence be so poetically sublime for the throngs of King James critics out there?
Hate him or love him, one of basketball's biggest names is making recent headlines for publicly flirting with the idea of playing in the NFL — one league that managed to resolve its lockout in a timely fashion.
In the interest of speculation and downright fun, Panini America definitely went there with a pair of theoretical Rookie Cards.
In all likelihood, these cards won't be appearing in the company's forthcoming 2011 Absolute Memorabilia and 2011 Certified brands (the design templates, respectively used for the cards).  But if they did, collectors could expect to pay somewhere between $500 – $1,000 for each hypothetical hit, according to Beckett Senior Market Analyst Rob Springs.
Until we hear anything else,  we'll keep dreaming (and hoping for more LeBron football card mock-ups to come).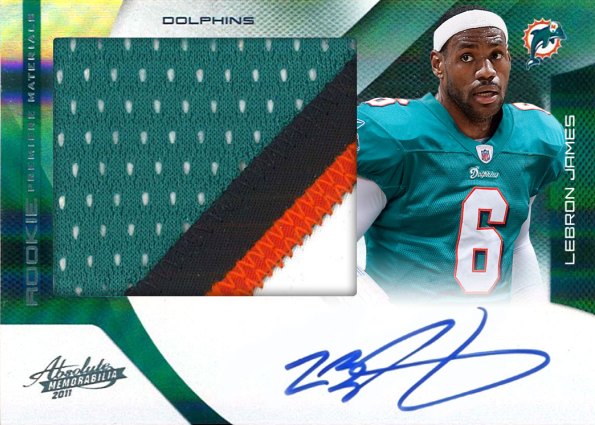 Loading ...
Loading ...