The Daily: 2010 Bowman Chrome Draft Prospects Russell Wilson

And Russell Wilson is a member of the New York Yankees. Yes, that Russell Wilson, the Super Bowl-winning quarterback of the Seattle Seahawks.
He joins the Yankees system in a trade with the Texas Rangers.
Is Wilson the next Bo Jackson? Probably not, but he will get plenty of photo ops thanks to a spring training invite. It also puts Wilson and Tim Tebow on New York baseball teams, opening up grounds for a faux rivalry.
Wilson was originally a fourth round pick of the Colorado Rockies in 2010. The Rangers picked him up in December, 2013 as part of the Rule 5 Draft.
Russell Wilson baseball cards actually predate his football Rookie Cards. He doesn't have an autograph in 2010 Bowman Draft, but he does have regular and chrome Prospect cards. Wilson is also on the 2010 Topps Pro Debut checklist.
Following the trade to the Rangers, both Topps and Panini made new rounds of Russell Wilson baseball cards, primarily in 2014. However, Topps did autographed patch cards for 2015 Dynasty Baseball.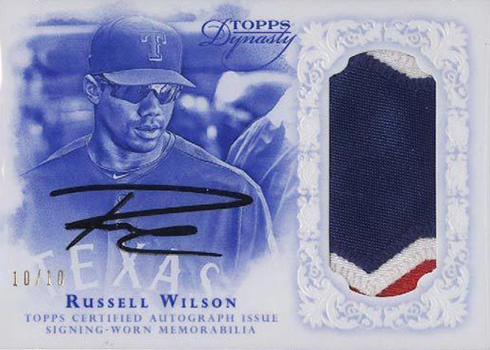 The Daily highlights a key player or personality in the world of sports or collecting from the past 24 hours along with one of their key cards.