The Daily: 1962 Topps Babe Ruth #135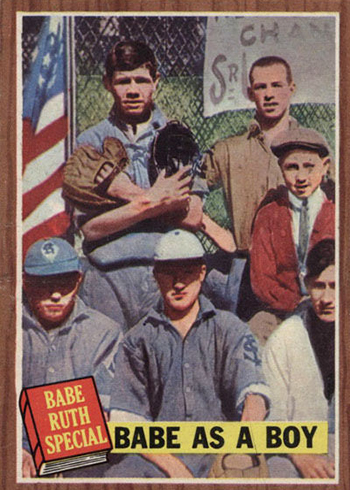 February 6 marks the birth of a baseball giant. Babe Ruth was born on this day in 1895 in Baltimore. Like many heroes, Ruth's origin story isn't spectacular. But his youth laid the groundwork for not only the player he would be but the larger-than-life character he'd become.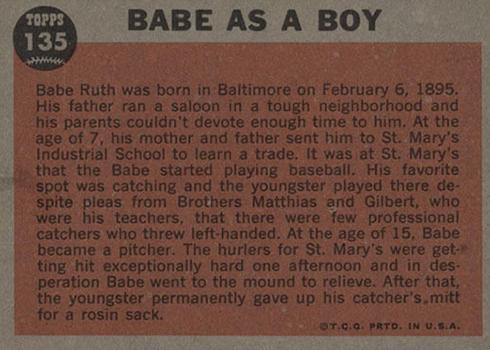 It's not just the home runs, World Series Championships and record-setting accolades that turned George Herman Ruth into "The Babe" or "The Sultan of Swat." It was the persona that went along with it. He lived big. He lived fast. Sometimes Babe Ruth got into trouble. But, according to legend, any real pain inflicted was more on himself than those around him.
1962 Topps Baseball charts some of the highlights of the Bambino's career and life with a special
ten-card Babe Ruth Story subset
. Kicking things off is a look at his younger years. This particular card pictures his days at St. Mary's Industrial School, taken during Ruth's teenage years.
As far as vintage Babe Ruth cards, this subset isn't overly expensive, at least when you compare it to cards released during his playing days. In addition to the regular version, there's also a Green Tint Variation. The scarce 1962 Topps Venezuelan set also has the Babe Ruth Story subset.
The Daily highlights a key player or personality in the world of sports or collecting from the past 24 hours along with one of their key cards.