Chicago Blackhawks improbable run and their cards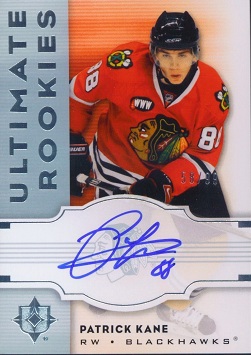 By Susan Lulgjuraj | Beckett Hockey Editor
The Chicago Blackhawks have surprised the hockey world with its play this year. Sure, they're good, but the Blackhawks have yet to lose in regulation, earning a point in every game this season.
Here's a look at some of the players that have made it happen and their cards.
Patrick Kane
Kane has been the offensive leader t season with 26 points (11 goals and 15 assists) – good for sixth in the league. Kane has a knack for scoring, but is able to get the puck in the right place for his teammates.
Total cards: 1,598
RC: 20
Autos: 438
Key cards
2007-08 The Cup #185 JSY AU /99 RC

2007-08 Upper Deck Ice #221 /99 RC

2007-08 Ultimate Collection #159 /99 RC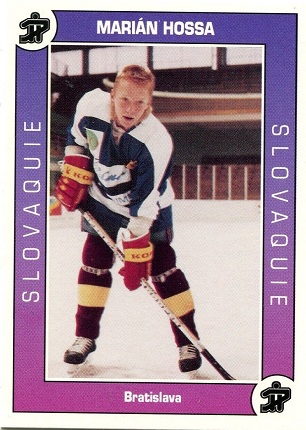 Marian Hossa
The Blackhawks have balanced team, but are led by many key veterans including Hossa, who recently skated in his 1,000th game. Hossa has nine goals and eight assists on the season.
Total cards: 2,375
RC: 6
Autos: 3000
Key cards
1993 Quebec Pee-Wee Tournament

1997-98 Donruss Preferred #162 RC

2012-13 O-Pee-Chee Signatures #OPCMH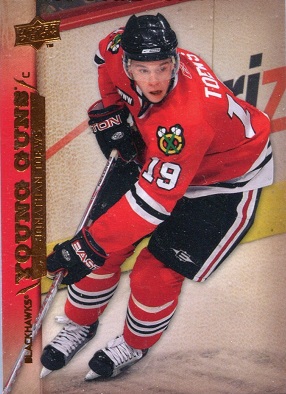 Jonathan Toews
Toews is the star at center and one of the top players in the NHL since he entered the league in 2007. This season, he has nine goals and nine assists through 22 games.
Total cards: 1,739
RC: 19
Autos: 467
Key cards
2007-08 The Cup #190 JSY AU /99 RC

2007-08 SP Authentic #203 AU RC /999

2007-08 Upper Deck #462 Young Guns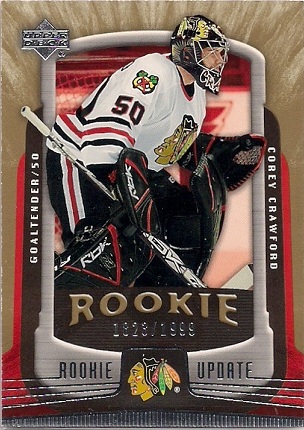 Corey Crawford
The veteran goaltender is having one of his best seasons to date. He has started in 13 games, but has Ray Emery (nine starts) as a more than serviceable back up. Crawford leads the league with 1.41 goals against average and is second with a .945 save percentage.
Total cards: 336
RC: 11
Autos: 19
Key cards
2005-06 SP Authentic Limited #257 /100

2005-06 Upper Deck Update #120 RC /1999

2011-12 Between the Pipes Autographs #ACC2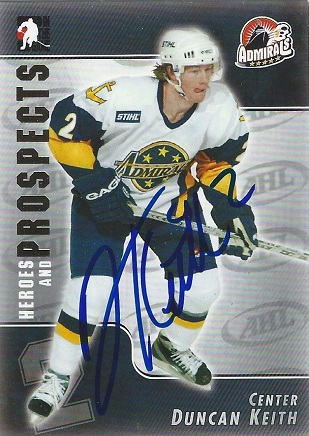 Duncan Keith
Crawford getting have the numbers he does without a good defense in front of him. But one thing about Duncan is that he sees the ice well in transition. Duncan has a goal and 11 assists this season.
Total cards: 619
RC: 14
Autos: 65
Key cards
2004-05 Heroes and Prospects Autographs #DK

2005-06 The Cup #186 AU RC /249

2005-06 SP Authentic #147 AU RC /999
Susan Lulgjuraj is an editor of Beckett Hockey. You can email her here with questions, comments or ideas. Follow her on Twitter here. Follow Beckett Media on Facebook.