Sidney Crosby sharing the cardboard spotlight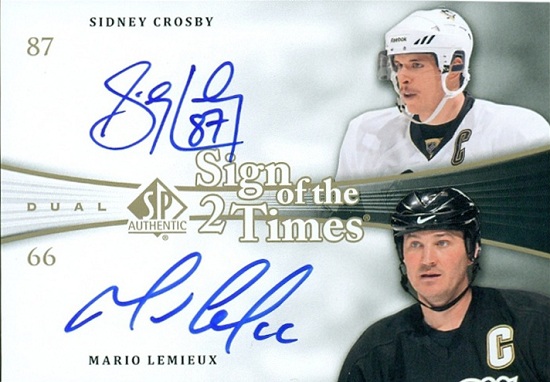 By Susan Lulgjuraj | Beckett Hockey Editor
Sid the Kid has had many, many autographed hockey cards – 670 to be exact.
That number is a little misleading because more than half are numbered to 25 or less, making many Sidney Crosby autographs rare.
Even rarer than the 100 or so 1-of-1 autos are the amount of autograph cards Crosby has signed with another player. Throughout Crosby's career, the Pittsburgh Penguins star just didn't really do it, usually casting his signature – and his signature only – on cards.
However, Crosby has shared spaced on cardboard lately as his cards have popped up with autographs from another player, no, an icon.
A number of dual signed cards with Crosby and Mario Lemieux have made their way from Upper Deck and into the hands of collectors.
Many of these were supposed to be part of other products, but when Upper Deck didn't get cards back in time, the company opted to withhold them rather than put in redemptions for cards it didn't know when it would get back.
For example, this 2010-11 The Cup Signature Patches Dual
with Crosby and Lemieux was inserted in 2011-12 The Cup instead. The card is numbered to just 35 copies.
The card pictured above – 2011-12 SP Authentic Signs of the Times
– was one of the Mystery Redemptions in 2011-12 SP Authentic.
Susan Lulgjuraj is an editor of Beckett Hockey. You can email her here with questions, comments or ideas. Follow her on Twitter here.