Check it out: A look inside the final 2013 Topps Allen & Ginter baseball card checklist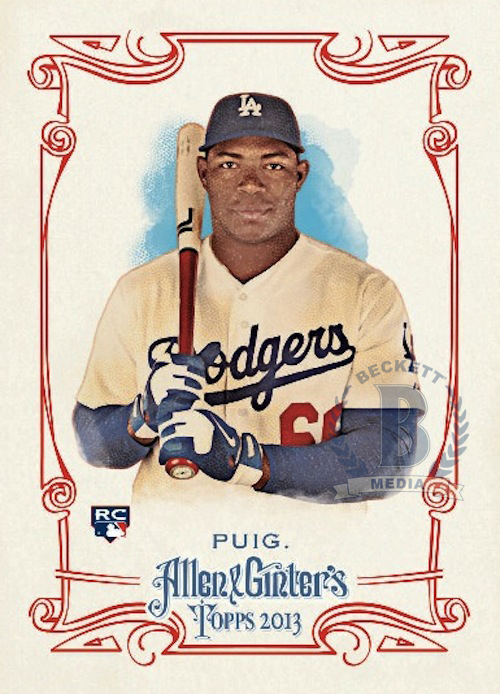 By Chris Olds | Beckett Baseball Editor
From Axl Rose to Sandy Koufax, it looks like this year's Allen & Ginter baseball card set from Topps will have a bit of everything for everyone when it arrives on Aug. 7.
Oh, and it'll include Yasiel Puig, too.
Topps released the final checklist for the eighth edition of the product on Tuesday (click here to download a PDF or here for our updated preview story), so we're taking a look at what can be found in this one soon.
A Puig of his own
As previously reported here, the Los Angeles Dodgers rookie will have a certified autograph in this one as well as a standard base card (not short-printed; above) along with mini parallels. He'll be joined by 46 other MLB rookies, among them Shelby Miller, Manny Machado, Hyun-Jun Ryu and Abe Vigoda. Wait, isn't Vigoda a bit too old for an RC? Scratch that … he's in there — but not an RC.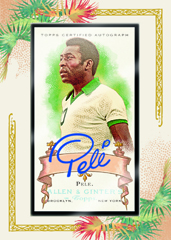 Unusual base set inclusions
The 300-card base set includes plenty of baseball stars but as with past year's of Ginter there are quite a few surprises. Here's a rundown of a few cards …
— No. 6: Chanel Iman, model
— No. 17: Roy Jones Jr, boxer
— No. 21: Sumo wrestler Byamba
— No. 68: Chrissy Teigen, model
— No. 112: Ziggy Marley, musician
— No. 116: Lindsey Vonn, skier
— No. 117: Penny Marshall, director
— No. 130: Pele, soccer star
— No 136: The Panama Canal (yep, The Panama Canal)
— No. 140: Tommy Lee, musician
— No. 175: Monty Hall, game show host
— No. 176: Abe Vigoda, actor
— No. 188: Bill Buckner … listed as a Boston Red Sox player
— No. 217: Pope Francis I, Bishop of Rome
— No. 223: Matthew Berry, fantasy sports expert
— No. 231: Artie Lange, comedian
— No. 234: Death Valley (yep, the national park)
— No. 244: Nick Saban, Alanama football coach
— No. 255: Bobby Bowden, retired football coach
— No. 266: Henry Rollins, musician
— No. 267: Grand Central Terminal … really.
— No. 300: Bud Selig, MLB commissioner
Nearly all of the 50 short-prints in this one are of baseball players except for three individuals, who get two cards in the set. Rollins, golfer Jason Dufner and NBA star Bill Walton all have two cards in this one.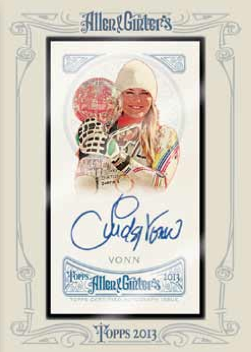 Among the autographs …
Not all autograph subjects in this one have base cards. Among the signers are musicians, including Guns N Roses frontman Axl Rose, Rollins, Lee and Marley. Also to be found in this one are high-wire walker Nik Wallenda, Saban, Pele, Marshall, Teigen, Saban, Vonn and Hall to name a few. Want baseball ink? Try Puig, Yu Darvish, Selig, Hank Aaron, Manny Machado, Mike Trout, Sandy Koufax, Dale Murphy, Don Mattingly and Yoenis Cespedes for starters. Box-loader autographs won't be easy pulls as there are just 10 players, but it's a lineup that includes Bob Gibson, Buster Posey, David Ortiz, Manny Machado, Mike Trout and Willie Mays.
Standard Relics of note … 
For the first time, Babe Ruth has a Relic in Ginter that's not a 1/1. Joining him are teammate Lou Gehrig and Hank Aaron among baseball luminaries, while St. Louis Cardinal John Jay oddly has two Relics in the set. Also on Relics are most of the non-sport inclusions in the basic set along with football reporter Chris Mortensen, actor Ed O'Neill, Dallas Mavericks owner Mark Cuban, Miss USA Nana Meriwether, Miss Universe Olivia Culpo and many others. Several personalities have autos and Relics this year but are not in the basic set.
Need some DNA?
There are 11 DNA Relics listed on the checklist this year with five of them for Alexander Hamilton, who died in 1804. Also up for grabs one strand at a time? King Edward VIII, abolitionist John Brown and a pair of John F. Kennedy cards. Speaking of JFK, there's a Grassy Knoll fence Relic among the Oddity Relics as well as a wedding menu from the Kim Kardashian wedding, an Obama inauguration ticket and a Wrigley Field brick Relic to chase.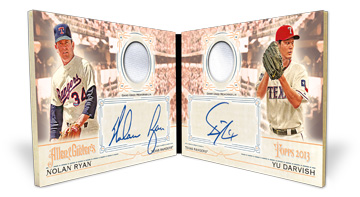 Big hits
There are just five double bat knob Relic booklets to chase in this one … and two of the cards feature New York Yankees players. There are 13 double-patch booklet cards with 10 teams represented. Oversized box-loader Relics will include Derek Jeter, Mariano Rivera and Alex Rodriguez among a lineup of current players, while a single Ted Williams cut signature card is also to be found.
Cut signatures
Making the cut this year are Topps executive Michael Eisner, Malcolm Forbes, Bill Clinton, Dwight Eisenhower, George W. Bush and John Grisham among others. Interestingly, a former Ginter signer — John Wooden (2006) — also is among the 20-card checklist which includes six former U.S. Presidents.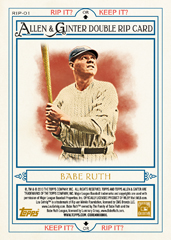 Get ripping … 
New this year will be double rip cards with two sides to tear and a deep, deep list of standard rips as well. There are 100 standard rips and 100 doubles. Among the items inside? Original artwork of players — some of the notables here include Nolan Ryan, Trout, Bryce Harper, Derek Jeter, Roberto Clemente, Stan Musial, Willie Mays and Ted Williams to name a few — while there will be 50 mini exclusive cards to find, too. Among the big names there are Mariano Rivera, Williams, Ty Cobb, Harper, Clemente, Trout, Machado, Mays, Ruth, Musial, Ken Griffey Jr., Jeter and Koufax.
Signed Relics
There are just two small sets of auto Relics, but they are stout. Look for doubles including Triple Crown winner Miguel Cabrera, Ripken, Ryan, Darvish, Griffey, Reggie Jackson, Cespedes and more. Oversized boxloaders will include Bob Gibson, Dylan Bundy, Machado, Profar, Koufax and more.
Cosmic inclusions
For those of you wondering about those little corners of the universe, there's the One Little Corner insert set where you can find a card for Earth, along with Mars, Pluto, Venus and so on … even Uranus and Makemake, too.
Curious inclusions
The Curious Cases inserts include some, well, curious cards. Area 51, The Illuminati, the assassination of JFK, the HAARP and even the "faked moon landings" conspiracy get their own cards along with the Denver Airport.
If you were wondering …
Among the 21 Wonders of the World boxloaders are cards for the Great Barrier Reef, the Golden Gate Bridge, Mount Everest and even the Great Pyramid of Giza.
Chris Olds is the editor of Beckett Baseball and Beckett Sports Card Monthly magazines. Have a comment, question or idea? Send an email to him at colds@beckett.com. Follow him on Twitter by clicking here.