First look: 2013 Topps baseball cards (with FINAL checklist)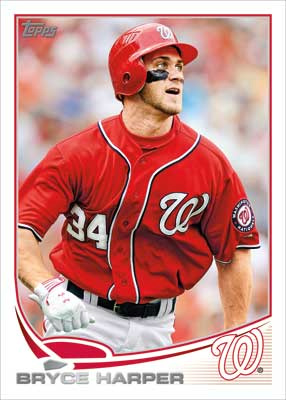 Update:  Topps has released the final Series 1 checklist. See it at the end of the story.
By Chris Olds | Beckett Baseball Editor
Topps unveiled the first look at the 2013 edition of its flagship baseball card set on Friday, and it's one that just might excite collectors of the longest-running MLB brand.
And it just might excite fans of "the chase," too.
—
Loading ...
—
The chase this year is the chase of history — the pennant, the record books and more in MLB history — while the company says it will offer more to chase in its flagship product, too, which in its 61st year of full-size release.
Every 36-pack hobby box will contain one autograph or Relic card, while every HTA Jumbo box will contain three — one auto and two Relics — when it arrives on Jan. 25.
The base set will consist of 330 cards each with Gold parallels limited to 2,013 copies and Black parallels limited to 62. New this year will be Pink parallels limited to 50 (a nod to the popular Breast Cancer Awareness cards in football) and Desert Camo foil parallels (a nod to the military) limited to 99. Rounding out the offerings will be Emerald foil (1:6), Platinum 1/1s, hobby-only printing plates and a partial-parallel set of silks (100 players, limited to 50).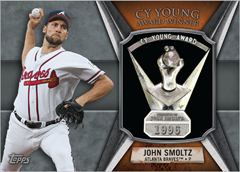 The metallic manufactured Relics will return in a new form for 2013 with MVP and Cy Young award winner cards as well as Proven Mettle Coin Cards. Each has an embedded piece of metal with an appropriate design for the award or a coin-like finish. They will be found one per Jumbo box or one per case in hobby. The Proven Mettle cards will have three parallels — Copper (/99), Wrought Iron (/50) and Steel (/10).
The autograph lineup is a bit deeper this year with a mix of modern, retro and diecut designs. Chasing History will note 30 or more achievers from the past and present, while the Chasing the Dream set will showcase 20-plus potential superstars in the making. The Cut to the Chase cards will showcase just five notable players on signed diecut cards limited to just 10 copies apiece, while Chasing History 1/1 cuts will highlight notable players and others in history.
The Greats autograph cards will highlight 15 players via on-card sigs and will only be found in Hobby and HTA packs, while the Calling Cards set will be even smaller with just five. Speaking of small, the 1972 Topps baseball design will be found in Mini form in packs with 10 players signing minis that will be limited to just 10 copies.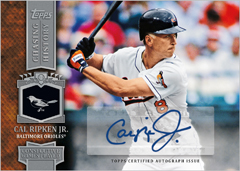 Autographed Relics will only be found in Hobby and HTA packs with auto-mem versions of the Chasing History, Chasing the Dream and Cut to the Chase sets, while The Greats, Calling Cards and World Series Champions also will be represented. Each of these will be limited to 50 or less with the World Series most plentiful and three of the sets limited to as few as five cards per player.
The Relic lineup will follow that of the aforementioned signatures — Chasing History, Chasing the Dream, Cut to the CHase, TheGreats, Calling Cards, 1972 Topps Minis, World Series Champions all will have Relic versions. Four of those sets will be limited to just 25 copies while the World Series Relics will be limited to 100 and the first two sets mentioned will not be numbered.
In the Name Relics will utilize full letters from MLB All-Stars' warmup jerseys. These 1/1s will only be found in Hobby and HTA packs.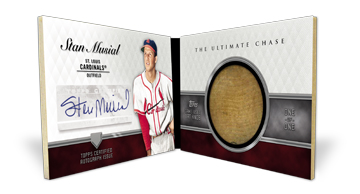 The biggest memorabilia addition to Topps, though, are 30 1/1 Ultimate Chase Autograph Relics — a mix of cuts, booklets and jumbo patches  all with autographs. Look for bat knobs, patches and more for the likes of Babe Ruth, Roberto Clemente, Nolan Ryan and Stan Musial among others.
Lastly, the insert card lineup will be comprised of unsigned/non-memorabilia versions of six sets mentioned above — Chasing History (50 cards), Chasing the Dream (25), Cut to the Chase (25), The Greats (30), Calling Cards (15)and 1972 Minis (50). The Greats will be a Hobby-exclusive with a Gold parallel version limited to just 99 copies. That set will include Ernie Banks, Johnny Bench, Roberto Clemente, Ken Griffey Jr., Rickey Henderson, Derek Jeter, Willie Mays, Alex Rodriguez and Mike Schmidt. 
Players already committed to have autographs in the product, according to the preliminary checklist, are Griffey, Mays, Reggie Jackson, Stan Musial, Ryan, Henderson, Evan Longoria, Don Mattingly, Trevor Bauer, Gary Carter (stickers), Brett Lawrie, Buster Posey, Giancarlo Stanton, Frank Thomas, Mike Moustakas, David Price, Jose Bautista, Cal Ripken Jr. and Mike Schmidt to name a few.
For player-used Relics, expect to find Yoenis Cespedes, Yu Darvish, Prince Fielder, Griffey, Bryce Harper, Josh Hamilton, Musial, Ripken, Ryan, Stephen Strasburg, Mike Trout, Justin Verlander, Derek Jeter and many others.
Chris Olds is the editor of Beckett Baseball magazine. Have a comment, question or idea? Send an email to him at colds@beckett.com. Follow him on Twitter by clicking here.
—
FINAL SERIES 1 CHECKLIST (Click here for a printable PDF file.)

1 Bryce Harper Washington Nationals®
2 Derek Jeter New York Yankees®
3 Hunter Pence San Francisco Giants®
4 Yadier Molina St. Louis Cardinals®
5 Carlos Gonzalez Colorado Rockies™
6 Ryan Howard Philadelphia Phillies®
8 Ryan Braun Milwaukee Brewers™
9 Dee Gordon Los Angeles Dodgers®
10 Adam Jones Baltimore Orioles®
11 Yu Darvish Texas Rangers®
12 A.J. Pierzynski Chicago White Sox®
13 Brett Lawrie Toronto Blue Jays®
14 Paul Konerko Chicago White Sox®
15 Dustin Pedroia Boston Red Sox®
16 Andre Ethier Los Angeles Dodgers®
17 Shin-Soo Choo Cleveland Indians®
18 Mitch Moreland Texas Rangers®
19 Joey Votto Cincinnati Reds®
20 Kevin Youkilis Chicago White Sox®
21 Lucas Duda New York Mets®
22 Clayton Kershaw Los Angeles Dodgers®
23 Jemile Weeks Oakland Athletics™
24 Dan Haren Angels®
25 Mark Teixeira New York Yankees®
26 Chase Utley Philadelphia Phillies®
27 Mike Trout Angels®
28 Prince Fielder Detroit Tigers®
29 Adrian Beltre Texas Rangers®
30 Neftali Feliz Texas Rangers®
31 Jose Tabata Pittsburgh Pirates®
32 Craig Breslow Boston Red Sox®
33 Cliff Lee Philadelphia Phillies®
34 Felix Hernandez Seattle Mariners™
35 Justin Verlander Detroit Tigers®
36 Jered Weaver Angels®
37 Max Scherzer Detroit Tigers®
38 Brian Wilson San Francisco Giants®
39 Scott Feldman Texas Rangers®
40 Chien-Ming Wang Washington Nationals®
41 Daniel Hudson Arizona Diamondbacks®
42 Detroit Tigers® Detroit Tigers®
43 R.A. Dickey New York Mets®
44 Anthony Rizzo Chicago Cubs®
45 Travis Ishikawa Milwaukee Brewers™
46 Craig Kimbrel Atlanta Braves™
47 Howie Kendrick Angels®
48 Ryan Cook Oakland Athletics™
49 Chris Sale Chicago White Sox®
50 Adam Wainwright St. Louis Cardinals®
51 Jonathan Broxton Cincinnati Reds®
52 CC Sabathia New York Yankees®
53 Alex Cobb Tampa Bay Rays™
54 Jaime Garcia St. Louis Cardinals®
55 Tim Lincecum San Francisco Giants®
56 Joe Blanton Los Angeles Dodgers®
57 Mark Lowe Texas Rangers®
58 Jeremy Hellickson Tampa Bay Rays™
59 John Axford Milwaukee Brewers™
60 Jon Rauch New York Mets®
61 Trevor Bauer Arizona Diamondbacks®
62 Tommy Hunter Baltimore Orioles®
63 Justin Masterson Cleveland Indians®
64 Will Middlebrooks Boston Red Sox®
65 J.P. Howell Tampa Bay Rays™
66 Daniel Nava Boston Red Sox®
67 San Francisco Giants® San Francisco Giants®
68 Colby Rasmus Toronto Blue Jays®
69 Marco Scutaro San Francisco Giants®
70 Todd Frazier Cincinnati Reds®
71 Kyle Kendrick Philadelphia Phillies®
72 Gerardo Parra Arizona Diamondbacks®
73 Brandon Crawford San Francisco Giants®
74 Kenley Jansen Los Angeles Dodgers®
75 Barry Zito San Francisco Giants®
76 Brandon Inge Oakland Athletics™
77 Dustin Moseley San Diego Padres™
78 Dylan Bundy Baltimore Orioles®
79 Adam Eaton Arizona Diamondbacks®
80 Ryan Zimmerman Washington Nationals®
81 Clayton Kershaw Los Angeles Dodgers®
Johnny Cueto Cincinnati Reds®
R.A. Dickey New York Mets®
82 Jason Vargas Seattle Mariners™
83 Darin Ruf Philadelphia Phillies®
84 Adeiny Hechavarria Toronto Blue Jays®
85 Sean Doolittle Oakland Athletics™
86 Henry Rodriguez Cincinnati Reds®
87 Mike Olt Texas Rangers®
88 Jamey Carroll Minnesota Twins®
89 Johan Santana New York Mets®
90 Andy Pettitte New York Yankees®
91 Alfredo Aceves Boston Red Sox®
92 Clint Barmes Pittsburgh Pirates®
93 Austin Kearns Miami Marlins™
94 Justin Verlander Detroit Tigers®
David Price Tampa Bay Rays™
Jered Weaver Angels®
95 Matt Harrison Texas Rangers®
David Price Tampa Bay Rays™
Jered Weaver Angels®
96 Edward Mujica St. Louis Cardinals®
97 Danny Espinosa Washington Nationals®
98 Gaby Sanchez Pittsburgh Pirates®
99 Paco Rodriguez Los Angeles Dodgers®
100 Mike Moustakas Kansas City Royals®
101 Bryan Shaw Arizona Diamondbacks®
102 Denard Span Minnesota Twins®
103 Evan Longoria Tampa Bay Rays™
104 Jed Lowrie Houston Astros®
105 Freddie Freeman Atlanta Braves™
106 Drew Stubbs Cincinnati Reds®
107 Joe Mauer Minnesota Twins®
108 Kendrys Morales Angels®
109 Kirk Nieuwenhuis New York Mets®
110 Justin Upton Arizona Diamondbacks®
111 Casey Kelly San Diego Padres™
112 Mark Reynolds Baltimore Orioles®
113 Starlin Castro Chicago Cubs®
114 Casey McGehee New York Yankees®
115 Tim Hudson Atlanta Braves™
116 Brian McCann Atlanta Braves™
117 Aubrey Huff San Francisco Giants®
118 Daisuke Matsuzaka Boston Red Sox®
119 Chris Davis Baltimore Orioles®
120 Ian Desmond Washington Nationals®
121 Delmon Young Detroit Tigers®
122 Andrew McCutchen Pittsburgh Pirates®
123 Rickie Weeks Milwaukee Brewers™
124 Ricky Romero Toronto Blue Jays®
125 Matt Holliday St. Louis Cardinals®
126 Dan Uggla Atlanta Braves™
127 Giancarlo Stanton Miami Marlins™
128 Buster Posey San Francisco Giants®
129 Ike Davis New York Mets®
130 Jason Motte St. Louis Cardinals®
131 Ian Kennedy Arizona Diamondbacks®
132 Ryan Vogelsong San Francisco Giants®
133 James Shields Tampa Bay Rays™
134 Jake Arrieta Baltimore Orioles®
135 Eric Hosmer Kansas City Royals®
136 Tyler Clippard Washington Nationals®
137 Edinson Volquez San Diego Padres™
138 Michael Morse Washington Nationals®
139 Bobby Parnell New York Mets®
140 Wade Davis Tampa Bay Rays™
141 Carlos Santana Cleveland Indians®
142 Tony Cingrani Cincinnati Reds®
143 Jim Johnson Baltimore Orioles®
144 Jason Bay New York Mets®
145 Anthony Bass San Diego Padres™
146 Kyle McClellan St. Louis Cardinals®
147 Ivan Nova New York Yankees®
148 L.J. Hoes Baltimore Orioles®
149 Yovani Gallardo Milwaukee Brewers™
150 John Danks Chicago White Sox®
151 Alex Rios Chicago White Sox®
152 Jose Contreras Philadelphia Phillies®
153 Miguel Cabrera Detroit Tigers®
Josh Hamilton Texas Rangers®
Curtis Granderson New York Yankees®
154 Sergio Romo San Francisco Giants®
155 Mat Latos Cincinnati Reds®
156 Dillon Gee New York Mets®
157 Carter Capps Seattle Mariners™
158 Chad Billingsley Los Angeles Dodgers®
159 Felipe Paulino Kansas City Royals®
160 Stephen Drew Oakland Athletics™
161 Bronson Arroyo Cincinnati Reds®
162 Kyle Seager Seattle Mariners™
163 J.A. Happ Toronto Blue Jays®
164 Lucas Harrell Houston Astros®
165 Ramon Hernandez Colorado Rockies™
166 Logan Ondrusek Cincinnati Reds®
167 Luke Hochevar Kansas City Royals®
168 Kyle Farnsworth Tampa Bay Rays™
169 Brad Ziegler Arizona Diamondbacks®
170 Eury Perez Washington Nationals®
171 Brock Holt Pittsburgh Pirates®
172 Nyjer Morgan Milwaukee Brewers™
173 Tyler Skaggs Arizona Diamondbacks®
174 Jason Grilli Pittsburgh Pirates®
175 A.J. Ramos Miami Marlins™
176 Robert Andino Baltimore Orioles®
177 Elliot Johnson Tampa Bay Rays™
178 Justin Maxwell Houston Astros®
179 Detroit Tigers® Detroit Tigers®
180 Casey Kotchman Cleveland Indians®
181 Jeff Keppinger Tampa Bay Rays™
182 Randy Choate Los Angeles Dodgers®
183 Drew Hutchison Toronto Blue Jays®
184 Geovany Soto Texas Rangers®
185 Rob Scahill Colorado Rockies™
186 Jordan Pacheco Colorado Rockies™
187 Nick Maronde Angels®
188 Brian Fuentes St. Louis Cardinals®
189 Buster Posey San Francisco Giants®
Andrew McCutchen Pittsburgh Pirates®
Ryan Braun Milwaukee Brewers™
190 Daniel Descalso St. Louis Cardinals®
191 Chris Capuano Los Angeles Dodgers®
192 Javier Lopez San Francisco Giants®
193 Matt Carpenter St. Louis Cardinals®
194 Edwin Encarnacion Toronto Blue Jays®
Miguel Cabrera Detroit Tigers®
Josh Hamilton Texas Rangers®
195 Chris Heisey Cincinnati Reds®
196 Ryan Vogelsong San Francisco Giants®
197 Tyler Cloyd Philadelphia Phillies®
198 Chris Coghlan Miami Marlins™
199 Avisail Garcia Detroit Tigers®
200 Scott Downs Angels®
201 Jonny Venters Atlanta Braves™
202 Zack Cozart Cincinnati Reds®
203 Wilson Ramos Washington Nationals®
204 Alex Gordon Kansas City Royals®
205 Ryan Theriot San Francisco Giants®
206 Jimmy Rollins Philadelphia Phillies®
207 Matt Holliday St. Louis Cardinals®
208 Kurt Suzuki Washington Nationals®
209 David DeJesus Chicago Cubs®
210 Vernon Wells Angels®
211 Jarrod Parker Oakland Athletics™
212 Eric Chavez New York Yankees®
213 Alex Rodriguez New York Yankees®
214 Curtis Granderson New York Yankees®
215 Gordon Beckham Chicago White Sox®
216 Josh Willingham Minnesota Twins®
217 Brian Matusz Baltimore Orioles®
218 Ben Zobrist Tampa Bay Rays™
219 Josh Beckett Los Angeles Dodgers®
220 Octavio Dotel Detroit Tigers®
221 Heath Bell Arizona Diamondbacks®
222 Jason Heyward Atlanta Braves™
223 Yonder Alonso San Diego Padres™
224 Jon Jay St. Louis Cardinals®
225 Will Venable San Diego Padres™
226 Derek Lowe New York Yankees®
227 Jose Altuve Houston Astros®
228 Adrian Gonzalez Los Angeles Dodgers®
229 Jeff Samardzija Chicago Cubs®
230 David Robertson New York Yankees®
231 Melky Mesa New York Yankees®
232 Jake Odorizzi Kansas City Royals®
233 Edwin Jackson Washington Nationals®
234 A.J. Burnett Pittsburgh Pirates®
235 Jake Westbrook St. Louis Cardinals®
236 Joe Nathan Texas Rangers®
237 Brandon Lyon Toronto Blue Jays®
238 Carlos Zambrano Miami Marlins™
239 Ramon Santiago Detroit Tigers®
240 J.J. Putz Arizona Diamondbacks®
241 Jacoby Ellsbury Boston Red Sox®
242 Matt Kemp Los Angeles Dodgers®
243 Aaron Crow Kansas City Royals®
244 Lucas Luetge Seattle Mariners™
245 Jason Isringhausen Angels®
246 Ryan Braun Milwaukee Brewers™
Giancarlo Stanton Miami Marlins™
Jay Bruce Cincinnati Reds®
247 Luis Perez Toronto Blue Jays®
248 Colby Lewis Texas Rangers®
249 Vance Worley Philadelphia Phillies®
250 Jonathon Niese New York Mets®
251 Sean Marshall Cincinnati Reds®
252 Dustin Ackley Seattle Mariners™
253 Adam Greenberg Miami Marlins™
254 Sean Burnett Washington Nationals®
255 Josh Johnson Miami Marlins™
256 Madison Bumgarner San Francisco Giants®
257 Mike Minor Atlanta Braves™
258 Doug Fister Detroit Tigers®
259 Bartolo Colon Oakland Athletics™
260 San Francisco Giants® San Francisco Giants®
261 Trevor Rosenthal St. Louis Cardinals®
262 Kevin Correia Pittsburgh Pirates®
263 Ted Lilly Los Angeles Dodgers®
264 Roy Halladay Philadelphia Phillies®
265 Tyler Colvin Colorado Rockies™
266 Albert Pujols Angels®
267 Jason Kipnis Cleveland Indians®
268 David Lough Kansas City Royals®
269 St. Louis Cardinals® St. Louis Cardinals®
270 Manny Machado Baltimore Orioles®
271 Jeurys Familia New York Mets®
272 Ryan Braun Milwaukee Brewers™
Alfonso Soriano Chicago Cubs®
Chase Headley San Diego Padres™
273 Dexter Fowler Colorado Rockies™
274 Miguel Montero Arizona Diamondbacks®
275 Johnny Cueto Cincinnati Reds®
276 Luis Ayala Baltimore Orioles®
277 Brendan Ryan Seattle Mariners™
278 Christian Garcia Washington Nationals®
279 Vicente Padilla Boston Red Sox®
280 Rafael Dolis Chicago Cubs®
281 David Hernandez Arizona Diamondbacks®
282 Russell Martin New York Yankees®
283 CC Sabathia New York Yankees®
284 Angel Pagan San Francisco Giants®
285 Addison Reed Chicago White Sox®
286 Jurickson Profar Texas Rangers®
287 Johnny Cueto Cincinnati Reds®
Gio Gonzalez Washington Nationals®
R.A. Dickey New York Mets®
288 Starling Marte Pittsburgh Pirates®
289 Jeremy Guthrie Kansas City Royals®
290 Tom Layne San Diego Padres™
291 Ryan Sweeney Boston Red Sox®
292 Matt Thornton Chicago White Sox®
293 Jeff Karstens Pittsburgh Pirates®
294 Mike Trout Angels®
Adrian Beltre Texas Rangers®
Miguel Cabrera Detroit Tigers®
295 Brandon League Los Angeles Dodgers®
296 Didi Gregorius Cincinnati Reds®
297 Michael Saunders Seattle Mariners™
298 Pablo Sandoval San Francisco Giants®
299 Darwin Barney Chicago Cubs®
300 Daniel Murphy New York Mets®
301 Jarrod Saltalamacchia Boston Red Sox®
302 Aaron Hill Arizona Diamondbacks®
303 Alex Rodriguez New York Yankees®
304 Kyle Drabek Toronto Blue Jays®
305 Shelby Miller St. Louis Cardinals®
306 Jerry Hairston Los Angeles Dodgers®
307 Norichika Aoki Milwaukee Brewers™
308 Desmond Jennings Tampa Bay Rays™
309 Endy Chavez Baltimore Orioles®
310 Edwin Encarnacion Toronto Blue Jays®
311 Rajai Davis Toronto Blue Jays®
312 Scott Hairston New York Mets®
313 Maicer Izturis Angels®
314 A.J. Ellis Los Angeles Dodgers®
315 Rafael Furcal St. Louis Cardinals®
316 Josh Reddick Oakland Athletics™
317 Baltimore Orioles® Baltimore Orioles®
318 Hiroki Kuroda New York Yankees®
319 Brian Bogusevic Houston Astros®
320 Michael Young Texas Rangers®
321 Allen Craig St. Louis Cardinals®
322 Alex Gonzalez Milwaukee Brewers™
323 Michael Brantley Cleveland Indians®
324 Cameron Maybin San Diego Padres™
325 Kevin Millwood Seattle Mariners™
326 Andruw Jones New York Yankees®
327 Jhonny Peralta Detroit Tigers®
328 Jayson Werth Washington Nationals®
329 Rafael Soriano New York Yankees®
330 Ryan Raburn Detroit Tigers®
331 Jose Reyes Toronto Blue Jays®
OUT OF BOUNDS – BASE SHORTPRINT
1 Bryce Harper Washington Nationals®
13 Brett Lawrie Toronto Blue Jays®
14 Paul Konerko Chicago White Sox®
16 Andre Ethier Los Angeles Dodgers®
20 Kevin Youkilis Chicago White Sox®
27 Mike Trout Angels®
44 Anthony Rizzo Chicago Cubs®
70 Todd Frazier Cincinnati Reds®
100 Mike Moustakas Kansas City Royals®
105 Freddie Freeman Atlanta Braves™
107 Joe Mauer Minnesota Twins®
112 Mark Reynolds Baltimore Orioles®
122 Andrew McCutchen Pittsburgh Pirates®
128 Buster Posey San Francisco Giants®
135 Eric Hosmer Kansas City Royals®
204 Alex Gordon Kansas City Royals®
213 Alex Rodriguez New York Yankees®
216 Josh Willingham Minnesota Twins®
242 Matt Kemp Los Angeles Dodgers®
282 Russell Martin New York Yankees®
311 Rajai Davis Toronto Blue Jays®
324 Cameron Maybin San Diego Padres™
350 Albert Pujols Angels®
400 David Wright New York Mets®
450 Jay Bruce Cincinnati Reds®
INSERT
CHASING HISTORY
CH-1 Roy Halladay Philadelphia Phillies®
CH-2 Roberto Clemente Pittsburgh Pirates®
CH-3 Ian Kinsler Texas Rangers®
CH-4 Cal Ripken Jr. Baltimore Orioles®
CH-5 Yogi Berra New York Yankees®
CH-6 Rod Carew Minnesota Twins®
CH-7 Carlos Santana Cleveland Indians®
CH-8 Rickey Henderson Oakland Athletics™
CH-9 Mariano Rivera New York Yankees®
CH-10 Lou Gehrig New York Yankees®
CH-11 Babe Ruth New York Yankees®
CH-12 Evan Longoria Tampa Bay Rays™
CH-13 Don Mattingly New York Yankees®
CH-14 Lou Brock St. Louis Cardinals®
CH-15 Willie McCovey San Francisco Giants®
CH-16 Lance Berkman St. Louis Cardinals®
CH-17 R.A. Dickey New York Mets®
CH-18 Ken Griffey Jr. Seattle Mariners™
CH-19 Harmon Killebrew Minnesota Twins®
CH-20 Reggie Jackson New York Yankees®
CH-21 Frank Robinson Baltimore Orioles®
CH-22 Matt Kemp Los Angeles Dodgers®
CH-23 George Brett Kansas City Royals®
CH-24 David Wright New York Mets®
CH-25 Frank Thomas Chicago White Sox®
CH-26 Chipper Jones Atlanta Braves™
CH-27 Nolan Ryan Texas Rangers®
CH-28 Tony Gwynn San Diego Padres™
CH-29 Stan Musial St. Louis Cardinals®
CH-30 Adam Dunn Chicago White Sox®
CH-31 Warren Spahn Milwaukee Braves™
CH-32 Brian Wilson San Francisco Giants®
CH-33 Ted Williams Boston Red Sox ®
CH-34 Robin Yount Milwaukee Brewers™
CH-35 Hank Aaron Atlanta Braves™
CH-36 Kerry Wood Chicago Cubs®
CH-37 Derek Jeter New York Yankees®
CH-38 Tom Seaver New York Mets®
CH-39 Jim Thome Philadelphia Phillies®
CH-40 Mike Schmidt Philadelphia Phillies®
CH-41 Johan Santana New York Mets®
CH-42 Alex Rodriguez New York Yankees®
CH-43 CC Sabathia New York Yankees®
CH-44 Mark Buehrle Toronto Blue Jays®
CH-45 Bob Feller Cleveland Indians®
CH-46 Hanley Ramirez Los Angeles Dodgers®
CH-47 Willie Mays San Francisco Giants®
CH-48 Paul Konerko Chicago White Sox®
CH-49 Jackie Robinson Brooklyn Dodgers™
CH-50 Sandy Koufax Los Angeles Dodgers®
CHASING THE DREAM
CD-1 Bryce Harper Washington Nationals®
CD-2 Mike Trout Angels®
CD-3 Will Middlebrooks Boston Red Sox®
CD-4 Trevor Bauer Arizona Diamondbacks®
CD-5 Matt Moore Tampa Bay Rays™
CD-6 Anthony Rizzo Chicago Cubs®
CD-7 Jesus Montero Seattle Mariners™
CD-8 Josh Reddick Oakland Athletics™
CD-9 Devin Mesoraco Cincinnati Reds®
CD-10 Giancarlo Stanton Miami Marlins™
CD-11 Jacob Turner Miami Marlins™
CD-12 Casey Kelly San Diego Padres™
CD-13 Drew Hutchison Toronto Blue Jays®
CD-14 Drew Pomeranz Colorado Rockies™
CD-15 Jonathon Niese New York Mets®
CD-16 Yonder Alonso San Diego Padres™
CD-17 Addison Reed Chicago White Sox®
CD-18 Chris Sale Chicago White Sox®
CD-19 Yu Darvish Texas Rangers®
CD-20 Tommy Milone Oakland Athletics™
CD-21 Jarrod Parker Oakland Athletics™
CD-22 Drew Smyly Detroit Tigers®
CD-23 Jose Altuve Houston Astros®
CD-24 Brett Lawrie Toronto Blue Jays®
CD-25 Mike Moustakas Kansas City Royals®
CUT TO THE CHASE
CTC-2 Ken Griffey Jr. Seattle Mariners™
CTC-3 Derek Jeter New York Yankees®
CTC-4 Babe Ruth New York Yankees®
CTC-5 Paul Molitor Milwaukee Brewers™
CTC-6 Carlos Gonzalez Colorado Rockies™
CTC-7 Stan Musial St. Louis Cardinals®
CTC-8 Ryan Braun Milwaukee Brewers™
CTC-9 Ted Williams Boston Red Sox®
CTC-10 Adam Jones Baltimore Orioles®
CTC-11 Yu Darvish Texas Rangers®
CTC-12 Lance Berkman St. Louis Cardinals®
CTC-13 Brett Lawrie Toronto Blue Jays®
CTC-14 David Price Tampa Bay Rays™
CTC-15 Dustin Pedroia Boston Red Sox®
CTC-16 Nelson Cruz Texas Rangers®
CTC-17 Matt Cain San Francisco Giants®
CTC-18 Tony Gwynn San Diego Padres™
CTC-19 Mike Schmidt Philadelphia Phillies®
CTC-20 Roberto Clemente Pittsburgh Pirates®
CTC-21 Andrew McCutchen Pittsburgh Pirates®
CTC-22 Ryne Sandberg Chicago Cubs®
CTC-23 Willie Mays San Francisco Giants®
CTC-25 Josh Hamilton Texas Rangers®
THE GREATS
TG-1 Roberto Clemente Pittsburgh Pirates®
TG-2 Willie Mays San Francisco Giants®
TG-3 Babe Ruth New York Yankees®
TG-4 Ernie Banks Chicago Cubs®
TG-5 Ted Williams Boston Red Sox®
TG-6 Jimmie Foxx Boston Red Sox®
TG-7 Ken Griffey Jr. Seattle Mariners™
TG-8 Mike Schmidt Philadelphia Phillies®
TG-9 Rickey Henderson Oakland Athletics™
TG-10 Nolan Ryan Texas Rangers®
TG-11 John Smoltz Atlanta Braves™
TG-12 Johnny Bench Cincinnati Reds®
TG-13 Reggie Jackson Oakland Athletics™
TG-14 Stan Musial St. Louis Cardinals®
TG-15 Bob Gibson St. Louis Cardinals®
TG-16 Tom Seaver New York Mets®
TG-17 Chipper Jones Atlanta Braves™
TG-18 Tony Gwynn San Diego Padres™
TG-19 Willie McCovey San Francisco Giants®
TG-20 Tom Glavine Atlanta Braves™
TG-21 Joe Morgan Cincinnati Reds®
TG-22 Hank Aaron Atlanta Braves™
TG-23 Yogi Berra New York Yankees®
TG-24 Sandy Koufax Los Angeles Dodgers®
TG-25 Albert Pujols Angels®
TG-26 Derek Jeter New York Yankees®
TG-27 Alex Rodriguez New York Yankees®
TG-28 Roy Halladay Philadelphia Phillies®
TG-29 Mariano Rivera New York Yankees®
TG-30 Cal Ripken Jr. Baltimore Orioles®
CALLING CARDS
CC-1 Prince Fielder Detroit Tigers®
CC-2 Brandon Phillips Cincinnati Reds®
CC-3 Felix Hernandez Seattle Mariners™
CC-4 David Ortiz Boston Red Sox®
CC-5 Jonathan Papelbon Philadelphia Phillies®
CC-6 Willie Stargell Pittsburgh Pirates®
CC-7 Mark Teixeira New York Yankees®
CC-8 CC Sabathia New York Yankees®
CC-9 R.A. Dickey New York Mets®
CC-10 Tim Lincecum San Francisco Giants®
CC-11 Reggie Jackson New York Yankees®
CC-12 Kevin Youkilis Chicago White Sox®
CC-13 Aroldis Chapman Cincinnati Reds®
CC-14 Pablo Sandoval San Francisco Giants®
CC-15 Albert Pujols Angels®
1972 TOPPS MINIS
TM-1 Buster Posey San Francisco Giants®
TM-2 Dan Haren Angels®
TM-3 Jered Weaver Angels®
TM-4 Mike Trout Angels®
TM-5 Ian Kennedy Arizona Diamondbacks®
TM-6 Trevor Bauer Arizona Diamondbacks®
TM-7 Craig Kimbrel Atlanta Braves™
TM-8 Dan Uggla Atlanta Braves™
TM-9 Adam Jones Baltimore Orioles®
TM-10 Adrian Gonzalez Los Angeles Dodgers®
TM-11 Dustin Pedroia Boston Red Sox®
TM-12 Anthony Rizzo Chicago Cubs®
TM-13 Starlin Castro Chicago Cubs®
TM-14 Chris Sale Chicago White Sox®
TM-15 Paul Konerko Chicago White Sox®
TM-16 Joey Votto Cincinnati Reds®
TM-17 Johnny Cueto Cincinnati Reds®
TM-18 Carlos Santana Cleveland Indians®
TM-19 Carlos Gonzalez Colorado Rockies™
TM-20 Justin Verlander Detroit Tigers®
TM-21 Prince Fielder Detroit Tigers®
TM-22 Andre Ethier Los Angeles Dodgers®
TM-23 Clayton Kershaw Los Angeles Dodgers®
TM-24 Giancarlo Stanton Miami Marlins™
TM-25 Jose Reyes Miami Marlins™
TM-26 Ryan Braun Milwaukee Brewers™
TM-27 R.A. Dickey New York Mets®
TM-28 Alex Rodriguez New York Yankees®
TM-29 CC Sabathia New York Yankees®
TM-30 Curtis Granderson New York Yankees®
TM-31 Mark Teixeira New York Yankees®
TM-32 Josh Reddick Oakland Athletics™
TM-33 Cliff Lee Philadelphia Phillies®
TM-34 Andrew McCutchen Pittsburgh Pirates®
TM-35 Felix Hernandez Seattle Mariners™
TM-36 Matt Holliday St. Louis Cardinals®
TM-37 Evan Longoria Tampa Bay Rays™
TM-38 Adrian Beltre Texas Rangers®
TM-39 Yu Darvish Texas Rangers®
TM-40 Colby Rasmus Toronto Blue Jays®
TM-41 Bryce Harper Washington Nationals®
TM-42 Willie Mays San Francisco Giants®
TM-43 Tony Gwynn San Diego Padres™
TM-44 Nolan Ryan Texas Rangers®
TM-45 Cal Ripken Jr. Baltimore Orioles®
TM-46 Jim Rice Boston Red Sox®
TM-47 Roberto Clemente Pittsburgh Pirates®
TM-48 Lou Gehrig New York Yankees®
TM-49 Matt Kemp Los Angeles Dodgers®
TM-50 Ted Williams Boston Red Sox®
PENNANT CHASE CODE CARDS
PC-1 Arizona Diamondbacks® Arizona Diamondbacks®
PC-2 Atlanta Braves™ Atlanta Braves™
PC-3 Baltimore Orioles® Baltimore Orioles®
PC-4 Boston Red Sox® Boston Red Sox®
PC-5 Chicago Cubs® Chicago Cubs®
PC-6 Chicago White Sox® Chicago White Sox®
PC-7 Cleveland Indians® Cleveland Indians®
PC-8 Cincinnati Reds® Cincinnati Reds®
PC-9 Colorado Rockies™ Colorado Rockies™
PC-10 Detroit Tigers® Detroit Tigers®
PC-11 Houston Astros® Houston Astros®
PC-12 Kansas City Royals® Kansas City Royals®
PC-13 Angels® Angels®
PC-14 Los Angeles Dodgers® Los Angeles Dodgers®
PC-15 Miami Marlins™ Miami Marlins™
PC-16 Milwaukee Brewers™ Milwaukee Brewers™
PC-17 Minnesota Twins® Minnesota Twins®
PC-18 New York Mets® New York Mets®
PC-19 New York Yankees® New York Yankees®
PC-20 Oakland Athletics™ Oakland Athletics™
PC-21 Philadelphia Phillies® Philadelphia Phillies®
PC-22 Pittsburgh Pirates® Pittsburgh Pirates®
PC-23 St. Louis Cardinals® St. Louis Cardinals®
PC-24 San Diego Padres™ San Diego Padres™
PC-25 San Francisco Giants® San Francisco Giants®
PC-26 Seattle Mariners™ Seattle Mariners™
PC-27 Tampa Bay Rays™ Tampa Bay Rays™
PC-28 Texas Rangers® Texas Rangers®
PC-29 Toronto Blue Jays® Toronto Blue Jays®
PC-30 Washington Nationals® Washington Nationals®
RELIC CARDS
CHASING HISTORY RELICS
CHR-AB Albert Belle Cleveland Indians®
CHR-AC Aroldis Chapman Cincinnati Reds®
CHR-AD Adam Dunn Chicago White Sox®
CHR-AE Andre Ethier Los Angeles Dodgers®
CHR-AJ Adam Jones Baltimore Orioles®
CHR-AJA Austin Jackson Detroit Tigers®
CHR-AM Andrew McCutchen Pittsburgh Pirates®
CHR-AR Anthony Rizzo Chicago Cubs®
CHR-BS Bruce Sutter Chicago Cubs®
CHR-BW Brian Wilson San Francisco Giants®
CHR-CG Curtis Granderson New York Yankees®
CHR-CGO Carlos Gonzalez Colorado Rockies™
CHR-CJW C.J. Wilson Angels®
CHR-CK Clayton Kershaw Los Angeles Dodgers®
CHR-CL Cliff Lee Philadelphia Phillies®
CHR-CRJ Cal Ripken Jr. Baltimore Orioles®
CHR-CS Carlos Santana Cleveland Indians®
CHR-CSA Chris Sale Chicago White Sox®
CHR-DG Dwight Gooden New York Mets®
CHR-DO David Ortiz Boston Red Sox®
CHR-DW David Wright New York Mets®
CHR-EL Evan Longoria Tampa Bay Rays™
CHR-FT Frank Thomas Chicago White Sox®
CHR-GB George Brett Kansas City Royals®
CHR-HK Harmon Killebrew Minnesota Twins®
CHR-HP Hunter Pence San Francisco Giants®
CHR-HR Hanley Ramirez Los Angeles Dodgers®
CHR-IK Ian Kinsler Texas Rangers®
CHR-IKE Ian Kennedy Arizona Diamondbacks®
CHR-JAH Jason Heyward Atlanta Braves™
CHR-JB Jose Bautista Toronto Blue Jays®
CHR-JC Johnny Cueto Cincinnati Reds®
CHR-JH Joel Hanrahan Pittsburgh Pirates®
CHR-JHA Josh Hamilton Texas Rangers®
CHR-JOV Joey Votto Cincinnati Reds®
CHR-JS Johan Santana New York Mets®
CHR-JUV Justin Verlander Detroit Tigers®
CHR-JW Jered Weaver Angels®
CHR-KGJ Ken Griffey Jr. Seattle Mariners™
CHR-LB Lance Berkman St. Louis Cardinals®
CHR-MAM Matt Moore Tampa Bay Rays™
CHR-MAT Mark Trumbo Angels®
CHR-MEC Melky Cabrera San Francisco Giants®
CHR-MIC Miguel Cabrera Detroit Tigers®
CHR-MIM Mike Moustakas Kansas City Royals®
CHR-MIT Mike Trout Angels®
CHR-MK Matt Kemp Los Angeles Dodgers®
CHR-MS Mike Schmidt Philadelphia Phillies®
CHR-NR Nolan Ryan Texas Rangers®
CHR-PK Paul Konerko Chicago White Sox®
CHR-RH Rickey Henderson Oakland Athletics™
CHR-RHA Roy Halladay Philadelphia Phillies®
CHR-RJ Reggie Jackson New York Yankees®
CHR-SC Starlin Castro Chicago Cubs®
CHR-SM Stan Musial St. Louis Cardinals®
CHR-TG Tony Gwynn San Diego Padres™
CHR-TT Troy Tulowitzki Colorado Rockies™
CHR-YG Yovani Gallardo Milwaukee Brewers™
CHASING THE DREAM RELICS
CDR-AR Anthony Rizzo Chicago Cubs®
CDR-BH Bryce Harper Washington Nationals®
CDR-BIB Billy Butler Kansas City Royals®
CDR-BL Brett Lawrie Toronto Blue Jays®
CDR-BP Buster Posey San Francisco Giants®
CDR-BRB Brandon Beachy Atlanta Braves™
CDR-CS Chris Sale Chicago White Sox®
CDR-DA Dustin Ackley Seattle Mariners™
CDR-DF David Freese St. Louis Cardinals®
CDR-DG Dee Gordon Los Angeles Dodgers®
CDR-DH Derek Holland Texas Rangers®
CDR-DJ Desmond Jennings Tampa Bay Rays™
CDR-DP Drew Pomeranz Colorado Rockies™
CDR-EA Elvis Andrus Texas Rangers®
CDR-GG Gio Gonzalez Washington Nationals®
CDR-JAP Jarrod Parker Oakland Athletics™
CDR-JM Jesus Montero Seattle Mariners™
CDR-JPA J.P. Arencibia Toronto Blue Jays®
CDR-JR Josh Reddick Oakland Athletics™
CDR-JSM Justin Smoak Seattle Mariners™
CDR-JT Jacob Turner Miami Marlins™
CDR-JZ Jordan Zimmermann Washington Nationals®
CDR-LL Lance Lynn St. Louis Cardinals®
CDR-MA Matt Adams St. Louis Cardinals®
CDR-MAM Matt Moore Tampa Bay Rays™
CDR-MAT Mark Trumbo Angels®
CDR-MB Madison Bumgarner San Francisco Giants®
CDR-MIM Mike Morse Washington Nationals®
CDR-MIT Mike Trout Angels®
CDR-MMO Mike Moustakas Kansas City Royals®
CDR-NF Neftali Feliz Texas Rangers®
CDR-PG Paul Goldschmidt Arizona Diamondbacks®
CDR-TM Tommy Milone Oakland Athletics™
CDR-WM Will Middlebrooks Boston Red Sox®
CDR-WMI Wade Miley Arizona Diamondbacks®
CDR-WR Wilin Rosario Colorado Rockies™
CDR-YA Yonder Alonso San Diego Padres™
CDR-YC Yoenis Cespedes Oakland Athletics™
CDR-YD Yu Darvish Texas Rangers®
CUT TO THE CHASE RELICS
CTCR-3 Derek Jeter New York Yankees®
CTCR-5 Paul Molitor Milwaukee Brewers™
CTCR-6 Carlos Gonzalez Colorado Rockies™
CTCR-9 Ted Williams Boston Red Sox®
CTCR-10 Adam Jones Baltimore Orioles®
CTCR-15 Dustin Pedroia Boston Red Sox®
CTCR-16 Nelson Cruz Texas Rangers®
CTCR-17 Matt Cain San Francisco Giants®
CTCR-18 Tony Gwynn San Diego Padres™
CTCR-19 Mike Schmidt Philadelphia Phillies®
CTCR-21 Andrew McCutchen Pittsburgh Pirates®
THE GREAT RELICS
TGR-AP Albert Pujols Angels®
TGR-AR Alex Rodriguez New York Yankees®
TGR-BG Bob Gibson St. Louis Cardinals®
TGR-BR Babe Ruth New York Yankees®
TGR-CB Craig Biggio Houston Astros®
TGR-CRJ Cal Ripken Jr. Baltimore Orioles®
TGR-DJ Derek Jeter New York Yankees®
TGR-EB Ernie Banks Chicago Cubs®
TGR-JB Johnny Bench Cincinnati Reds®
TGR-JF Jimmie Foxx Boston Red Sox®
TGR-JS John Smoltz Atlanta Braves™
TGR-KGJ Ken Griffey Jr. Seattle Mariners™
TGR-MS Mike Schmidt Philadelphia Phillies®
TGR-NR Nolan Ryan Texas Rangers®
TGR-PM Pedro Martinez Boston Red Sox®
TGR-RC Roberto Clemente Pittsburgh Pirates®
TGR-RH Rickey Henderson Oakland Athletics™
TGR-RHA Roy Halladay Philadelphia Phillies®
TGR-RJA Reggie Jackson Oakland Athletics™
TGR-SK Sandy Koufax Los Angeles Dodgers®
TGR-SM Stan Musial St. Louis Cardinals®
TGR-TG Tony Gwynn San Diego Padres™
TGR-TW Ted Williams Boston Red Sox®
TGR-WM Willie Mays San Francisco Giants®
TGR-WMC Willie McCovey San Francisco Giants®
CALLING CARD RELICS
CCR-CCS CC Sabathia New York Yankees®
CCR-DO David Ortiz Boston Red Sox®
CCR-KY Kevin Youkilis Chicago White Sox®
CCR-MT Mark Teixeira New York Yankees®
CCR-NG Nomar Garciaparra Boston Red Sox®
CCR-PF Prince Fielder Detroit Tigers®
CCR-PS Pablo Sandoval San Francisco Giants®
CCR-RAD R.A. Dickey New York Mets®
CCR-TL Tim Lincecum San Francisco Giants®
CCR-WB Wade Boggs Boston Red Sox®
1972 TOPPS MINIS RELICS
TMR-AG Adrian Gonzalez Los Angeles Dodgers®
TMR-AJ Adam Jones Baltimore Orioles®
TMR-BH Bryce Harper Washington Nationals®
TMR-CK Craig Kimbrel Atlanta Braves™
TMR-CR Colby Rasmus Toronto Blue Jays®
TMR-CS Chris Sale Chicago White Sox®
TMR-IK Ian Kennedy Arizona Diamondbacks®
TMR-JC Johnny Cueto Cincinnati Reds®
TMR-JR Jose Reyes Miami Marlins™
TMR-JV Joey Votto Cincinnati Reds®
TMR-MH Matt Holliday St. Louis Cardinals®
TMR-RB Ryan Braun Milwaukee Brewers™
TMR-SC Starlin Castro Chicago Cubs®
TMR-TG Tony Gwynn San Diego Padres™
TMR-YD Yu Darvish Texas Rangers®
WORLD SERIES CHAMPION RELICS
WCR-AP Angel Pagan San Francisco Giants®
WCR-BB Brandon Belt San Francisco Giants®
WCR-BC Brandon Crawford San Francisco Giants®
WCR-BP Buster Posey San Francisco Giants®
WCR-BW Brian Wilson San Francisco Giants®
WCR-BZ Barry Zito San Francisco Giants®
WCR-HP Hunter Pence San Francisco Giants®
WCR-MB Madison Bumgarner San Francisco Giants®
WCR-MC Matt Cain San Francisco Giants®
WCR-MS Marco Scutaro San Francisco Giants®
WCR-PS Pablo Sandoval San Francisco Giants®
WCR-RT Ryan Theriot San Francisco Giants®
WCR-RV Ryan Vogelsong San Francisco Giants®
WCR-TL Tim Lincecum San Francisco Giants®
WCR-XN Xavier Nady San Francisco Giants®
IN THE NAME RELICS
ITN-AB Adrian Beltre Texas Rangers®
ITN-AC Asdrubal Cabrera Cleveland Indians®
ITN-ACH Aroldis Chapman Cincinnati Reds®
ITN-AD Adam Dunn Chicago White Sox®
ITN-AJ Adam Jones Baltimore Orioles®
ITN-AM Andrew McCutchen Pittsburgh Pirates®
ITN-BB Billy Butler Kansas City Royals®
ITN-BH Bryce Harper Washington Nationals®
ITN-BL Bryan LaHair Chicago Cubs®
ITN-BP Buster Posey San Francisco Giants®
ITN-CB Carlos Beltran St. Louis Cardinals®
ITN-CCS CC Sabathia New York Yankees®
ITN-CG Carlos Gonzalez Colorado Rockies™
ITN-CGR Curtis Granderson New York Yankees®
ITN-CH Cole Hamels Philadelphia Phillies®
ITN-CJ Chipper Jones Atlanta Braves™
ITN-CK Clayton Kershaw Los Angeles Dodgers®
ITN-CKI Craig Kimbrel Atlanta Braves™
ITN-CP Chris Perez Cleveland Indians®
ITN-CR Carlos Ruiz Philadelphia Phillies®
ITN-CS Chris Sale Chicago White Sox®
ITN-CW C.J. Wilson Angels®
ITN-DF David Freese St. Louis Cardinals®
ITN-DJ Derek Jeter New York Yankees®
ITN-DO David Ortiz Boston Red Sox®
ITN-DP David Price Tampa Bay Rays™
ITN-DU Dan Uggla Atlanta Braves™
ITN-DW David Wright New York Mets®
ITN-EA Elvis Andrus Texas Rangers®
ITN-FR Fernando Rodney Tampa Bay Rays™
ITN-GG Gio Gonzalez Washington Nationals®
ITN-IK Ian Kinsler Texas Rangers®
ITN-JA Jose Altuve Houston Astros®
ITN-JB Jay Bruce Cincinnati Reds®
ITN-JBA Jose Bautista Toronto Blue Jays®
ITN-JH Josh Hamilton Texas Rangers®
ITN-JHA Joel Hanrahan Pittsburgh Pirates®
ITN-JJ Jim Johnson Baltimore Orioles®
ITN-JM Joe Mauer Minnesota Twins®
ITN-JN Joe Nathan Texas Rangers®
ITN-JP Jake Peavy Chicago White Sox®
ITN-JP Jonathan Papelbon Philadelphia Phillies®
ITN-JV Joey Votto Cincinnati Reds®
ITN-LL Lance Lynn St. Louis Cardinals®
ITN-MAC Matt Cain San Francisco Giants®
ITN-MB Michael Bourn Atlanta Braves™
ITN-MC Miguel Cabrera Detroit Tigers®
ITN-MEC Melky Cabrera San Francisco Giants®
ITN-MH Matt Holliday St. Louis Cardinals®
ITN-MK Matt Kemp Los Angeles Dodgers®
ITN-MN Mike Napoli Texas Rangers®
ITN-MT Mike Trout Angels®
ITN-MTR Mark Trumbo Angels®
ITN-PF Prince Fielder Detroit Tigers®
ITN-PK Paul Konerko Chicago White Sox®
ITN-PS Pablo Sandoval San Francisco Giants®
ITN-RB Ryan Braun Milwaukee Brewers™
ITN-RC Ryan Cook Oakland Athletics™
ITN-RCA Robinson Cano New York Yankees®
ITN-RD R.A. Dickey New York Mets®
ITN-RF Rafael Furcal St. Louis Cardinals®
ITN-SC Starlin Castro Chicago Cubs®
ITN-SS Stephen Strasburg Washington Nationals®
ITN-WM Wade Miley Arizona Diamondbacks®
ITN-YD Yu Darvish Texas Rangers®
TRIPLE CROWN RELIC CARDS
TCR-1 Miguel Cabrera Detroit Tigers®
TCR-2 Miguel Cabrera Detroit Tigers®
TCR-3 Miguel Cabrera Detroit Tigers®
TCR-4 Miguel Cabrera Detroit Tigers®
TCR-5 Miguel Cabrera Detroit Tigers®
TCR-6 Miguel Cabrera Detroit Tigers®
TCR-7 Miguel Cabrera Detroit Tigers®
TCR-8 Miguel Cabrera Detroit Tigers®
TCR-9 Miguel Cabrera Detroit Tigers®
TCR-10 Miguel Cabrera Detroit Tigers®
AUTOGRAPH CARDS
CHASING HISTORY AUTOGRAPHS
CHA-AR Anthony Rizzo Chicago Cubs®
CHA-CCS CC Sabathia New York Yankees®
CHA-CRJ Cal Ripken Jr. Baltimore Orioles®
CHA-CSA Chris Sale Chicago White Sox®
CHA-CST Carlos Santana Cleveland Indians®
CHA-DG Dwight Gooden New York Mets®
CHA-DGO Dee Gordon Los Angeles Dodgers®
CHA-DJ David Justice Atlanta Braves™
CHA-DM Don Mattingly New York Yankees®
CHA-DS Duke Snider Brooklyn Dodgers™
CHA-DW David Wright New York Mets®
CHA-EL Evan Longoria Tampa Bay Rays™
CHA-FR Fernando Rodney Tampa Bay Rays™
CHA-FT Frank Thomas Chicago White Sox®
CHA-GC Gary Carter New York Mets®
CHA-GS Gary Sheffield Florida Marlins®
CHA-GST Giancarlo Stanton Miami Marlins™
CHA-HA Hank Aaron Atlanta Braves™
CHA-HR Hanley Ramirez Los Angeles Dodgers®
CHA-IN Ivan Nova New York Yankees®
CHA-JA Jose Altuve Houston Astros®
CHA-JB Jose Bautista Toronto Blue Jays®
CHA-JH Joel Hanrahan Pittsburgh Pirates®
CHA-JP Jarrod Parker Oakland Athletics™
CHA-JPO Johnny Podres Brooklyn Dodgers™
CHA-KGJ Ken Griffey Jr. Seattle Mariners™
CHA-MAM Matt Moore Tampa Bay Rays™
CHA-MAT Mark Trumbo Angels®
CHA-MIT Mike Trout Angels®
CHA-MS Mike Schmidt Philadelphia Phillies®
CHA-NR Nolan Ryan Texas Rangers®
CHA-OC Orlando Cepeda San Francisco Giants®
CHA-RH Rickey Henderson Oakland Athletics™
CHA-RJ Reggie Jackson New York Yankees®
CHA-SC Starlin Castro Chicago Cubs®
CHA-SK Sandy Koufax Los Angeles Dodgers®
CHA-SM Stan Musial St. Louis Cardinals®
CHA-TG Tony Gwynn San Diego Padres™
CHA-WF Whitey Ford New York Yankees®
CHASING HISTORY CUT SIGNATURES
CHCS-AL Al Lopez Chicago White Sox®
CHCS-BD Bobby Doerr Boston Red Sox®
CHCS-BF Bob Feller Cleveland Indians®
CHCS-BJ Bucky Jacobs Washington Senators™
CHCS-BL Buck Leonard Homestead Grays™
CHCS-BLE Bob Lemon Cleveland Indians®
CHCS-BM Bobby Murcer New York Yankees®
CHCS-BT Bill Terry New York Giants™
CHCS-CG Charlie Gehringer Detroit Tigers®
CHCS-CH Carl Hubbell New York Giants™
CHCS-CHU Cal Hubbard Major League Baseball®
CHCS-CK Cal Koonce Chicago Cubs®
CHCS-CS Casey Stengel New York Yankees®
CHCS-DC Don Cardwell New York Mets®
CHCS-DD Dizzy Dean St. Louis Cardinals®
CHCS-DG Dick Groat Pittsburgh Pirates®
CHCS-DL Don Landrum Chicago Cubs®
CHCS-DS Dick Sisler St. Louis Cardinals®
CHCS-DSN Duke Snider Brooklyn Dodgers™
CHCS-DW Dick Williams Oakland Athletics™
CHCS-ES Enos Slaughter St. Louis Cardinals®
CHCS-GK George Kell Detroit Tigers®
CHCS-HC Happy Chandler Major League Baseball®
CHCS-HG Hank Greenberg Detroit Tigers®
CHCS-HK Harry Kalas Philadelphia Phillies®
CHCS-HW Hoyt Wilhelm New York Giants™
CHCS-JB Jack Brickhouse Chicago Cubs®
CHCS-JC John Callison Philadelphia Phillies®
CHCS-JL Jim Lemon Washington Senators™
CHCS-JR Jackie Robinson Brooklyn Dodgers™
CHCS-JRE Jimmie Reese New York Yankees®
CHCS-JS Joe Sewell Cleveland Indians®
CHCS-LB Lou Boudreau Cleveland Indians®
CHCS-LD Leon Day Newark Eagles™
CHCS-LF Linus Frey Cincinnati Reds®
CHCS-LM Lee MacPhail New York Yankees®
CHCS-RB Ray Boone Detroit Tigers®
CHCS-RC Roy Campanella Brooklyn Dodgers™
CHCS-RCO Rip Collins Detroit Tigers®
CHCS-RR Robin Roberts Philadelphia Phillies®
CHCS-RS Ron Santo Chicago Cubs®
CHCS-RSC Red Schoendienst St. Louis Cardinals®
CHCS-SA Sparky Anderson Detroit Tigers®
CHCS-SB Steve Boros Detroit Tigers®
CHCS-TS Tris Speaker Boston Red Sox®
CHCS-TW Ted Williams Boston Red Sox®
CHCS-TW2 Ted Williams Boston Red Sox®
CHCS-WC Walker Cooper St. Louis Cardinals®
CHCS-WH Waite Hoyt New York Yankees®
CHCS-WS Willie Stargell Pittsburgh Pirates®
CHASING THE DREAM AUTOGRAPHS
CDA-AR Anthony Rizzo Chicago Cubs®
CDA-BH Bryce Harper Washington Nationals®
CDA-BL Brett Lawrie Toronto Blue Jays®
CDA-BP Brad Peacock Oakland Athletics™
CDA-CS Chris Sale Chicago White Sox®
CDA-DG Dee Gordon Los Angeles Dodgers®
CDA-DH Drew Hutchison Toronto Blue Jays®
CDA-EA Elvis Andrus Texas Rangers®
CDA-FD Felix Doubront Boston Red Sox®
CDA-GS Giancarlo Stanton Miami Marlins™
CDA-JP Jarrod Parker Oakland Athletics™
CDA-MAM Matt Moore Tampa Bay Rays™
CDA-MB Madison Bumgarner San Francisco Giants®
CDA-MT Mike Trout Angels®
CDA-PG Paul Goldschmidt Arizona Diamondbacks®
CDA-TB Trevor Bauer Arizona Diamondbacks®
CDA-TM Tommy Milone Oakland Athletics™
CDA-WP Wily Peralta Milwaukee Brewers™
CDA-YA Yonder Alonso San Diego Padres™
CDA-YD Yu Darvish Texas Rangers®
CUT TO THE CHASE AUTOGRAPHS
CTCA-2 Ken Griffey Jr. Seattle Mariners™
CTCA-5 Paul Molitor Milwaukee Brewers™
CTCA-6 Carlos Gonzalez Colorado Rockies™
CTCA-7 Stan Musial St. Louis Cardinals®
CTCA-14 David Price Tampa Bay Rays™
THE GREATS AUTOGRAPHS
TGA-BG Bob Gibson St. Louis Cardinals®
TGA-CB Craig Biggio Houston Astros®
TGA-CRJ Cal Ripken Jr. Baltimore Orioles®
TGA-HA Hank Aaron Atlanta Braves™
TGA-JB Johnny Bench Cincinnati Reds®
TGA-KGJ Ken Griffey Jr. Seattle Mariners™
TGA-MS Mike Schmidt Philadelphia Phillies®
TGA-NR Nolan Ryan Texas Rangers®
TGA-PM Pedro Martinez Boston Red Sox®
TGA-REJ Reggie Jackson Oakland Athletics™
TGA-RH Rickey Henderson Oakland Athletics™
TGA-SK Sandy Koufax Los Angeles Dodgers®
TGA-SM Stan Musial St. Louis Cardinals®
TGA-TG Tony Gwynn San Diego Padres™
TGA-WMA Willie Mays San Francisco Giants®
CALLING CARDS AUTOGRAPHS
CCA-CCS CC Sabathia New York Yankees®
CCA-JB Jay Buhner Seattle Mariners™
CCA-NG Nomar Garciaparra Boston Red Sox®
CCA-PF Prince Fielder Detroit Tigers®
CCA-WB Wade Boggs Boston Red Sox®
1972 TOPPS MINIS AUTOGRAPHS
TMA-AE Andre Ethier Los Angeles Dodgers®
TMA-BP Buster Posey San Francisco Giants®
TMA-CB Craig Biggio Houston Astros®
TMA-DP Dustin Pedroia Boston Red Sox®
TMA-DU Dan Uggla Atlanta Braves™
TMA-EL Evan Longoria Tampa Bay Rays™
TMA-GS Giancarlo Stanton Miami Marlins™
TMA-NR Nolan Ryan Texas Rangers®
TMA-TG Tony Gwynn San Diego Padres™
TMA-YD Yu Darvish Texas Rangers®
WORLD SERIES CHAMPION AUTOGRAPHS
WCA-BC Brandon Crawford San Francisco Giants®
WCA-BP Buster Posey San Francisco Giants®
WCA-MB Madison Bumgarner San Francisco Giants®
WCA-MC Matt Cain San Francisco Giants®
WCA-PS Pablo Sandoval San Francisco Giants®
BASE AUTO SHORTPRINT PARALLEL
16 Andre Ethier Los Angeles Dodgers®
27 Mike Trout Angels®
128 Buster Posey San Francisco Giants®
324 Cameron Maybin San Diego Padres™
400 David Wright New York Mets®
AUTOGRAPH RELIC CARDS
CHASING HISTORY AUTOGRAPH RELICS
CHAR-AR Anthony Rizzo Chicago Cubs®
CHAR-CRJ Cal Ripken Jr. Baltimore Orioles®
CHAR-DG Dwight Gooden New York Mets®
CHAR-DW David Wright New York Mets®
CHAR-EL Evan Longoria Tampa Bay Rays™
CHAR-HR Hanley Ramirez Los Angeles Dodgers®
CHAR-JB Jose Bautista Toronto Blue Jays®
CHAR-JW Jered Weaver Angels®
CHAR-KGJ Ken Griffey Jr. Seattle Mariners™
CHAR-MK Matt Kemp Los Angeles Dodgers®
CHAR-MT Mike Trout Angels®
CHAR-NR Nolan Ryan Texas Rangers®
CHAR-SM Stan Musial St. Louis Cardinals®
CHAR-TG Tony Gwynn San Diego Padres™
CHAR-WM Willie McCovey San Francisco Giants®
CHASING THE DREAM AUTOGRAPH RELICS
CDAR-AR Anthony Rizzo Chicago Cubs®
CDAR-BH Bryce Harper Washington Nationals®
CDAR-BP Buster Posey San Francisco Giants®
CDAR-JM Jesus Montero Seattle Mariners™
CDAR-JP Jarrod Parker Oakland Athletics™
CDAR-JZ Jordan Zimmermann Washington Nationals®
CDAR-MAT Mark Trumbo Angels®
CDAR-MIT Mike Trout Angels®
CDAR-YA Yonder Alonso San Diego Padres™
CDAR-YD Yu Darvish Texas Rangers®
CUT TO THE CHASE AUTOGRAPH RELICS
CTCAR-10 Adam Jones Baltimore Orioles®
CTCAR-16 Nelson Cruz Texas Rangers®
CTCAR-17 Matt Cain San Francisco Giants®
CTCAR-18 Tony Gwynn San Diego Padres™
CTCAR-19 Mike Schmidt Philadelphia Phillies®
THE GREATS AUTOGRAPH RELICS
TGAR-BG Bob Gibson St. Louis Cardinals®
TGAR-CB Craig Biggio Houston Astros®
TGAR-EB Ernie Banks Chicago Cubs®
TGAR-JB Johnny Bench Cincinnati Reds®
TGAR-KGJ Ken Griffey Jr. Seattle Mariners™
TGAR-MS Mike Schmidt Philadelphia Phillies®
TGAR-PM Pedro Martinez Boston Red Sox®
TGAR-SK Sandy Koufax Los Angeles Dodgers®
TGAR-SM Stan Musial St. Louis Cardinals®
TGAR-WM Willie Mays San Francisco Giants®
CALLING CARD AUTOGRAPH RELICS
CCAR-CB Craig Biggio Houston Astros®
CCAR-DO David Ortiz Boston Red Sox®
CCAR-NG Nomar Garciaparra Boston Red Sox®
CCAR-PS Pablo Sandoval San Francisco Giants®
CCAR-RAD R.A. Dickey New York Mets®
WORLD SERIES CHAMPION AUTOGRAPH RELICS
WCAR-BC Brandon Crawford San Francisco Giants®
WCAR-BP Buster Posey San Francisco Giants®
WCAR-MB Madison Bumgarner San Francisco Giants®
WCAR-MC Matt Cain San Francisco Giants®
WCAR-PS Pablo Sandoval San Francisco Giants®
TRIPLE CROWN AUTOGRAPH RELIC CARDS
TCAR-1 Miguel Cabrera Detroit Tigers®
TCAR-2 Miguel Cabrera Detroit Tigers®
TCAR-3 Miguel Cabrera Detroit Tigers®
TCAR-4 Miguel Cabrera Detroit Tigers®
TCAR-5 Miguel Cabrera Detroit Tigers®
TCAR-6 Miguel Cabrera Detroit Tigers®
TCAR-7 Miguel Cabrera Detroit Tigers®
TCAR-8 Miguel Cabrera Detroit Tigers®
TCAR-9 Miguel Cabrera Detroit Tigers®
TCAR-10 Miguel Cabrera Detroit Tigers®
THE ULTIMATE CHASE
TUC-1 Babe Ruth New York Yankees®
TUC-2 Willie Mays San Francisco Giants®
TUC-3 Nolan Ryan Texas Rangers®
TUC-4 Ernie Banks Chicago Cubs®
TUC-5 Johnn Bench Cincinnati Reds®
TUC-6 Roberto Clemente Pittsburgh Pirates®
TUC-7 Bob Gibson St. Louis Cardinals®
TUC-8 Tony Gwynn San Diego Padres™
TUC-9 Reggie Jackson New York Yankees®
TUC-10 Al Kaline Detroit Tigers®
TUC-11 Mike Schmidt Philadelphia Phillies®
TUC-12 Sandy Koufax Los Angeles Dodgers®
TUC-13 Tom Seaver New York Mets®
TUC-14 Pedro Martinez Boston Red Sox®
TUC-15 Jim Palmer Baltimore Orioles®
TUC-16 Cal Ripken Jr. Baltimore Orioles®
TUC-17 Jackie Robinson Brooklyn Dodgers™
TUC-18 Al Kaline Detroit Tigers®
TUC-19 Joe Morgan Cincinnati Reds®
TUC-20 Tony Gwynn San Diego Padres™
TUC-21 Roberto Clemente Pittsburgh Pirates®
TUC-22 Ken Griffey Jr. Seattle Mariners™
TUC-23 Tony Gwynn San Diego Padres™
TUC-24 Nolan Ryan Houston Astros®
TUC-25 Don Sutton Los Angeles Dodgers®
TUC-26 Reggie Jackson New York Yankees®
TUC-27 Al Kaline Detroit Tigers®
TUC-28 Mike Schmidt Philadelphia Phillies®
TUC-29 Stan Musial St. Louis Cardinals®
TUC-30 Pedro Martinez Boston Red Sox®
SILK
SILK COLLECTION
SC-1 Mike Trout Angels®
SC-2 Jose Altuve Houston Astros®
SC-3 Giancarlo Stanton Miami Marlins™
SC-4 Delmon Young Detroit Tigers®
SC-5 Rafael Soriano New York Yankees®
SC-6 Buster Posey San Francisco Giants®
SC-7 Cliff Lee Philadelphia Phillies®
SC-8 Jim Johnson Baltimore Orioles®
SC-9 Jaime Garcia St. Louis Cardinals®
SC-10 Yu Darvish Texas Rangers®
SC-11 Jeremy Hellickson Tampa Bay Rays™
SC-12 Dan Haren Angels®
SC-13 Chase Utley Philadelphia Phillies®
SC-14 Adam Jones Baltimore Orioles®
SC-15 Starlin Castro Chicago Cubs®
SC-16 Mark Teixeira New York Yankees®
SC-17 Desmond Jennings Tampa Bay Rays™
SC-18 Rickie Weeks Milwaukee Brewers™
SC-19 Carlos Gonzalez Colorado Rockies™
SC-20 Brian McCann Atlanta Braves™
SC-21 Tim Lincecum San Francisco Giants®
SC-22 Trevor Bauer Arizona Diamondbacks®
SC-23 Neftali Feliz Texas Rangers®
SC-24 John Axford Milwaukee Brewers™
SC-25 CC Sabathia New York Yankees®
SC-26 Edinson Volquez San Diego Padres™
SC-27 Hiroki Kuroda New York Yankees®
SC-28 Chris Sale Chicago White Sox®
SC-29 Jered Weaver Angels®
SC-30 Prince Fielder Detroit Tigers®
SC-31 Dustin Pedroia Boston Red Sox®
SC-32 Jason Heyward Atlanta Braves™
SC-33 Paul Konerko Chicago White Sox®
SC-34 Ryan Zimmerman Washington Nationals®
SC-35 Mark Reynolds Baltimore Orioles®
SC-36 Justin Masterson Cleveland Indians®
SC-37 Adam Wainwright St. Louis Cardinals®
SC-38 Matt Holliday St. Louis Cardinals®
SC-39 Alex Rodriguez New York Yankees®
SC-40 Chad Billingsley Los Angeles Dodgers®
SC-41 Edwin Encarnacion Toronto Blue Jays®
SC-42 Eric Hosmer Kansas City Royals®
SC-43 Rafael Furcal St. Louis Cardinals®
SC-44 Johnny Cueto Cincinnati Reds®
SC-45 Josh Beckett Los Angeles Dodgers®
SC-46 Jacoby Ellsbury Boston Red Sox®
SC-47 Craig Kimbrel Atlanta Braves™
SC-48 Mike Moustakas Kansas City Royals®
SC-49 Ryan Braun Milwaukee Brewers™
SC-50 Justin Verlander Detroit Tigers®
SC-51 Colby Rasmus Toronto Blue Jays®
SC-52 Alex Gordon Kansas City Royals®
SC-53 Edwin Jackson Washington Nationals®
SC-54 Tim Hudson Atlanta Braves™
SC-55 Ian Kennedy Arizona Diamondbacks®
SC-56 Yadier Molina St. Louis Cardinals®
SC-57 R.A. Dickey New York Mets®
SC-58 Joey Votto Cincinnati Reds®
SC-59 Kendrys Morales Angels®
SC-60 Bryce Harper Washington Nationals®
SC-61 Evan Longoria Tampa Bay Rays™
SC-62 Josh Reddick Oakland Athletics™
SC-63 Brian Wilson San Francisco Giants®
SC-64 Jimmy Rollins Philadelphia Phillies®
SC-65 Shin-Soo Choo Cleveland Indians®
SC-66 Carlos Santana Cleveland Indians®
SC-67 Will Middlebrooks Boston Red Sox®
SC-68 Adrian Gonzalez Los Angeles Dodgers®
SC-69 James Shields Tampa Bay Rays™
SC-70 Barry Zito San Francisco Giants®
SC-71 Ryan Cook Oakland Athletics™
SC-72 Ivan Nova New York Yankees®
SC-73 Freddie Freeman Atlanta Braves™
SC-74 Jose Reyes Miami Marlins™
SC-75 Ian Desmond Washington Nationals®
SC-76 Dan Uggla Atlanta Braves™
SC-77 Mat Latos Cincinnati Reds®
SC-78 Andrew McCutchen Pittsburgh Pirates®
SC-79 Jeff Samardzija Chicago Cubs®
SC-80 Curtis Granderson New York Yankees®
SC-81 Yonder Alonso San Diego Padres™
SC-82 Dustin Ackley Seattle Mariners™
SC-83 Andre Ethier Los Angeles Dodgers®
SC-84 Joe Nathan Texas Rangers®
SC-85 Ben Zobrist Tampa Bay Rays™
SC-86 Felix Hernandez Seattle Mariners™
SC-87 Ryan Howard Philadelphia Phillies®
SC-88 Jayson Werth Washington Nationals®
SC-89 Yovani Gallardo Milwaukee Brewers™
SC-90 Kevin Youkilis Chicago White Sox®
SC-91 Anthony Rizzo Chicago Cubs®
SC-92 Michael Young Texas Rangers®
SC-93 Tyler Clippard Washington Nationals®
SC-94 Brett Lawrie Toronto Blue Jays®
SC-95 Adrian Beltre Texas Rangers®
SC-96 Hunter Pence San Francisco Giants®
SC-97 Josh Johnson Miami Marlins™
SC-98 Jarrod Saltalamacchia Boston Red Sox®
SC-99 Justin Upton Arizona Diamondbacks®
SC-100 Clayton Kershaw Los Angeles Dodgers®
HTA-HOBBY
MVP AWARD WINNER TROPHY
MVP-AP Albert Pujols St. Louis Cardinals®
MVP-AR Alex Rodriguez New York Yankees®
MVP-BR Babe Ruth New York Yankees®
MVP-CJ Chipper Jones Atlanta Braves™
MVP-CR Cal Ripken Jr. Baltimore Orioles®
MVP-DE Dennis Eckersley Oakland Athletics™
MVP-DM Dale Murphy Atlanta Braves™
MVP-DMA Don Mattingly New York Yankees®
MVP-DP Dustin Pedroia Boston Red Sox®
MVP-FT Frank Thomas Chicago White Sox®
MVP-GB George Brett Kansas City Royals®
MVP-HK Harmon Killebrew Minnesota Twins®
MVP-JB Johnny Bench Cincinnati Reds®
MVP-JH Josh Hamilton Texas Rangers®
MVP-JR Jackie Robinson Brooklyn Dodgers™
MVP-JRO Jimmy Rollins Philadelphia Phillies®
MVP-JV Justin Verlander Detroit Tigers®
MVP-JVO Joey Votto Cincinnati Reds®
MVP-KG Ken Griffey Jr. Seattle Mariners™
MVP-MS Mike Schmidt Philadelphia Phillies®
MVP-RB Ryan Braun Milwaukee Brewers™
MVP-RC Roberto Clemente Pittsburgh Pirates®
MVP-RH Ryan Howard Philadelphia Phillies®
MVP-RJ Reggie Jackson Oakland Athletics™
MVP-SK Sandy Koufax Los Angeles Dodgers®
MVP-SM Stan Musial St. Louis Cardinals®
MVP-VG Vladimir Guerrero Angels®
MVP-WM Willie Mays New York Giants™
MVP-WS Willie Stargell Pittsburgh Pirates®
MVP-YB Yogi Berra New York Yankees®
CY YOUNG AWARD WINNER TROPHY
CY-BC Bartolo Colon Angels®
CY-BG Bob Gibson St. Louis Cardinals®
CY-BW Brandon Webb Arizona Diamondbacks®
CY-BZ Barry Zito Oakland Athletics™
CY-CC Chris Carpenter St. Louis Cardinals®
CY-CH Catfish Hunter Oakland Athletics™
CY-CK Clayton Kershaw Los Angeles Dodgers®
CY-CL Cliff Lee Cleveland Indians®
CY-CS CC Sabathia Cleveland Indians®
CY-DE Dennis Eckersley Oakland Athletics™
CY-DG Dwight Gooden New York Mets®
CY-FH Felix Hernandez Seattle Mariners™
CY-FJ Fergie Jenkins Chicago Cubs®
CY-JP Jim Palmer Baltimore Orioles®
CY-JPE Jake Peavy San Diego Padres™
CY-JS Johan Santana Minnesota Twins®
CY-JSM John Smoltz Atlanta Braves™
CY-JV Justin Verlander Detroit Tigers®
CY-PM1 Pedro Martinez Montreal Expos™
CY-PM2 Pedro Martinez Boston Red Sox®
CY-RH1 Roy Halladay Toronto Blue Jays®
CY-RH2 Roy Halladay Philadelphia Phillies®
CY-SK Sandy Koufax Los Angeles Dodgers®
CY-TL Tim Lincecum San Francisco Giants®
CY-TS Tom Seaver New York Mets®
CY-VB Vida Blue Oakland Athletics™
CY-WF Whitey Ford New York Yankees®
CY-WS Warren Spahn Milwaukee Braves™
CY-ZG Zack Greinke Kansas City Royals®
SILVER SLUGGERS AWARD WINNER TROPHY
SS-AB Adrian Beltre Texas Rangers®
SS-ABE Albert Belle Cleveland Indians®
SS-AD Andre Dawson Chicago Cubs®
SS-AR Alex Rodriguez New York Yankees®
SS-CF Carlton Fisk Chicago White Sox®
SS-CG Curtis Granderson New York Yankees®
SS-CGO Carlos Gonzalez Colorado Rockies™
SS-DM Dale Murphy Atlanta Braves™
SS-DMA Don Mattingly New York Yankees®
SS-DO David Ortiz Boston Red Sox®
SS-DS Darryl Strawberry New York Mets®
SS-EM Eddie Murray Baltimore Orioles®
SS-JB Jose Bautista Toronto Blue Jays®
SS-JR Jim Rice Boston Red Sox®
SS-KG Ken Griffey Jr. Seattle Mariners™
SS-MK Matt Kemp Los Angeles Dodgers®
SS-MR Manny Ramirez Boston Red Sox®
SS-MS Mike Schmidt Philadelphia Phillies®
SS-PF Prince Fielder Milwaukee Brewers™
SS-RH Ryan Howard Philadelphia Phillies®
SS-RY Robin Yount Milwaukee Brewers™
SS-TG Tony Gwynn San Diego Padres™
SS-TH Todd Helton Colorado Rockies™
SS-TT Troy Tulowitzki Colorado Rockies™
SS-WB Wade Boggs Boston Red Sox®
PROVEN METTLE COPPER COIN CARDS
PMC-AP Albert Pujols Angels®
PMC-BR Babe Ruth New York Yankees®
PMC-CK Clayton Kershaw Los Angeles Dodgers®
PMC-CL Cliff Lee Philadelphia Phillies®
PMC-DJ Derek Jeter New York Yankees®
PMC-EL Evan Longoria Tampa Bay Rays™
PMC-HA Hank Aaron Milwaukee Braves™
PMC-JH Josh Hamilton Texas Rangers®
PMC-JM Joe Morgan Cincinnati Reds®
PMC-JR Jackie Robinson Brooklyn Dodgers™
PMC-JV Justin Verlander Detroit Tigers®
PMC-JVO Joey Votto Cincinnati Reds®
PMC-KGJ Ken Griffey Jr. Seattle Mariners™
PMC-LG Lou Gehrig New York Yankees®
PMC-MC Miguel Cabrera Detroit Tigers®
PMC-MK Matt Kemp Los Angeles Dodgers®
PMC-RB Ryan Braun Milwaukee Brewers™
PMC-RC Roberto Clemente Pittsburgh Pirates®
PMC-RIH Rickey Henderson Oakland Athletics™
PMC-ROC Robinson Cano New York Yankees®
PMC-ROH Roy Halladay Philadelphia Phillies®
PMC-SK Sandy Koufax Los Angeles Dodgers®
PMC-SM Stan Musial St. Louis Cardinals®
PMC-TC Ty Cobb Detroit Tigers®
PMC-WM Willie Mays San Francisco Giants®
RETAIL
MANUFACTURED COMMEMORATIVE PATCH CARDS
CP-1 Adam Jones Baltimore Orioles®
CP-2 Dustin Pedroia Boston Red Sox®
CP-3 Mike Trout Angels®
CP-4 Felix Hernandez Seattle Mariners™
CP-5 Yu Darvish Texas Rangers®
CP-6 Jose Bautista Toronto Blue Jays®
CP-7 Trevor Bauer Arizona Diamondbacks®
CP-8 Jason Heyward Atlanta Braves™
CP-9 Nolan Ryan Houston Astros®
CP-10 Adrian Gonzalez Los Angeles Dodgers®
CP-11 Giancarlo Stanton Miami Marlins™
CP-12 David Wright New York Mets®
CP-13 Yonder Alonso San Diego Padres™
CP-14 Matt Holliday St. Louis Cardinals®
CP-15 Bryce Harper Washington Nationals®
CP-16 Billy Butler Kansas City Royals®
CP-17 Ryan Braun Milwaukee Brewers™
CP-18 Yoenis Cespedes Oakland Athletics™
CP-19 Will Clark San Francisco Giants®
CP-20 Chipper Jones Atlanta Braves™
CP-21 Anthony Rizzo Chicago Cubs®
CP-22 Chris Sale Chicago White Sox®
CP-23 Mike Schmidt Philadelphia Phillies®
CP-24 Stephen Strasburg Washington Nationals®
CP-25 Joey Votto Cincinnati Reds®
MANUFACTURED ROOKIE CARD PATCH CARDS
RCP-1 Willie Mays New York Giants™
RCP-2 Ernie Banks Chicago Cubs®
RCP-3 Roberto Clemente Pittsburgh Pirates®
RCP-4 Sandy Koufax Brooklyn Dodgers™
RCP-5 Bob Gibson St. Louis Cardinals®
RCP-6 Willie McCovey San Francisco Giants®
RCP-7 Reggie Jackson Oakland Athletics™
RCP-8 Ryne Sandberg Chicago Cubs®
RCP-9 George Brett Kansas City Royals®
RCP-10 Eddie Murray Baltimore Orioles®
RCP-11 Ozzie Smith San Diego Padres™
RCP-12 Rickey Henderson Oakland Athletics™
RCP-13 Jim Palmer Baltimore Orioles®
RCP-14 Tony Gwynn San Diego Padres™
RCP-15 Wade Boggs Boston Red Sox®
RCP-16 Don Mattingly New York Yankees®
RCP-17 Darryl Strawberry New York Mets®
RCP-18 Dwight Gooden New York Mets®
RCP-19 Ken Griffey Jr. Seattle Mariners™
RCP-20 Chipper Jones Atlanta Braves™
RCP-21 Derek Jeter New York Yankees®
RCP-22 Albert Pujols St. Louis Cardinals®
RCP-23 Mike Trout Angels®
RCP-24 Bryce Harper Washington Nationals®
RCP-25 Yu Darvish Texas Rangers®