Linsanity! Supply, demand, major market attention & more drive Jeremy Lin card craze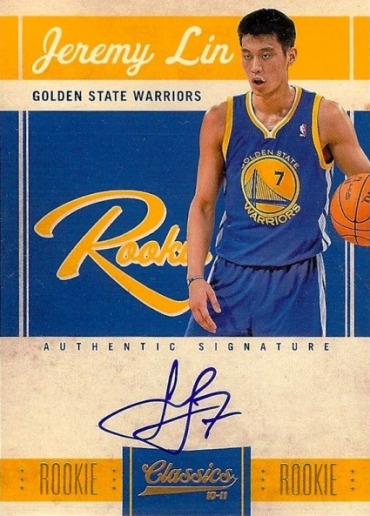 By Chris Olds | Beckett Basketball Editor | Commentary
"How'd your week go?" might be a simple question with a rather mundane answer for many of us, but for one NBA player it's probably not describable.
For Jeremy Lin, it's been a week of meteoric rises — from that of an unknown to the toast of The Big Apple and beyond.
How has that happened? With a simple four-game stretch of double-digit games for the struggling New York Knicks — unbeaten during this run — he's become the star of the town, a new face on the NBA's post-lockout landscape, a guy who is single-handedly selling cardboard (singles and wax), has jerseys selling so hot they're going on back-order and national media buzzing about a player and a team that were largely unknown and forgotten not all that long ago.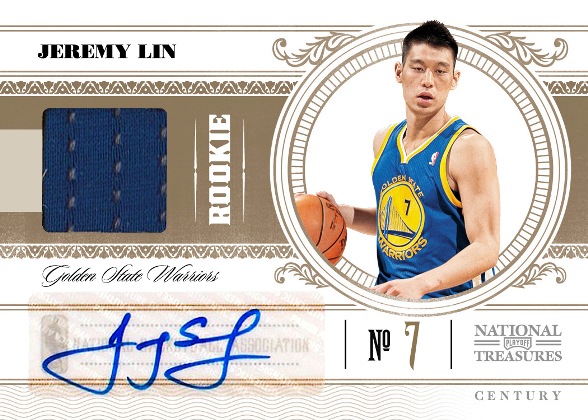 Lin's story is one part human interest. He was a star at Harvard but went undrafted. He spent time in camp with the Dallas Mavericks but did not sign. Then he signed with Golden State last July and played sparingly in 29 games before being waived last December. Three days later, Houston grabbed him. Two weeks after that, he was a Knick — who spent time sleeping on a family member's couch instead of finding a more permanent place to stay.
Lin's story is one part on-court success. He played sparingly earlier this season — fewer than 10 minutes, if at all, per game in December and most of January. On Jan. 28 against Houston he showed some flashes of talent with a season-high 20 minutes of playing time that netted nine points, also a season-high. All that was moot — and relatively meaningless for many collectors — until one week ago when he put up 25 points against the Nets. That earned him a start the next night when he scored 28. He did it again Wednesday with 23 against the Wizards. Then in came the Los Angeles Lakers to Madison Square Garden … where Lin put up a career-high (including college) 38 points in an upset of Kobe Bryant's squad.
Lin's story is one part social. He's the NBA's first American-born player of Chinese or Taiwanese descent, so many a fan — both here and abroad — who might feel a connection to him because of that has him on their radars. And it also goes without saying that we've seen the interest of the Asian community when it comes to cardboard many times in the past, most of the time with Japanese stars coming to Major League Baseball, but with Houston's Yao Ming also a prime example for the hobby.
Lin's story is also one part economics. The notion of supply and demand is showing itself to be true once again as what basketball cards Lin does have are being scooped up at levels not seen before for him — even though he was somewhat popular last year. But not like this, of course. Lin appears on just 60 basketball cards — and none from 2011-12 yet because of the NBA lockout — from the lone league card licensee, Panini America. A guy whose autographs could be had just a week ago are now fetching ridiculously higher amounts simply because there's not that many to go around. He has just 25 different autograph cards to be found — and only two have unknown quantities. The most plentiful card, from 2010-11 Classics, is limited to just 699 copies.
That many cards alone could be brisk sellers on some New York City blocks, and you can bet that wax boxes that might have sat stagnant in some card shops or retail stores have been ripped faster than you can say "Lin."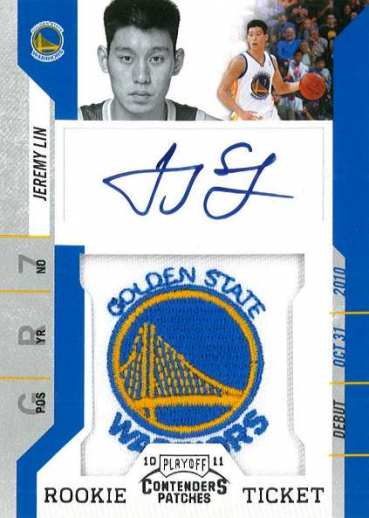 And then you have to ask this … how will New York fans react to getting Lin in a Knicks jersey on cardboard (perhaps late next month)? It could be interesting — regardless of whether autograph ink is involved. (Oh, and speaking of that? Lin has his first public signing with Steiner Sports set for 10 days from now. An 8×10 will cost you $120 or an official NBA ball will be $170 — both are available on pre-order.)
Will Lin's success story continue? It's inevitable that his streak will end at some point — they always do — but the Linsanity that is the peripheral successes — sales of his cardboard, sales of his merch, sales of Knicks tickets, sales of Panini America wax — are all things that the NBA has needed to see right now even if it might be a fleeting, short-term phenomenon.
And if it's ultimately not? Watch out …
This influx of non-collectors buying up his cards — and basketball wax in general perhaps chasing him — is coming at a good time. After all, anyone who had already collected cards had plenty of chances to land a Lin last year — and secondary prices weren't very competitive at all. Now, it's a battle of Magic-Bird proportions among collectors out there online. That shows you the magic of collecting … when it's not just all of us regulars involved.
In 15 minutes from now, the Knicks take on the Timberwolves and Lin has his chance at five straight impact games. Will it happen? Will it end? Will the Knicks win or lose?
Something tells me many of us will be watching — some of us for the first time in a long time.
Chris Olds is the editor of Beckett Basketball magazine. Have a comment, question or idea? Send an email to him at colds@beckett.com. Follow him on Twitter by clicking here.