Cheap Wax Wednesday Box Breaks: 1997 Score Football
Score broke into the trading card business with their 1988 baseball release. They debuted in football a year later with an iconic set that included an impressive list of Rookie Cards including Troy Aikman, Tim Brown, Cris Carter, Michael Irvin, Barry Sanders, Deion Sanders, Thurman Thomas, and Rod Woodson. Boxes of that set release routinely sell for $800+.
1997 Score Football doesn't have the same star-studded rookie class as 1989, but there are some big names. Tiki Barber, Warrick Dunn, and Tony Gonzalez all have RCs in this set.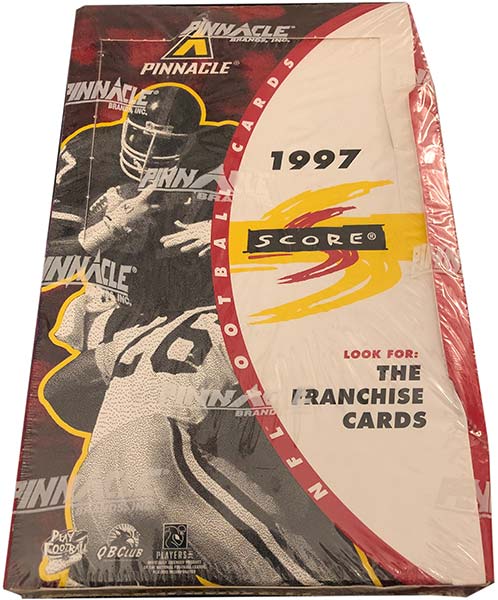 Score also included two different parallels. Showcase Series has silver foil card fronts while Artist's Proof cards feature a rainbow foil front with a stamp. Two insert sets are also in packs, with The New Breed cards found once in every 23 packs and The Franchise inserts found just once in every two boxes.
1997 Score Football Box Break
Packs per box: 36
Cards per pack: 10
Price paid: $30

Pack 1 highlights:
Michael Irvin, Ken Norton, Jr., Eddie Kennison & Orlando Pace RC

Pack 2:
Drew Bledsoe, Daryl Johnston (awesome photo choice here) & Zach Thomas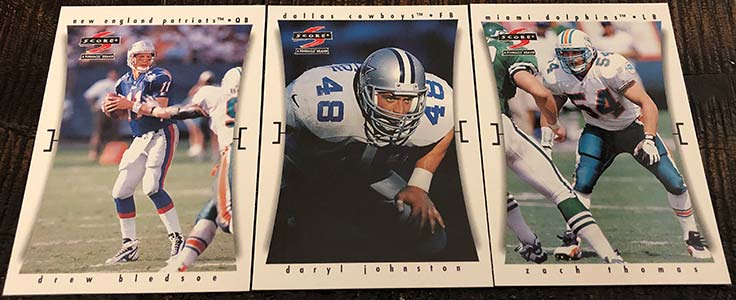 Pack 3:
Willie McGinest, Barry Sanders, Curtis Martin, Antonio Freeman & Charles Way Showcase Series (1:7 packs)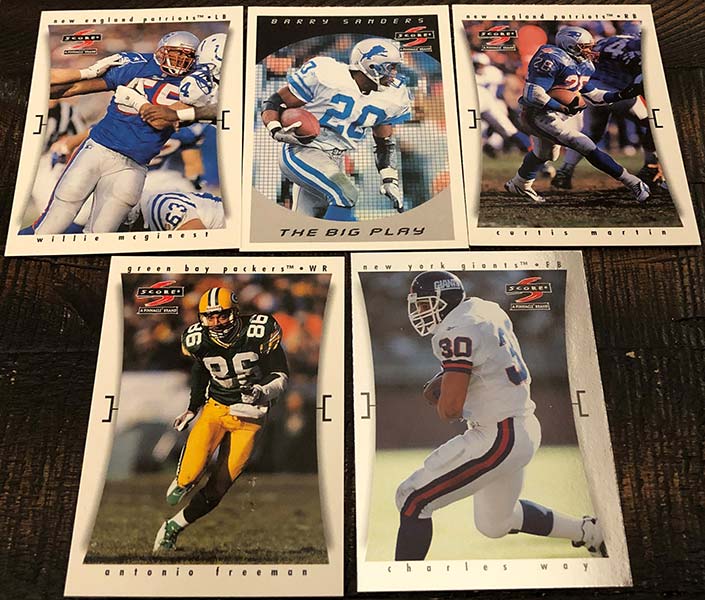 Pack 4:
Darren Woodson, Troy Aikman, Keyshawn Johnson & Rodney Hampton

Pack 5:
Terrell Davis, Jim Harbaugh, Desmond Howard, Deion Sanders & Jim Druckenmiller Showcase Series (1:7 packs)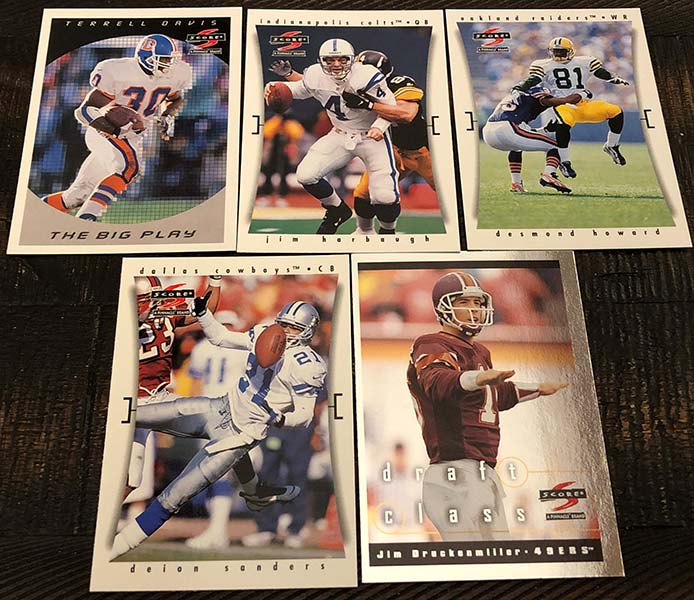 Pack 6:
A couple of Oakland Raiders (yes, kids, the Raiders used to play in Oakland); Napoleon Kaufman & Tim Brown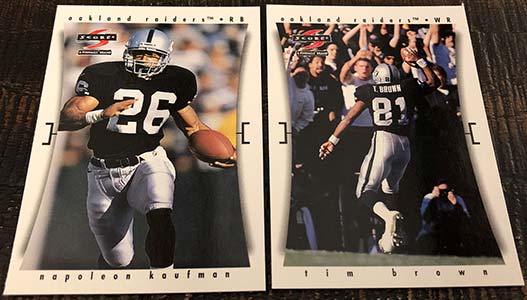 Pack 7:
Shannon Sharpe, Emmitt Smith & Mike Alstott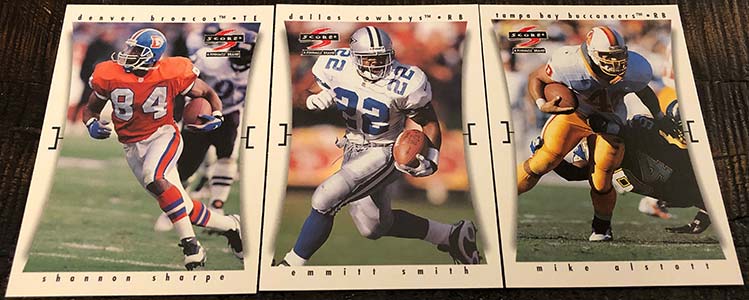 Pack 8:
Dan Marino, Dorsey Levens & Troy Aikman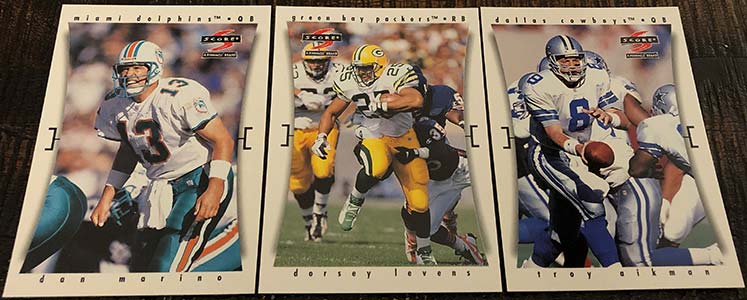 Pack 9:
John Elway CL, another Elway, Bryant Westbrook RC & Neil O'Donnell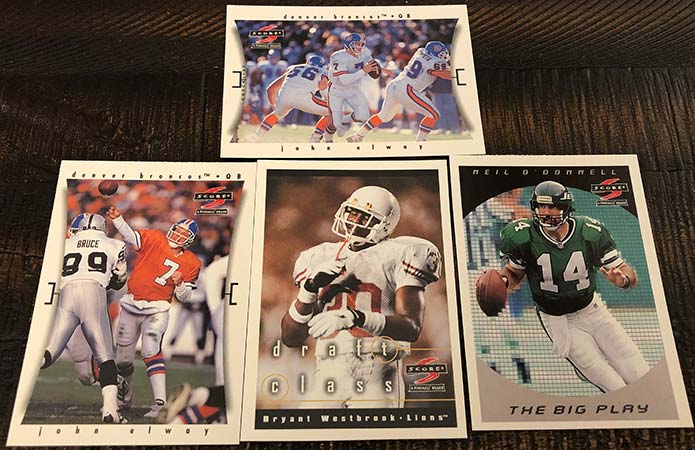 Pack 10:
Terrell Davis & Tiki Barber RC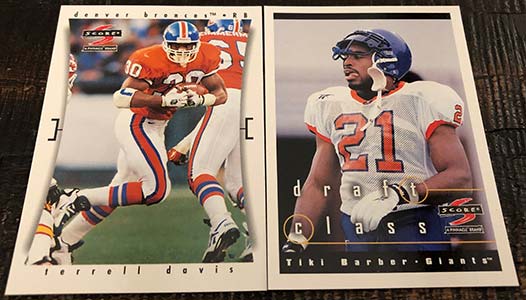 Pack 11:
Dan Marino, Jake Reed & Michael Strahan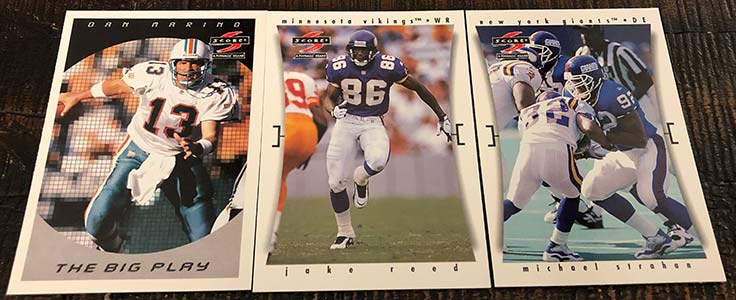 Pack 12:
Warren Moon & Eddie Kennison Artist's Proof (1:35 packs). The Artist's Proof parallels look amazing in this set!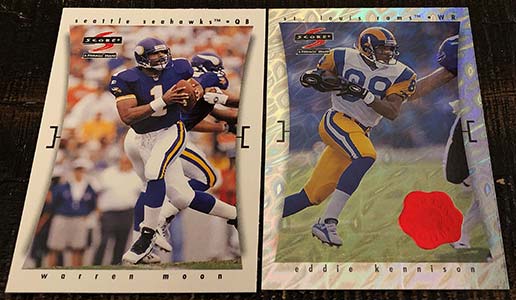 Pack 13:
Michael Irvin, John Elway, Ben Coates & Troy Davis Showcase Series (1:7 packs)

Pack 14:
Carl Pickens, Marvin Harrison, Brian Dawkins & Garrison Hearst

Pack 15:
Steve Young, Eddie George & four-time Pro Bowler Corey Dillon RC

Pack 16:
Bruce Smith, Jerry Rice, Jake Plummer RC, Jim Harbaugh & Ricky Watters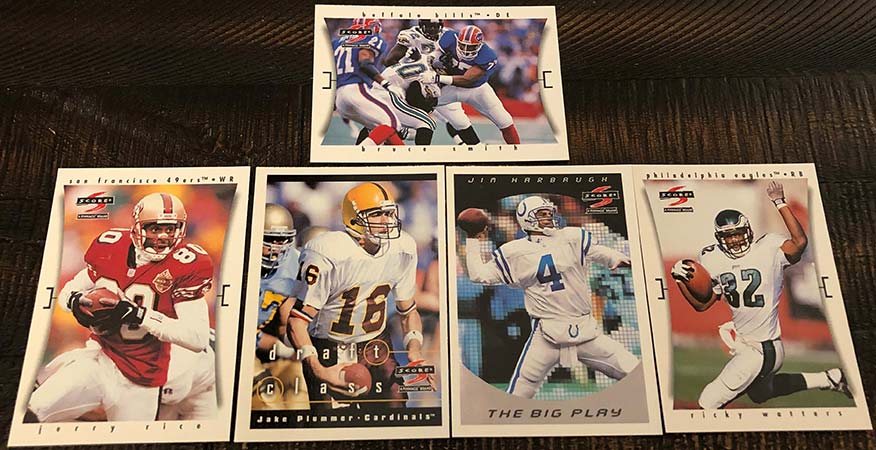 Pack 17:
Emmitt Smith, Eric Metcalf & Irving Fryar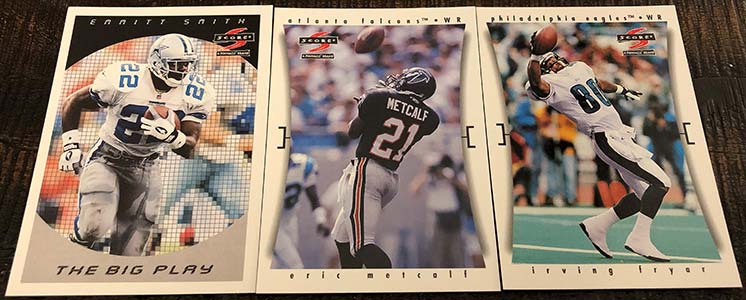 Pack 18:
Isaac Bruce, Terry Glenn, Johnnie Morton, Jimmy Smith & Antowain Smith RC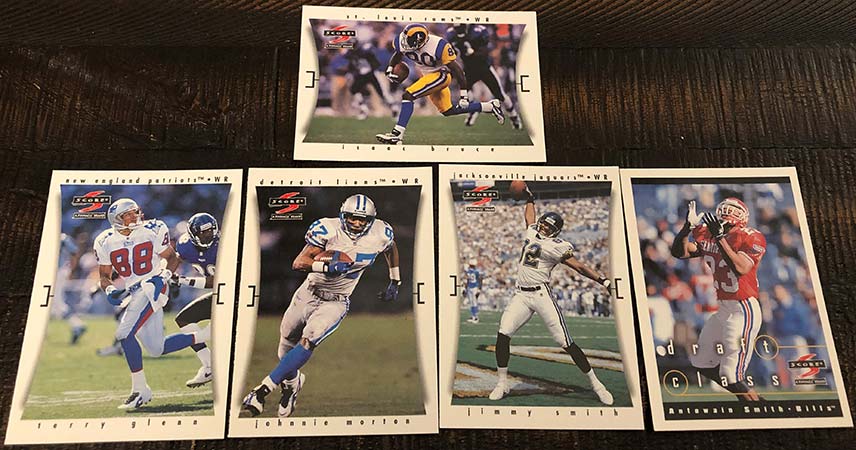 Pack 19:
Dan Marino, Drew Bledsoe, Rashaan Salaam, Rod Woodson & Terance Mathis Showcase Series (1:7 packs)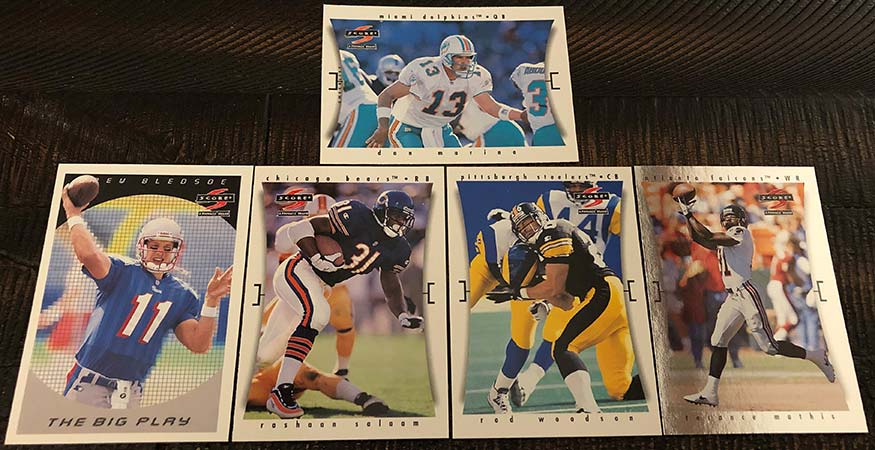 Pack 20:
Michael Irvin, Kordell Stewart & Jake Reed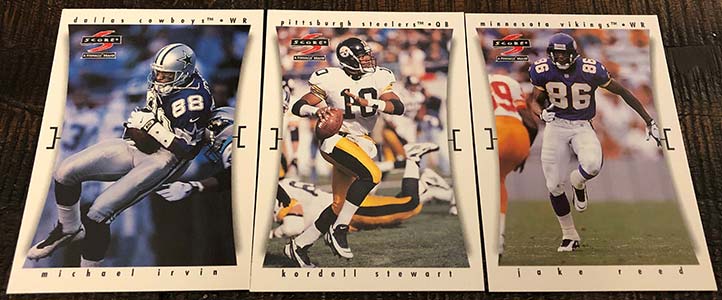 Pack 21:
Brett Favre, Trent Dilfer, Eddie George & Emmitt Smith The New Breed (1:23 packs)

Pack 22:
Jamal Anderson, Ed McCaffrey, Vinny Testaverde, Derrick Thomas & Ben Coates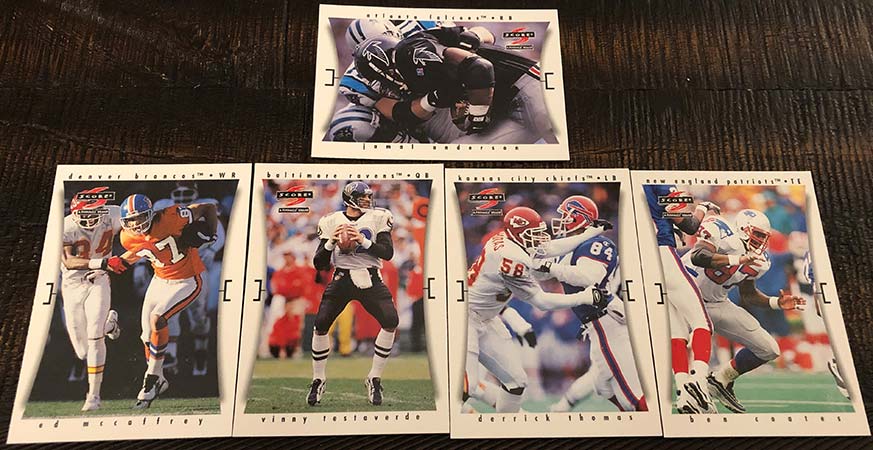 Pack 23:
A duo of Broncos, John Elway & Bill Romanowski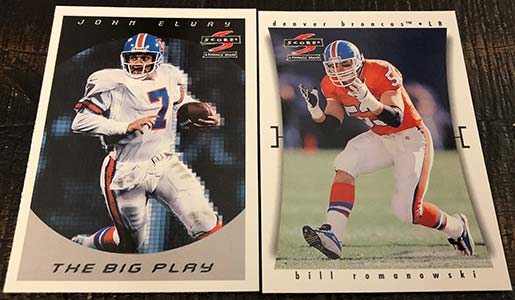 Pack 24:
Jason Sehorn & Chris Chandler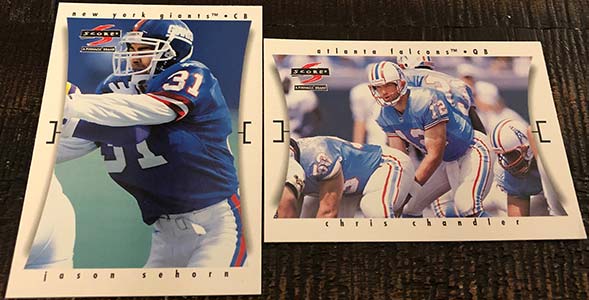 Pack 25:
Keenan McCardell, O.J. McDuffie, Junior Seau, Ike Hilliard RC & Tedy Bruschi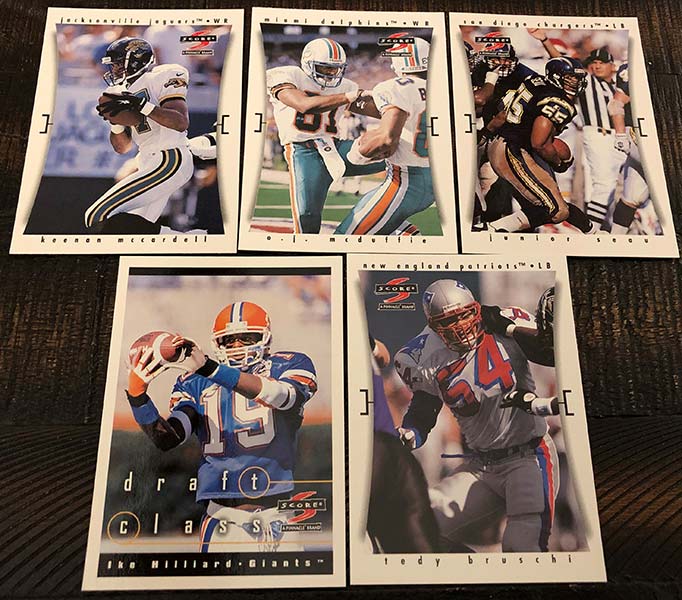 Pack 26:
Marshall Faulk, Ty Law, Kerry Collins, Reggie White & a very underwhelming Tony Gonzalez RC. They couldn't find a better picture to use?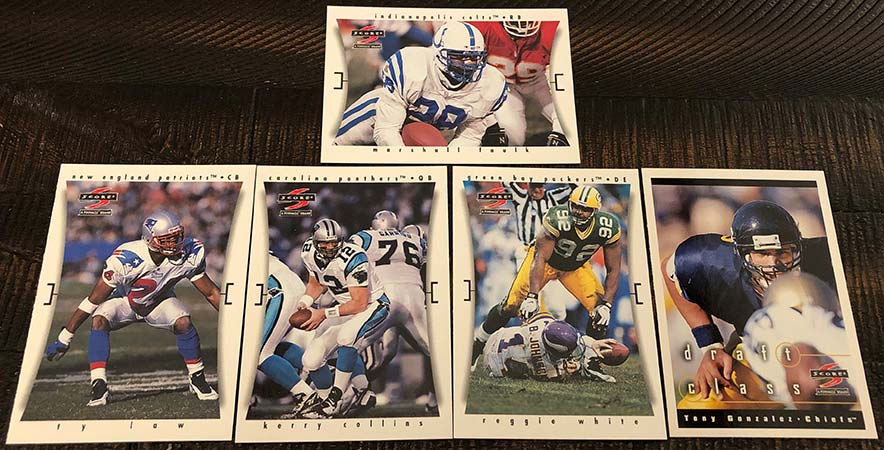 Pack 27:
Barry Sanders, Dan Marino & Wayne Chrebet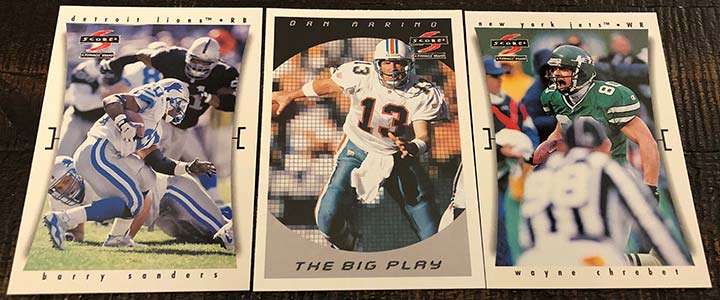 Pack 28:
Warren Moon, Derrick Thomas, Cris Carter & Bobby Engram

Pack 29:
Natrone Means, Robert Smith, Jimmy Smith, Carl Pickens & Brian Dawkins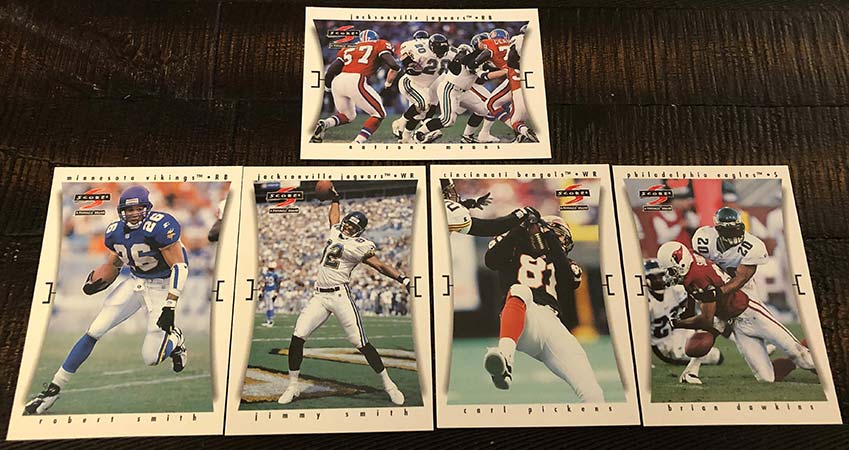 Pack 30:
Jeff Blake, Jake "The Snake" Plummer RC & Willie Roaf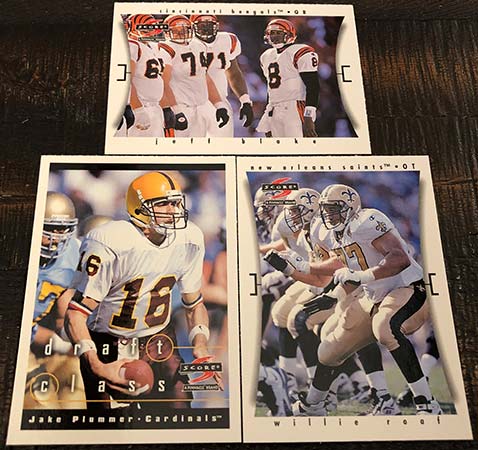 Pack 31:
Bruce Smith, Jerry Rice, Ricky Watters & Thurman Thomas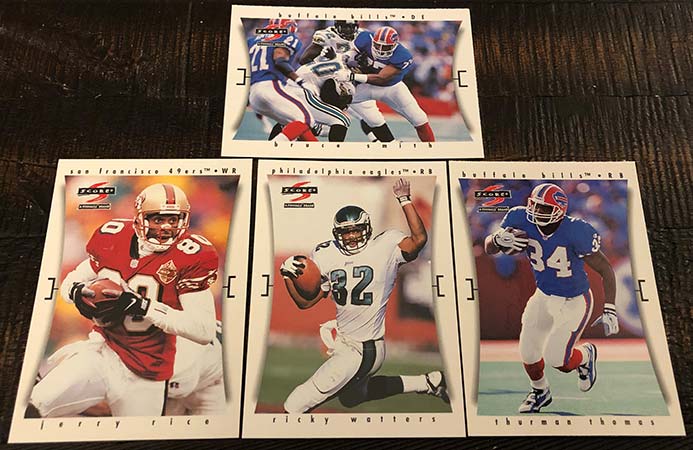 Pack 32:
Warren Moon, Joey Galloway, Mark Brunell & Terrell Owens

Pack 33:
Jeff Blake, Amani Toomer & Rod Smith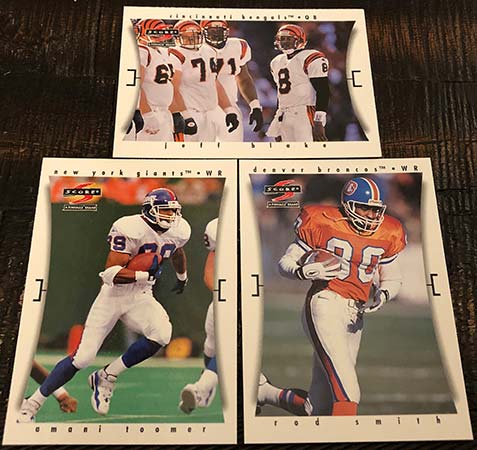 Pack 34:
Quite the trio of quarterbacks: Dan Marino, Steve Young & Drew Bledsoe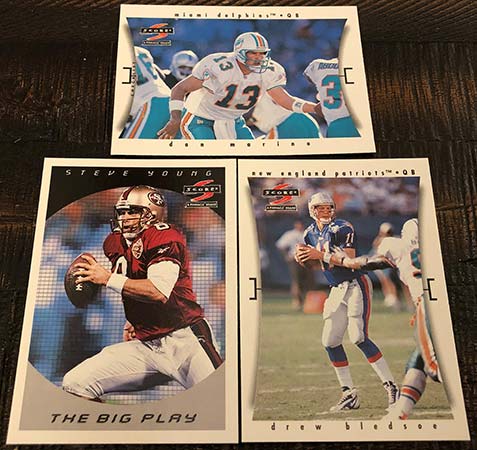 Pack 35:
Jeff Blake, an awesome Errict Rhett card, Herman Moore & Chad Brown Artist's Proof (1:35 packs)

Pack 36:
Marvin Harrison, Johnnie Morton, Andre Rison, Bryant Westbrook Showcase Series (1:7 packs)

Lastly, the Marvin Harrison card back. That is some in depth stat breakdown of Harrison's 1996 season!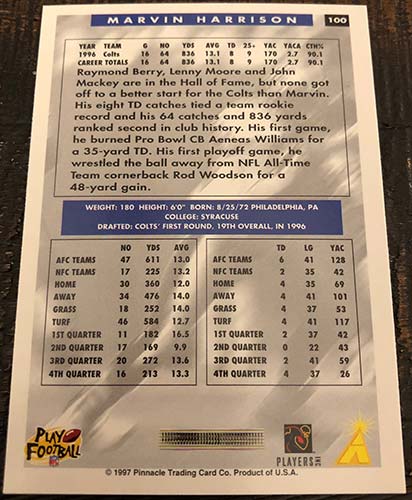 Not a bad break, at all! I was lucky in pulling two Artist's Proof in this one. My luck in constantly pulling Emmitt Smith inserts also continued when I pulled his New Breed insert. I am always up for adding new Emmitt cards to my collection!
I don't mind 1997 Score Football's design. Score has always been on the cheaper side of products and, to me, this one lines up with that. Like I said above, though, the Artis's Proof cards are excellent, and the inserts look good as well. At less than $1 per pack, I would consider grabbing another box of this one.
Side note: this post marks my 300th straight week with a different cheap wax break! Before Beckett started hosting these for me I posted them to my own blog. To celebrate this milestone post, I will be running a giveaway on my Twitter page. Be sure to enter!
Shop for 1997 Score Football on:
Want more installments of Shane Salmonson's Cheap Wax Wednesday? Check out his other breaks in the archives.