Hockey Supercollector: Steve Theberge
A longtime collector proves you don't need to specialize to create a unique hobby experience.
Meet Steve
"My name is Steve Theberge. I'm 64 years old and live in Lewiston, Maine, with my wife and our cat, Sidney. I have two grown children and two grandchildren. I'm recently retired from a career in the plumbing and heating industry. I'm still active, though. I'm a goaltender and have been playing organized hockey for more than 50 years. I've never missed a season!"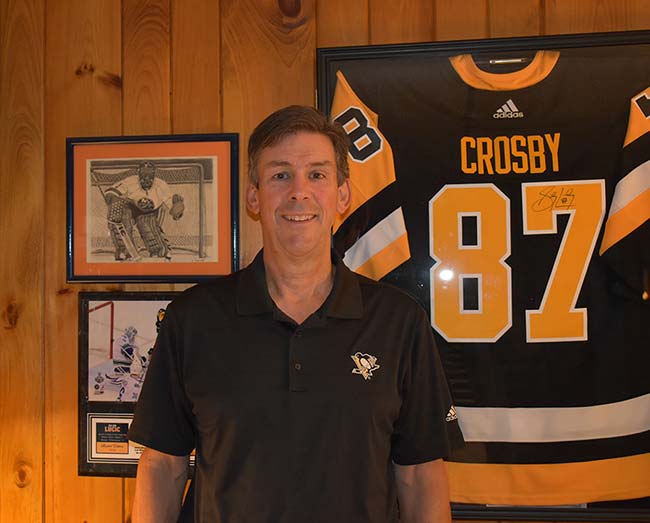 Getting Started
"I began collecting hockey cards in the late-1960s when cards were probably 10 cents per pack. Due to changing interests, I stopped for many years. Then, in 1990, I happened to visit a local card shop and saw all the old and new cards that were available. This was right at the time when the hobby was having a resurgence. The memories came flooding back and I was fascinated. That same day, I went to my mother's house, found an old box of cards I had as a kid (including a complete set from 1970), and the rest is history."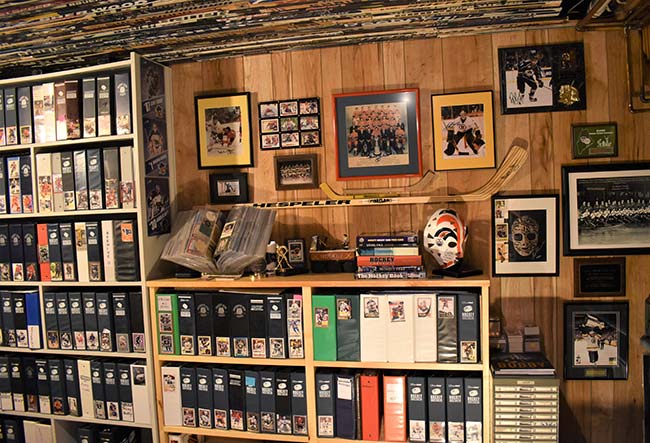 The Collection
"I now collect all things hockey: cards, photos, autographs, sticks, jerseys, books, and various souvenirs. A great friend of mine who I swap cards with once said there are too many teams and players to simply be a fan of just one, and I agree. That said, I do focus a lot on Pittsburgh Penguins items as they are my favorite team. Growing up in Lewiston, you were either a Bruins or a Canadiens fan. Even when the league expanded it seemed those there were only two teams local people talked about. But one night around 1967, I was able to listen to a Penguins game on an old AM radio. I thought it was great. Exciting play-by-play, different players, cool uniforms and team name … I was hooked. The Pens weren't very good back then, but I found it fun rooting for an underdog. When they did win games, it was a great thrill."
Local Heroes
"I really enjoy opening random packs from different years and sets. You don't always get something great, but when you do it is exciting! Every week, I buy loose packs and supplies from my local card store, Republic Jewelry and Sports Cards, in Auburn, Maine. They take very good care of me and I like supporting a local small business rather than buying online. I also attend a few card shows, particularly when there are celebrities signing.
"Over the years, we've had a minor league hockey team in Lewiston, as well as a team from the QMJHL, the Maineiacs. It's given me the opportunity to meet and get signatures from a lot of great players, including Jacques Plante, Patrick Roy, Bobby Smith, Kevin Lowe, and Sidney Crosby. I'm proud to say I'm the first person to get a Crosby auto on the cover of the Feb/Mar 2005 issue of Beckett Hockey. The day I got my magazine, I brought it to that night's game between the Rimouski Oceanic and the Maineiacs hoping he would sign it. When he did, I asked if he'd seen the issue yet and he had not."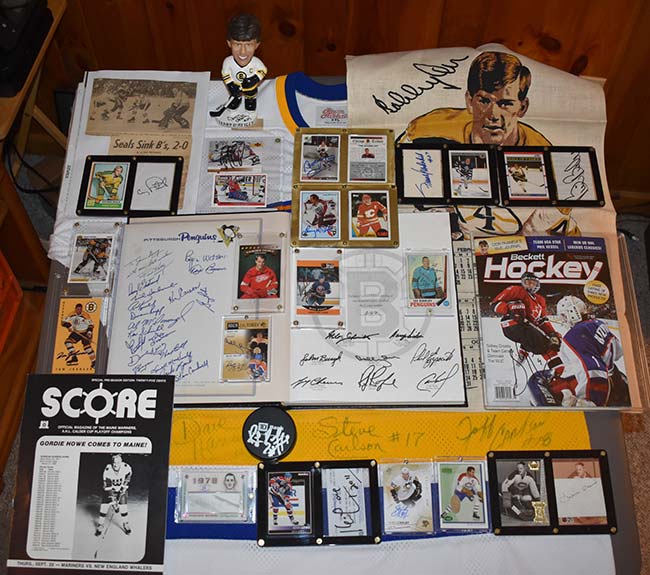 Favorite Cards
"Among my favorite cards are a 2015-16 Artifacts Honoured Members Cut Signatures Jacques Plante 1/1, 2012-13 SP Authentic Sign of The Times Duals Bobby Orr/Wayne Gretzky and a 2002-03 Parkhurst Vintage Memorabilia Maurice Richard. All of those were acquired by opening random packs.
"I also really like getting serial numbered cards. They all are truly one of a kind."
History Major
"My son and I were at a Bruins/Penguins game a few years ago and afterwards we hung around the Pittsburgh bench hoping to get a glimpse of a player. Kris Letang came out and quickly said hello to us. While this was going on, an equipment guy was walking around with some sticks. I asked him if he had an extra stick for a Penguins fan since 1967. He stopped, came over, and said, 'We weren't even a team in '67.' I then recited the date, opponent and score of the Penguins' first game and he immediately handed me an Evgeni Malkin stick. Sometimes it pays to know your hockey history."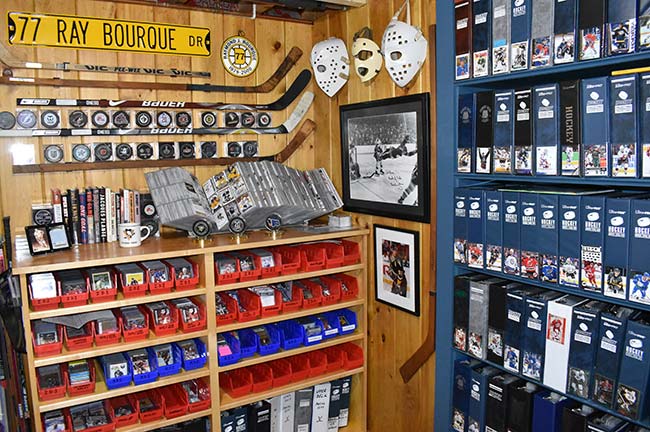 White Whale
"I really don't have one particular card that I'm looking for. I need so much stuff. Many of my sets are actually incomplete as I am constantly looking for older product while trying to keep up with new releases. You would be surprised at the number of basic Rookie Cards I don't have. This is what makes the hobby fun for me. I always need something to complete a set or finish a project."
The Ultimate Man Cave
"My hobby room is a work in progress. I'm pretty much out of room and unfortunately I have to store cards off-site at a secure location. My current project is covering the ceiling with hockey sticks. It's going well but slowly as I under-estimated how many sticks it will take. I spend a lot of time in the room organizing and cataloging cards and memorabilia. Every time I'm in there, I get to enjoy great moments of a card hit, acquisition, meeting a player, or even the time when some cards were stolen from me and miraculously returned some 20 years later through the efforts of some great people. I am very grateful to my wife for putting up with my obsession and all family and friends who have donated and contributed to this on-going project"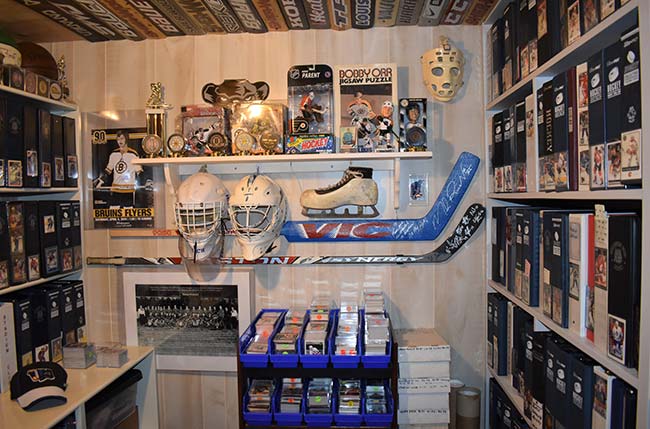 Connecting with Steve
"You can email me at gulltendah@gmail.com."