Cheap Wax Wednesday Box Breaks: 2004 Fleer Showcase Baseball
This box of 2004 Fleer Showcase Baseball came in just under the $50 maximum price to be featured as part of this series.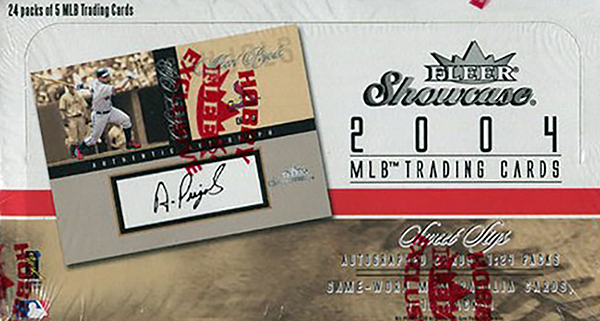 2004 Fleer Showcase Baseball Box Break
Cards per pack: 5
Packs per box: 24
Price paid: $49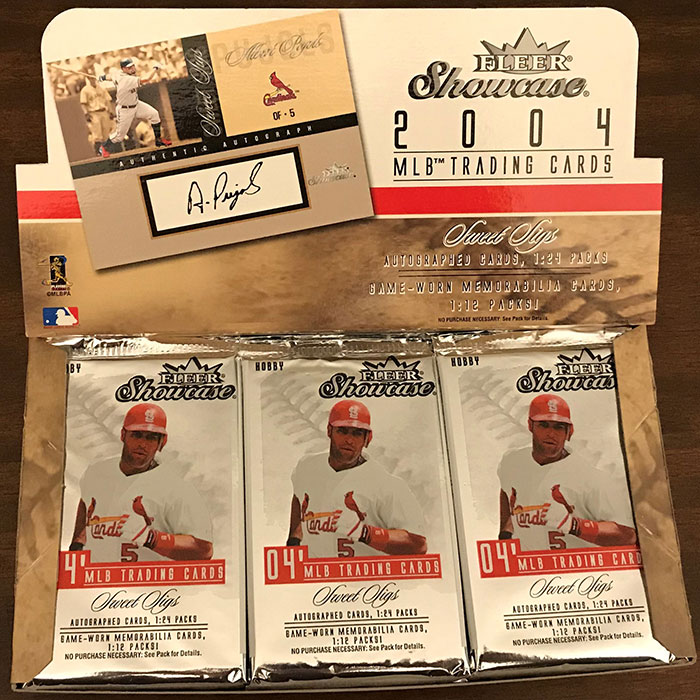 Pack 1 highlights:
Jeff Bagwell & Randy Johnson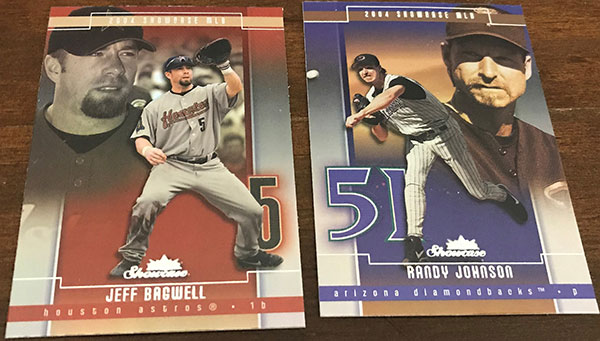 Pack 2:
Roberto Alomar, Pedro Martinez (my second copy of this one, as a big Pedro collector), Edgar Martinez & Jeff Bagwell Baseball's Best (1 in every 24 packs)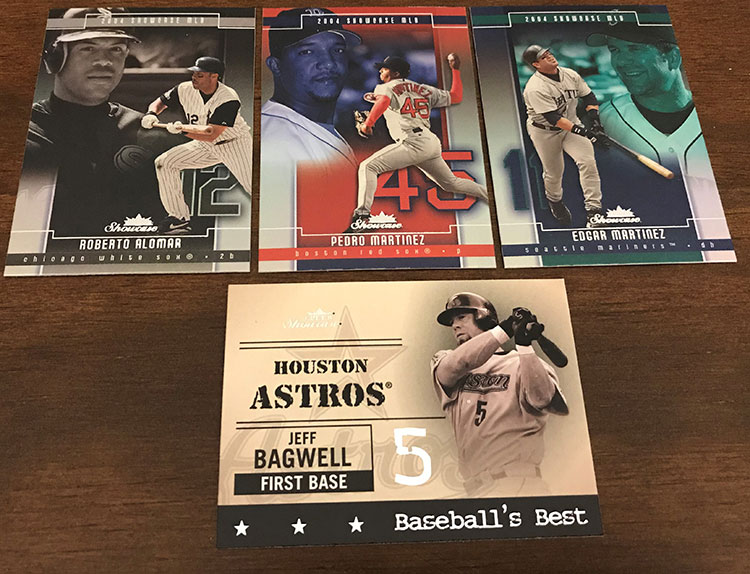 Pack 3:
Kerry Wood & Oscar Villareal Showcasing Talent (1:6 packs)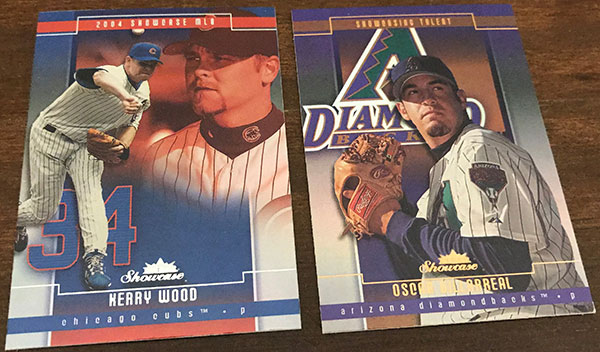 Pack 4:
Chipper Jones and a Yankees trio of Jason Giambi, Hideki Matsui & Alfonso Soriano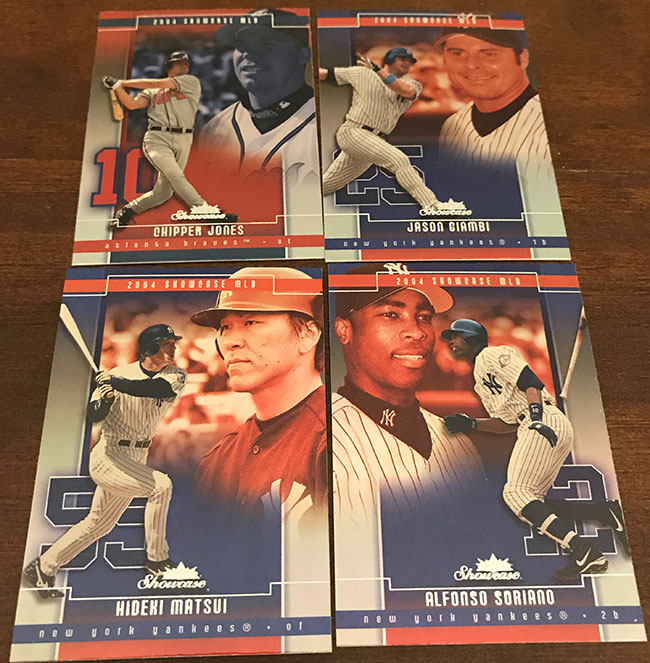 Pack 5:
Dontrelle Willis, Albert Pujols, Magglio Ordonez & Albert Pujols Legacy Collection (0103/1000, 1:24 packs)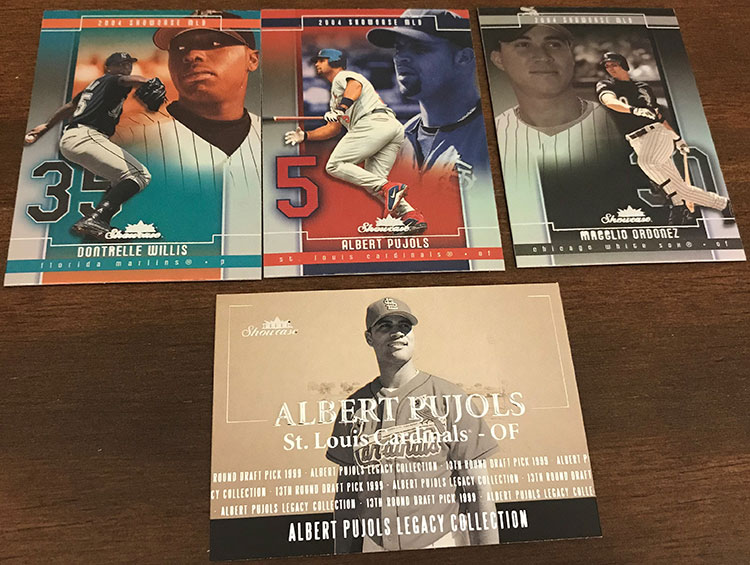 Pack 6:
Jim Thome, Gary Sheffield & Barry Zito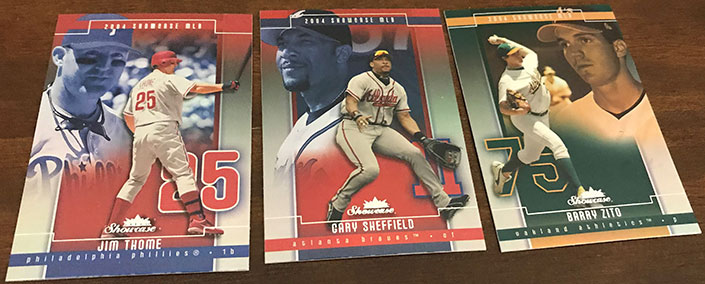 Pack 7:
Sammy Sosa & Greg Maddux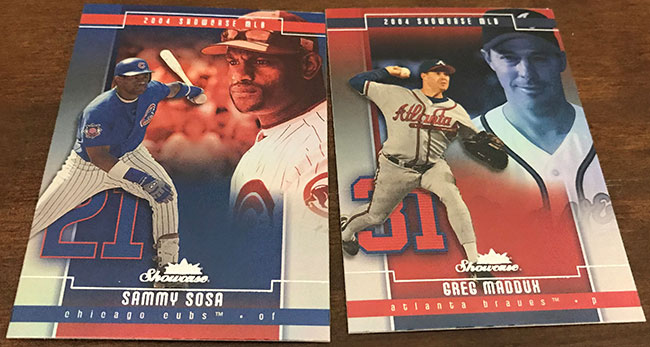 Pack 8:
Ken Griffey, Jr., Miguel Tejada & Jorge Posada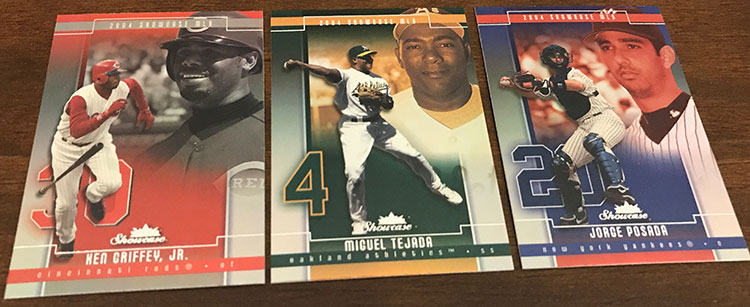 Pack 9:
Garret Anderson & Alex Rodriguez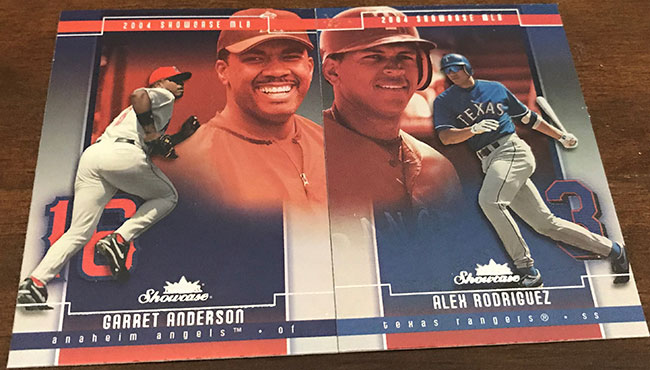 Pack 10:
Hideo Nomo, Jose Reyes & Ken Griffey, Jr. Legacy Parallel (50/99, 1:24 packs)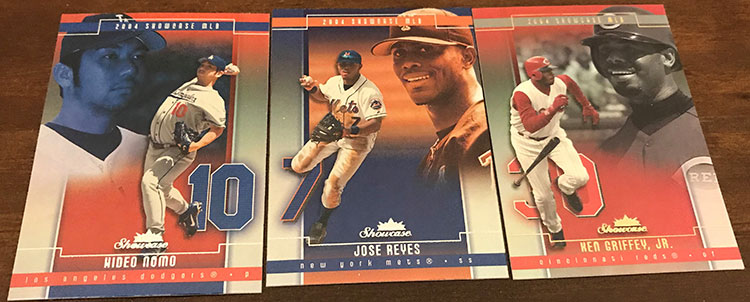 Pack 11:
Pat Burrell, Vladimir Guerrero & Andruw Jones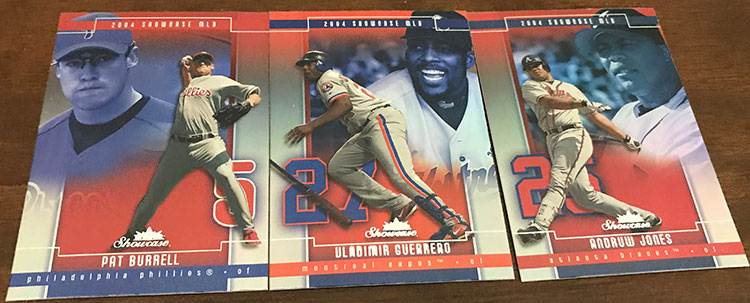 Pack 12:
Bernie Williams, Todd Helton, Tim Salmon & Matt Kata Showcasing Talent (1:6 packs)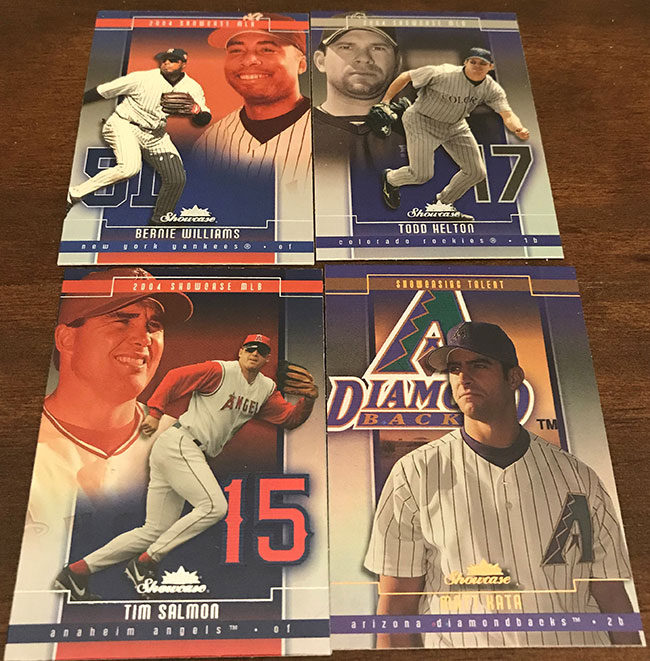 Pack 13:
Nomar Garciaparra, Curt Schilling, Carlos Delgado, Roy Halladay & Juan Pierre Showcase Grace (1:12 packs)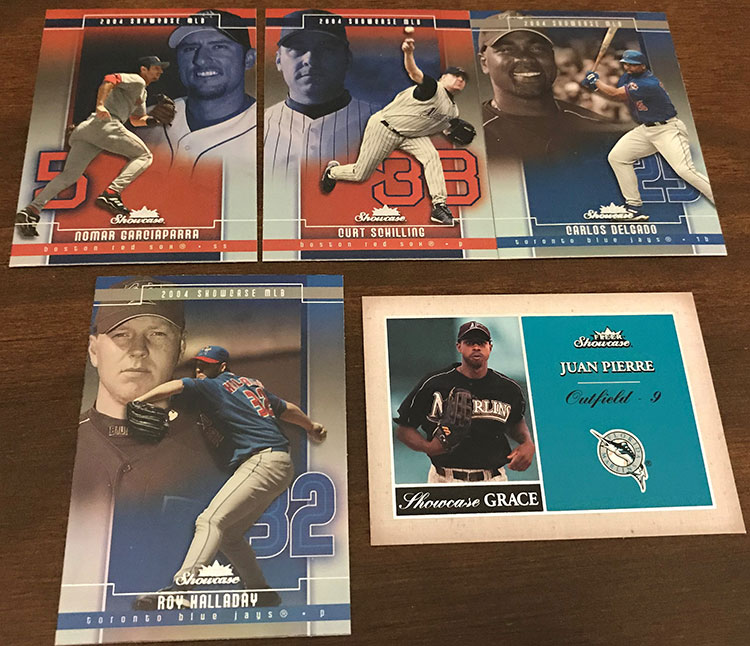 Pack 14:
Derek Jeter, Manny Ramirez & Prentice Redman Showcasing Talent (1:6 packs)

Pack 15:
Mike Lowell & Ivan "Pudge" Rodriguez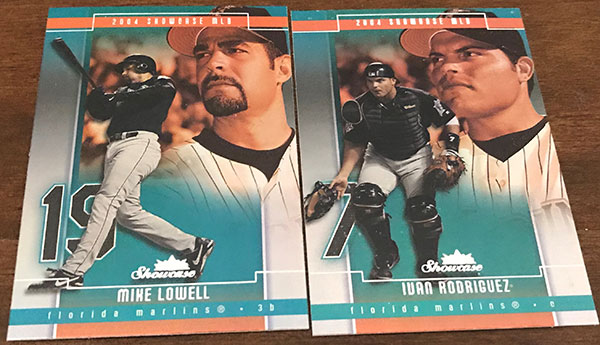 Pack 16:
Torii Hunter & Mark Prior Showcase Grace Jersey Relic (1:48 packs)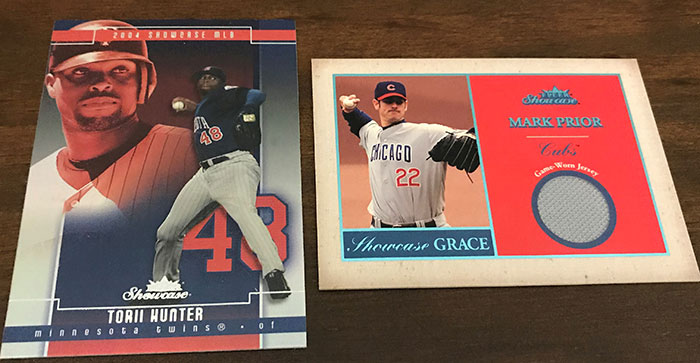 Pack 17:
Mark Teixeira, J.D. Drew & Craig Brazell Showcasing Talent (1:6 packs)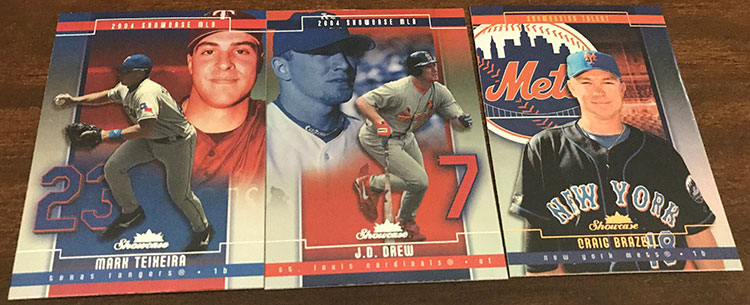 Pack 18:
Omar Vizquel, Jose Vidro & Gary Sheffield

Pack 19:
Sammy Sosa & Vladimir Guerrero Baseball's Best Game Used (1:75 packs)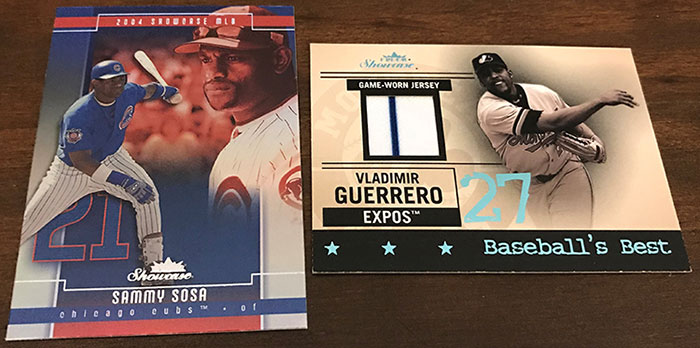 Pack 20:
Jason Varitek, Mike Piazza, Tom Glavine & Lance Berkman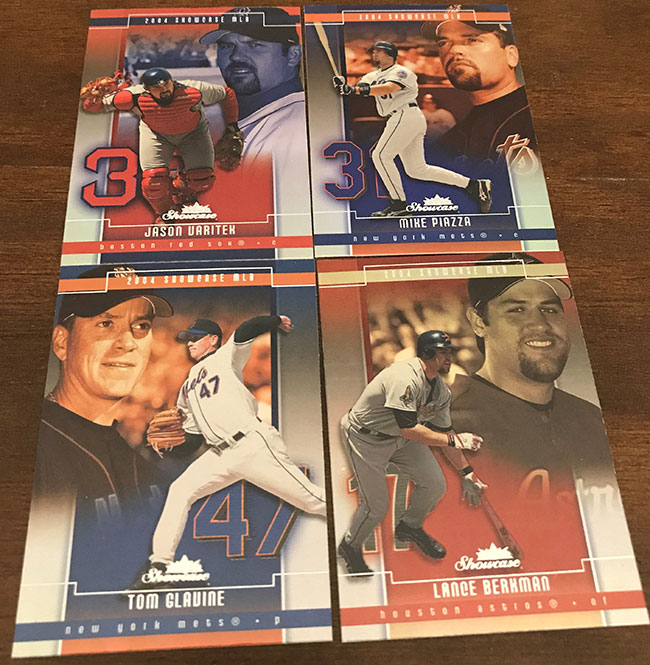 Pack 21:
Larry Walker, Frank Thomas & Jim Edmonds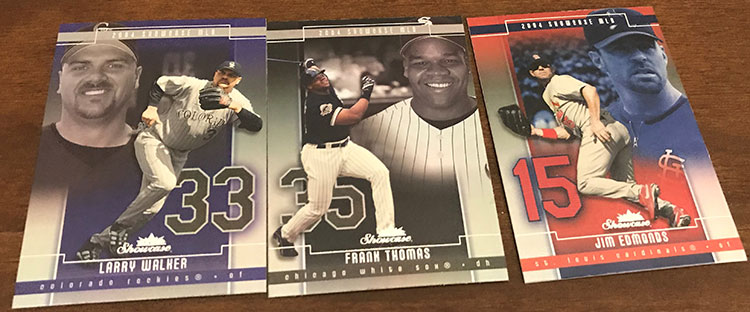 Pack 22:
Craig Biggio, Mark Prior & Pedro Martinez Showcase Grace (1:12 packs). A new Pedro addition! My 1,716th different Pedro card!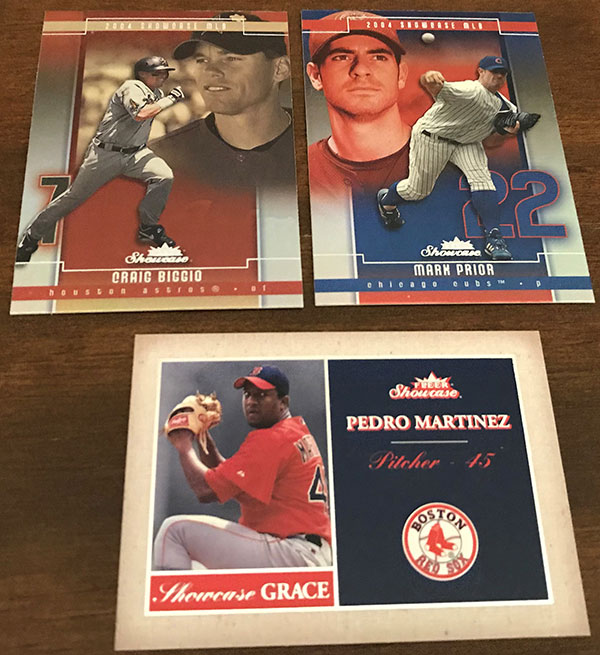 Pack 23:
Ichiro Suzuki & Roy Oswalt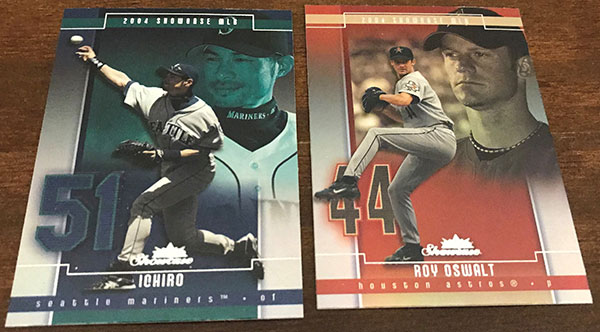 Pack 24:
Josh Beckett, Scott Rolen & Josh Willingham Sweet Sigs Autograph (127/180)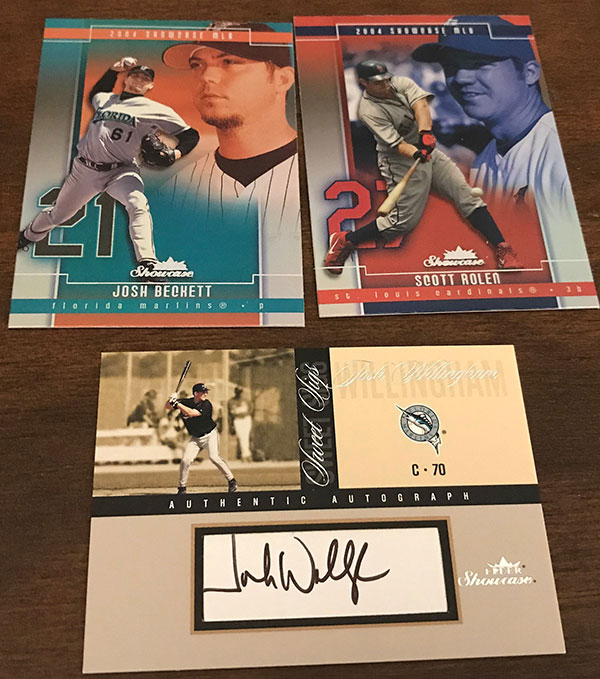 Lastly, the Scott Rolen (a very underrated player, in my opinion) card back.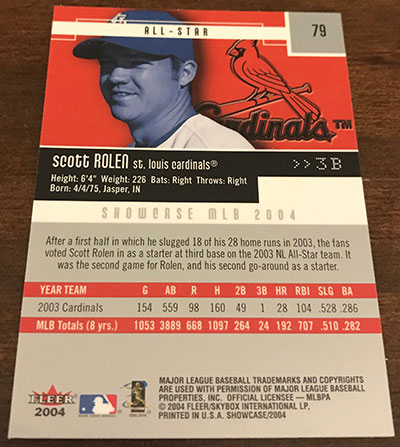 Overall a nice break. These Fleer Showcase cards absolutely feel high end, with a thicker card stock and glossy surface. Really nice to hit the Griffey Legacy parallel. With there being only one per box it is always nice to hit a big name. It also doesn't hurt that I hit a new Pedro card for the PC!
Buy 2004 Fleer Showcase Baseball cards on: