Cheap Wax Wednesday Box Breaks: 1997 Leaf Series 2 Baseball
Leaf released their first baseball card set in 1949. It's a landmark release that features Rookie Cards of Stan Musial, Satchel Paige and Jackie Robinson. After just one more vintage era release in 1960 (a set that included a marble in each pack), Leaf didn't release another baseball set until 1985. They continued through 1998 with the exception of 1989. Those 1980s sets were basically the Canadian versions of Donruss, similar to how O-Pee-Chee was for Topps. But in 1990 that changed and Leaf became its own thing. Leaf popped back up producing licensed sets from 2002-2005.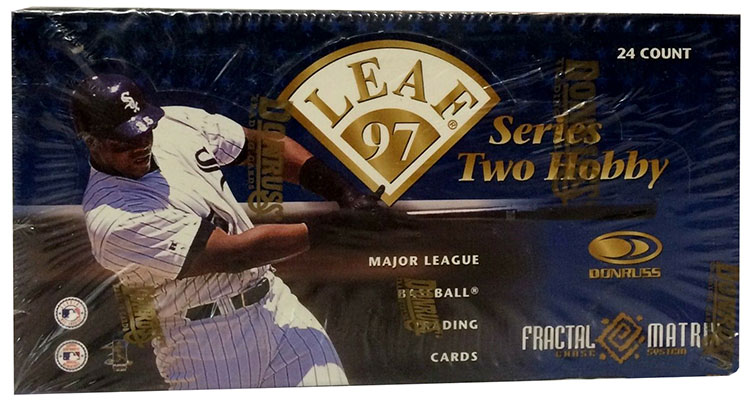 1997 Leaf Baseball consists of two 200-card series. Though the base cards from both Series 1 and 2 look nearly identical in style, there is an easy way to tell the two apart from the fronts. Series 1 has silver edges. In Series 2, they're almost white. I actually prefer the Series 1 design just because the sides seem to blend better.
Both releases contain the same two subsets, Gamers and Legacy. The parallels are also the same. One of the better looking parallels of its time, Fractal Matrix parallels could be found in Bronze, Silver, and Gold. The parallels could also be found in three different die cut patterns. Despite all the different colors and shapes, only two versions of each base card parallel was produced. Each base card was assigned a color and die cut shape. For example, parallels of card #201 Chipper Jones, were only found in the Gold and Gold X-Axis versions.
In addition to the subsets and Fractal Matrix parallels, 1997 Leaf Series 2 Baseball features five different insert sets all of which are serial numbered.
Fun Facts are provided by Bleacher Report National MLB Columnist Joel Reuter. You can follow Joel on Twitter (@JoelReuterBR) and check out his work at Bleacher Report.
1997 Leaf Baseball Series 2 Box Break
Cards per pack: 10
Packs per box: 24
Price paid: $45

Pack 1 highlights:
A Braves/former Braves hot pack! Andruw Jones, Chipper Jones, Greg Maddux, Deion Sanders & Dave Justice Warning Track (3098/3500)
Pack 1 fun fact: Deion Sanders hit .304 and led the NL with 14 triples during the 1992 season, finishing sixth on a 98-win Braves team with 3.2 WAR.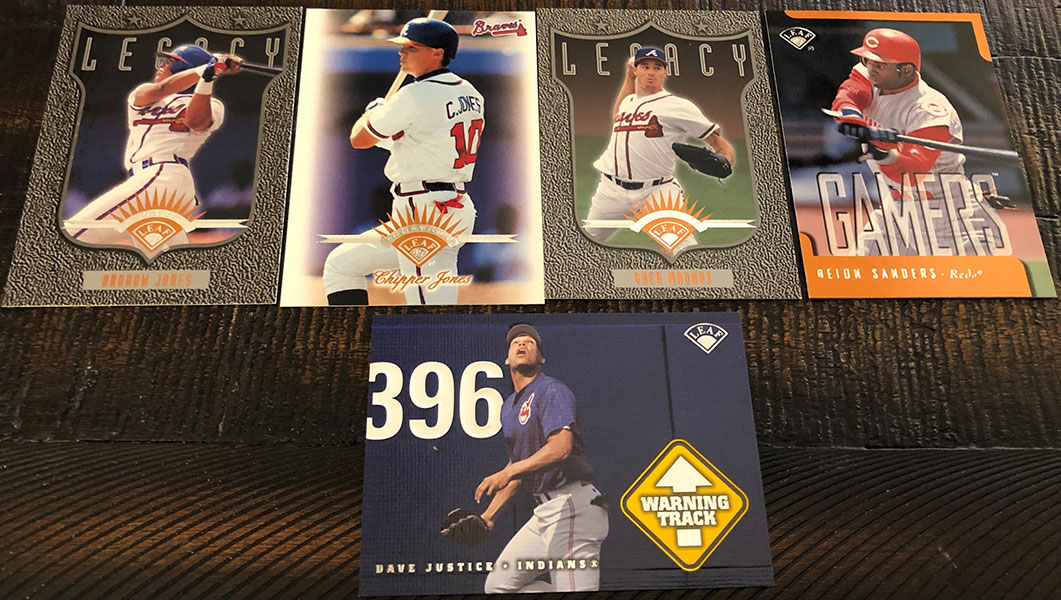 Pack 2:
Eddie Murray, Roger Clemens, Eric Davis, Curt Schilling & Derrek Lee
Pack 2 fun fact: The 1997 campaign was the final season of Eddie Murray's 21-year career. He hit his 504th and final home run off Bob Tewksbury on May 30, 1997.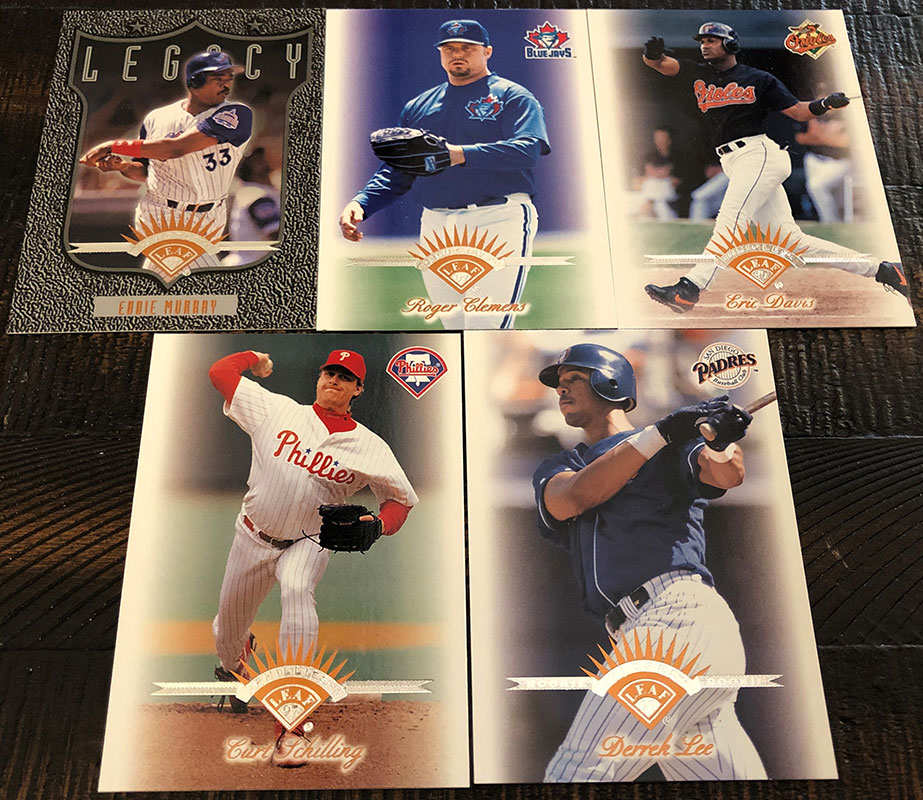 Pack 3:
Derek Jeter, Manny Ramirez, Tino Martinez, Randy Johnson & Craig Biggio
Pack 3 fun fact: Tino Martinez enjoyed the best season of his career in 1997, hitting .296/.371/.577 with 44 home runs and 141 RBI to finish second in AL MVP voting.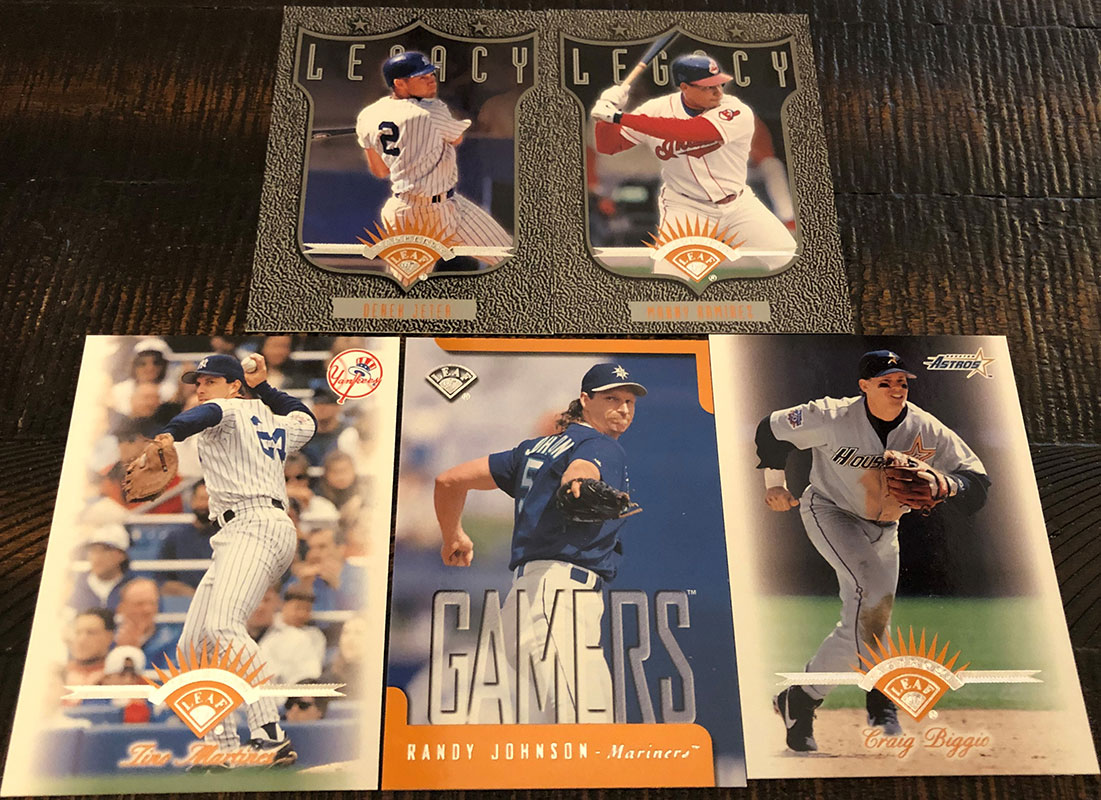 Pack 4:
John Smoltz, Eddie Murray, Ryne Sanberg, Jeff Kent & Wade Boggs
Pack 4 fun fact: After briefly retiring in 1995, Ryne Sandberg returned for two more seasons, wrapping up his Hall of Fame career playing for a 94-loss Cubs team in 1997.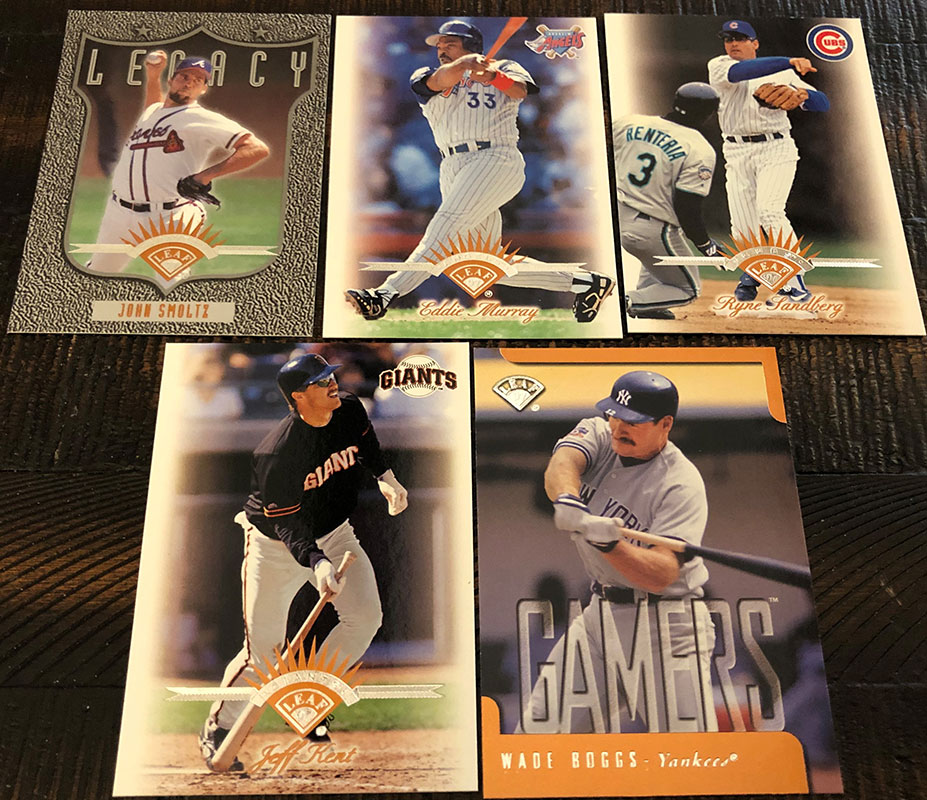 Pack 5:
Kevin Brown, Jimmy Key & Larry Walker
Pack 5 fun fact: Jimmy Key finished second in Cy Young voting twice in his career. He led the AL in ERA (2.76) while pitching for the Blue Jays in 1987, and paced the AL in wins (17) during the strike-shortened 1994 season.

Pack 6:
Fred McGriff, Nomar Garciaparra, Deion Sanders & Andres Galarraga Fractal Matrix (though the cards weren't numbered, print runs were announced, and this card should be limited to 400 copies).
Pack 6 fun fact: After a 24-game debut in 1996, Nomar Garciaparra took over as the Red Sox starting shortstop in 1997 and won AL Rookie of the Year honors. He hit .306 with 85 extra-base hits and 22 steals, making headlines with a 30-game hitting streak.

Pack 7:
Rickey Henderson, Albert Belle & Ken Griffey, Jr.
Pack 7 fun fact: Rickey Henderson hit .274 with a .422 on-base percentage and more walks (71) than strikeouts (62) in 88 games in his age-38 season with the Padres in 1997.

Pack 8:
Tim Raines, Jim Edmonds, Ivan Rodriguez & Hideo Nomo
Pack 8 fun fact: Tim Raines still had plenty left in the tank in 1997, hitting .321/.403/.454 in 318 plate appearances for the Yankees at the age of 37.
Pack 9:
Vladimir Guerrero, Roger Clemens, Gary Sheffield & Jose Canseco
Pack 9 fun fact: Jose Canseco began his second go-around with the Athletics in 1997, coming over in a trade with the Red Sox prior to the season. His 254 home runs in an A's uniform rank fourth in franchise history.

Pack 10:
Alex Rodrguez & Ken Griffey, Jr. Imagine if both of these guys spent their whole careers in Seattle.
Pack 10 fun fact: In their four full seasons together from 1996 to 1999, the Mariners averaged 83 wins and made the playoffs just once in 1997. If only they had some pitching behind Randy Johnson.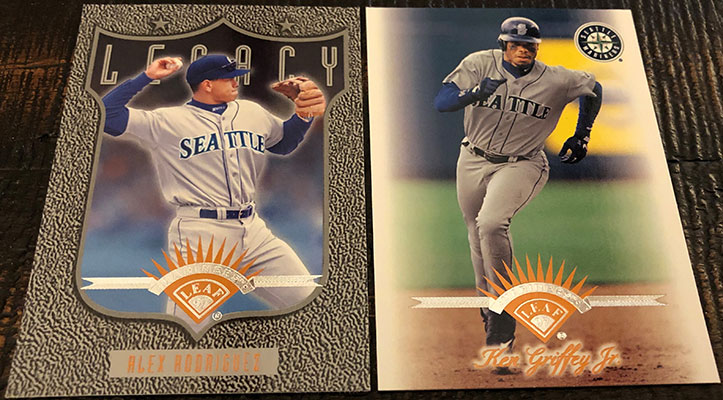 Pack 11:
Dennis Eckersley, Kevin Brown, Mike Piazza & Frank Thomas
Pack 11 fun fact: Dennis Eckersley saved 36 games in 43 chances for the Cardinals in 1997 at the age of 42. He spent one more season in the majors before wrapping up a 24-year career.

Pack 12:
Kenny Lofton, Moises Alou, Garret Anderson & Alex Rodriguez
Pack 12 fun fact: The Indians traded Kenny Lofton to the Braves prior to the 1997 season in exchange for David Justice and Marquis Grissom. He spent one season in Atlanta before rejoining the Indians in free agency during the offseason.

Pack 13:
Jim Edmonds, Mike Piazza, Jim Thome & Paul Molitor
Pack 13 fun fact: Paul Molitor began the 1997 season with 3,014 career hits after hitting .341 with an AL-leading 225 hits the previous season at the age of 39.

Pack 14:
Jeff Bagwell, Greg Maddux & Mark McGwire
Pack 14 fun fact: Jeff Bagwell is the only first baseman in MLB history with multiple 30-30 seasons. He did it in 1997 (43 HR, 31 SB) and 1999 (42 HR, 30 SB) at the peak of his stardom with the Astros.

Pack 15:
Cal Ripken, Jr., Ivan Rodriguez, Bobby Bonilla & Juan Gonzalez
Pack 15 fun fact: Bobby Bonilla finished second in RBI (97) on a 1997 Marlins team that went on to win the World Series.

Pack 16:
Roberto Alomar, Johnny Damon, Sammy Sosa & a Jackie Robinson sweepstakes card.
Pack 16 fun fact: Sammy Sosa hit a middling .251/.300/.480 with 36 home runs, 119 RBI and 22 steals in 1997 while leading the NL in strikeouts (174). Those numbers improved a bit the following year.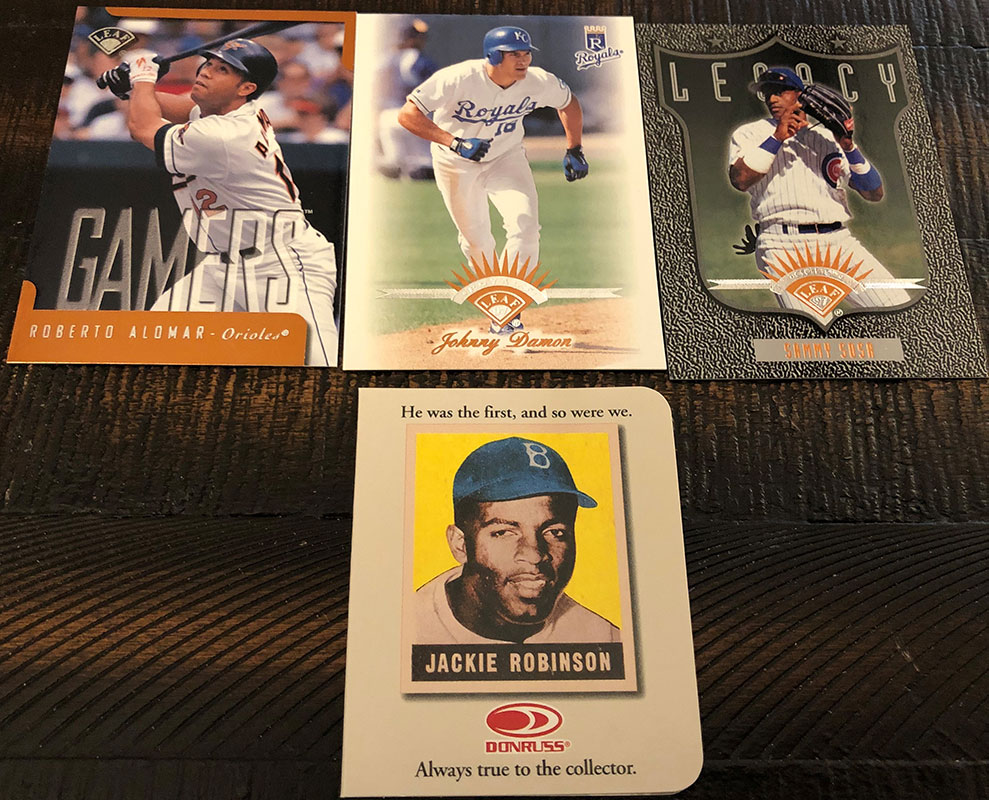 The Jackie Robinson Sweepstakes cards were found 1 in every 12 packs and gave you the opportunity to win one of five copies of his Rookie Card. I cringed and scratched both cards that I found. Luckily neither was a winner. That would have hurt.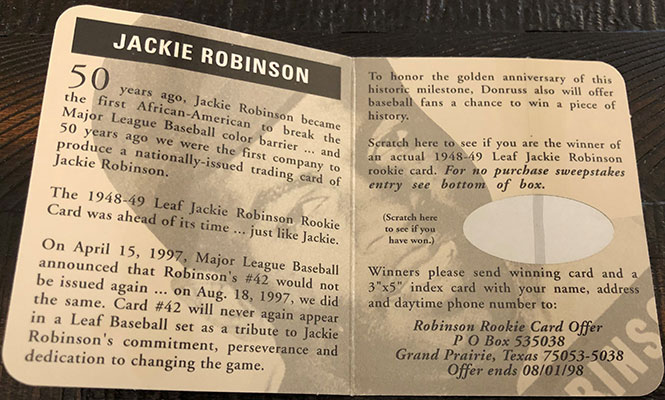 Pack 17:
Ken Caminiti, Roger Clemens, Edgar Martinez & Ken Griffey, Jr. Gold Leaf Stars (1148/2500)

Pack 17 fun fact: The 1997 season was one of four times Edgar Martinez hit .330 or better over a full season on his way to a .312 career batting average.
I had to show this one off again. These cards were stamped with 22 karat gold leaf!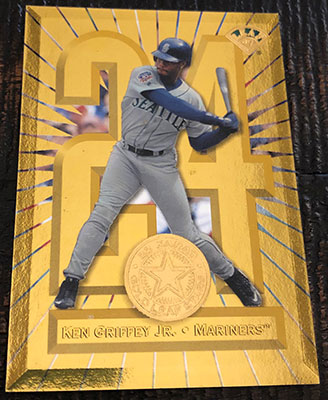 Pack 18:
Larry Walker, Bernie Williams, Darryl Strawberry & Ken Caminiti Fractal Matrix. This Fractal Matrix parallel is Bronze and was limited to 1,600 copies. The parallels don't look as impressive on the subset cards.
Pack 18 fun fact: Larry Walker won NL MVP in 1997 when he hit .366/.452/.720 with 46 doubles, 49 home runs, 130 RBI and 33 steals. He hit .346 with 29 home runs on the road, so those gaudy numbers were by no means a product of Coors Field.

Pack 19:
Bartolo Colon (Who says he wants to pitch another year!), Frank Thomas, Manny Ramirez & Eddie Murray
Pack 19 fun fact: Bartolo Colon made his MLB debut on April 4, 1997. He allowed six hits and four earned runs in five innings of work for a no-decision. His first career strikeout was Jim Edmonds in the first inning.

Pack 20:
Andres Galarraga, Greg Vaughn, Rafael Palmeiro, Chipper Jones, Andruw Jones & Delino DeShields Fractal Matrix X-Axis Die Cut. This bronze die cut parallel had an announced print run of 400 copies.
Pack 20 fun fact: Delino DeShields had the best season of his career with the Cardinals in 1997, hitting .295/.357/.448 with 26 doubles, 14 triples, 11 home runs and 55 steals in a 4.2-WAR campaign.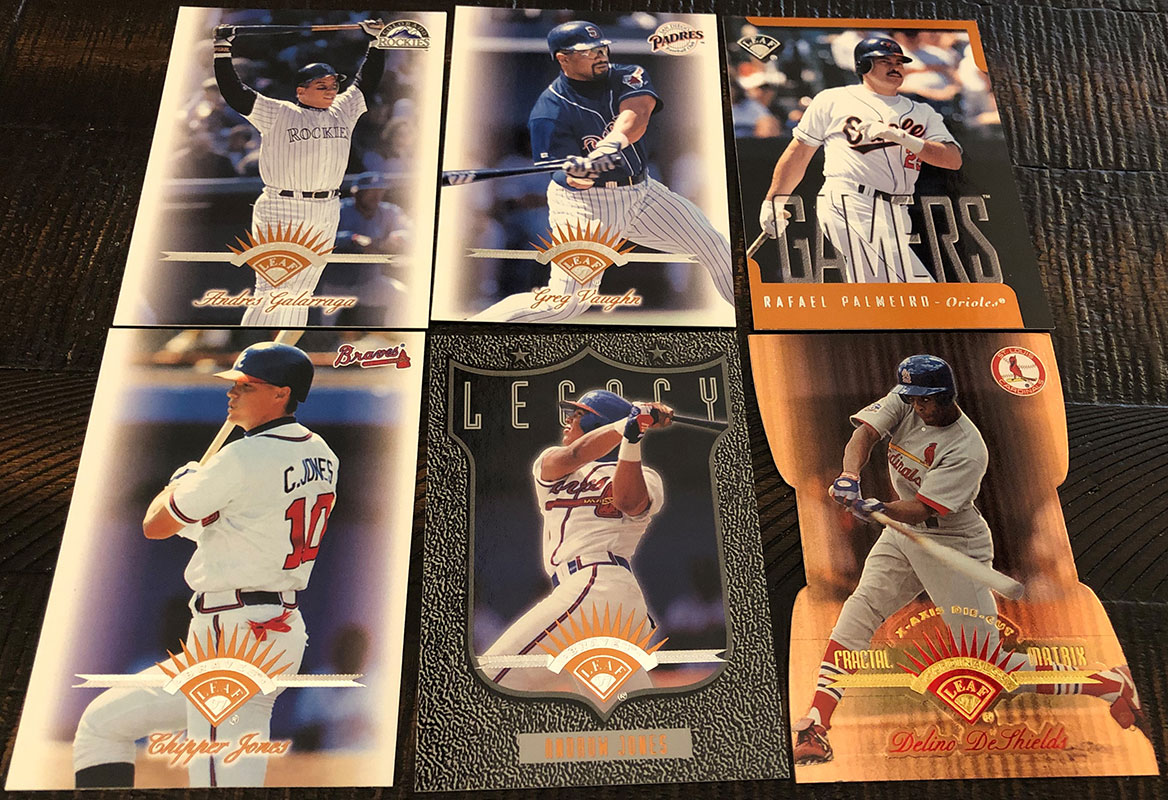 Pack 21:
David Cone, Barry Bonds, Albert Belle & Tom Glavine
Pack 21 fun fact: Albert Bell signed a five-year, $55 million contract with the White Sox prior to the 1997 season, making him the highest-paid player in baseball at the time.

Pack 22:
Bubba Trammell (Remember him? He was supposed to be the next Tigers star Trammell!), Barry Larkin, Curt Schilling & Eddie Murray
Pack 22 fun fact: Bubba Trammell hit .316/.391/.605 with 37 doubles, 33 home runs and 99 RBI between Double-A and Triple-A in 1996. Easy to see why he was so hyped.

Pack 23:
Deion Sanders & Randy Johnson
Pack 23 fun fact: Randy Johnson went 20-4 with a 2.28 ERA and 291 strikeouts in 213 innings in his final full season with the Mariners in 1997. He finished second in AL Cy Young voting to Roger Clemens.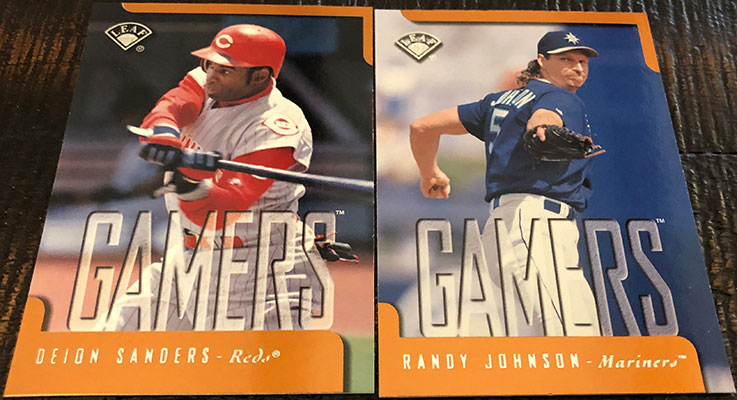 Pack 24:
Cal Ripken Jr., Tony Gwynn, Jeff Kent & Wade Boggs
Pack 24 fun fact: In a six-player blockbuster deal prior to the 1997 season, the Giants traded All-Star third baseman Matt Williams to the Indians in exchange for Jeff Kent and highly-regarded pitching prospect Julian Tavarez.

Lastly, the Jeff Kent card back. Though I am a stat guy and love to see full career stat lines on the back, I do appreciate the full action shot.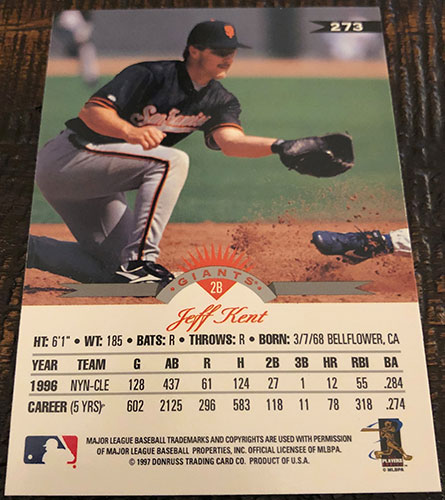 That was a fun break. The parallels and the inserts were all well done and great looking cards. Also, the '90s sets were absolutely loaded with Hall of Fame players. For those that were not keeping track at home, there were 41 cards featuring players already elected to the Baseball Hall of Fame. I suspect that number will increase in the coming years.
Shop for 1997 Leaf Baseball on:
Want more installments of Shane Salmonson's Cheap Wax Wednesday? Check out his other breaks in the archives.