Cheap Wax Wednesday Box Breaks: 1994 Select Series 1 Baseball
Select burst onto the scene in 1993, as Pinnacle added another set to their stable of products. Unlike the debut edition, 1994 Select Baseball was split into two series. Each series contains 210 base cards. Both series have the Rookie Prospects subset, the majority of which are not considered Rookie Cards.
The base cards (subset not included) are all horizontally formatted with each card containing two player photos. The photos are separated by a gold foil name plate. The player photo selections vary with everything from action photos to close-up headshots making the cut. Each series has three insert sets, though, they are not easy to pull. Most boxes have only one chase card.
Pinnacle produced 4,950 boxes of 1994 Select Series 1. Each box is labeled with a numbered sticker identifying which case it is from. The set was a hobby exclusive.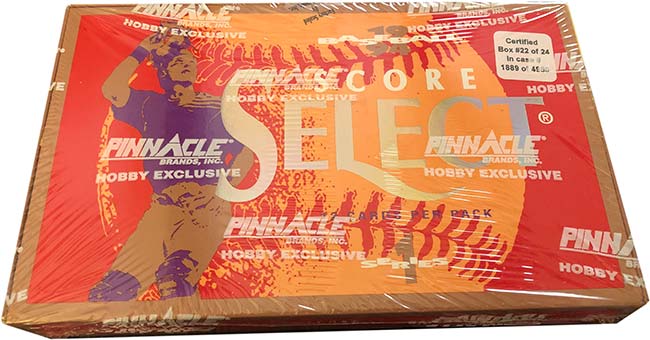 1994 Select Series 1 Baseball Box Break
Cards per pack: 12
Packs per box: 24
Price paid: $20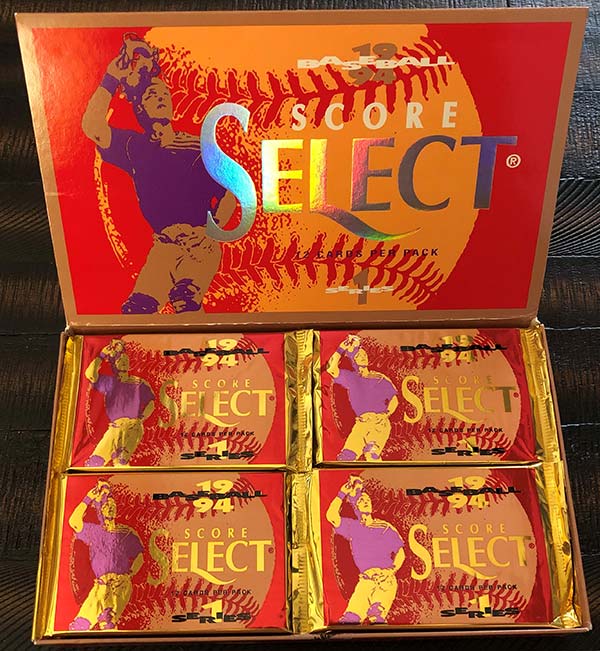 Pack 1 highlights:
Harold Baines, Mike Greenwell, Dante Bichette & Larry Walker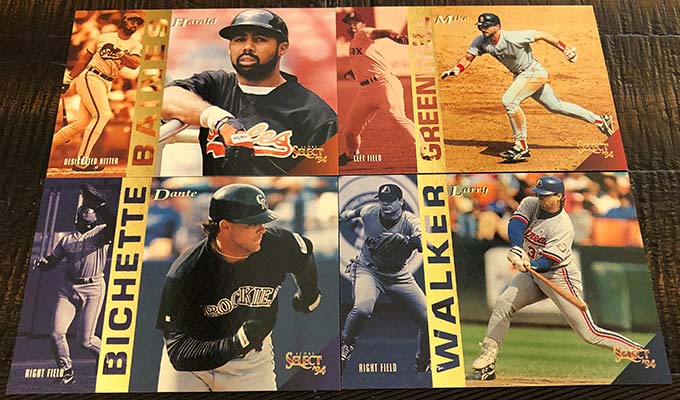 Pack 2:
Dwight Gooden, Tony Gwynn, Dave Winfield & Mike Piazza
Gooden had 849 career major league plate appearances. He hit .196. He won the 1992 Silver Slugger award, though, batting .264 with a home run and nine RBI.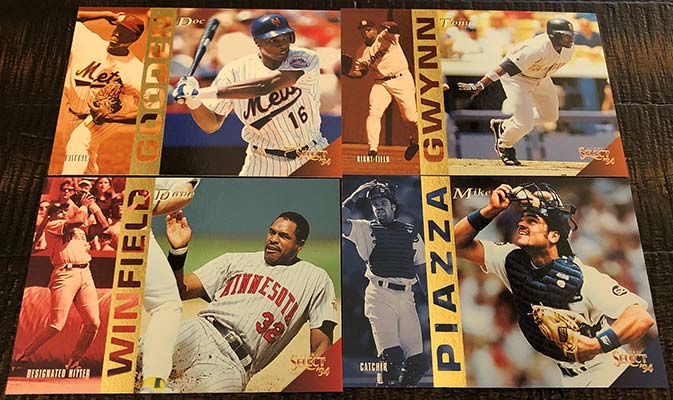 Pack 3:
Andres Galarraga & Raul Mondesi RP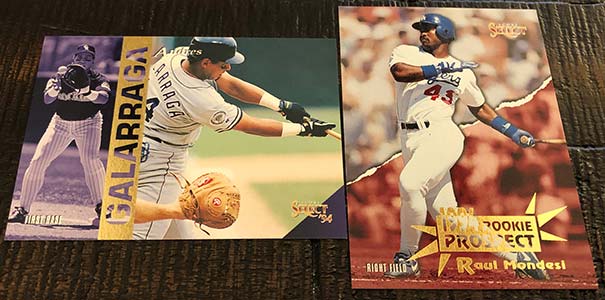 Pack 4:
John Smoltz, Don Mattingly, Mike Mussina & Rondell White RP
Rondell White is the son-in-law of former White Sox and Mets manager Jerry Manuel.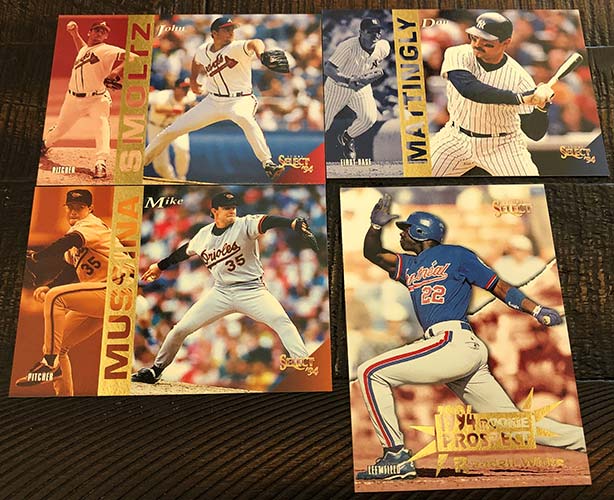 Pack 5:
Greg Maddux & Chan Ho Park RP RC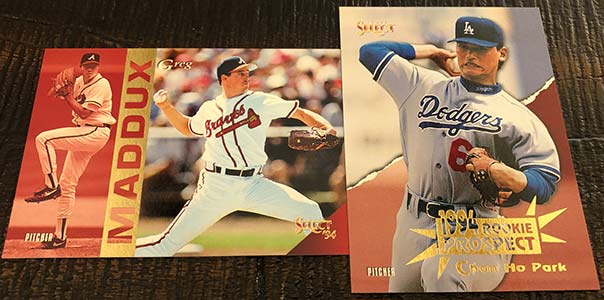 Pack 6:
Tino Martinez & Terry Pendleton
Pendleton barely edged out Barry Bonds to win the 1991 NL MVP. Terry hit .319 with 22 HR and 86 RBI that season. 

Pack 7:
Don Mattingly, Mike Mussina, Paul O'Neill & Reggie Sanders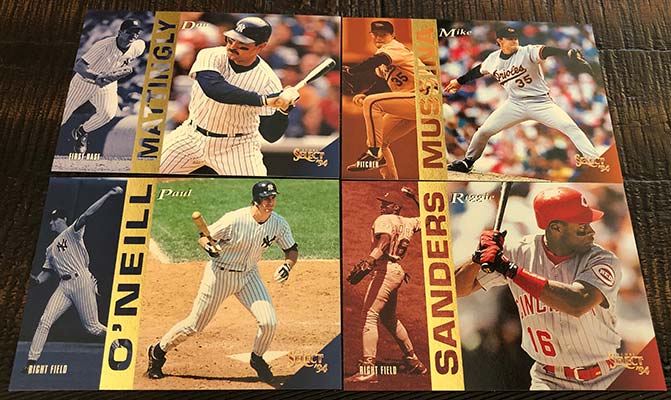 Pack 8:
Edgar Martinez, Lenny Dykstra & Cliff Floyd RP
Cornelius Clifford Floyd finished fifth in the NL Rookie of the Year voting following the strike-shortened 1994 season.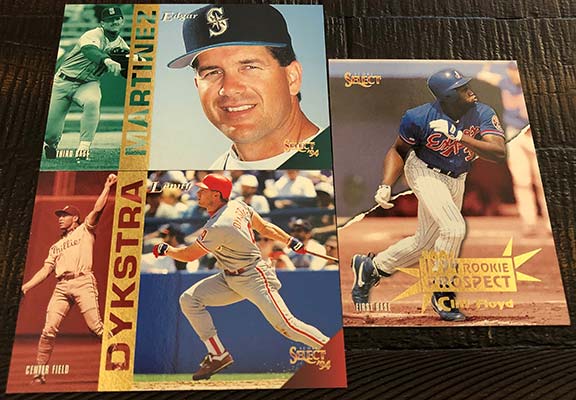 Pack 9:
Tom Gordon, Randy Johnson & Ryne Sandberg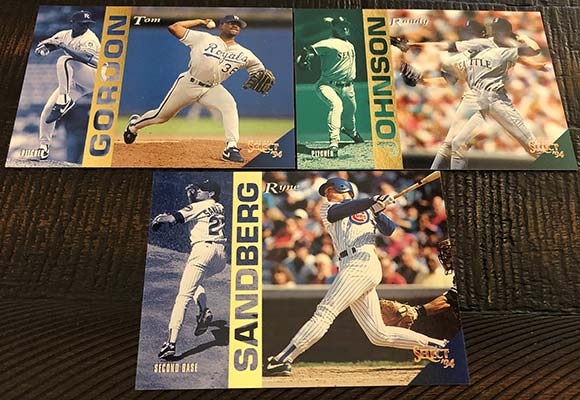 Pack 10:
Jim Abbott, Jeff Kent & Cliff Floyd RP
Jim Abbott fired a no-hitter for the Yankees on September 4, 1993. The Indians lineup he shut down included Kenny Lofton, Carlos Baerga, Albert Belle, Manny Ramirez, Jim Thome and Sandy Alomar Jr.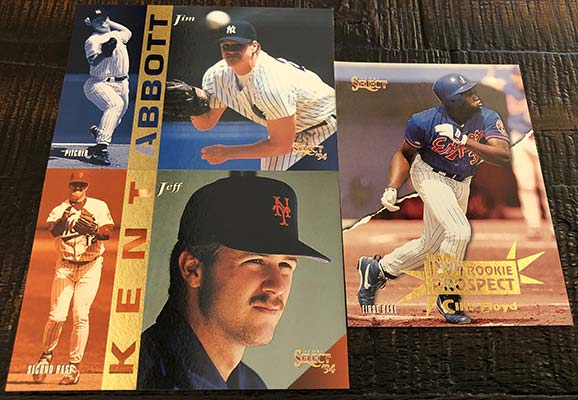 Pack 11:
Darryl Strawberry, Edgar Martinez, Rondell White RP & Jim Edmonds RP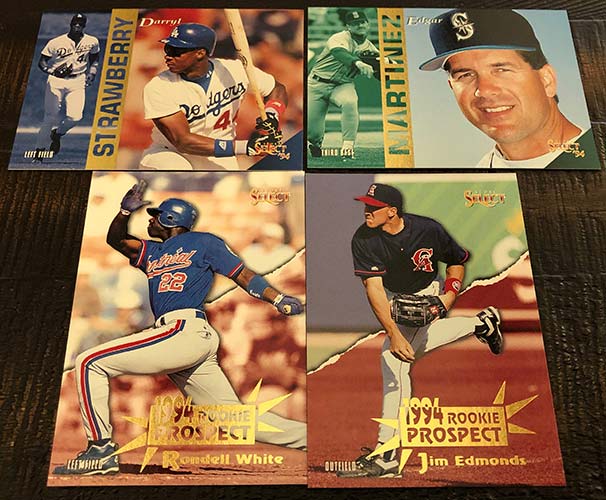 Pack 12:
Kirby Puckett, John Kruk, Ozzie Smith, Javy Lopez RP & Rondell White Rookie Surge (1 in every 48 packs)
Javy Lopez put up pretty good offensive numbers while catching for that amazing '90s Braves pitching staff. Over 12 seasons in Atlanta, Lopez hit .287 with 214 home runs.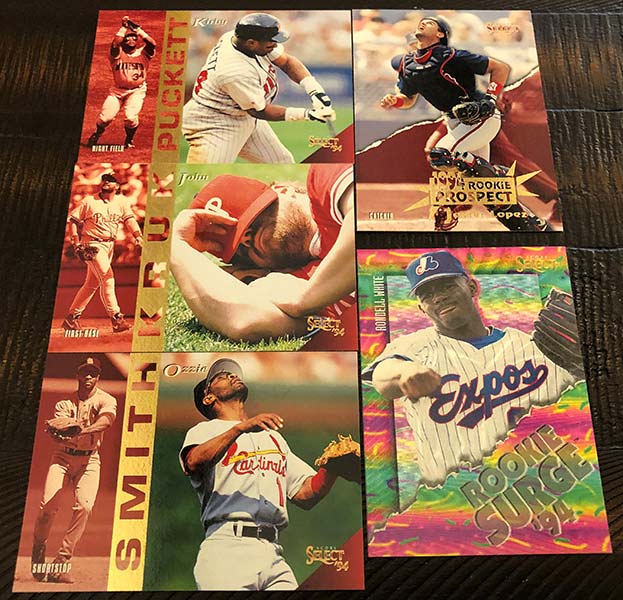 Pack 13:
Mark McGwire, Brian Jordan & Chan Ho Park RP RC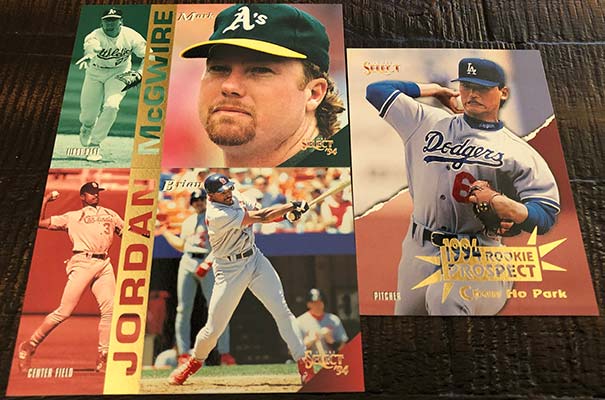 Pack 14:
Mo Vaughn, Wade Boggs, Andre Dawson & Sammy Sosa
Some great photo choices in this pack. I always enjoy seeing players interacting with the fans on cards.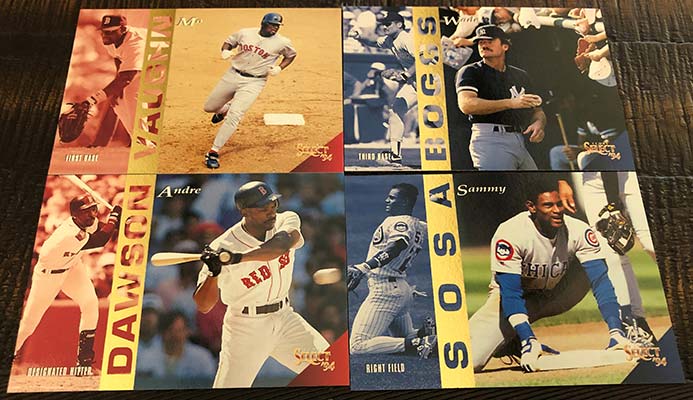 Pack 15:
Moises Alou, Ken Griffey, Jr. & Manny Ramirez RP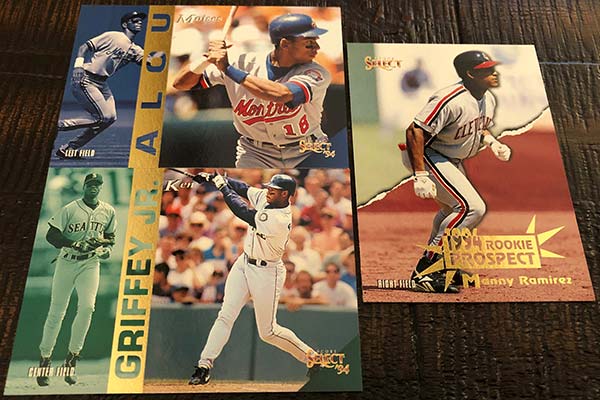 Pack 16:
Darryl Strawberry & Joe Carter
Another great photo, as Carter is seen celebrating his World Series winning home run in Game 6 of the 1993 series. 

Pack 17:
Curt Schilling, Barry Larkin, Joe Girardi, Sammy Sosa & Javier Lopez RP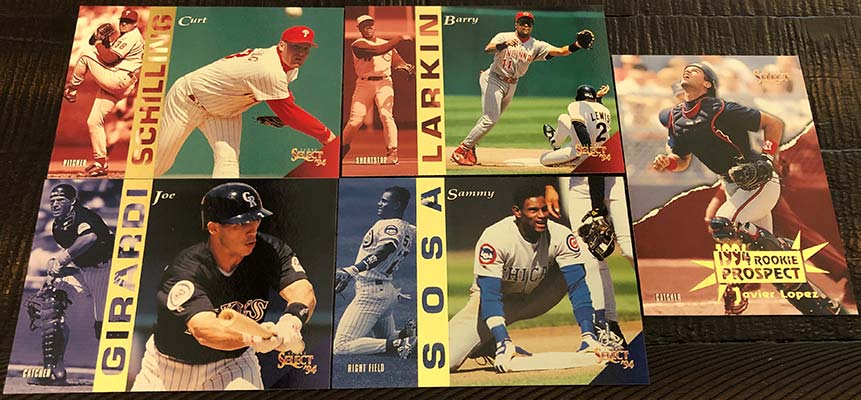 Pack 18:
Andres Galarraga, Paul O'Neill & Ryan Klesko RP
Klesko finished third in the NL Rookie of the Year voting following the 1994 season. He hit .278 with 17 home runs in his first "full" (it was strike-shortened) major league season.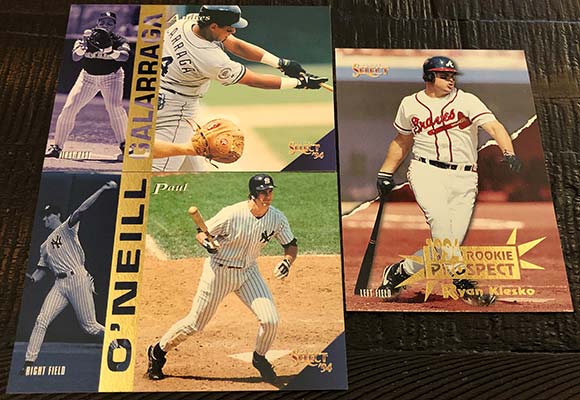 Pack 19:
David Cone, Doc Gooden, Curt Schilling & Paul Molitor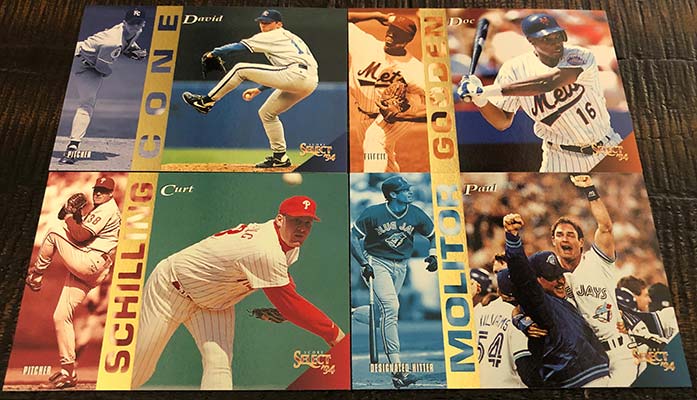 Pack 20:
Bernie Williams, Dave Stewart, Tim Raines, Wally Joyner & Roger Clemens
Four pregame warmup photos included in this one. That is never a bad thing.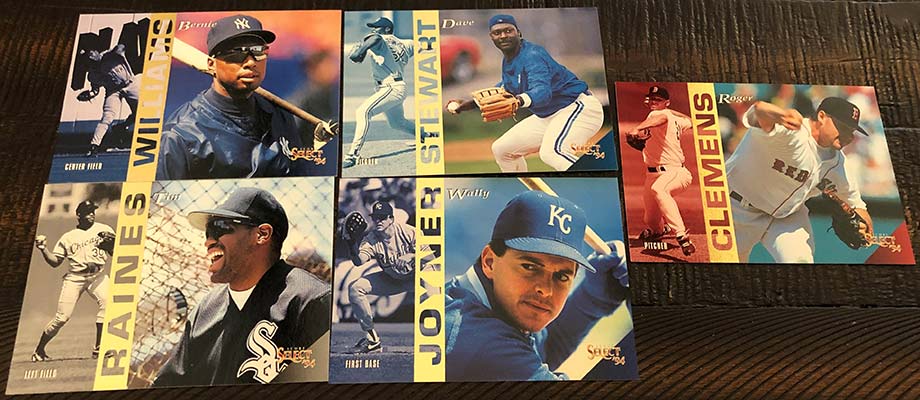 Pack 21:
Tino Martinez and a trio of Phillies; Dykstra, Daulton & Kruk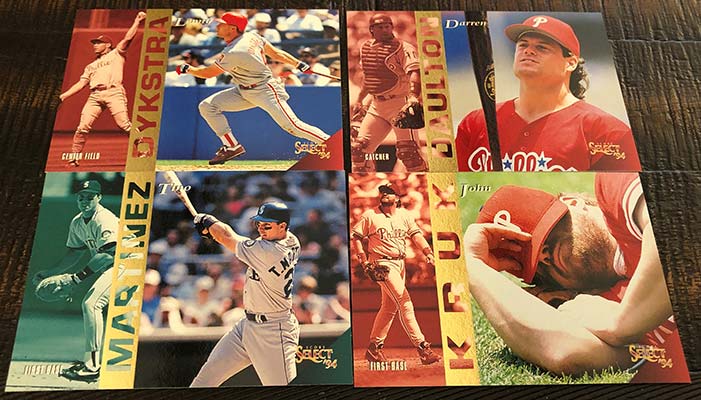 Pack 22:
Derek Bell, Ken Griffey, Jr. & Raul Mondesi RP
Bell was traded from the Padres to the Astros as part of a huge, 11-player, deal that saw the Padres obtain Ken Caminiti and Steve Finley.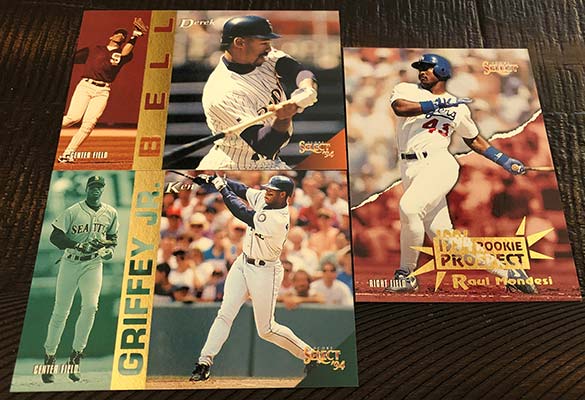 Pack 23:
Joe Carter & Dave Winfield

Pack 24:
Frank Thomas, Jay Buhner, Bret Saberhagen, Mark McGwire & Raul Mondesi RP
The pack of the close-up. Still a fan-favorite, Jay Buhner played nearly his entire career in Seattle. In 14 seasons he hit 307 home runs for the Mariners, playing much of his career alongside Ken Griffey, Jr.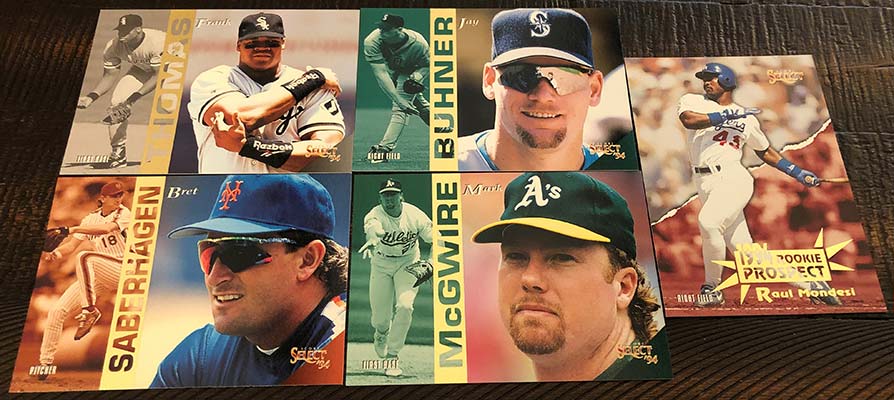 Lastly, the Frank Thomas card back. Kind of funny how they went with vertical card backs when all the regular base cards are horizontal. I can certainly appreciate the focus on getting another large player photo onto the card.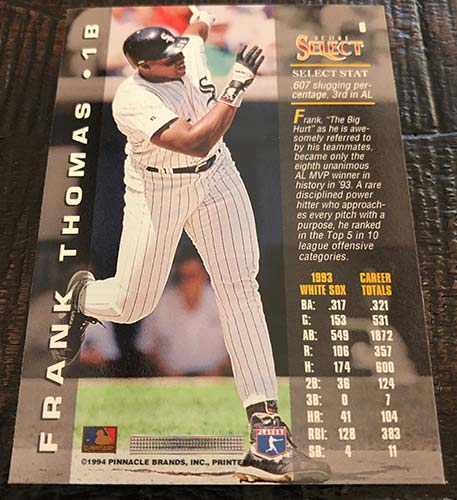 Unfortunately I only pulled the one insert. But, like I said, that is what should be expected from a single box. I did miss out on the 1:24 Crown Contenders, but traded up for the tougher Rookie Surge. All of the inserts, in both series, are really good looking cards. It is a shame that there aren't more of them to be pulled!
I ordered this box nearly a year and a half ago, but boxes can still be found for around $20 plus shipping if you'd like to try this one out for yourself.
Shop for 1994 Select Baseball on:
Want more installments of Shane Salmonson's Cheap Wax Wednesday? Check out his other breaks in the archives.