Cheap Wax Wednesday Box Breaks: 2018 Diamond Kings Baseball
With April coming to an end, this will be the last major league product to be featured here for a while. As I have been doing for a few years now, every Wednesday in May will showcase a minor league product. Minor League May is right around the corner.
Although its roots as a subset go back to the early '80s, Diamond Kings was first released by Donruss as a standalone product in 2002. All the card images were painted, as the brand was meant to compete head to head with the popular Topps Gallery brand. Diamond Kings would be released for four seasons under the Donruss brand, through 2005. 
Panini resurrected the Diamond Kings brand in 2015. The makeup of the set was very close to the 2005 product, and loaded with parallels.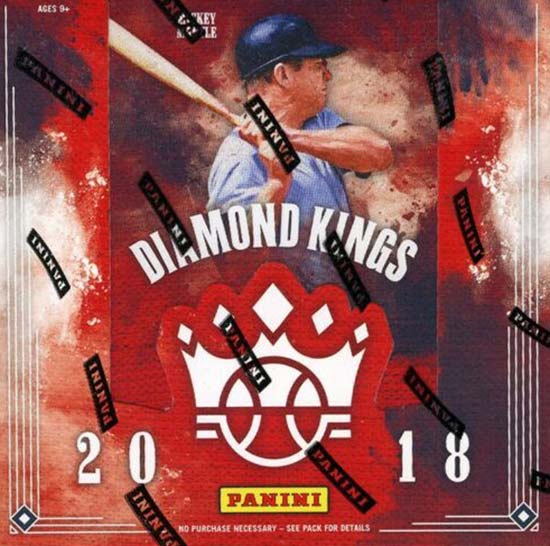 2018 Diamond Kings stays true to the DK brand, showcasing art-inspired cards. The base set consists of 150, with 50 of them being short prints. There are also 50 variations to chase: ten Black and White, ten Nickname, ten Sepia, and 20 photo variations. In addition to all of the variations, there are countless parallels of each card.
If that isn't enough, there are eight insert sets plus multiple memorabilia and autograph sets. Each box promises two memorabilia or autograph cards. 
2018 Panini Diamond Kings Baseball Box Break
Cards per pack: 8
Packs per box: 12
Price paid: $50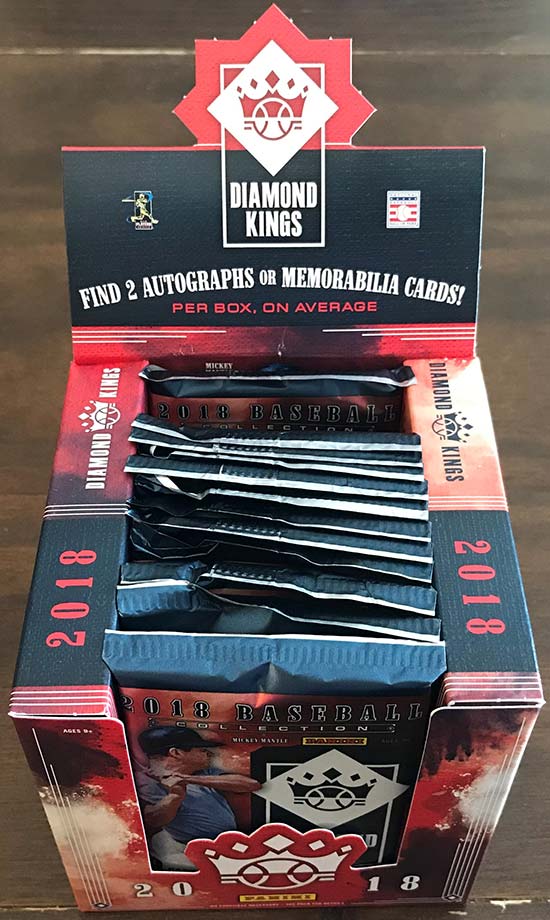 Pack 1 highlights:
Clayton Kershaw, Jim Thorpe, Corey Kluber, Don Larsen, Andrew Benintendi & Nolan Ryan Portraits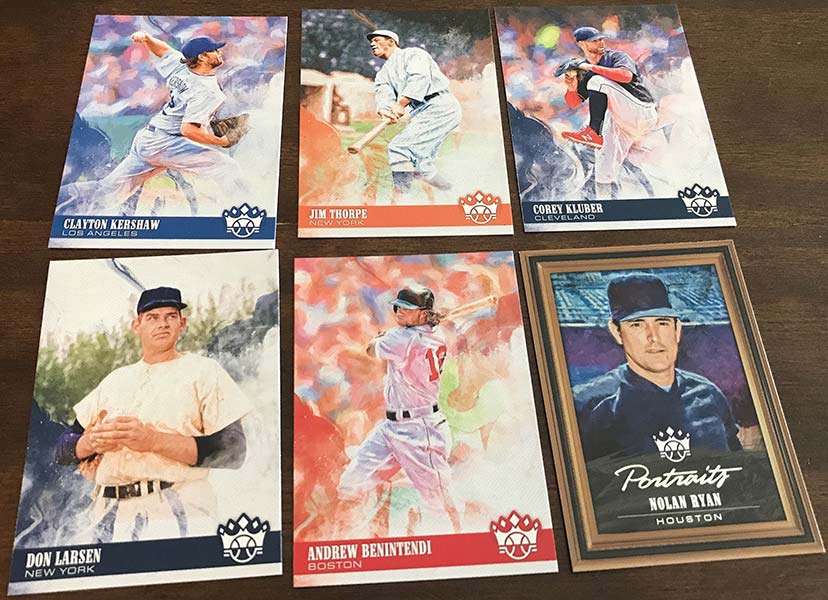 Legendary Native American athlete Jim Thorpe played six seasons of professional baseball. Baseball certainly was not the Football Hall of Fame member's best sport, as he hit .252 in 289 big league games from 1913-1919.
Pack 2:
Honus Wagner, Sam Crawford, Alex Bregman, Dominic Smith RC & Nolan Arenado Original Materials Dual Jersey Relic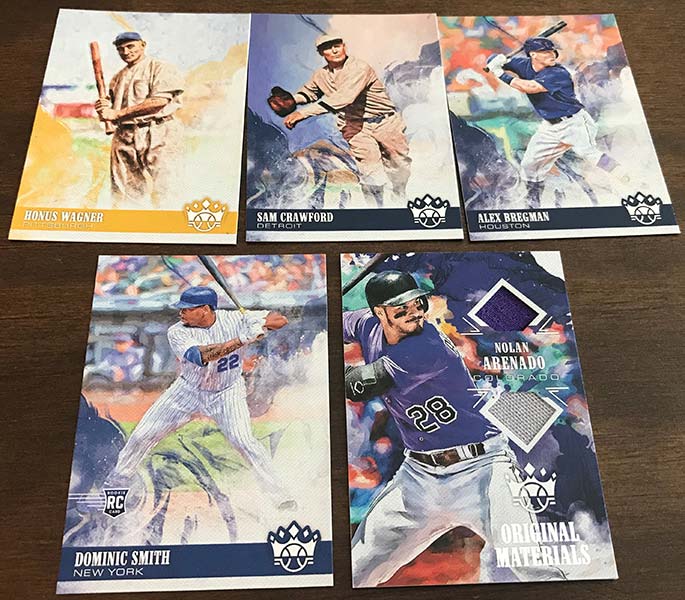 Crawford started his career in the 1800's, and still holds the career triples record, with 309. Second on the all-time triples list? Ty Cobb, with 295.
Pack 3:
J.P. Crawford RC, Francisco Lindor, Mickey Mantle, Frank Thomas, Shohei Ohtani Black & White & Frank Thomas The 500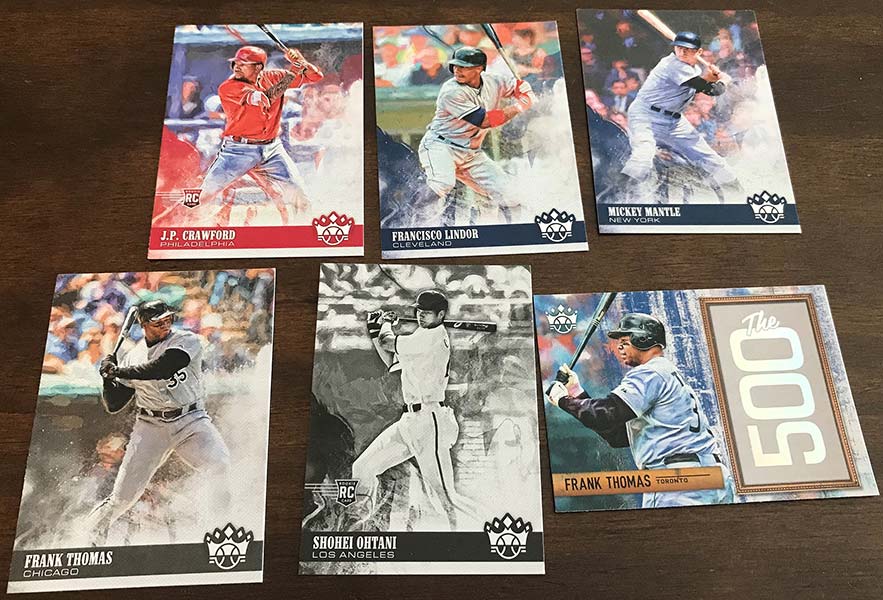 Ohtani-mania has started up again, as Shohei has hit seven home runs, while posting a 3.29 ERA as a starting pitcher. 
Pack 4:
Max Scherzer, Luke Appling, Corey Seager, Pee Wee Reese, Aaron Judge, Roberto Alomar/Jose Ramirez Past and Present & Harry Brecheen Artist's Proof (25/99)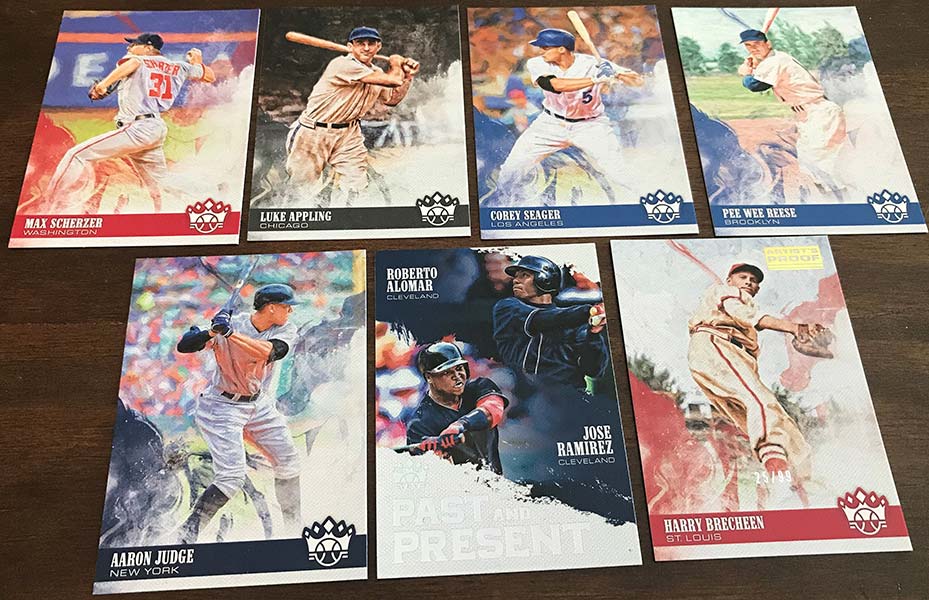 Brecheen pitched his entire career in St. Louis, playing 11 seasons for the Cardinals and finishing his career with a single season with the St. Louis Browns. Over 240 career starts, Brecheen tallied a 2.92 career ERA.
Pack 5:
Jackie Robinson, Hack Wilson, Luis Severino, Shohei Ohtani RC, Joey Gallo Gallery of Stars & Ty Cobb Red Frame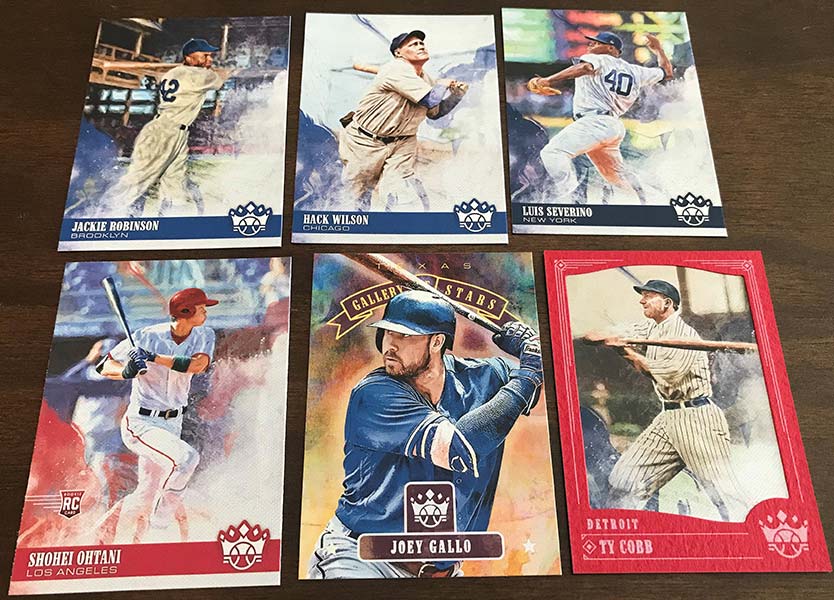 One of the shortest to ever play major league baseball, at 5′ 6″, Lewis Robert "Hack" Wilson hit 56 home runs during the 1930 season. Wilson wore a size 6 shoe. 
Pack 6:
Shohei Ohtani RC, "Shoeless" Joe Jackson, Ty Cobb, Joe DiMaggio, Corey Kluber Trophy Club & Ted Lyons Framed Brown (18/49)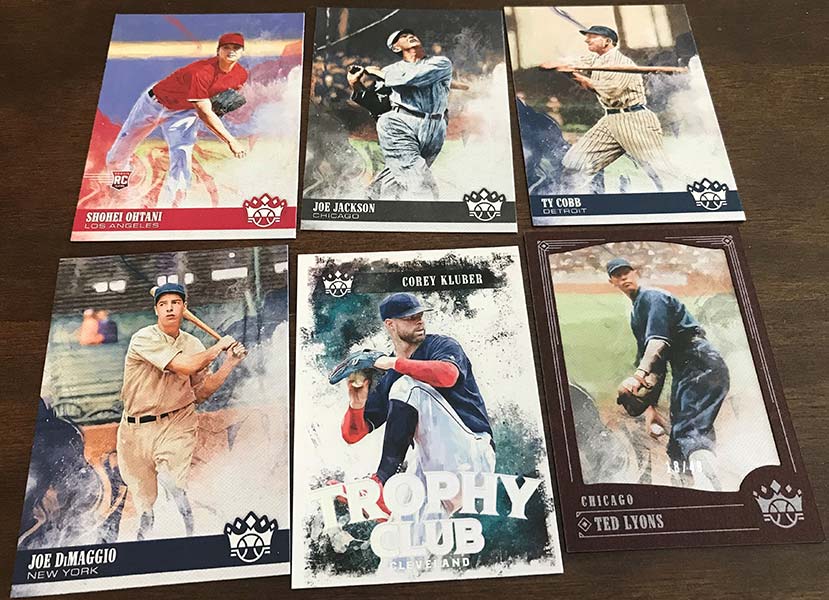 Shoeless Joe ended his career with a .356 batting average, good enough for third on the career list. The only two players ahead of him are Rogers Hornsby (yesterday, April 27th, was his birthday) and Ty Cobb. 
Pack 7:
Leo Durocher, Lloyd "Little Poison" Waner, Paul DeJong & Greg Maddux Portraits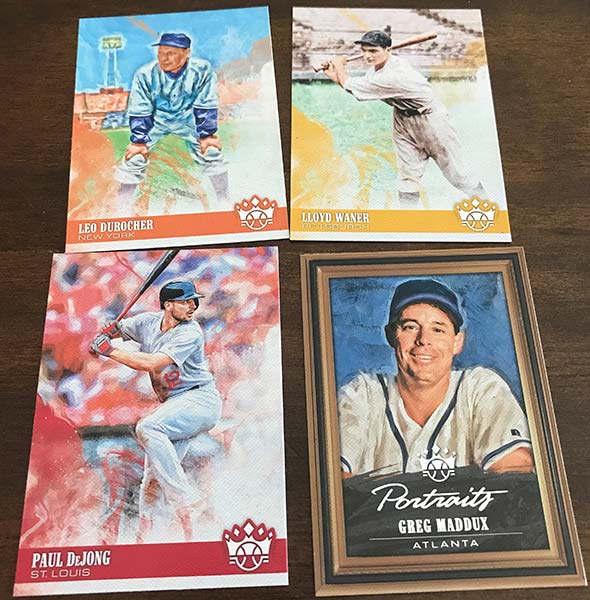 Lloyd and his older brother Paul "Big Poison" Waner played outfield for the Pittsburgh Pirates. Both brothers are in the Hall of Fame. 
Pack 8:
Joe Jackson, Cody Bellinger, Dom DiMaggio, Alex Rodriguez The 500 & Ernie Banks Photo Variation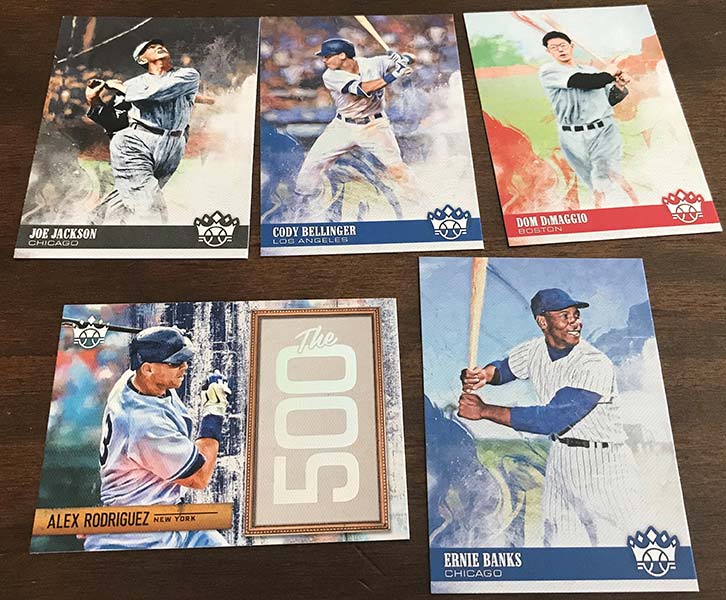 Overshadowed by his brother, Joe, Dom DiMaggio was a seven-time all-star during an 11-year career with the Boston Red Sox. Dom also missed three full seasons due to military service during World War II. 
Pack 9:
Stan Musial, Paul Goldschmidt, Roberto Clemente, Jose Altuve, Juan Marichal/Madison Bumgarner Past and Present & Albert Pujols Aurora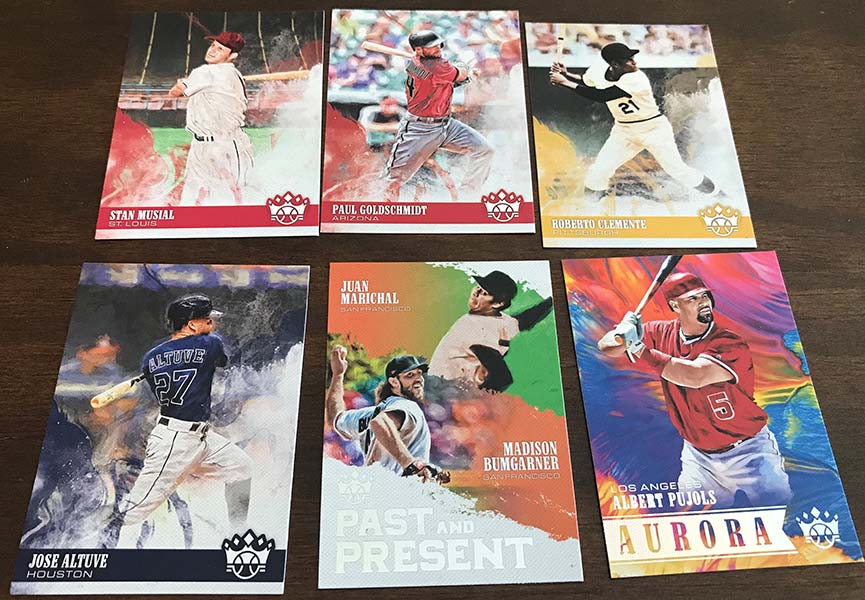 Never known as a speedster, Pujols currently has an active streak of 13 stolen bases without being caught.
Pack 10:
Grover Cleveland Alexander, Chris Sale, Ryan McMahon RC, Kirby Puckett, Reggie Jackson Gallery of Stars & Bobby Thomson Red Frame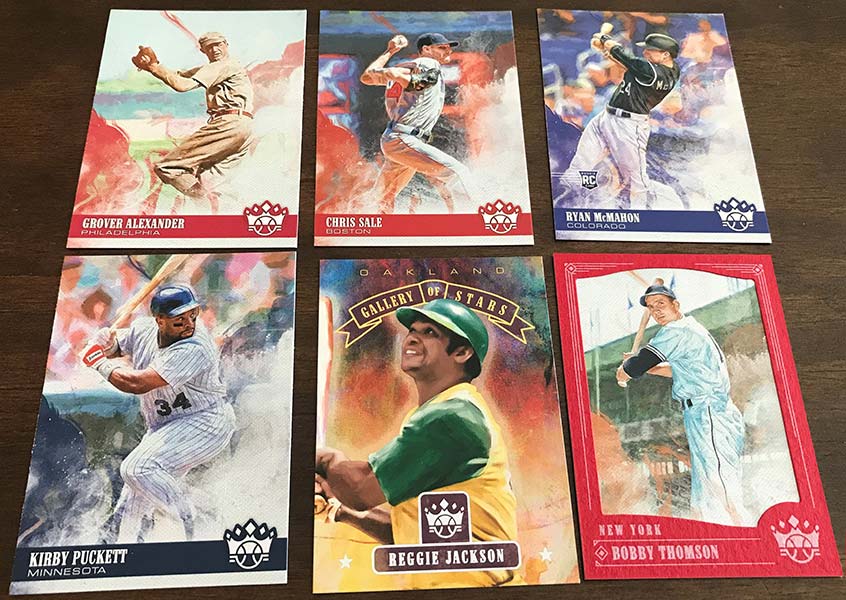 Alexander won the National League pitching Triple Crown three straight seasons from 1915-1917. Over those three seasons he started 142 games, winning 94 of them, and throwing 1,153 ⅓ innings. Complete games accounted for 108 of those starts.
Pack 11:
Lou Gehrig, Mookie Betts, Roger Maris, Josh Donaldson, Dallas Keuchel Trophy Club, Mike Trout, Moose Skowron & Lefty Gomez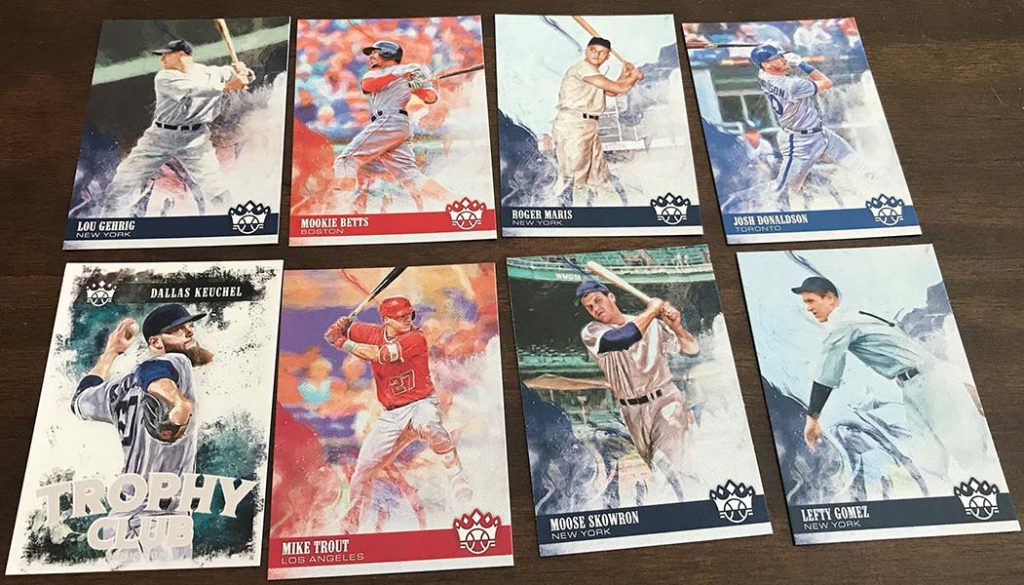 Gomez started 320 games over a 14-year Hall of Fame career. All but one of those games was thrown for the New York Yankees. His final career start came with the Washington Senators in 1943. 
Pack 12:
Victor Robles RC, Shohei Ohtani RC, Ted Williams, Nolan Arenado, Ernie Banks & Ryon Healy Materials Signatures Dual (11/15)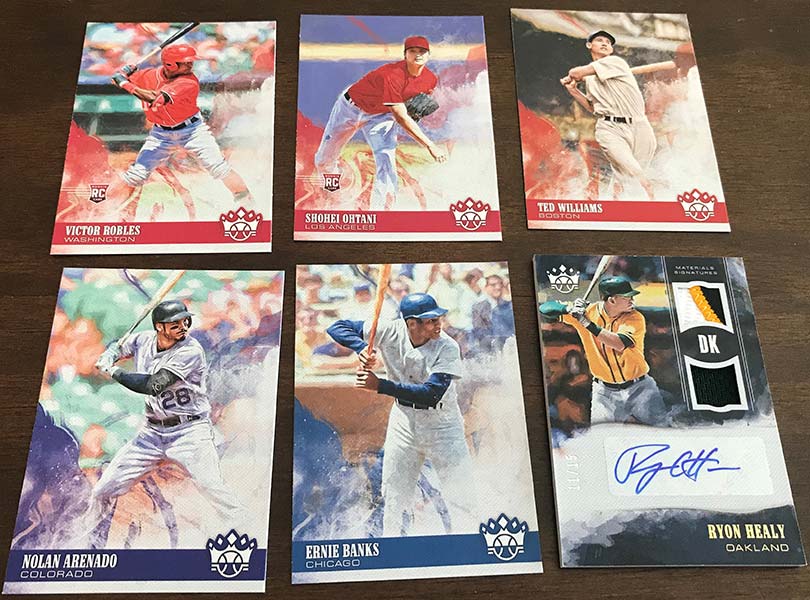 Ted Williams ranks as one of the best hitters to ever play the game. But, what if he hadn't missed nearly five full seasons to military service? If you add in projections for Teddy's missing seasons, he would have tallied another nearly 800 hits, 142 home runs, and 540 RBI. Those additions would have moved him up the all-time rankings to seventh in hits, fifth in home runs and first in career RBI. 
The card backs aren't anything special but they do look good.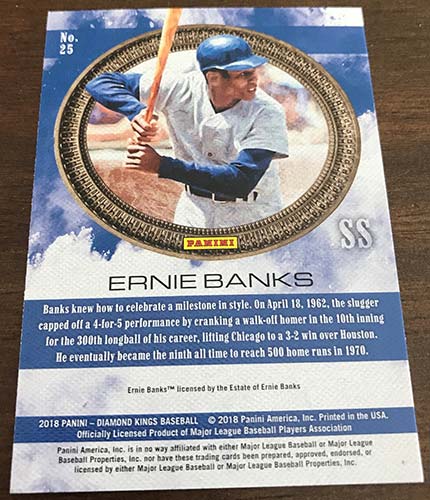 I know what you are thinking. How is this considered cheap wax? I bought this box two years ago for just $50. Currently, these boxes are selling over $150. It pays to shop the sales.
I have always enjoyed Diamond Kings. They are good looking cards, and include a ton of legends in addition to today's stars. Those facts are enough for me to look past the lack of MLB logos. 
This box happened to be pretty hot/ No, the hits were not huge names. However, I was able to pull four Ohtani RCs. Back in 2018 this would have been a major score. Ohtani has been heating up again this year. Finally healthy, he has had an impressive April playing both sides of the ball for the Angels. 
While I do love Diamond Kings, I wouldn't be very eager to pay the current asking price on this one.
Shop for 2018 Diamond Kings Baseball cards on:
Want more installments of Shane Salmonson's Cheap Wax Wednesday? Check out his other breaks in the archives.